The Los Angeles Opera, whose tribute to the celebration of the bicentennial of Giuseppe Verdi's birth included a mounting of his early opera "I Due Foscari", unveiled a new production of Verdi's final masterpiece, "Falstaff" in an appealing production, starring Italian baritone Robert Frontali.
[Below: Roberto Frontali as Sir John Falstaff; edited image, based on a Robert Millard photograph, courtesy of the Los Angeles Opera.]
Frontali delivered an inspiring performance. Rather than emphasizing the dark and delusional side of this outcast from the new King Henry V's circle of comrades, Frontali evoked an endearing knight, sure of himself, even though unwilling to take himself too seriously.
Vocally, Frontali was effective in each of Falstaff's "solo numbers" – his critique of the cult of "honor", his brief account of his time as a skinny page to the Duke of Norfolk, his anger at being thrown into the Thames out of a laundry basket.
Yet many of the most memorable moments of Frontali's performance were the interactions with other members of the large cast, where his self-effacing head bobbing and comic expressions made it seem that he had studied and then moved beyond the work of comedians of the stature of Oliver Hardy.
[Below: Falstaff (Roberto Frontali, left) shows his impatience with Bardolph (Rodell Rosel, right); edited image, based on a Robert Millard photograph, courtesy of the Los Angeles Opera.]
The Musical Performances
After pre-performance celebrations described later in this review of the evening, Los Angeles Opera Music Director James Conlon conducted what he describes as his favorite of all operas.
In the first notes of the opera, three character actors are introduced – Ohio tenor Joel Sorensen as Dr Caius, seeking revenge against being rolled while drunk by the Bardolph of Filipino tenor Rodell Rosel and the Pistol of Russian basso Valentin Anikin.
[Below: Carmen Giannattasio as Alice Ford; edited image, based on a Robert Millard photograph, courtesy of the Los Angeles Opera.]
Sorensen, who was also Caius for the several weeks in a different "Falstaff" production in San Francisco [see A Second Look: Luisotti, Terfel Teamed in Musically Brilliant, Well-Crafted "Falstaff" – San Francisco Opera, October 20, 2013], stepped in for an ailing colleague in Los Angeles.
Sorensen and Rosel have become masters of opera's comprimario roles, assuring a fully realized characterization for any part either artist portrays. (Over the past seven years I have reported on 15 or so performances in which either one or the other of these artists appears.)
Women's Power in Windsor
Although Frontali's Falstaff is a charming rascal, the character is obviously no match for the wiles of Windsor's women. Falstaff's effrontery (and stupidity) in sending two identical "love letter" propositions to two women who confide in each other results in two consecutive humiliations for the aging knight.
The four women's parts were ably sung by an international foursome led by Italy's Carmen Giannattasio as Alice Ford and Russia's Ekaterina Sadovnikova as Nannetta Ford. Florida mezzo-contralto Ronnita Nicole Miller scored yet another success as Dame Quickly. Oregon soprano Erica Brookhyser was Meg Page.
[Below: the ladies of Windsor (from left to right), Mistress Quickly (Ronnita Nicole Miller), Meg Page (Erica Brookhyser), Nannetta (Ekaterina Sadownikova) and Alice Ford (Carmen Giannatasio); edited image, based on a Robert Millard photograph, courtesy of the Los Angeles Opera.]
But it is not just Falstaff's act of proposing extramarital dalliances that causes reactions from the Windsor ladies. That Alice Ford's husband should assert the right to choose the husband for his daughter Nannetta, itself results in another act of trickery by the women, enlisting Rosel's Bardolph to take Nannetta's place in a bridal ceremony with Sorensen's Caius (resulting in one of the only "marriages" between two men in all of opera.)
[Below: the men of Windsor (from left to right), Fenton (Juan Francisco Gatell), Bardolph (Rodell Rosel), Ford (Marco Caria), Pistol (Valentin Anikin) and Dr Caius (here, Robert Brubaker); edited image, based on a Robert Millard photograph, courtesy of the Los Angeles Opera.]
The Windsor Males
The other great baritone role in "Falstaff" is that of Alice's husband, Ford, an irrationally jealous husband, engagingly sung by Italian tenor Marco Caria. Ford's big aria, after his hilarious meeting in disguise with Frontali's Falstaff, is Verdi's parody on arias for Italian baritones and bassos, especially his own works.
Whenever Ford and the menfolk attempt to assert themselves collectively, it is the women's objectives that are advanced, such as Falstaff's dunking in the Thames after his disastrous attempt to woo Alice, and Ford's unintended presiding over Nannetta's marriage to Fenton.
The one male of whom the women clearly approve is Fenton, fervently and nicely sung by Argentine leggiero tenor Juan Francisco Gatell.
[Below: Juan Francisco Gatell as Fenton; edited image, based on a Robert Millard photograph, courtesy of the Los Angeles Opera.]
The New Production
British stage director Lee Blakeley, who earlier this year masterminded the Santa Fe Opera's new production of an Offenbach operetta [see Susan Graham's Star Glows in Offenbach's Sexy, Witty "Grand Duchess of Gerolstein" – Santa Fe Opera, June 28, 2013] devised the new production.
Joining Blakeley was British designer Adrian Linford, who had created the sets for "Gerolstein" and in this "Falstaff" took responsibility for both scenic and costume design.
[Below: Falstaff (Roberto Frontali) dresses for conquest; edited image, based on a Robert Millard photograph, courtesy of the Los Angeles Opera.]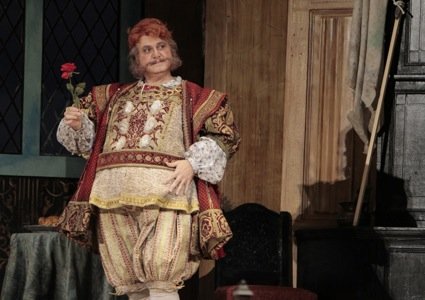 The sets consisted of two level towers at each end of the stage. At each change of scene, a drop cloth descends – attached to sturdy boards at top and bottom onto which are projected quotations from each of the three of the Bard's plays (Henry IV Part One and Two and Merry Wives of Windsor) in which Falstaff appears.
Each time the drop cloth is raised, it is a new scene – the interior of the Garter Inn, the home of the Fords, the exterior of the Garter on the bank of the Thames, Herne's Oak. However, because the towers at each side are always visible, characters can appear in front of the drop cloth and, when the action calls for it, on any level on either tower (or all simultaneously).
Thus, throughout the opera, one gets the feel of an Elizabethan play, in which swift scene changes occur.
[Below: Stage Director Lee Blakeley; resized image of a Roy Tan photograph from www.leeblakeley.com.]
Blakeley, who has a reputation for lively humor and for enlisting his artists in the development of comic routines, included some memorable touches. When Miller's Dame Quickly is about to leave, Frontali's Falstaff offers her a turkey leg as a tip, which, after her initial surprise, she takes a bite of.
When Frontali's Falstaff climbs out of the Thames, mad as a wet hen, he finds his belongings on the doorstep of the Garter Inn, whose hospitality has worn thin from a long period of nonpayment. However, the always indulgent innkeeper sends out his boy with another yet another glass of (unpaid for) wine for the discomfited knight.
Just before the midnight scene at Herne's Oak lanterns are placed at the footlights, then each lantern is picked up by a villager (chorister) who takes part in yet another Falstaff humiliation.
[Below: Nannetta (Ekaterina Sadovnikova, center right) disguised as the Queen of the Fairies frightens the cowering Falstaff (Roberto Frontali, front of stage, barely visible); edited image, based on a Robert Millard photograph, courtesy of the Los Angeles Opera.]
Recommendation
I recommend Lee Blakeley's new production, its cast, and the conducting of James Conlon, without reservation.
Postscript: Celebrating Italian Culture in America
The evening that began with Conductor James Conlon observing the centennial of the birth of baritone Tito Gobbi and the Italian Consul for Los Angeles presenting a bust of Giuseppe Verdi for permanent display in the Los Angeles Opera.
[Below: "Falstaff" Conductor and Los Angeles Opera Music Director James Conlon accepts a bust of Verdi for the Los Angeles Opera from the Italian consul; edited image, based on a Nancy Lee Burnett photograph.]
California has participated in the extraordinary year of an Italian government-sponsored cultural initiative through the performance of Verdi's "Manzoni Requiem" in San Francisco [San Francisco, Naples Jointly Celebrate Verdi Bicentennial With "Manzoni Requiem" – San Francisco Opera, October 25, 2013] as well as this ceremony in Los Angeles.
Gobbi and Evans; Frontali and Terfel
I have reported on my experiences attending Tito Gobbi's Jack Rance [50th Birthday Celebrations: Dorothy Kirsten Rides High in "Girl of the Golden West" – San Francisco Opera, October 1, 1960] and Boccanegra [50 Year Anniversaries: "Simon Boccanegra" with Tito Gobbi, Giorgio Tozzi – October 6, 1960] in 1960.
I also saw Gobbi's Iago [50 Year Anniversaries: McCracken, de los Angeles and Gobbi in "Otello" – San Francisco Opera, October 9, 1962] in 1962. (I plan to report on his 1964 performances in the title roles of Verdi's "Nabucco" and Puccini's "Gianni Schicchi" next year.)
Gobbi never sang Falstaff in California, because the role was performed exclusively in the three seasons the opera was performed between 1962 and 1970 by Welsh baritone Sir Geraint Evans [see 50 Year Anniversaries: "Falstaff" with Evans, Simionato, Stewart – San Francisco Opera, October 11, 1962]. (Blakeley's fellow countryman, the Scotsman Thomas Stewart was Ford to Sir Geraint's Sir John.)
Last month, San Francisco Opera was performing a different production of "Falstaff" with another Welsh baritone, Bryn Terfel, whom Evans mentored (and with whom Frontali has performed Ford, the opera's other major baritone role).
For me, there is symmetry and significance in the San Francisco and Los Angeles performances by two important exemplars of the Italian and British approaches to Falstaff. One of the Bard's greatest characters, who has been transformed into one of the greatest masterpieces of Italian culture, is celebrated in California in two important productions at the conclusion of the Verdi bicentennial year.