Houston Grand Opera revived its 2007 production of Verdi's "Aida", that features Zandra Rhodes' sets and costumes that portray the comic-book colored Rhodes vision of ancient Egypt.
In its six year absence from the Houston's stage, the Rhodes show traveled to London, San Francisco and San Diego [See, for example, Latonia Moore, Jill Grove Outstanding in the Zandra Rhodes Mounting of "Aida" – San Diego Opera, April 20, 2013].
Monastyrska and Savage
The revival was the occasion for Ukrainian soprano Liudmyla Monastyrska to assume the title role in a masterful portrayal. Her adversary, the Princess Amneris, was the formidable American mezzo-soprano Dolora Zajick.
[Liudmyla Monastryrska as Aida; edited image, based on a Lynn Lane photograph, courtesy of the Houston Grand Opera.]
Two tenors, both debuting at Houston Grand Opera and near the beginnings of their stage careers, shared the role of Radames, the object of both Aida's and Amneris' affection.
Five of the seven performances were scheduled for Italian tenor Riccardo Massi. However, I chose to attend the second performance of the alternate Radames, Pennsylvania dramatic tenor Issachah Savage, a graduate of Zajick's San Diego-based Institute for Young Dramatic Voices.
[Below: tenor Issachah Savage; edited image, based on a photograph of a YouTube video from the Marcello Giordani Foundation.]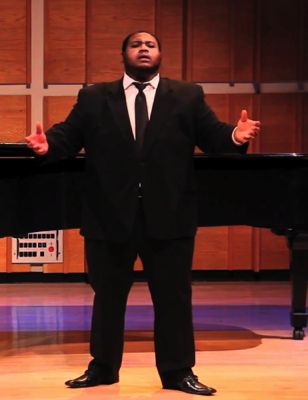 Savage, who is from Philadelphia, has had glowing reviews from some of the nation's best-known critics for his concert appearances. Yet, at this point early in his career, he has had few operatic appearances. I was pleased to have the opportunity to see him perform one of the iconic roles in any dramatic tenor's repertory.
(Savage is the 2012 grand prize winner of the competition held by the Marcello Giordani Foundation, named after a great contemporary Radames, who, himself, rode Rhodes' blue elephant in the San Francisco performances of this production. [See my remarks on Giordani's Radames at Brilliant Cast, Colorful Production, Luisotti's Masterful Conducting Enliven San Francisco "Aida" – September 19, 2010])
[Below: Princess Amneris (Dolora Zajick, front left) finds herself powerless to affect the Egyptian judicial system; edited image, based on a Lynn Lane photograph, courtesy of the Houston Grand Opera.]
In my reviews of Verdi performances, I have maintained a position in disagreement with the frequently heard assertion that there has heen a decline in the numbers of operatic voices of sufficient size and emotional color to master the big roles of the Italian maestro's last half dozen or so operas.
For those who believe in the "Verdi decline", I can report that both Mme Monastyrska and Mr Savage sang their parts with the requisite power throughout their ranges.
The presence of Dolora Zajick, who has made Amneris a signature role, assured a triad of big-voiced principals.
[Below: Dolora Zajick (left) as Amneris, with her handmaidens; edited image, based on a Lynn Lane photograph, courtesy of the Houston Grand Opera.]
But large voices are not sufficient for praiseworthy performances of these major roles. Those artists who sing the three major roles in "Aida" must convey the complex interrelationships of their characters through vocal expression. Despite all of "Aida's" spectacle, the story line is conveyed principally through conversations between Aida, her rival, her lover and her father.
The desperate moods of "Aida"
The relationships between Aida, Radames and Amneris are intensely emotional. We are not witness to moments of sustained joy in the lives of any of these characters.
Even Radames, in his moment of returning as a victorious general, is conflicted, knowing he has conquered his lover's homeland, and learning in a period of just a few moments that her father is his captive and he, Radames, is to be forced into a marriage to Amneis against his will.
If Amneris feels momentarily victorious, she herself in a brief moment of vengeance makes impossible the wedding and marriage that was her life's objective. Having summoned the authorities of the state, she discovers that all her power is an illusion in the presence of a condemned husband who will not co-operate with her futile effort to save his life.
[Below: Estonian basso Ain Anger (center right, holding staff) as Ramfis; edited image, based on a Lynn Lane photograph, courtesy of the Houston Grand Opera.]
Almost never is there a time when Aida feels any emotion other than despair – a flash of anger at Amneris' treacherous mind-game about Radames' supposed death, a moment of hope that Amonasro's "hail Mary" strategy of encouraging Radames' desertion might work – except, perhaps her final suicidal hours in the arms of her lover.
Perhaps a brilliant actor with a suboptimal voice in a small theater might convey these emotions physically. However, Verdi intended that these emotions be conveyed vocally by artists able to hold their own in such moments as the great concertato of the triumphal scene in which the voices of six principals are expected to soar above chorus and orchestra..
Conveying despair, anger and resignation to one's fate vocally requires technical skill, a secure legato and an ability to control the voice in a way that the audience can detect the character's mood, just from the way a phrase is sung.
[Below: Radames (here, Riccardo Massi, above, center left) rides an elephant puppet in the triumphal parade; edited image, based on a Lynn Lane photograph, courtesy of the Houston Grand Opera.]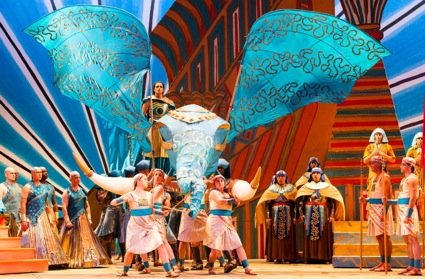 Staging Despair and Deception
The experience can be enhanced by a stage director who augments the vocal story with stage movements that complement emotional vocal performances.
For this revival, Houston Grand Opera engaged Jose Maria Condemi, the Argentine-born Californian who has shown remarkable skill in imaginative re-stagings of familiar productions.
Although some details of the staging are baked into the production (it's a given that Radames will arrive onstage at the reprise of the triumphal chorus on Zandra's blue elephant) there are opportunities for Condemi's inventive stagecraft.
Thus, when Zajick's Amneris is announced as the prize that Radames has (to his horror) won because of his military victory, Savage's Radames ignores her totally, crossing to the opposite side of the stage to shake hands with the admiring populace.
In this performance, Aida's father Amonasro (nicely performed by Scott Hendricks) is the man of action. Hendricks, whose lyric baritone is enlisted for a part often cast with a weightier voice, is a physical actor, appropriate to this wily character whose improbable psychological stratagem to persuade Radames to desert his army and reveal military secrets actually works.
Staging Spectacle and Dance
I consider "Aida" as the best opera written in the French grand opera style (even though it was written in Italian).
No one gets away with making any significant cuts in an "Aida" performance, even though the first act Temple Scene provides us with no new information, but requires an additional principal artist (the Priestess, well sung by Natalya Romaniw).
The scene, however, does provide some sonorous music for the Ramfis. The Houston performances are the American opera stage debut for Estonian-born basso Ain Anger, whose performance in the Verdi Requiem (with Zajick) I had praised earlier [Radvanovsky, Zajick, Lopardo, Anger Star in Conlon-led Verdi "Requiem" – San Francisco Symphony, October 22, 2011 ].
Three of its scenes have extensive dances. Unlike the bullfight dance in the party scene in "La Traviata", there is no expectation of a particular dance style, so that choreographer Dominic Walsh had room for innovation.
The triumphal scene includes an imaginative dance in which a pack of lions isolates and mauls an Eqyptian soldier, who rallies his strength and eventually subdues the animals. Each of the triumphal scene dances utilizes a mix of contemporary dance styles and ballet.
Stage Director Condemi uses Rhodes' spaces effectively, especially to convey the drama of the Nile scene. The dances are integrated into the action, including the scene in Amneris' apartments in which the bored princess chooses jewels to adorn herself while her maidservants dance.
The opera is listed a co-production of the English National Opera, San Francisco Opera and Nowegian National Opera.
Antonino Fogilaini conducted the Houston Grand Opera Orchestra. Richard Bado was Chorus Master. Kevin Ray sang the comprimario role of the Messenger.
Final Thoughts
The performances of Monastyrska and Savage were brilliant examples that Verdian voices continue to be produced. The performance of Zajick, who herself has invested in the future of Verdian singing, met her high standards.
The fine performances of Hendricks, Anger, and of Robert Gleadow as the King of Egypt were also noteworthy.