The following interview with Composer Theodore Morrison took place two days after the world premiere of Morrison's opera "Oscar". The interview was conducted in the administrative offices of the Santa Fe Opera, whose facilitation of the interview is gratefully acknowledged.
Wm: Congratulations on the premiere. I'd like to begin with some questions about your early experiences, that I ask each of the artists I interview.
TM: Certainly!
[Below: Composer Theodore Morrison; resized image of a promotional photograph.]
Wm: As a child, what were your earliest musical experiences?
TM: When I was quite young my mother took me to hear our hometown Baltimore Symphony Orchestra play Prokofiev's Peter and the Wolf. I loved it. In the alley behind our house I would practice waving my arms holding a stick as if leading an orchestra. I told the other kids that I was going to be a conductor. Of course they giggled at the idea.
I began to study piano and later, voice. At age 19, I was hired to be organist-choirmaster at Baltimore's Cathedral of the Incarnation and to conduct the Cathedral Choral Society with orchestra. My first major work there was Mozart's "Requiem".
After only a year at the cathedral I was about to be drafted into the army. Having told the army about my work at the cathedral I was assigned to the United States Army Chorus in Washington, where I was both a first tenor and rehearsal conductor. I had to enlist for three years to get that gig. After that I returned to the cathedral for another nine years.
Wm: Did you pursue formal academic education in music?
TM: No. I didn't attend any educational institutions after high school, but I was a voracious reader. I studied organ and voice privately and learned whom to ask or where to go to find the information I needed about the standard musical literature and new music.
I pursued learning this way throughout my 20s. My favorite high school English teacher had fondly and frequently quoted the great American educational philosopher John Dewey: "You learn by doing." That became my M. O.
So I absorbed lots of information about music by hanging around people who knew more than I did, especially orchestral musicians, who welcomed me. In retrospect I enjoy the fact that, having been a rather rebellious young man, I was able successfully to enter the profession against tradition.
Wm: How did you learn conducting?
TM: Aside from "learning by doing," fairly early on I gained the friendship of conductor Sergiu Commissiona, a Rumanian expatriate, who was then music director of the Baltimore Symphony Orchestra. I think he was their first very fine conductor, and with the support of management, a strong board of directors and public interest he transformed the orchestra into a wonderful ensemble.
He encouraged me as a conductor and invited me to attend rehearsals of the BSO and sometimes let me sit in the back row of the orchestra where I gained a very different auditory perspective near the brass or percussion! In time he gave me conducting opportunities, mostly oratorios and children's concerts.
[Below: Conductor Sergiu Commissiona, music director of the Baltimore Symphony (1969-1985)]
Wm: What was the next development in your professional career?
TM: By then my career had become firmly based in vocal and choral music, often with orchestra. In 1966 I founded the Baltimore Choral Arts Society. With them I conducted many great works and hired the best vocal soloists from New York. I will always remember conducting Mendelssohn's "Elijah" for the BSO with the great Sherrill Milnes in the title role.
Wm: You seem to have a special affection for Mendelssohn.
TM: There is a quality about Mendelssohn that speaks to my heart. It's his mastery of structure combined with a joyful depth of expression. When I was composing my symphony, War and Reconciliation, I got stuck finding the right notes for its scherzo movement until I had a minor brainstorm and decided to take out of the library every Mendelssohn scherzo I could get my hands on.
It took only a brief look for me to realize the open secret of structuring very fast music. It is the unabashed repetition of notes. I had been trying to make every phrase too "interesting." When you obsess with that, the result can be that nothing in your music becomes interesting.
At Oxford in 2006, while doing research for "Oscar", I was able to visit the glorious Mendelssohn collection in the Bodleian Library and had to back away from the table to avoid getting my tears on his original piano-vocal score of "Elijah". I paged through several manuscript orchestral volumes as well and the conducting score of Bach's "St. Matthew Passion" from Mendelssohn's first 19th century performance of it in Leipzig. What blew me away was that Mendelssohn had placed no conducting marks in the Bach score. No need to if you really know the music!
[Below: German composer Felix Mendelssohn; resized image of a painting from life.]
Wm: How did you develop your interest in composing?
TM: In younger adulthood I had not yet developed any skills for getting notes on paper, although I had always wanted to write music. I had observed that within the masterworks of the 18th and 19th centuries were the musical ideas that spoke most directly to me. Later I became strongly influenced by Paul Hindemith. I admired his virtuosic technique, and particularly his mastery of counterpoint. But imitating him didn't translate into anything I could be proud of as my own. One can't steal another's voice! I didn't produce any significant work until later when conducting had become easier and I could turn my attention to composing and what that entailed.
It seems that we composers needed to pass through the paroxysms of adhering to, rejecting, or being neutral about mid-20th century musical orthodoxies before we could come to a point where we could feel free to express ourselves honestly without worrying about conforming to some preordained artistic "correctness."
Fear of being called "derivative" by critics vexed many young composers. I am not the first to have the impression that all artists annex portions of what they have observed and learned from their predecessors. Oscar Wilde said that himself.
Something happened when I was in my early forties. I lost my concerns about being "derivative" and began to write. I knew and loved a great deal of music by composers both dead and alive, all of whose music owed much to their forebears. Of the living composers Britten, Shostakovich and Barber moved me the most. I still cite those three – all from the same generation – that of my parents – as most influential on me.
This is not to disregard the impact of others like Bartok and Stravinsky who are so important to me as well. And my interest in my own generation's music has never waned. I certainly acknowledge a strong attraction to Henze's music, and Ligeti's, with whom I once collaborated as a conductor.
My 30 year-old son Abraham, who is himself a composer, reminded me of Bartok's use of an octatonic scale that alternates whole and half steps. I used that collection of pitch relationships as the basis for the melodic and harmonic structure of one of the prison scenes in Oscar. Abe keeps me awake!
Wm: My first impression of your opera "Oscar' is that you have used four distinct musical approaches to tell the story – I call them your "voices".
TM: Please explain.
Wm: First, there is Walt Whitman and the immortals, who speak directly to the audience.
TM: Let me think about that with you. The role of Whitman has been described by my collaborator John Cox as a choric interlocutor – much like the actor who plays the role of Chorus in Shakespeare's Romeo and Juliet. In our Prologue Walt tells us what is going to happen in the opera. Oscar will be sentenced to two years in prison at hard labor for "gross indecency." In other words, punished to the fullest extent of Victorian law for loving a man.
That man was Lord Alfred Douglas, called Bosie, who was for Wilde both muse and nemesis, and that dangerous and public relationship was certainly the cause of his fall.
In the opera Oscar is unaware of Walt. He is there for us – observing, commenting, providing clarity. He steps away as the drama unfolds. Being an Immortal, his role is more static visually, but it is quite warm musically, reflective of Whitman's generous and powerful personality in life. In our Epilogue it is he who receives Oscar into the pantheon of the Immortals. Oscar is welcomed there by a chorus that in a general way represents great figures in literature and the arts.
[Below: Oscar Wilde (David Daniels, center) writes a farewell letter to Bosie, Lord Alfred Douglas (Reed Luplau, left). The American poet Walt Whitman (Dwayne Croft, right) and Bosie are seen by the audience, but not by Oscar; edited image, based on a Ken Howard photograph, courtesy of the Santa Fe Opera.]
Wm: Why did you choose to make Walt Whitman a character in an opera about Oscar Wilde?
TM: Wilde is known primarily for his comedies of manners, his dark novel The Picture of Dorian Gray, and his celebrated conversational epigrams. What is probably less thought about by the reading public is that he was a man who through his works wanted to help his society evolve, become more just. Whitman was doing the same thing as an author in America, but with an entirely different style from Wilde's.
Wm: There is an historical connection between Whitman and Wilde.
TM: When Wilde was on an extended American lecture tour, the two men met at Whitman's home in Camden, New Jersey. Walt died in 1892 just about the time that Bosie and Oscar first became lovers. Perfectly timed for our purposes!
Wm: And Wilde also visited the American West.
TM: Here we are in Santa Fe for the opera's premiere. I don't know if Oscar Wilde ever got to New Mexico, but we do know that he visited Leadville, Colorado. There is the famous story about his going down into the mines there, where he had an "all-liquid dinner" with the miners.
[Below: George Keller's cartoon "The Modern Messiah" in the San Francisco Wasp memorialized Oscar Wilde's 1882 visit to San Francisco; resized image of an historic cartoon in the public domain.]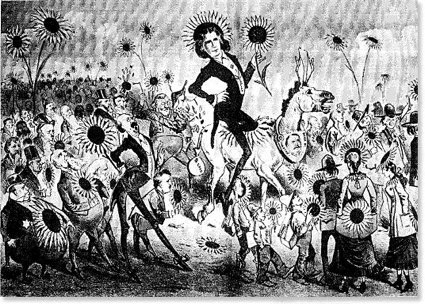 Wm: The next "voice" I observed are what I call the expositional scenes, principally the discussions between the characters of Frank Harris, Ada Leverson and Oscar Wilde, which seem to me like a sung play.
TM: Those scenes are based on historical realities. Out on bail before his conviction and sentencing, Wilde was by then infamous and denied accommodations at London hotels, so his friend, the writer Ada Leverson, invited him to stay in the nursery apartment in her house at No. 2 Courtfield Gardens, South Kensington. Her husband and little daughter Violet were in the country at the time.
This actually happened. The texts for much of their conversations were taken from the writings of the participants, with connective tissue contributed by John and me. Ada and Frank Harris reveal that both have great hearts. They loved Oscar and urged him to jump bail and flee to France, but Oscar refused to run from the inevitable verdict.
Their conversational interactions are not just chatter. From a musical perspective, they are presented through techniques of accompanied recitative. I use a variety of instrumental effects in ways that support, but don't overpower the voices. The texts can be heard clearly. For example, Frank is frequently accompanied simply by the four horns in rapid alternation with Ada singing with the strings.
This suggests a "sound costume" for each. It enhances the sense of dialogue and changes the timbre that a single family of instruments might provide, adding audible color to the conversation. And there are a great many extended lyrical passages and arias that break what might otherwise become conversational monotony. I've employed a large orchestra, not primarily for volume, but for a wide-ranging pallet of sound. I think this works quite well.
Wm: Then, as a third "voice," there are scenes that are in Oscar's imagination, specifically his encounters with Bosie, and I believe also, the mockery of the toy courtroom scene.
TM: Bosie had left England at the time of the trial, but of course it was the love affair between Bosie and Oscar that is central to the story. John and I had to decide how we would we present Bosie in the opera. The device we settled upon was having his character portrayed by a silent dancer dwelling in Oscar's fantastical imagination, but seen only by the audience. These scenes of fantasy demonstrate Oscar's joys and fears, his trembling in the excitement of love, and the terrors of his prison life.
Wm: Unlike the dancer who plays Tadzio in Britten's opera "Death in Venice", who is supposed to be real in some scenes and in Aschenbach's imagination in others, Bosie is clearly always in Oscar's imagination.
TM: Yes. Curiously, John and I never discussed "Death in Venice" together when we were writing the libretto. Our Bosie is frequently masked in different guises: a baggage porter, a French waiter, the prison doctor, Death. But underneath we always know he is Lord Alfred Douglas. Wilde said, "If you give a man a mask, he will tell you the truth."
The dancer who portrays Bosie, Reed Luplau, is just extraordinary. He is lean in his portrayal, very sensitive, but careful not to overact. Since he's imaginary, melodrama must be avoided.
Not so, however, when the nursery explodes into a mockery of the Old Bailey! At that point our toys, puppets and dolls "come to life" and become outrageous participants in the farcical trial.
[Below: Oscar (David Daniels, right) imagines he is being embraced by his lover, Bosie (Reed Leplau, left); edited image, based on a Ken Howard photograph, courtesy of the Santa Fe Opera.]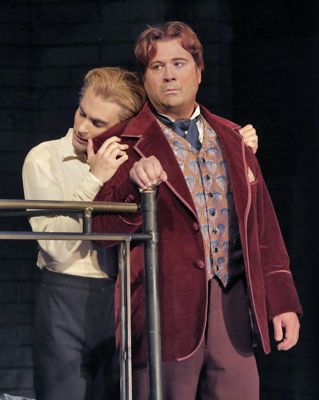 Luplau and Choreographer Sean Curran worked very hard on Bosie's dances. The two used game playing to figure out how Bosie would react to things around him.
Wm: Finally, as the fourth "voice," there are the scenes of the prisoners in Reading Gaol, which sometimes have the feel of a choral work, or even an oratorio.
TM: To this day our prisons are often brutal places in which our gluttony for retribution is fed. In Victorian England, Oscar's "punishment" for what to me was not a crime was unthinkably cruel, placing him in solitary confinement without books or paper on which to write, thereby depriving him of his creativity and of his interactions with other human beings. In the prison scenes, only after he is injured in a fall in the chapel is he finally able to talk with other prisoners in the infirmary who are kind to him.
"This terrifying isolation from all that would save a wretched soul" needed to be commented on by Oscar's fellow prisoners, often not as an active part of the drama, but as background lamentation. In a way the prisoners seem to be part of the scenic design. So a more formal, stylized musical language felt appropriate for those scenes, especially when we quoted stanzas from Wilde's poetic masterpiece, The Ballad of Reading Gaol.
[Below: Frank Harris (William Burden, standing behind) visits Oscar Wilde (David Daniels, seated); edited image, based on a Ken Howard photograph, courtesy of the Santa Fe Opera.]
Wm: Oscar and his compatriots witness the execution of a fellow prisoner. How did you decide to transition from the terror of that scene to Oscar's release and his entrance into Immortality?
TM: When Frank and Ada visit Oscar near the end of his sentence, they are helping to bring Oscar back from prison life, preparing him for reentry into the world of society. They offer him the solace of friendship as the music turns gradually toward the bright side. Frank tells him that a new, kinder governor will take over the prison. He will be able to work in the garden, have more books and writing materials. In the next scene Ada lovingly reminisces with him about the past, but also predicts his immortality.
Wm: Although there have been attempts at staging operas in which the characters appear to have gay relationships, usually those situations were not the intention of the opera's composer and librettist.
In the case of "Oscar", your intention and that of your co-librettist John Cox is to portray a gay relationship between two men and its consequences, even if that relationship for the period covered by the opera, as this opera is constructed, survives only in Wilde's fantasy.
The trial, of course, is based on Wilde's refusal to live under the British law as it existed at that time.
TM: An advance article in The Denver Post described "Oscar" as the first opera in perhaps 500 years that intentionally showed two men as lovers. That is important.
Wm: The opera appears at a time when one can certainly be optimistic about human rights in some parts of the world, and pessimistic about it in others.
TM: Queen Elizabeth has just signed a law establishing equal marriage rights in the U.K. We are making progress towards universal equality of marriage in America, especially because of recent Supreme Court decisions. In Russia, the Putin government has taken dramatic steps to move away from any form of gay rights, and in some other countries the laws are even more severely written against such rights. Oscar Wilde himself said that on this front "the road will be long and red with monstrous martyrdoms."
I found myself emotionally committed to this project, that commitment coming from past experiences, some more recent, some a long time ago. My father was a very prejudiced person who taught me as a child that it would be beneath me to associate with persons different from me. Such prejudices are always based on fear. As a teenager I was forced to reinvent my own life in that regard in order to love the differences in human beings.
David Daniels, John Cox and I worked for nine years to develop a work that could illustrate on the opera stage the destructive nature of those prejudices, those fears, to our very society. As our wonderful stage director Kevin Newbury has said, "This is not only an opera about gay rights. It is one about human rights." And I would add, it's about the urgent need for prison reform – in our time!
Wm: What about the final three years of Wilde's life?
TM: We deliberately did not address the remaining years of Oscar's life during which he lived in exile and poverty. His ear injury in the prison chapel was incompetently treated, and that seems to have led to his premature death in a run-down Paris hotel three years after his release at age 46. Near the end of his life, in keeping with his most generous wit, he said, "This wallpaper and I are fighting a duel to the death. One of us has got to go."
Wm: Thank you for your time.
TM: It's been a pleasure. You ask good questions!