The following interview with Mark Adamo, the composer and librettist of "The Gospel According to Mary Magdalene" took place at the War Memorial Opera House, with the much appreciated facilitation of the San Francisco Opera:
Wm: You were first drawn to drama; only later to musical composition and opera. What first led you to consider playwrighting professionally, and what attracted you to opera?
[Below: Composer-librettist Mark Adamo; resized image, based on a photograph for Opera News; courtesy of Mark Adamo.]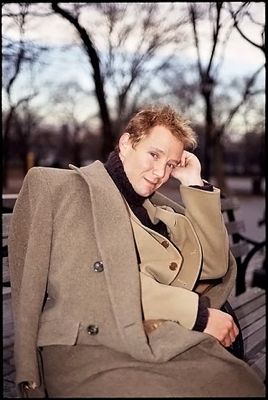 MA: I'd been performing in theater from age 9, and my first, most passionate reading was among the drama book shelves of the Willingboro Public Library: I would read everything from 1960s boulevard comedy to Pirandello.
And I loved music in the context of the theater I was doing—I could listen to someone practice arpeggi for hours – but my parents weren't symphony-goers, and we had no piano until I was 16, at which point I became the person practicing for hours.
I'd always loved both hearing and performing in all musical theater, though in retrospect the musicals that interested me most were those that were closer to opera.
I listened more to "Sweeney Todd," "The Most Happy Fella" than to, say, "Guys and Dolls:"more to "Porgy and Bess" and "Of Thee I Sing" than to "Lady, Be Good," more to Bernstein's "Candide" than to "On the Town".
Later, I came to those concert composers to whom my favorite theater composers listened: through Sondheim and Bernstein I came to Copland, Ravel, Stravinsky, Britten, Shostakovich, Prokofiev.
By that time I was into my degree program at The Catholic University of America, so I was studying even more widely: now I encountered Crumb, Carter, Penderecki, and the minimalists.
But my first conscious thoughts of composing opera only came after I attended the opening night of a production of Menotti's "The Saint of Bleecker Street:" I was surprised by how theatrically modern and musically rich it seemed. I turned to a friend and saying "If this is what opera is, I could happily, happily live here."
Wm: You graduated cum laude with a degree in musical composition from The Catholic University of America in Washington DC, and had already composed your cantata "Late Victorians," before Summer Opera Theater, a small opera company affiliated with Catholic University, approached you for an opera on Louisa May Alcott's "Little Women."
But both that piece and your second opera, "Lysistrata," were introduced by the Houston Grand Opera, then led by David Gockley: and David has commissioned your third opera "The Gospel According to Mary Magdalene," for the San Francisco Opera. How did this collaboration that has lasted over 15 years begin?
MA: It was through the composer Carlisle Floyd, with whose "Susannah" and "Of Mice and Men" I'd become familiar in school.
[ Below: Composer Carlisle Floyd; resized image of a promotional photograph.]
I'd met Carlisle when I was a freelancer at The Washington Post: I'd been assigned to write a feature on (composer) Stewart Wallace and (librettist) Michael Korie's "Harvey Milk" at the Houston Grand Opera, and to that end I interviewed Stewart, Michael, and, for the first time, David Gockley.
I was able also to schedule a brief interview with Carlisle: my first question was why, after this boom of new American works in the 1950s, the energy behind new opera seemed to have dwindled between then and the early '90s, when pieces like "Nixon in China" and "The Ghosts of Versailles" seemed to electrify the form again.
Carlisle replied that in 40 years of interviews, he had never been asked this question: and before we knew what we were at lunch, talking about anything and everything connected with the making of opera, which was thrilling to me.
So, naturally, he was the first person I called when Summer Opera Theater, the company affiliated with Catholic University, asked me to look at Little Women as an opera: and he very generously agreed to walk me through everything from what to ask for in the contract to how to structure a piece.
He was also one of the first people I called when I withdrew from the project over disagreements about the libretto: and it was Carlisle who recommended that I send the outline and recording of my first (and, at the time, only) orchestral piece to David, as he thought "Little Women" might be very right for Houston Grand Opera.
[Below: Margaret Lloyd, Stacy Tappan, Stephanie Novacek, and Joyce DiDonato as the four sisters of the 2000 Houston Grand Opera production of Adamo's "Little Women": resized image of a George Loomis photograph for the Houston Grand Opera.]
David was interested: we opened in the Cullen Theater (Houston Grand Opera's smaller theater) on a Friday the 13th (!) of March of 1998; and, before the second (and then, closing) performance, David said that he had never seen an opening night reception like that for a new piece in 20+ plus years. And from that conversation began the rest of my career: he said he wanted to revive this piece (which he did – it was that revival that was telecast in 2000) and commission two more pieces for me.
There is one more way in which Carlisle Floyd is the godfather of "Little Women". Years ago, Carlisle's "Willie Stark", based on Robert Penn Warren's All the King's Men had been telecast, and more recently, Carlisle's latest opera, "Cold Sassy Tree," had been filmed as well. In the 2000 season, Houston Grand Opera had one slot for a PBS telecast, and it was to be either "Little Women" or ""Cold Sassy Tree;" it was Carlisle who suggested that the PBS slot go to my opera.
[Below: the Naxos DVD of the Houston Grand Opera performance of Adamo's "Little Women"; resized image of a Naxos DVD cover.]
Wm: The successful launch of "Little Women" led to your second HGO commission, "Lysistrata". It is quite a different piece.
MA: But they are both about the same size. "Little Women" needs only a small orchestra that can expand, if desired, to a medium orchestra, and 15 singers. "Lysistrata" uses the same orchestral forces, but requires 17 singers.
Still, "Little Women" feels intimate, whereas "Lysistrata" feels more presentational. They were both introduced at HGO's 1100 seat Cullen Theater and both later produced on the larger, 2500-ish New York State Theatre: "Little Women" made the big theatre feel intimate, and "Lysistrata" made the small theatre feel like the amphitheatre at Epidaurus.
[Below: Ava Pine as Lysia with Scott Sully as Nico in Adamo's "Lysistrata"; edited image of a photograph, for Fort Worth Opera.]
Wm: What appealed to you in the fragments of early Christian thought attributed to Mary Magdalene that led you to consider creating an opera on the subject? As you pursued the subject, what insights did you get into human beings living nearly two millennia ago and how they compare to those of us alive now?
MA: Well, I'm not sure that human beings have changed quite as much as we would like in two millennia: would that we had!
But, to answer your first question, I first became aware of these early Christian Gospels through an article Joan Acocella wrote for The New Yorker, which suggested to me that it might be possible to write an original version of the story of Jesus and his followers in which everyone involved was a human being; in which the women spoke as eloquently as the men; and no one was saved by a convenient miracle from the consequences of their actions.
It was that article that got me into reading books like Jane Schaberg's The Illegitimacy of Jesus, which made a fascinating case for the idea that the virgin-birth narrative was actually a response to a pre-existing illegitimacy narrative; and in which Schaberg posed the question of whether Jesus's idea of God as an all-loving, omnipresent Father wouldn't be at once more moving and more credible if it was the imaginative leap made by an bastard son, rather than by some one born of a miracle.
I could talk forever about the details of this, and sometimes it feels as if I have! But the short version of the idea was to come up with a credibly human original version of the Gospel narrative of which all the texts we have are, to one extent or another, magical variations: and to use the soulful power of music, rather than magic, to expand that story into the mythic.
Wm: What elements of your Mary Magdalene story are based solely on the Gospel literature?
MA: No Gospel – none – indicates that Mary Magdalene was a prostitute. The canonical Gospels only describe her as a woman out of whom Jesus drove seven demons; who ministered to Jesus and his followers out of her "resources;" and who was the first witness to the Resurrection.
The non-canonical Gospels present her as Jesus's strongest and most beloved follower: the only one who will flatly contradict him when he says misogynist things, such as when, in Dialogue of the Savior, Jesus says, "Destroy the works of the female," and Mary immediately responds with "They will never be destroyed."
What was interesting was the number of hints of the illegitimacy narrative, and the number of details about the tense relationship between Jesus and his mother, that you find not in the non-canonical Gospels, but in the same New Testament clerics preach from every Sunday.
It's Matthew, not some Gnostic type, who writes a genealogy of Jesus which includes five women who have only one thing in common: that is, that they were overshadowed by sexual scandal during their lifetimes but were redeemed by history.
And the second scene in my first act has a crowd accusing Jesus of being a bastard; his mother coming in to rescue him, claiming "he is deranged;" and Jesus angrily rejecting her, claiming "if you don't hate your family, you cannot enter the kingdom of heaven."
That may seem exotic, but I didn't make that up: that scene is lying there in plain sight, in Matthew, Mark, and Luke. If you read that scene as doctrine, it's endlessly problematic: but what an opportunity for a dramatist!
[Below: Yeshua (Nathan Gunn, left) and Mary Magdalene (Sasha Cooke, right) exchange vows; edited image, based on a Cory Weaver photograph, courtesy of the San Francisco Opera.]
Wm: Did you have a part in casting the opera, and did you work with the principals, Sasha Cooke, Nathan Gunn, Maria Kanyova, and William Burden, in creating of their rôles?
MA: I did, but it was easy: both David Gockley and I knew many of the same artists. I had known the work of William Burden, Nathan Gunn, and Maria Kanyova for years, as we had both started at Glimmerglass and New York City Opera at the same time, and Burden and Kanyova had both recently given stellar performances for San Francisco Opera, in "Heart of a Soldier" and "Nixon in China," respectively.
The company had heard great things about Kevin Newbury and Michael Christie, but I had seen the work of both of them firsthand and knew they'd be perfect to direct and conduct. Sasha was the newest name to me, but she been recommended strongly by, it seems, everyone I had ever met New York, and they weren't wrong: she was, and remains the perfect artist for the title rôle.
So it was a delight, as well as a courtesy, to pitch the rôles as near as possible to the centers of those four glorious voices. (Something like ten pages of Sasha's music depended on the placement of a single note: and Nathan was good enough to come over to my apartment for an hour to approve a passage featuring a lone F# (though, in my defense, it was his entrance.)
[Below: Sasha Cooke (center, on landing) as Mary Magdalene; edited image, based on a Cory Weaver photograph, courtesy of the San Francisco Opera.]
Wm:. How have you structured the musical composition?
MA: All three of the operas are organized melodically, and this one is no exception. Sometimes a character will sing another character's music very self-consciously, as if flinging her own words back at her: as Peter does with Mary's "life" music in Act Two: sometimes characters will sing the same music without knowing it. (Both Miriam and Yeshua sing this fluttering "design" melody in the same moment of crisis.)
So what's different in this piece is not so much the musical materials, but the range of utterance. The simple music is extremely simple. A character will sing a melodic paragraph over a single tone, with the only change being the orchestral color with which tone that is painted. Or in scenes like the crucifixion scene, or the stoning scene, vocal lines will thicken into two-octave clusters, or be sung in two or three keys at once.
Part of this extremity of range was made possible by the larger orchestral forces I had. In this score, I was able to do much more with both vocal and instrumental color: to give the illusion that the emotion of a scene was changing not so much because the harmony was, but because a harmony that had first been uttered in a bitter, brief brass chord was continuing in a softer and smoother string timbre.
But part of it was also dictated by the story. It was, at once, extremely intimate and as public as a story can be: and, as a composer, you have to make the story "sound."
Wm: You have spoken about the role of the poet-librettist in the past history of opera. When one looks at the poet-librettist's role in classical and Romantic Italian operas, is he not collaborating with the composer in establishing the pace of the opera? Was he not providing the words with a rhythmic structure that permitted the composer to organize melody and rhythm to create the scene's tinta?
Then would it not follow that a true revolution in opera occurred with Debussy's "Pelleas et Melisande" and Berg's "Wozzeck", both of which could be characterized as sung plays, which have a different pace and rhythm than the most successful classical and Romantic operas? Is it not possible to characterize a great number of 20th and 21st century operas as sung plays?
MA: But "La Traviata" is a sung play. What we're talking about is the difference between an opera written as a collaboration between two living artists, as opposed to a living artist doing what s/he pleases with the work of a dead one: and, more germanely, the difference between a sung verse play and a sung prose play.
Each has its pitfalls. If a verse play is over-symmetrical, it can seem mechanical. But the prose libretto can err towards the formless: towards the too-little-symmetrical. I happen to think the best example for the contemporary American librettist is not so much contemporary poetry, or even contemporary drama, but the serious theater lyric of the past 50 years.
If you compare the texts of Sempre libera from "La Traviata" and Epiphany from "Sweeney Todd", I think you'll find them exactly comparable: fluent, underwritten verse, implying and enabling strong musical choices, in the service of intense drama.
Wm: Nineteenth-century collaborators like composer Vincenzo Bellini and librettist Felice Romani would clearly negotiate a given scene's rhythmic structure to shape its drama: such as when, in "Norma," the scene shifts into three-quarter time for the only time in the entire opera when Norma, Adalgisa and Pollione confront each other as a trio for the first time. Do you, as composer and librettist, approach opera in the same way?
MA: Yes. When beginning an opera, I try to come up with the emotional color, the tempo, the movement of the show before I write a single word or pitch: so that even in the first draft of my libretto I'm adjusting to the kind of music I know I'm going to write.
There are so many musical qualities one can incorporate into language: rhythm, tempo, even line length (are there three words in the line or 12?) or the relative "softness" or "hardness" of sounds (compare a word like "ménage" to a word like "statistics") that it would be pointless to simply think of a libretto as a purely verbal construct that music will later transform and "set." To the greatest possible extent, you want the music and the language to become each other.
[Below: Yashua (Nathan Gunn, standing, left front) and Mary Magdalene (Sasha Cooke, kneeling) prepare for night; edited image, based on a Cory Weaver photograph, courtesy of the San Francisco Opera.]
Wm: This year, the births of Verdi, Wagner and Britten are being celebrated. Do you have a favorite opera of each of these three composers? Has your work has been influenced by any or all of theirs: if so, in what way?
MA: Well,Britten probably takes pride of place, as he is the closest in time to me and is the only one of the three who wrote in English. For Wagner, I would choose "Tristan und Isolde" and for Verdi "Falstaff;" from Britten, I would choose "A Midsummer Night's Dream," both for its exquisite Englishness and its balance between the elfin strangeness and the human worlds.
But "The Turn of the Screw is thrilling;"The Rape of Lucretia" has some extraordinary things in it; and "Albert Herring" is delicious from start to finish.
Wm: What about "Billy Budd"?
MA: Also a wonderful piece, though not my favorite: I'm put off a bit by its joylessness. You could say something similar about "Death in Venice," though hearing William Burden as Aschenbach made me understand just how musical the allegedly-unmusical English language can sound.
Wm: In my interview with French conductor-composer Frederic Chaslin, he said he is composing his opera in English, because he finds it to be a more musical language than his native French.
MA: That's wonderful. Surely if we can sing Czech, we can sing English!
Wm: Do you expect any reaction to "The Gospel of Mary Magdalene" from the Vatican?
MA: No. Even here in town, I was scheduled to take part in a round-table discussion with some diocesan representatives on a radio show. The company sent them a copy of the libretto and, sure enough, they graciously withdrew, saying that they would withhold opinion on the work, because it flies in the face of church teaching. Alas.
Wm: You are the only opera composer of whom I'm aware who has exchanged marital vows with another composer of opera. Do you and John Corigliano critique and influence each others' work?
[Below: Mark Adamo and John Corigliano; resized image of portrait by Christian Steiner, courtesy of Mark Adamo.]down
MA: The lovely thing is that my music and John's doesn't sound alike, but the way we approach composition is more similar than not. We have separate studios at our home in upstate New York.
From the windows we cannot see each others' studios, but we can knock on each others' doors if there is something on which we need an opinion. But we are both each other's biggest fan, which, as you can imagine, is a great blessing.
Wm: Thank you Mark for your time.
MA: Thank you also! It was a terrific conversation.