The San Francisco Opera presented the world premiere of composer-librettist Mark Adamo's "The Gospel According to Mary Magdalene" in a strongly cast, visually effective production.
Adamo wades into the controversies that divided Jewish sects at the time of Yeshua (Jesus). His libretto draws upon fragments of ancient accounts, re-discovered in modern times through the work of archaeologists and Biblical scholars, that provide an alternate account of Yeshua's life and teachings, just prior to his crucifixion.
Central to the opera is Yeshua's appearance, after his death, as a vision to his disciple, Mary Magdalene. Through the dialogue between Mary Magdalene and Yeshua's vision, as through the debates between Peter, Yeshua and Magdalene earlier, Adamo creates the artistic expression of a radical reinterpretation of early Christian thought.
Sasha Cooke's Mary Magdalene
As the Mary from Magdala, American mezzo-soprano Sasha Cooke was a vibrant presence, with a beautifully lyrical mezzo and arresting appearance, evoking (as intended) the image of Magdalene as envisioned by Renaissance painters.
[Below: Sasha Cooke as Mary Magdalene; edited image, based on a Cory Weaver photograph, courtesy of the San Francisco Opera.]
Cooke, a specialist in 21st century American opera and other vocal music, is one of the most promising of recent debuts at the War Memorial Opera House.
Nathan Gunn's Yeshua
Certainly conforming in appearance to the traditional representation of Jesus, and without question the biggest box office draw in the cast, lyric baritone Nathan Gunn sang the role of Yeshua.
[Below: Nathan Gunn as Yeshua; edited image, based on a Cory Weaver photograph, courtesy of the San Francisco Opera.]
Gunn's presence brought dramatic validity to the role. As an illegitimate carpenter's son from the lower class community of Nazareth Yeshua was a social outcast, and the authorities regarded his teaching as heretical, yet, through the force of his personality, as well as his message, he gained followers and disciples.
Adamo presents Yeshua as a human being, affected by emotion and erotic impulses, often as conflicted as he is purposive. Gunn proved to be an effective actor for this "non-magical" view of Jesus the Man.
[For my interviews with Gunn, see Heartland Heartthrob: An Interview with Nathan Gunn, Part I and Heartland Heartthrob: An Interview with Nathan Gunn, Part 2.]
Maria Kanyova's Miriam, Mother of Yeshua
If Cooke's Magdalene and Gunn's Yeshua conformed to the images that Western art has of these Biblical figures, Maria Kanyova's Miriam has no resemblance to the traditional depiction of Mary.
Adamo wove together recent theories by revisionist scholars suggesting that Jesus was illegitimate and that Mother Mary was an older woman who held the low status job of hairdresser.
[Below: Maria Kanyova as Miriam, mother of Yeshua; edited image, based on a Cory Weaver photograph, courtesy of the San Francisco Opera.]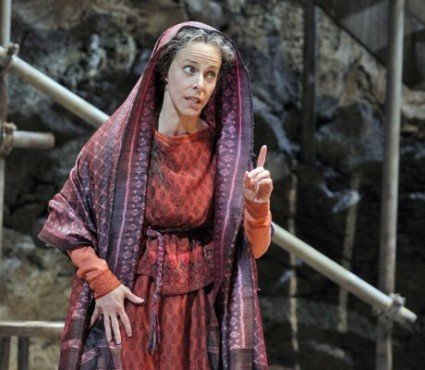 Kanyova, displaying the dramatic soprano voice that had been so impressive in the role of Pat Nixon at the opera house [see 25 Years Old, "Nixon in China" Arrives at San Francisco Opera – June 8, 2012] in the previous summer made a powerful impression in the role of Miriam as well.
William Burden's Peter
Also praiseworthy was the vocal performance of William Burden as Yeshua's disciple Peter, whose lyric tenor soared throughout the War Memorial Opera House.
[Below: Peter (William Burden, front right) expresses his disagreements with Yeshua (Nathan Gunn, front left), as Miriam (on stairs, left) and Mary Magdalene (on stairs, right) look on; edited image, based on a Cory Weaver photograph, courtesy of the San Francisco Opera.]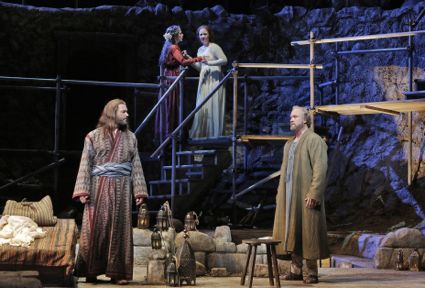 An effective actor, Burden has a long history of working with Nathan Gunn in operatic performances [see American Orpheus: An Interview with William Burden.]
The physical production
The opera was staged by Kevin Newbury, on whose admirable work with an Romantic era Italian opera I had previously reported [see Joyce DiDonato is Vocally and Dramatically Convincing in Donizetti's "Maria Stuarda" – Houston Grand Opera, April 27, 2012.]
The premiere of Adamo's new opera, with its swift scene changes and rapid time shift between the present day and Biblical times is a complex process.
Newbury staged the opera utilizing a unit set designed by David Korins, which represented both the site of a modern archaeological dig (where new fragments of early Christian writings were discovered) and the locus of the scenes between Yeshua, his followers, and authorities, as well as his crucifixion and subsequent reappearance in a vision to Mary Magdalene.
[Below: the preparations for Yeshua's crucifixion; edited image, based on a Cory Weaver photograph, courtesy of the San Francisco Opera.]
Complementing Korins' sets and Newbury's staging were the costumes of Constance Hoffman, whose extensive research on first century Middle Eastern dress added an aura of authenticity.
Decoding Adamo
The opera's libretto reflects exhaustive scholarship into both the language of specific sections of the Old and New Testaments and of other early Christian texts not included in the Bible. The Old Testament passages include sections of the Psalms and Song of Songs that relate to erotic love. The New Testament is represented by the Four Gospels. The "non-canonical" literature (i.e., not approved by the Vatican) relates to the period immediately before and after Jesus' crucifixion.
Adamo has not waited for a book like Thomas May's Decoding Wagner: An Invitation to his World of Music Drama to speculate on the historical and literary influences of his text. He has provided those interested with an 88 page augmented libretto, containing 116 footnotes explaining the textual influences on specific words and phrases in his libretto, and including a "select bibliography" of 17 additional commentaries on the source material.
Adamo was brought up in the Catholic traditions and graduated from a pontifical university (Catholic University of America). He strongly supports of the equality of women in church governance and has a personal commitment to gay marriage.
[Below: Miriam (Maria Kanyova, right, standing) braids the hair of Mary Magdalene (Sasha Cooke, seated).]
The dissonance between church teachings and one's fundamental core values would likely result in many persons with Adamo's values to dissociate with the church entirely. But some ex-Catholics find themselves engaged in what little can be done to change church policy.
To me, it appears that the libretto and its accompanying footnotes read like an eloquent "friend of the court" brief to the Papacy as to why certain traditions and practices of the Roman Catholic Church should be overturned as lacking Scriptural authority and as contrary to what were likely the teachings of Jesus himself.
Adamo as Composer and Librettist
When, as is almost always the case opera composers and librettists are different persons collaborating on a project, the creative tension that can ensue will influence the final form of the work.
When the composer and librettist are the same person as was Richard Wagner (the first of four persons quoted on the frontispiece of Adamo's libretto) or Carlisle Floyd (who surely must be considered the dean of American opera composers and who is a mentor to Adamo), then the resulting works, obviously, are the results of a single artist, rather than a collaboration.
With a person as intellectual, as energetic, and as iconoclastic as Adamo is, the likelihood of a product that is quite unlike any other work of art increases. So is the case of this opera, whose subject matter and construction is entirely unique. Yet, like many other artistic works designed to challenge the intellect, the more one studies this work, the more one finds.
Mark Adamo, David Gockley, and American Opera
Adamo's two previous operas "Little Women" and "Lysistrata" were premiered at Houston Grand Opera (HGO's)'s Cullen Theater (at 1100 seats, the smaller of the two stages used by HGO), during the general directorship of David Gockley. A decade and a half after "Little Women", Gockley, now San Francisco Opera General Director, presented Adamo's third, most ambitious and certainly most personal opera to date.
The resources afforded the new production were impressive. With six performances scheduled at the War Memorial Opera House, it suggests that upwards of 18,000 people will see this new work in live performance.
Mark Adamo is one of the brilliant generation of American opera composers whom I believe increasingly will impact in positive ways the future of opera.
At the end of the world premiere performance Sasha Cooke, who performed the title role, received a standing ovation, and cast, crew and composer were enthusiastically applauded by the opening night audience.
"The Gospel of Mary Magdalene" is a thought-provoking piece, excellently mounted by the San Francisco Opera, that I recommend that opera goers explore.