Mozart's glorious comedy about the inconstancy of women returned to the War Memorial Opera House stage after an absence of eight years. Maestro Nicola Luisotti and Stage Director Jose Maria Condemi presided over a young but very strong cast in what proved to be an eye-pleasing, continuously entertaining, beautifully sung performance.
Luisotti, after assuming the position of San Francisco Opera music director in the 2009-10 season, in each subsequent season has conducted one of the three Mozart operatic masterpieces with libretti by Lorenzo da Ponte – "The Marriage of Figaro" (see Copley Directs, Luisotti Conducts, Sparkling "Nozze" Ensemble – San Francisco Opera, October 3, 2010) and "Don Giovanni" (see Meachem, Vinco, Lead Cast of Imaginatively Staged "Don Giovanni" – San Francisco Opera, October 23, 2011).
The Vocal Performances
Two of Luisotti's "Cosi fan Tutte" cast members, American soprano Ellie Dehn and Italian basso Marco Vinco, were veterans of the previous Luisotti ventures into Mozart masterpieces, Vinco and Dehn respectively as Leporello and Donna Anna in "Don Giovanni", Dehn also as the Countess Almaviva in "Marriage of Figaro"
[Below: Ellie Dehn as Fiordiligi; edited image, based on a Cory Weaver photograph, courtesy of the San Francisco Opera.]
The conductor's confidence in their talents proved justified, each rewarding the audience with memorable vocal performances.
Fiordiligi's two great arias Come scoglio and Per pieta are touchstones for sopranos who would wish to be recognized as Mozart heroines of the first rank. Dehn dispatched both arias with seeming effortlessness, assaying the fireworks and range of the former, then displaying exterior calmness while inferring inner turmoil while singing the latter.
Vinco's Don Alfonso, alone among the six cast members, has no pair of major arias, but is at all times the prime force that motivates all that occurs. Every detail of Vinco's well-sung performance was noteworthy, every posture and hand movement perfectly right for this man of the world.
[Below: Don Alfonso (Marco Vinco, left) conspires with the maid Despina (Susannah Biller, right); edited image, based on a Cory Weaver photograph, courtesy of the San Francisco Opera.]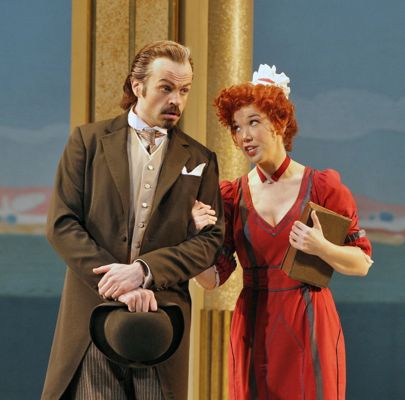 A gifted operatic comedian, who excelled in such an over-the-top role as Rossini's Mustafa [see Genaux, Brownlee and Vinco Romp in Rossini's "L'Italiana": Garnier Opera House, Paris – October 8, 2010], Vinco showed that exhibiting shrewdness and nonchalance is as effective a skill in operatic comedy as "wild and crazy" farce.
Don Alfonso's (well-paid) assistant in playing headgames with the pairs of lovers is the ladies' chambermaid, Despina. Susannah Biller, a late arrival to the cast, replacing a colleague after rehearsals began, performed this classic soubrette role with with the sharp-edged wit and comic timing that makes this role the perfect foil to the staid sisters.
[Below: Dorabella (Christel Loetzch, left) bids farewell to her lover, Ferrando (Francesco Demuro, right); edited image, based on a Cory Weaver photograph, courtesy of the San Francisco Opera.]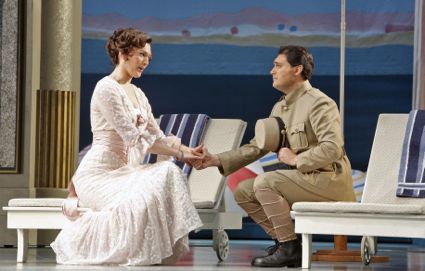 Last year, I had raised some concern as to whether Sardinian tenor Francesco Demuro's voice was the right weight to be singing the Duke of Mantua in the large War Memorial Opera House [see Lucic, Kurzak, Praiseworthy in Season Opening "Rigoletto" – San Francisco Opera, September 7, 2012.] However, I have no such reservations about his performance in the role of Ferrando, which he performed stylishly.
The American debut of the Dorabella, German mezzo-soprano Christel Loetzch, was auspicious, not only for her impressively sung two solo arias, but for her enchanting duets with Dehn.
Especially impressive was the mainstage debut of first year Adler Fellow, the French-Canadian lyric baritone, Philippe Sly, clearly on the fast track to international stardom. Tall and handsome and possessing a winsome lyric baritone, there exists a rich repertory of operatic roles for which he would seem an obvious choice.
[Below: Fiordiligi (Ellie Dehn, left) bids farewell to her lover, Guglielmo (Philippe Sly, right); edited image, based on a Cory Weaver photograph, courtesy of the San Francisco Opera.]
Stage Direction and Production Design
The elegant Robert Perdziola set design, whose original production concept was created by British director John Cox, re-locates the scene of action to a Mediterranean resort that is serving the war effort [See Warhorse Warriors: John Cox' 'Cosi Fan Tutte' in S. F. – July 2, 2005.
Originally a co-production with the Opera of Monte Carlo, the production, when revived for Dallas, also was directed by Cox, see Bel Canto "Cosi fan Tutte" at Dallas Opera – February 18, 2010.]
This year's mounting of the production has been inventively restaged by Argentine-born stage director Jose Maria Condemi, who had been the Assistant Stage Director for this production's first season in San Francisco. Condemi's direction de-emphasizes the idea of the bet between Alfonso and the boys taking place in a casino (a tongue-in-cheek reference, of course, to the production's first performances in Monte Carlo).
So too has the original anti-war bite has been softened. (Although the boys still return with evidence of war wounds, originally they were accompanied by several other wounded men from their unit).
Although quite obviously set in the time of the first world war, any hint of who might be fighting whom is never suggested, nor has the war seemed to restrict the availability of high fashion period dresses worn by the sisters Fiordiligi (Ellie Dehn) and Dorabella (Christel Loetzsch), artfully designed by Perdziola.
[Below: The sisters Dorabella (Cristel Loetsch, center left, standing) and Fiordiligi (Ellie Dehn, center right, standing) discuss the condition of Guglielmo (Philippe Sly, crouching left) and Ferrando (Francesco Demuro, crouching right), both disguised as Albanian sailors, with Despina (Susannah Biller, right), disguised as a medic; edited image, based on a Cory Weaver photograph, courtesy of the San Francisco Opera.]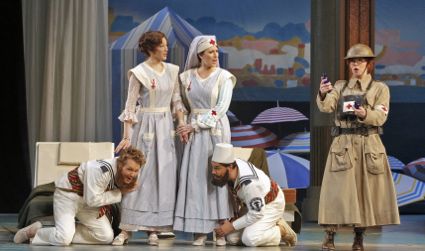 Sex and Mozart
In sharp distinction to the prevailing operatic tastes of his time, four of Mozart's operas – his three in Italian with Da Ponte libretti, and his contemporary hit opera in German, "Abduction from the Seraglio" the sexual interests of the characters are a major focus. In all four operas, the characters have "sex lives" that are major concerns to themselves and that they discuss with each other and the audience.
Conductor Luisotti has called "Cosi" Mozart's sexiest opera, and, in fact, in some productions the reasons why the Ferrando and Guglielmo get upset with one another is because the opera has been staged to leave no doubt that it wasn't just a locket that each sister gave to the other's fiancé [See, for example, my account of Sir Nicholas Hytner's approach at Stylish Production, Fine Cast for "Cosi fan Tutte" – Los Angeles Opera, September 18, 2011.]
Director Condemi has made use of the elegant costumes and colorful, cinematic images. They provide a quite spectacular setting for the presentation for Condemi's witty take on what "Cosi fan Tutte" is about – neither war nor wagering – but the sexual interests and intrigues of the principal characters.
And, following a moment when each man returns to his original love interest, he answers the question on which Da Ponte and Mozart are moot – who, at the finalé, ends up with whom?
Nicola Luisotti's Conducting
In a conversation with Los Angeles Opera's Music Director James Conlon he expressed his opinion that, since an opera company's music director makes conducting assignments, there exists a "music director's repertory", so that one must hold that position to be assured of being able to conduct the operas of, say, Wagner, Richard Strauss or Mozart's three "Da Ponte" operas [See An Interview with Conductor James Conlon, Part 1].
Thus, I find special significance in the fact that Luisotti in his first four seasons as music director, has performed operas by Wagner, Richard Strauss and, now, with "Cosi", all three Da Ponte arias. (Though it be only tangentially related to these comments on this "Cosi", I believe that Californian opera goers are particularly blessed to have Luisotti and Conlon as the music directors respectively of the San Francisco and Los Angeles opera companies.)
[Below: the Albanian sailors arrive by boat to be married; edited image, based on a Cory Weaver photograph, courtesy of the San Francisco Opera.]
Luisotti's orchestra was rearranged with special care to optimize its Mozartean sound. Sitting at a fortepiano, Luisotti conducted without baton, while his colleague, Associate Conductor Giuseppe Finzi, sat at a harpsichord at his far left.
Often, less so in the United States than elsewhere, a production revival can be a lower priority for an opera company. Not so with the San Francisco Opera, and, especially not with this production. Although when last seen at the War Memorial in Summer 2005 it had an admirable cast, both the physical production and the musical performance have been extensively rethought. Anyone who saw this production previously should see it anew in this Luisotti-Condemi collaboration.
As an example of the differences between the production's 2004-05 and 2013 mountings, Luisotti, with the music director's authority, has secured resources that the two lesser known conductors from the previous season could not have imagined. Not only was Conductor Finzi enlisted for keyboard duty, but Luisotti created a specific musical sound for the recitatives of each set of characters.
Because he considers Fiordiligi and Dorabellas as "baroque" characters, their recitatives are accompanied by an ancient stringed instrument. The theorbo was played by a specialist in baroque instruments, Milan-based Californian Michael Leopold whose guest appearances with with opera orchestras performing baroque works has been noted previously. (See Elegant and Engaging, Lully's "Armide" Glows at Glimmerglass Festival – July 21, 2012 and "Xerxes" Unexcelled – Houston Grand Opera, May, 2, 2010).
[Below: Michael Leopold and the theorbo; resized image of a photograph from the Helicon Foundation.]
Because Luisotti considers Alfonso and Despina as Enlightment contemporaries of Mozart, their recitatives are accompanied by the harpsichord (conductor Finzi joined by San Francisco Opera cellist Thalia Moore).
Because Luisotti considers the men as more modern characters, their recitatives were accompanied by Luisotti's fortepiano. Yet that interesting performance detail was only a tiny fraction of the attention that Luisotti gave every musical element of Mozart's masterpiece. Any Luisotti performance is memorable, and Luisotti Mozart is a special treat.
Recommendation
I recommend this cast and production unreservedly, both for the veteran opera goer and for persons new to opera.