The San Diego Opera, whose early years were noted for such adventurous excursions into 19th century French opera as Thomas' "Hamlet", Saint-Saens' "Henry VIII" and Chabrier's "Gwendoline", has emerged as one of America's current champions of the French opera repertoire.
In the past seven seasons the San Diego Opera has created new productions of Bizet's "The Pearlfishers" and Massenet's "Don Quichotte" and mounted handsome productions of Gounod's "Faust" and "Romeo et Juliette" and Donizetti's "La Fille du Regiment".
The second production of the San Diego's four opera 2013 season (following the French romantic comedy, "La Fille") is the return of the sumptuous Nicolas Joel-Douglas Schmidt production "Samson et Dalila", conducted by Karen Keltner.
[Below: a view of the first act Douglas Schmidt sets for "Samson et Dalila"; edited image, based on a J. Katarzyna Woronowicz photograph, courtesy of the San Diego Opera.]
Arguably the most elegant production of the opera ever created, it is a world treasure. It was created in 1980 by the San Francisco Opera (which partnered with the Lyric Opera of Chicago and Iowa's Gramma Fisher Foundation) for the all star cast of Placido Domingo and Shirley Verrett in the title roles and Wolfgang Brendel as the High Priest. (The 1980 San Francisco performances are recorded on DVD, available through Kultur Films.)
The stage of the San Diego Civic Theater is smaller than that of San Francisco Opera's War Memorial Opera House, or the stage used by Chicago's Lyric Opera, so some compromises have been made as to how sets are displayed to bring the production to San Diego.
[Below: Dalila (Nadia Krasteva, left) has enticed Samson (Clifton Forbis, right) to come to her home in the Sorek Valley; edited image, based on a J. Katarzyna Woronowicz photograph, courtesy of the San Diego Opera.]
For example, the sight lines are abridged as production features are moved closer together or obscured by the borders of the stage [For an account of a performance in San Francisco, see Exotic Immersion: "Samson" in S. F. – September 11, 2007.]
This production, dating from 1980, has been mounted in only four seasons in San Francisco. San Diego Opera, which has performed it in two of its last seven seasons, has proven a hospitable venue for this extraordinary work.
Its San Diego performances show that it does not matter so much as to whether the experience of seeing the opera in the War Memorial has been duplicated. The basic focal points of Douglas Schmidt's sets remain, through which one is transported to an ancient place through the prism of the exotic music from the Paris of the Third French Republic. The 19th century Parisian embrace of sensual Orientalism influences this production's sets and costumes.
An enthusiastic audience was again regaled by this production. San Diego Opera once again proved that it can perform French grand opera stylishly [For my review of its previous appearance at the Civic Theater, see Seductive Denyce Graves Enthralls San Diego in "Samson et Dalila" – February 23, 2007.]
[Below: Dancers perform a bacchanale in the presence of an image of the god Dagon; edited image, based on a J. Katarzyna Woronowicz photograph, courtesy of the San Diego Opera.]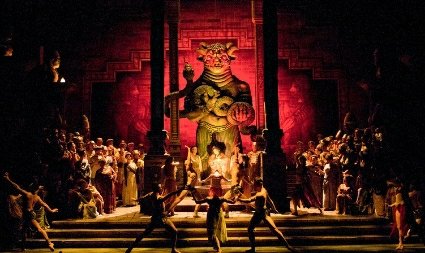 Nadia Krasteva's Dalila
Californians have been fortunate to have seen both Olga Borodina (San Francisco 2001, 2007) and Denyce Graves (San Diego 2007) as Dalila. For the 2013 revival, the services of Bulgarian soprano Nadia Krasteva were obtained.
I had been impressed by Krasteva's Carmen in Chicago [see Krasteva, Jovanovich Sizzle in Chicago "Carmen" – Lyric Opera, March 15, 2011.] She has the secure lower and middle voice and soaring high notes that assure high quality vocal performance as Carmen and Dalila, but also the acting ability to portray these sultry French opera seductresses.
[Below: Nadia Krasteva as Dalila; edited image, based on a J. Katarzyna Woronowicz photograph, courtesy of the San Diego Opera.]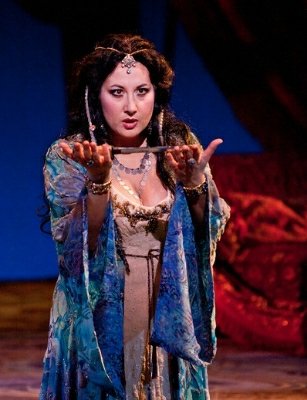 Clifton Forbis' Samson
Texan Clifton Forbis has had an extraordinary career as an Italian tenore robusto (the title role in Verdi's "Otello"), as a Wagnerian heldentenor, and a performer of, Samson, the most famous role for French heroic tenor. [For my comments on his Tristan, see Forbis, Voigt Brilliant as Lyric's Tristan and Isolde – Chicago, February 24, 2009 and Tristan Tried and True: Clifton Forbis Sells Seattle Opera's New "Tristan und Isolde" – July 31, 2010.]
Recently appointed the Chair of the Voice Department of Southern Methodist University, his burly tenor voice has proved invaluable to American companies mounting these difficult tenor assignments in the large United States opera houses and theatrical venues.
[Below: Clifton Forbis as Samson; edited image, based on a J. Katarzyna Woronowicz photograph, courtesy of the San Diego Opera.]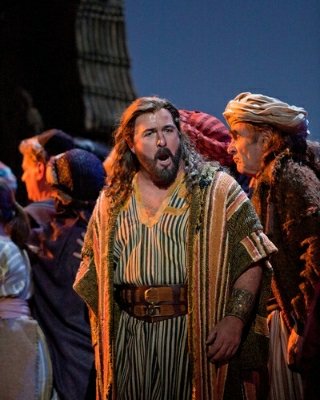 The role of Samson starts with declamatory passages in the first act, lyrical passages in the second act seduction scene, and, finally, an extended solo scene in which the tethered and blinded Samson pushes a giant millstone, before the opera's explosive denouement in the Temple of Dagon. Although Forbis seemed tentative, even vocally uncomfortable, in the early scenes, he was in prime voice for the big scenes of the final act.
Anooshah Golesorkhi's High Priest of Dagon
The Persian-American baritone Annoshah Golesorkhi, replacing a colleague recovering from surgery, proved to be an authoritative High Priest of Dagon. San Franciscans will remember that he performed two of the performances in the title role of Tchouhadjian's "Arshak II" (translated from its 1868 original Italian into Armenian) at the San Francisco Opera in 2001.
Golesorkhi and Krasteva were memorable in their second act duet (to me always reminiscent of the conversations between mezzo and baritone in Wagner's "Die Walkuere" about each other's power base), in which Dalila and the Priest strategize about how to subdue Samson, and which reveals a prior seduction of the High Priest by Dalila.
[Below: Anooshah Golesorkhi as the High Priest of Dagon; edited image, based on a J. Katarzyna Woronowicz photograph, courtesy of the San Diego Opera.]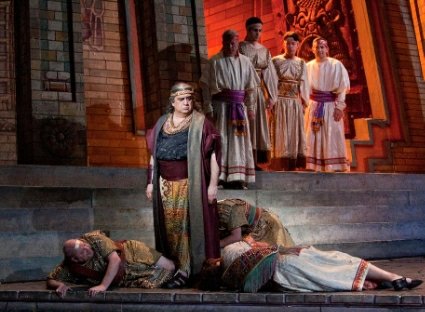 In "Samson et Dalila" the smaller parts (all of which occur in the first act) have brilliantly composed music to sing. Mikhail Svetlov, whose San Diego Opera performance as Varlaam I have praised previously [See Furlanetto's, San Diego Opera's, Compelling 1869 Version of "Boris Godunov" – January 30, 2007] was an able Abilemech for that role (much briefer than Varlaam).
The always impressive character tenor Greg Fedderly was the Philistine's Messenger, Doug Jones was the First Philistine and Scott Sikon was the Second Philistine. Fedderly, Jones and Sikon joined Golesorkhi is a brief but effective quartet that reflected the terror that Samson evoked among his enemies.
The imposing music of the Old Hebrew was beautifully sung by Gregory Reinhart, whose Biterolf in Wagner's "Tannhauser" I had appreciated in San Francisco [see Charismatic S. F. "Tannhauser" – October 12, 2007.]
[Below: The Old Hebrew (Gregory Reinhart, center, standing) blesses and warns Samson (Clifton Forbis, center, kneeling); edited image, based on a J. Katarzyna Woronowicz photograph, courtesy of the San Diego Opera.]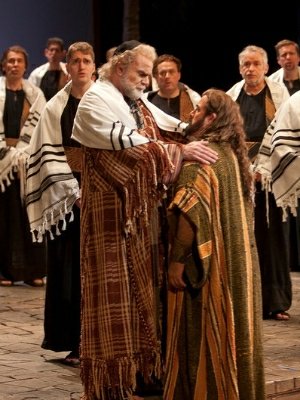 Schmidt's sets, now 33 years old, still retain their brilliance, color and exoticism, as do the costumes of Carrie Robbins, a monument to the theatrical skills of these two Broadway veterans.
That Leslie Koenig's direction differed in so many ways from the original staging of Nicolas Joel (as did each of the subsequent directors in San Francisco and San Diego) shows how serviceable the sets are for different concepts. With a relatively small cast, it is one of the many "grand operas" that actually is amenable to performance in more intimate settings.
The Ballet Scenes
The ballet sequences are important parts of French grand operas, and should never be cut and always intelligently staged. San Diego Opera, with a troupe of twelve ballet dancers, nicely performed the first act dances as well as the Bacchanale. skillfully choreographed by Kenneth von Heidecke.
[Below: the San Diego Opera Corps de Ballet dancing the Bacchanale at the Temple of Dagon; edited image, based on a J. Katarzyna Woronowicz photograph, courtesy of the San Diego Opera.]
A small ballet troupe, as employed in San Diego, can perform the French operas ballets with distinction. This example and that of Santa Fe Opera, which performed the "Faust" Walpurgisnacht Scene and ballet [see Santa Fe Opera Gets Gounod At Last: Hymel, Perez Soar in Spectacular New Production of "Faust" – July 1, 2011], provide examples of how throroughly enjoyable French grand opera can be with its ballets intact.
Equally impressive was the San Diego Opera chorus, directed by Charles F. Prestinari, who, bedecked as Hebrews or Philistines in Robbins' thoughtfully designed costumes, brought a powerful interpretation to Saint-Saens' dramatic choral writing.
In fact, for the time being, the United States might be a safer place to see French grand opera performed as it should be, than in parts of Europe. In Berlin, in the least authentic production of "Samson et Dalila" ever conceived, the stage curtains were closed for the Bacchanale, which was played as a symphonic episode by the orchestra, after which the curtains were reopened [see The Singing's Erste Klasse, but Railroad-Themed "Samson et Dalila" Production Ends in Train Wreck – Deutsche Oper Berlin, May 29, 2011.]
"Samson et Dalila" is not an opera, as was proved in Berlin, that does well in concept productions transported to other times, places or dramatic situations.
Recommendation
Playing the opera straight, the San Diego Opera presented an absorbing evening of this beautifully orchestrated work. I recommend the San Diego Opera performances unreservedly.
For another example of a successful staging of this opera, see: Blythe Leads Impressive Role Debuts in "New" Pittsburgh "Samson et Dalila" – October 18, 2008.]