On a bitterly cold January evening, chilled Salt Lake City residents were invited to escape to a fantasy tropical river cruise, as Utah Opera presented Catan's "Florencia en El Amazonas".
The work is a contemporary opera meant to be accessible to audiences, with lush orchestration and melodic themes, and an absorbing, ultimately surreal storyline.
Inspired by – though not directly derived from – the works of Colombian Nobel Prize winning novelist Gabriel Garcia Marquez [nicknamed Gabo], the opera's Spanish language libretto was written by one of Gabo's proteges, Mexican cinema screenwriter Marcela Fuentes-Berain, with the affectionate input of "Florencia's" composer Daniel Catan.
The opera premiered 16 years ago at the Houston Grand Opera. It has been the most successful to date of Catan's four major operas, having been performed in two separate seasons at both the Houston Grand Opera and Seattle Opera. It has also been mounted by the Los Angeles Opera, Detroit's Michigan Opera Theater and the Cincinnati Opera, as well as by three American universities. Its European premiere was in 2006 at Germany's Heidelberg Theater.
The Utah Opera mounted a production directed by Argentina-born Jose Maria Condemi. Condemi's version of the opera's staging, seen in Denver in March 2012, is scheduled to be performed subsequently at other American opera companies.
[Below: Stage director Jose Maria Condemi, shown in a promotional photograph for the Cpera Colorado production of "Florencia".]
Nmon Ford's Riolobo
The Salt Lake city performances are one of the rare occasions in the last several years for American audiences to see Panamanian-American bass-baritone Nmon Ford, whose recent career has been based in Germany, and who is, like Condemi (as was Catan himself), a Californian with Latin-American roots.
[For my review of his Traveler at the Hamburg Staatsoper, see Michael Schade, Nmon Ford, Gabriele Frola Brilliant in Hamburg's New "Death in Venice" – April 19, 2009.]
A handsome, physical actor, Ford brought life to the role of Riolobo, a fantasy character who is sometimes a jack of all trades on the deck of the passenger boat El Dorado and sometimes a mystical representation of, or perhaps a conduit to, the forces of nature.
These natural forces with whom Riolobo seems to be associated include an unseasonable storm that swamps the El Dorado and an epidemic of cholera at the boat's supposed point of debarkation.
[Below: Nmon Ford as Riolobo; edited image of a production photograph, courtesy of the Utah Opera.]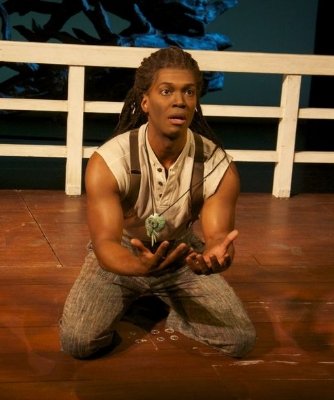 The Voyage to Manaus
Riolobo is one of seven characters in the opera. The other six characters, passengers on the El Dorado, are traveling the nearly 700 miles from the Colombian town of Leticia to the Brazilian city of Manaus to attend a performance at the fabled Amazon Theater Opera House.
That ostentatious edifice, which really exists, was built in the late 19th century at the height of a then very lucrative international market for Brazilian rubber. In the opera's story, Florencia is world famous opera star, whose career began in this remote theater.
[Below: the Amazon Theater Opera House in the Central Brazilian town of Manaus; resized image of a postcard, from mysteriousandmisplaced.com.]
Florencia has scheduled a personal appearance there for the first time in two decades. But her journey there has another purpose – to discover what has happened to Cristobol, a lepidopterist drawn to the Amazon jungle 20 years earlier in quest of the Emerald Muse, among the rarest of butterflies.
There, Cristobol had met and shared a passionate romance with Florencia – the love of her youth and the only person with whom she was ever intimate.
The role of Florencia (performed by Cynthia Clayton) – the prima donna of both the story and the performance – is discussed below.
Andrea Carroll's Rosalba
The seconda donna role is Rosalba, nicely performed by soprano Andrea Carroll. She made a strong impression as the starstruck biographer of interview-shy opera singer.
I had praised Carroll's ensemble singing in an opera at the 2011 Glimmerglass Festival [see Pictures at an Exhibition: John Musto's Opera "Later the Same Evening" Brings Edward Hopper's Art to Life: Glimmerglass, August 13, 2011.]
Carroll's penultimate scene duet with Clayton's Florencia (as well as her love duets with Jason Baldwin's Arcadio) also produced noteworthy ensemble singing.
Hector Vasquez' Capitan and his Passengers
Of the Salt Lake City cast, the "Florencia" veteran is Hector Vasquez, who created the role at Houston Grand Opera and has been associated with the part ever since. With his large, secure baritone an authoritative performance of the role was assured.
[Below: Hector Vaxquez as Capitan; edited image of a production photograph, courtesy of the Utah Opera.]
Two other passengers and another crew member complete the river boat's travelers.
An unhappily married couple (who, having faced a near fatal experience of an Amazon storm, discover that what each found annoying about the other seems no longer to be important) were played by Kirstin Chavez (Paula) and Christopher Clayton (Alvaro). Their reconciliation is accompanied by one of the opera's most engaging melodies.
Capitan's "take this job and shove it" disaffected nephew Arcadio was sung by Colorado tenor Jason Baldwin.
Love blossomed for Baldwin's Arcadio and Carroll's Rosalba and was beautifully celebrated in duets comprised of some of the most melodic and lyrical passages of the score.
The Musical Context of Catan
Daniel Catan, who died unexpectedly in his early 60s in 2011, was openly respectful of the influence that a great number of classical composers had had on his musical style. His remarks have invited many comments on just how to describe the "Catan sound" to those opera lovers who have not yet heard Catan's work.
Catan acknowledges his debts to many early 20th century composers who wrote in post-Romantic styles. Some critics have identified his musical style as derived from Stravinsky. (I can understand that sentiment in the Firebirdish music that accompanies Riolobo's mystical transformation at the end to the first act.)
[Below: Riolobo (Nmon Ford), appears mystically as if transformed into a butterfly; edited image of a production photograph, courtesy of the Utah Opera.]
Others believe they have identified homage to the musical palette of Richard Strauss. One certainly concedes that the large woodwind section of the orchestra is enlisted, as it is in "Der Rosenkavalier", in the imitation of bird song.
Because the tropical canopy shields a much larger group of avian beings than the Viennese gardens of the Marschallin, the song bird chatter for flutes, piccolos and oboes surrounding the El Dorado far exceeds their Straussian equivalents.
A generation ago discussion of a contemporary opera composer being influenced by 19th and early 20th century Romantic and post-Romantic compositional styles would have been an indictment of unoriginality, perhaps of pandering to unsophisticated audiences that prefer melodies to sounds that follow a structure imposed by a musicologically describable formula.
However, we appear at last to be moving into a period where it no longer is considered a sell-out to produce a work to which audiences respond positively, even if one can find fragments of melodies that seem consistent with styles of previous eras.
In fact, Catan's style is unabashedly eclectic, adopting whatever tinta fits the circumstances of the moment, so the sound differs not only from opera to opera, but from scene to scene. The musical sounds he uses to imitate nature – flowing water, storms, bird songs – obviously revisit a favorite path of 19th century Romantic "program music".
But, I believe, that there are shades of tinta that define "Florencia". Those tinte are found in the musical construction of the opera's title role.
What Catan's "Florencia" most reminds me of is Italian verismo opera. That category includes the operas of Puccini, whose heroines' voices at times must soar above a large orchestra, as Minnie's does in "Fanciulla del West", or who may have the lyrical softness of Liu's death scene in "Turandot" or the conversational parlando taking place at Bullier's night club in "La Rondine". I argue that Florencia's role has elements of each style.
But the music I regard as most analogous to Catan's "Florencia" style – even if the influences were indirect – are the verismo melodramas associated with Puccini's contemporary Italian opera composers.
If one might hear phrases in "Florencia" that remind one of Wagner, or Debussy, or Ravel, you can also hear similar phrases that have assimilated in the melodramatic operas of Mascagni, Giordano, Montemezzi and Cilea, all written seven, eight or nine decades before "Florencia".
Many of us who attended San Francisco Opera performances in the late 1970s saw the late career, but arresting performances, of the great verismo dramatic soprano Magda Olivero.
It's not impossible that Catan might have seen Olivero in title roles of Puccini's "Tosca" and Poulenc's "Voix Humaine" in San Francisco, but, whether or not he did, he created a role that Olivero could have inhabited – displaying within a single hour poise. reserve and dignity, amorous recollection, fright and intensity, and, ultimately wild emotional abandon.
This is the stuff of the verismo melodrama. This is the Florencia who, at the height of her fame and career, risks her life to return to the strangely located opera house in the middle of the Amazon jungle, the only place that she ever experienced love.
Cynthia Clayton's Florencia
Cynthia Clayton's Florencia displayed a spinto voice of power, yet one at its most effective in the softer, lyrical scenes, such as the final duet with Rosalba mentioned above.
[Below: Cynthia Clayton as Florencia; edited image, based on a production photograph, courtesy of the Utah Opera.]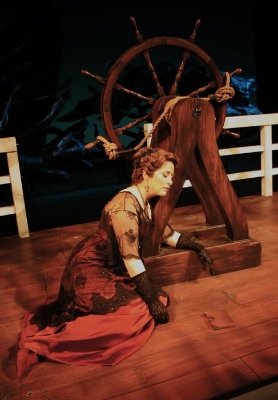 Clayton displayed – through its range of emotions, its mix of spinto and lyric moments, and its melodramatic core – the role's potential to become a favorite for dramatic sopranos among the lead roles of late 20th century American operas.
Comments on the Physical Production
The production was designed, originally for Opera Colorado, by Philip Lienau (who is a Resident Scenic Design Artist for Seattle Opera), containing many elements that enhanced the feeling of the El Dorado's constant motion on its downstream journey.
For most of the opera, projections of tropical canopy and the river's course, made the case that we the audience were on an Amazon cruise. Some of the projections, such as fireflies darting in dense foliage through which a large full moon was visible, were particularly effective.
The bustle of townspeople at the Leticia wharf at the opera's beginning was nicely done, and reflective of Condemi's style of staging in which each of the choristers and extras have separate personalities.
Conductor James Lowe guided the large orchestra. Susanne Sheston was chorus master and Elizabeth Poindexter costume designer. Nicholas Cavallaro was lighting designer.
Ultimately, as the fanbase for "Florencia" grows, investment in a new production would be in order. Using the latest in projection techniques (such as seen in Vancouver's production of Adams' "Nixon in China" or the Dallas Opera production of Heggie's "Moby Dick") might further enhance the experience of river cruising on the El Dorado.
As an introduction to an important milestone on the way to the great American operas that I have been predicting, I recommend this Utah Opera production of "Florencia en El Amazonas".
For my most recent reviews of productions directed by Jose Maria Condemi, see: A "Tosca" Surprise in San Francisco – Angela Gheorghiu, Melody Moore Split Role of Tosca, Massimo Giordano Excels as Cavaradossi- November 15, 2012, and Ailyn Perez and Stephen Costello Star in Cincinnati Opera's "La Traviata" – July 26, 2012 and "Orphee" at the Lobero – Jose Maria Condemi, Opera Santa Barbara, Mount Gluck's Masterpiece in Intimate Venue – April 29, 2012.
.