A contemporary cast of Rossini singers of international rank, with well-honed comedic acting skills, presented Giacchino Rossini's "La Cenerentola" at the Opéra National de Paris' Garnier opera house, in the famous Jean-Pierre Ponnelle conceptualization from the late 1960s.
[Below: the entrance of a masked beauty at Don Ramiro's palace in the Jean-Pierre Ponnelle production; edited image, based on a Christian Leiber photograph for the Opera National de Paris.]
Each of the principal singers has expertise in performing major Rossini operas. The conductor, Riccardo Frizza, and the Cenerentola, Don Ramiro, Dandini and Don Magnifico have had special recognition for their contributions to the Rossini legacy – either as performers at the annual Rossini festival in Pesaro, Italy or (in the case of Bruno de Simone, the Magnifico) as the recipient of an honor recognizing his accomplishments as a Rossini singer.
[Below: the family portrait at opera's end with, from left to right, Clorinda (Claudia Galli), Don Magnifico (Bruno de Simone), Tisbe (Anna Wall), Dandini (Nicola Alaimo, with chin on Angelina's neck), Angelina/Cenerentola (Marianna Pizzolato), Don Ramiro (Maxim Mironov, wearing chest medallion) and Alidoro (Adrian Sampetrean) with choristers in background; edited image, based on a Christian Leiber photograph, courtesy of the Opera National de Paris.]
Even though he was considered the most important opera composer of the 1810s and 1820s, Rossini's operas (beyond "Barber of Seville" presented in an inauthentic style) had virtually disappeared from most opera house repertories until recent years.
[Below: Although he is only a valet exchanging clothing with a prince, Dandini (Nicola Alaimo, left) is considered the real deal by Don Magnifico (Bruno de Simone, second from right) and Clorinda (Claudia Galli, center, in red wig) and Tisbe (Anna Wall, right); edited image, based on a Christian Leiber photograph for the Opera National de Paris.]
But now, with Rossini Festivals popularizing the Rossinian singing styles that differ so markedly from most standard opera fare, and a foundation dedicated to preparing scholarly editions of Rossini's operas, it is now possible for companies to mount operas that sound much more like Rossini likely would have intended.
The Musical Performance
Conductor Riccardo Frizza led the Orchestre de l'Opera National de Paris in the spirited overture, some of whose themes will return to underscore comic situations later on.
Assuming the title role of Cenerentola (Angelina) is coloratura mezzo Marianna Pizzolato, whose rich mezzo forms the opera's earliest vocal music, and whose bravura opera-ending aria Nacqui all'affano, al pianto – one of the grandest showpieces for the lyric mezzo – she performed brilliantly.
[Below: Marianna Pizzolato as Angelina; edited image, based on a Christian Leiber photograph, courtesy of the Opera National de Paris.]
On the occasion of the American debut of tenor Maxim Mironov as Don Narciso [see Partying in L. A.: Machaidze, Gavanelli Romp in All-Star "Turco in Italia" – Los Angeles Opera, February 19, 2011] I was both impressed by his vocal flexibility and skill in the Rossini genre (he has no fewer than seven Rossini tenor roles in his repertory), while concerned that his leggiero tenor would be challenged by the large sizes of the American opera houses.
His voice proved more right-sized for the 2,000-seat Palais Garnier than the 3,200-seat Dorothy Chandler Pavilion in Los Angeles, and he was an elegant Ramiro, showing impressive virtuosity in Ramiro's great aria Si, ritrovarla io giuro.
[Below: Leggiero tenor Maxim Mironov; edited image, based on a photograph from neue-stimmen.de.]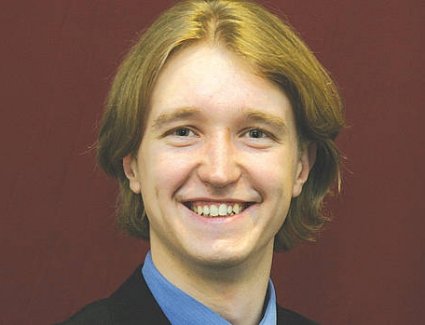 I had last seen Bruno de Simone six years earlier [see Deconstructing S.F. Opera's Super-sized "Barber" – November 12, 2006] as a fine Don Bartolo, and earlier as a Taddeo in Rossini's "L'Italiana in Algeri" [see The Italian Girl in D.C. – May 18, 2006.]
I found his Don Magnifico, around whom so much of the opera's hilarious comedy is centered, to be a wonderful vehicle for his very musical, very funny portrayal.
The remaining cast members were all worthy Rossinians. Nicola Alaimo (nephew of another famous Rossinian, Simone Alaimo) was a blustery Dandini; Claudia Galli a whimsical (and very athletic) Clorinda, who is assigned much physical comedy; Anna Wall as the terzia donna Tisbe; and Adrian Sampetrean as a solid Alidoro.
The Jean-Pierre Ponnelle Legacy
Ponnelle's ideas were realized in similar productions for Europe and North America. Having received experience in his mid-20s as a set and costume designer at the San Francisco Opera [see 50 Years Ago: Jean-Pierre Ponnelle's American Debut at San Francisco Opera], he struck out on his own as a designer of all elements of a production in 1968 with a new production of Rossini's "Barbiere di Siviglia" for the Salzburg, Austria festival.
[Below: Jean-Pierre Ponnelle at age 48, directing Verdi's "La Traviata" at the Opera National de Rhin in Strasbourg, France (1980); resized image of  a copyrighted Claude Truong Ngoc photograph from Wikipedia Commons.]
In 1969 he returned to San Francisco for his American debut as a production designer, with his first production of Rossini's "La Cenerentola" in a historically memorable performance with Teresa Berganza as Angelina, Paolo Montarsolo as Magnifico and Renato Capecchi as Dandini.
The European version of the production first appeared at La Scala and is now owned by the Bayerische Oper in Munich, whose production was used at the Garnier.
[Below: Don Ramiro's palace in a performance of the Ponnelle production of "Cenerentola" at Bayerische Staatsoper, Munich, here starring Joyce di Donato; edited image, based on a Bayerische Staatsoper photograph.]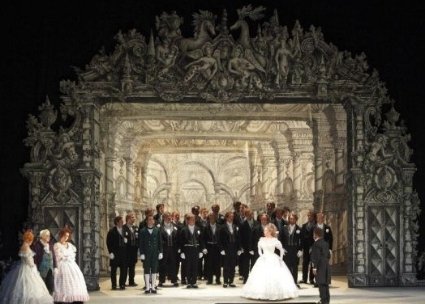 Assuring fidelity to Ponnelle's original staging was Grischa Asagaroff, who has mounted this production in San Francisco and elsewhere in the decades since Ponnelle's tragic death.
The inspired Rossini-Ponnelle "collaboration" –  spanning the century and a half of time between the witty Rossini and his 20th century admirer, the multi-talented Ponnelle – resulted in many memorable, now truly classic routines, all of which were enshrined in the Paris performances.
The prince's men (the male Choer de l'Opera) arrive at Magnifico's house early in the first act, all in livery, arriving single file, each carrying a rose. When Dandini arrives, disguised as the prince, a long red carpet is rolled out before him to the beat of Rossini's mirthful music.
The prince's men see to it that Don Magnifico not only tours Don Ramiro's wine cellar, but imbibes a great deal of it.
Like the operas of Mozart, whose music Rossini adored, solo arias are only a small part of the opera's charm. Much of it is through-composed with strong emphasis on the ensemble pieces, which provided a theatrical genius like Ponnelle the ability to choreograph hilarious routines, which are reflected in Asagaroff's reverential staging.
Final Thoughts
I recommend the Paris cast and Ponnelle production unreservedly, which provide the opportunity for new generations to see the classic, comedic style of Rossini a la Ponnelle.