Bayerische Staatsoper has revived its spectacular production of Puccini's "Turandot", first seen in Munich in December 2011, which Spanish Concept Director Carlus Padrissa resets into the year 2046.
[Below: Director Carlus Padrissa; edited image, based on a photograph from rtve.es.]
In this fifth decade of the 21st century of Padrissa's imagination, Chinese bond dealers, having taken advantage of Eurozone distress a generation earlier have subjugated Europe, and have now turned over political governance of that messy populace to the Princess Turandot.
[Below: Iréne Theorin as the Princess Turandot, Ruler of the Eurozone; edited image based on a photograph, courtesy of the Bayerische Staatsoper Munich.]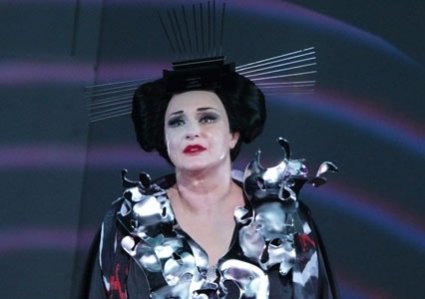 Although she has apparently time-traveled from the ancient China that Puccini imagined, she is still bound by the psychological issues of more traditional productions and is still required to be married to whatever man guesses three not particularly difficult riddles. She does have the advantage of deterrence. Whoever fails to guess correctly is beheaded, just as they would be back in Old China.
Seemingly, her first serious adversary is the tech-savvy Unknown Prince, who has brought an electronic device that resembles a small -sized ipad into the riddle scene. He is able to google the first two answers. Apparently, he is able to discern a "tell" in Turandot's demeanor and gets the third question correct also.
[Below: the Unknown Prince (Yonghoon Lee, center) is discouraged by Ping, Pang and Pong (Markus Eiche, Alexander Kaimbacher and Emanuele D'Aguanno) from entering the Princess Turandot's contest; edited image, based on a photograph, courtesy of the Bayerische Staatsoper, Munich.]
Calaf offers Turandot an out, if she guesses his name before dawn, setting up a truly inspired staging for his aria Nessun dorma, even if the inspiration seems partly influenced by the futuristic Los Angeles of Ridley Scott's science fiction film Blade Runner.
[Below: The princess has decreed that no one sleeps the night after the riddles have been guessed until she learns the name of the Unknown prince; resized image, based on a photograph, courtesy of the Bayerische Staatsoper, Munich.]
Dawn in this production is one of its many spectacular images, although it is also the time that Timur (Alastair Miles) and Liu (Serena Farnocchia) are captured and the latter tortured. In Padrissa's staging, Liu's expression to Turandot of her acceptance of death to protect the man she loves, has a profound effect on Turandot who falls to the ground.
As Liu dies, Calaf and Turandot touch foreheads and the opera ends, this being the last part of the opera that Puccini composed before his death.
[Below: Dawn at the beginning of Act III of "Turandot"; resized image, based on a photograph, courtesy of the Bayerische Staatsoper, Munich.]
The Razzle Dazzle
I suspect most of the audience did not come to the performance to see the opera end at Liu's death, the point in which Conductor Arturo Toscanini ended the world premiere performance in 1926. Instead they came to see Padrissa's fantastical concepts.
(Padrissa is most famous for the stunning effects that he and his colleagues in his production company La Fura dels Baus created for the opening ceremonies of the 1992 Olympic Games in Barcelona.)
Those included several moments of three-dimensional film imaging (cardboard 3D glasses were provided all audience members by ushers upon entering the theater).
Of course, opera staging is assumed to be a three dimensional experience, so the idea of watching film snippets in three dimensions adds minimally to the "Turandot" experience, even if it enhances the reputation of Padrissa and La Fura dels Baus as masters of theatricality.
There is so much in Padrissa's production that anyone can quibble at this or that effect and still have much to admire.
Theatricality in Opera
It was a German (Prussian, rather than Bavarian) Giacomo Meyerbeer, who, perhaps more than any other person in the history of opera was regarded as the champion of operatic theatricality. One of his most famous examples is introducing ice skating to his opera "Le Prophete".
Padrissa re-introduces ice skating to "Turandot", which, after all, is the opera whose title character is known as the ice princess.
[Below: Ice skaters provide entertainment for an Ice Princess; resized image, based on a photograph, courtesy of the Bayerische Staatsoper, Munich.]
But it is not just ice skaters that inhabit Turandot's Euro-realm. There are break-dancers, clad in martial arts uniforms, who perform astounding feats. There are aerial acrobats who sail into the air. There are semi-nudes, sometimes nude on top, sometimes on bottom.
There are children's choruses, all clad in white, but with luminous lights embedded in their midriffs. Since Turandot orders beheadings, we are treated to ocean waves of disembodied heads, inventoried with bureaucratic attention to detail by Ping, Pong and Pang.
Perhaps most intriguing are Padrissa's three-dimensional effects that do not require his red and blue cardboard glasses, such as the stacked Euro-residences, rather like sky box apartments, populated by dwellers holding their ipad-like electronic implements.
[Below: Sky boxes for Euro-residences in the year 2046; resized image, based on a photograph, courtesy of the Bayerische Staatsoper, Munich.]
"Turandot", essentially a fairy tale possibly too elemental to plumb for psychological meanings, does require a large measure of theatrical effect to assure a satisfying evening.
Yet, there is so much that happens in the three hours of Padrissa's production that any reviewers trying to describe it will probably leave much of it out of their accounts.
Notes on the Musical Performances
Obviously, effects without voices capable of singing these demanding roles will be suboptimal and the evening's opportunity for a memorable performance will be diminished.
Fortunately, the cast was vocally on the par with Padrissa's theatrical accomplishments.
I was familiar with Iréne Theorin's Turandot from her performances in San Francisco (see my reviews at Luisotti Leads Superb "Turandot" Cast In David Hockney's Treasured Production – San Francisco Opera, September 9, 2011 and A Second Look: Luisotti Improvises in "Turandot" Game Delay, then Hits a Grand Slam – San Francisco Opera, September 25, 2011. As she did in San Francisco, in Munich she brought the voice of power that this role requires. (Turandot's first notes are the terrifying aria In Questa Reggia.)
I had admired the work of Serena Fornacchia, whom I had not seen previously in Liu, as Maria Stuarda and Donna Elvira, (see The Donizetti Revival, Second Stage: Stephen Lawless' "Maria Stuarda" in Toronto – May 4, 2010 and Meachem, Vinco, Lead Cast of Imaginatively Staged "Don Giovanni" – San Francisco Opera, October 23, 2011 ). She executed both of Liu's great lyrical scenes, evoking the audience sympathy that Puccini surely intended from this role that he regarded as his favorite of his characters.
I had known Yonghoon Lee by reputation, but was impressed seeing him in person by his expansive spinto voice, nicely tailored to Calaf's great third act aria and his commanding presence in the earlier acts.
Rounding out a memorable musical performance were the conducting of Marco Armiliato, the sets and scenery of Roland Olbeter, the costumes of Chu Uroz and lighting of Urs Schoenebaum. Franc Aleu created the Video episodes.
Goran Juric was the Mandarin. Francesco Petrozzi the Prince of Persia, Ulrich Ress the Emperor Altuom.
Recommendations
"Turandot" is an opera that has an elemental force to it, propelled by melodious exoticism.
[Below: a scene from Act II of "Turandot"; edited image, based on a photograph, courtesy of the Bayerische Staatsopera, Munich.]
If you worry that Padrissa's futurism or his exotic dancing or arresting images may depart too far form a normal "Turandot", don't be concerned. He does not change the story. Many of your colleagues in the audience won't even realize it's supposed to be 2046. Just enjoy the show!
There are other productions by the likes of David Hockney and Jean-Pierre Ponnelle that I could argue for as an authentic "Turandot", but Padrissa's Munich production constitutes a grand night at the theater! Blessed by voices like Theorin's, and Lee's and Farnocchia's, it is worth going to a lot of trouble to experience.
I recommend it.