Gluck's French operatic masterpieces challenge production designers and stage directors, who are seeking to mount the works in ways that can be appreciated by 21st century audiences.
In 2009, I had reported on Mexican Director's Francisco Negrin's ideas for Gluck's "Alceste" at the Santa Fe Opera Festival, in which exoticism in costumes and dance styles represented Negrin's concept of the capriciousness of the gods [See Christine Brewer, Paul Groves Lead Elegantly Sung "Alceste": Santa Fe – August 1, 2009.]
A year later, for the 2010 Aix-en-Provence, France's summer festival, German concept director Christof Loy created a deeply psychological approach to the story as a co-production betweeen the Aix-En-Provence festival and the Staatsoper in Vienna, the latter a city long associated with psychology and psychoanalysis.
The two principal singers at Aix-en-Provence, French soprano Veronique Gens and Canadian tenor Joseph Kaiser, resumed their Aix roles for Vienna.
[Below: German director Christof Loy; resized image, based on a promotional photograph for Artists Management, Zurich.]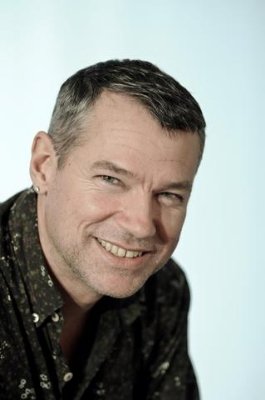 Loy de-emphasizes the active roles of the non-human characters – the "action hero" Hercule whom he more or less dismisses as "an uncle from America" – a term he uses for a plot device that is irrelevant to the psychological concerns of the protagonists. For Loy these are the other human characters, including the chorus, whose viewpoint is a central feature of Loy's conceptualization.
[Below: Hercule (Adam Platchetka) who overpowers the forces of Hades to preserve the lives of both Alceste and Admete is presented as an Uncle from America; edited image, based on a Michael Pohn photograph, courtesy of the Vienna State Opera.]
In this production, the chorus consists of individuals who are child-like in their attitudes towards the deaths that first their King Admete must face, followed by their happiness and then concern to learn that Admete's wife, Alceste, has assured Admete's life by agreeing to die in his place.
To manifest the chorus' child-likeness, each chorister, male and female, dresses in children's clothes and carries children's toys – balls, dolls, toy sailboats, teddy bears, tops, butterfly nets. In Loy's conceptualization, Alceste is not only mother to two daughters but to her childlike subjects whom the chorus represents.
[Below: Alceste (Veronica Gens) consoles her younger daughter (Juliette Mars, front, in pink) while her elder daughter (Ileana Tonca, front, in blue) and Evandre (Benjamin Bruns, right) and the chorus look on; edited image, based on a Michael Pohn photograph, courtesy of the Vienna State Opera.]
The high priest of Apollo appears as a minister, of some austere Protestant sect, whose intercessions terrify, rather than comfort.
[Below: the High Priest of Apollo (Clemens Unterreiner, with back to wall); edited image, based on a Michael Pohn photograph, courtesy of Vienna Volksoper.]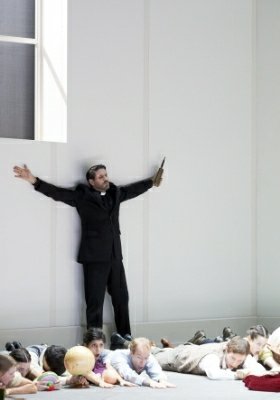 Loy's symbology is in step with this psychology, as he explores Alceste's and Admete's changing attitudes about death. Ultimately, even though the god Apollo rescinds the decree of the gods that either Admete or a substitute must die, assuring a proper 18th century "happy ending", Loy ends the opera with both Admete and Alceste wearing their white shrouds, both ultimately calm about the idea of their deaths.
[Below: Apollo's High Priest (Clemens Unterreiner, center front, in black. with Bible; hovers over Apollo's Herald (Alessio Arduini, on ground); edited image, based on a Michael Pohn photograph, courtesy of Vienna Staatsoper.]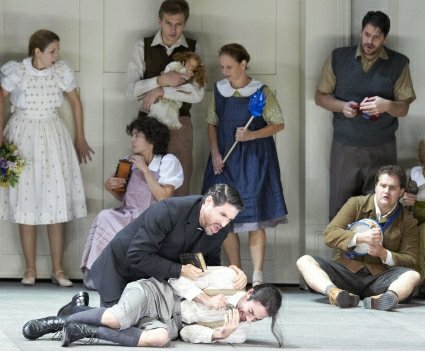 Gluck and Vienna
Even though a significant part of Gluck's career was spent in music administration in Vienna, his operas have rarely been heard at the Staatsoper. In fact, although a production of the Italian version of "Alceste" was mounted in during the mid-1950s, the very different French version had never been seen there until Loy's production was first performed in November, 2012
Notes on the Production
The overture to "Alceste" is one of the greatest pre-Mozartean overtures. (Mozart saw the opera in its Italian version at age 12.)
The first act is dominated by the Alceste, elegantly portrayed by French soprano Veronique Gens, with the assistance of Ileanca Tonca and Juliette Mars as her two daughters, Benjamin Bruns as Evandre, Alessio Arduini as the Herald, and Clemens Unterreiner as Apollo's High Priest.
[Veronique Gens as Alceste: edited image, based on a Michael Pohn photograph, courtesy of Vienna Volskoper.]
In the second scene (Loy's concept requires the first two acts to be performed together before the night's first intermission.), Joseph Kaiser is introduced as King Admete, bringing a beautiful tenor voice of lyric weight to this part.
Significantly, in my reviews of Gluck opera performances of Gluck's Parisian era, the tenor leads (Paris never acceded to the idea of women portraying male leads) have been the Americans Paul Groves (see Night at the Museum: "Iphigenie en Tauride" Springs to Life in S. F. – June 17, 2007) and William Burden (see William Burden Triumphs in Gluck's "Orphee et Eurydice" – Seattle Opera, February 29, 2012).
Joseph Kaiser adds to the impressive number of North Americans performing the Gluck tenor roles.
[Below: Joseph Kaiser is Admete: edited image, based on a Michael Pohn photograph, courtesy of the Vienna Staatssoper.]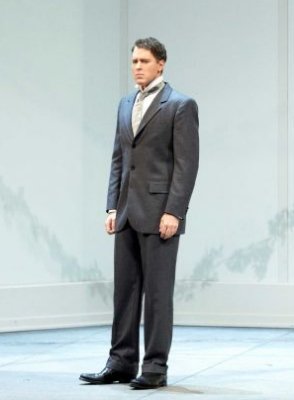 Thoughts on the Production
Gluck had very specific ideas on how music, dance and drama should evolve together in a Gluckian operatic vision that encompasses principles of ancient Greek drama. For those open to this musical ideas, there is a constant flow of wonderful music.
Yet, ten years after the French version of "Alceste" premiered in Paris, Gluck's young contemporary Mozart premiered "Le Nozze di Figaro" for whom many years of Gluckian opera performances must take place to equal a single year of performances of Mozart's great hit. A year afterward, the equally popular "Don Giovanni" premiered.
At no time in history can it be regarded that a Gluck opera, even "Orpheus and Eurydice", is wildly popular among opera audiences. This is not because Gluck got the music wrong. His music is infectious, and stunningly beautiful.
Yet the Greek dramas on which his operas are based simply have not had the success in inspiring the core repertory operas that later authors have had, such as the Bard, and the numerous authors and dramatists of the 18th and 19th century whose work constitutes the core subject matter of opera.
That concept directors as talented as Loy and Negrin present the opera in such starkly different ways suggests that we will never have a definitive performance standard for staging the work. Each opportunity to see the opera, particuarly if staged by a great director, will enhance the opera goers experience.
Ivor Bolton is the Conductor. The sets are by Dirk Becker, the costumes by Ursual Renzenbrink. Thomas Wilhelm is the choreographer, Simone von Bueren is the Dramaturg.
Recommendation
I recommend the Vienna Staatsoper performances to all who are interested in immersing themselves in Gluck's music. I especially recommend it for the opera sophisticate open to absorbing Christof Loy's brilliant ideas about the work.
For my previous reviews of performances by Joseph Kaiser, see: Lyric Opera Revives Inventive Corsaro-Perdziola "Faust": Chicago November 3, 2009, and also,
Shining L. A. Opera "Magic Flute" on Sunny Matinee Day – January 11, 2009.
For my review of a very different Christof Loy production, see: Partying in L. A.: Machaidze, Gavanelli Romp in All-Star "Turco in Italia" – Los Angeles Opera, February 19, 2011