An enduring operatic myth is that Bizet's "Carmen" was initially a failure. The myth evolved because the clinically depressed, mortally ill Georges Bizet refused to accept the manifest evidence that the opera from its very first performance had become a wild Parisian hit, its composer preferring to dwell on the admonitions of certain curmudgeonly critics who felt it inappropriate to Paris' Opera-Comique.
The opera has an inherent shock value, which can be lessened over time with familiarity. Spanish production designer Calixto Bieito seeks to restage the opera in ways that obliterate the nearly 140 years of attitude adjustment that has turned the opera from "shocker" to the most mainstream of French operas.
Bieito demonstrates that, with some tweaking here and there, the elemental sexuality that has always lurked in this score, if unleashed, can give us clearer insights into the motivations for Carmen's and Don Jose's behaviors.
[Below: Carmen (Ruxandra Donose, left) suggests to Don Jose (Adam Diegel, right) that there might be a sexual attraction between the two of them; edited image, based on an Alastair Muir photograph, courtesy of the English National Opera.]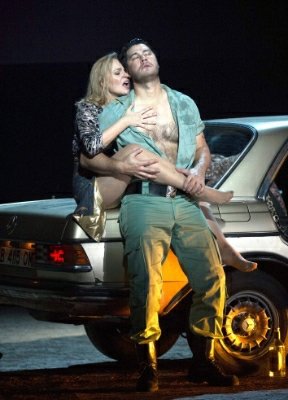 Bieito's Concepualization of "Carmen"
As innate as is the sexuality of the opera, so is its theatricality. In my experience, whenever an opera company mounts "Carmen" one can expect a good show, because the dramatic material any competent operatic stage director is given, almost certainly assures it. The opera deserves its popularity that has never diminished during its almost 14 decades of existence.
Bieito, however, offers the audience new ways of experiencing the opera. It's as if he has said, "I love this piece, but trust me to show you things about it you've not thought of before. I won't change the story, nor diminish your enjoyment of the wonderful music, but I will work on how you relate to it."
So, surrounded by the luxurious rococo-inspired London Coliseum, close to the West End theaters that are home to British drama and the musical theater, in a hip new English translation, Bieito's ideas that have crystallized over a decade of his presenting this work, are shared with London.
[Below: The stage of the London Coliseum, home of the English National Opera; resized image from wikipedia.com.]
There is a time-shift to bring the opera closer to our time, as happens so often in opera productions of the past couple of decades, certainly including "Carmen". Vintage cars that appear in the second and third acts and an enclosed telephone booth identify the time as postwar mid-20th century.
There is no landscape, nor structures that might identify a geographic place – only a permanent mist that prevails from mid- to backstage, into and out of which characters are always appearing or disappearing. We are in Spain, Bieito assures us – the real Spain. Whether or not we are Franco's Spain seems unimportant. The underclass adjusts in whatever way it needs to. It's the sexual politics that matter in this production.
Notes on the performance
"Carmen" has an overture (rousingly performed by the orchestra led by Conductor Ryan Wigglesworth) to the first act and orchestral preludes to each of the subsequent three acts, in which pantomimes or solo dances occur – the first a hint of a magic trick by Actor Dean Street as Lillas Pastia, a dance by a young gypsy girl whom we know is inculcating the gypsy lifestyle and sexual mores, a nude man's physical exercises introducing the third act – periods of calm before the tempestuous sex-filled scenes that follow.
Military discipline in this platoon (as elsewhere) itself has its sexual overtones, demonstrated by the humiliation of a soldier who is required to run in a wide circle carrying a rifle at "order arms" position and wearing only tidy white underwear. Eventually, he collapses and is dragged away.
Men in groups boorishly leer and taunt the cigarette girls and anyone in a skirt (including a very hip Micaela), in general acting like adolescent boys. The lead boy is Corporal Morales, finely sung with a touch of swagger by Duncan Rock, who fails to convince Micaela that she should switch her attention from the corporal she has travelled to see to himself.
[Below: Corporal Morales (Duncan Rock) puts the make on Micaela (Elizabeth Llewellyn); edited image, based on an Alastair Muir photograph, courtesy of the English National Opera.]
The first scene (the opera's first and second acts are performed together, as are the third and fourth with a single intermission, which is the prevailing custom worldwide) consists of a flagpole at center stage and the telephone booth near the footlights at stage right. This will turn out to be Set Designer Alfons Flores scene most cluttered with permanent structures. The following three acts, although abuzz with activity, take place on a bare stage, albeit a stage that at times is filled with cars.
Well into the first act, the telephone booth opens and Carmen, sung by Rumanian mezzo Ruxandra Donose, first emerges (after what is a breakup telephone conversation with Carmen's most recent lover). Donose sings the Habanera about the short duration of relationships, to the puerile delight of the swarming soldiers.
[Below: Carmen (Ruxana Donose, center left in short black dress) becomes the object of desire of a company of soldiers; edited image, based on an Alastair Muir photograph, courtesy of the English National Opera.]
Elizabeth Llewellyn's Micaela is no shrinking violet, and self-assuredly considers herself a worthy life partner for Diegel's Jose, with deep and long kisses, clearly believing herself capable of meeting both his emotional and sexual needs.
This Micaela, with a level playing feel, might have beem able to hold her own in a battle with Carmen for Jose's affection, certainly if the Jose were the straight arrow as he is usually played in the early acts. In a moment with charm, Jose places his soldier's cap on Micaela's head and holding her instamatic camera, takes a picture of the two of them snuggling contentedly (although he later ripped the film cartridge out of the camera). Bieito will introduce us to Jose's darker side by the second act.
Lillas Pastia's is a meeting place for dealers in contraband. The gypsies assemble there. Soon, a group that follows Escamillo (Leigh Melrose), carrying torches, arrives at this secret meeting place of this dangerous group of outlaws, suggesting that Escamillo's party has its own mysterious proclivities for walking on the dark side – perhaps a long-standing customer relationship with the gypsy women.
[Below: Escamillo (Leigh Melrose, in suit in front of car, cavorts with Frasquita (Rhian Lois); edited image, based on a Alastair Muir photograph, courtesy of the English National Opera.]
As conceived by Bieito, Carmen's initial impression of Jose is that, unlike every man she has known, he is a person that is kind to her. She sees him risking his career to sympathize with her plight and to let her get free. She is also moved that he is the very first man ever to say he feels bound to her because he is so in love with her. But soon afterwards his jealousy, possessiveness and physical violence against her, disabuses her that Jose is different from all the other men she has known.
Bieito's bare stage leads to another insight, whether intended by Bieito or not. Certainly Bizet and his librettists, with the musical "fate motive" and the third act card scene, intended to suggest that Jose and Carmen were linked by fate. But perhaps, rather than fate, it is the psychological mix of Jose's insecurities and suppressed anger.
Bieito's staging in which Jose's superior officer, Zuniga, is alone with Carmen and Jose in two scenes, leads to the insight that the relationship between Carmen and Jose escalates at two points, in both of which Zuniga pulls rank on Jose – Carmen's arrest in the first scene and Zuniga's late night visit to Carmen's room (actually, the vicinity of a car in which the Carmen "quintet" of smugglers have assembled) at just the point that Jose is about to leave Carmen for good.
In the first scene, Donose's Carmen, supposedly restrained by the harness that Zuniga (Graeme Danby) has provided Diegel's Jose, arouses Jose's interest by passionately kissing his thighs and pelvic regions.
In the second scene, an enraged Jose strikes Carmen (suggesting some of the reason why she loses interest in him in the future), then, having confessed his love and need for her in the Flower Song, caresses her.
[Below: Carmen (Ruxana Donose, bottom) has been struck by Don Jose (Adam Diegel, top), but he is the first man ever to say that she controlled his heart; edited image, based on an Alastair Muir photograph, courtesy of the English National Opera.]
Zuniga's appearance causes Jose's blood to boil, and his rash defiance of Zuniga's orders leads to circumstances that make Jose's return to his army life impossible.
By the third act, we understand Carmen's feelings of disaffection and of being trapped in a relationship that can lead to her death's and Jose's. Jose and Escamillo begin a high octane knife fight to the death in which they hop from car to car. After the fight is halted, and Micaela is seen hiding in the back of a convertible, a savagely angry Jose violently accosts Carmen.
Micaela appears to gloat that she momentarily gained the upper hand, but she is leaving with a now pathologically angry man, with whom she cannot possibly have a future.
[Below: Don Jose (Adam Diegel, center right in brown jacket) assures Carmen (Ruxandra Donose, center left in red top) that she has not seen the last of him as Frasquita (Rhian Lois, top,standing in back of car), Micaela (Elizabeth Llewellyn, in white, standing behind Jose) and Mercedes (Madeline Shaw, front right, near car's hood) watch in horror; edited image, based on a Alastair Muir photograph, courtesy of the English National Opera.]
After the festivities that begin the final act, anticipating the bullfight, a large chalk circle is drawn on the floor of the stage, which ultimately becomes the place where Jose kills Carmen and announces his act of murder. With this simple staging of the denouement Bieito creates a powerful end for his brilliant presentation of this familiar story.
[Below: the crowds gather for the procession of the bullfighters; edited image, based on a Alastair Muir photograph, courtesy of the English National Opera.]
Concluding Comments

The fine cast included Rhian Lois as Frasquita, Madeline Shaw as Mercedes, Geoffrey Dolton as Duncairo and Alan Rhys-Jenkins as Remendado. Juan Anton Recchi is the Assistant director. The costumes were designed by Merce Paloma, the poetic lighting by Bruno Poet.
Calixto Bieito is appropriately recognized as one of the most important stage directors of his generation, and his "Carmen" has to be considered a master work. It is both totally respectful of the essence of Bizet's opera and almost totally original in his approach to it. (His adoption of the Jean-Pierre Ponnelle tradition of massing the crowd at the footlights during the procession of the bullfighters was altered mid-way by having the crowd hopping up and down during the reprise of the theme of Escamillo's Toreador Song.)
I found the performance in English to be wholly appropriate for London, and would believe it would be welcome in any city in the United States in which opera has an audience. In fact, I found it so original that I could imagine its underlying concepts being successful as a Broadway offering. Yet by acknowledging the opera's accessibility to a wider audience than those who attend lots of opera, I do not suggest it wouldn't be wholly embraced by the world's opera aficionados.
I recommend the production unreservedly, acknowledging the wonderfully sung performances of the team of Ruxana Donose and Adam Diegel, the opera's principal protagonists, as of much more than routine interest.
For William's review of previous Ruxandra Donose performances, see: Dissecting "The Fly": the American Premiere of Shore's Opera in L.A. – September 7, 2008, see also,
Stylish Production, Fine Cast for "Cosi fan Tutte" – Los Angeles Opera, September 18, 2011.
For William's review of a previous Adam Diegel performance, see: Costa-Jackson, Diegel, Matanovic and Simpson Excel in Glimmerglass Opera's "Carmen" – August 13, 2011.