The Houston Grand Opera, which has established an artistic relationship with the Barcelona comic theatrical troupe, El Comediants, mounted Rossini's comic opera "L'Italiana in Algeri [the Italian Girl in Algiers]" in a co-production with Madrid's Teatro Real of Madrid, Florence's Maggio Musicale Fiorentino and the Opera National de Bordeaux.
"L'Italiana", which will celebrate its 200th anniversary in 2013, had never previously been offered by the Houston Grand Opera.
The production was conceived by Catalan stage director Joan Font with sets and costumes by his frequent collaborator Joan Guillen. Their productions of the Rossini's comic operas "Il Barbiere di Siviglia" and "La Cenerentola" have already been seen in Houston.
[Below: Production Designer Joan Font; edited image of a photograph for the Tornaveu Associacionisme i Cultura.]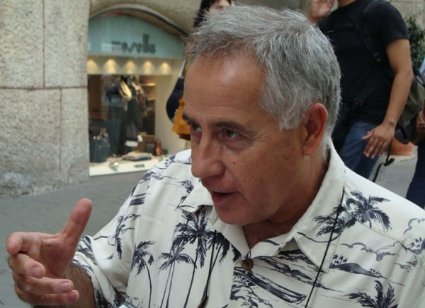 The Houston "L'Italiana" became the vehicle for the debut of Italian mezzo-soprano Daniela Barcellona as Isabella. From the first notes of Isabella's entrance aria Cruda sorte! it was evident that this may be one of the generation's great mezzo voices, displaying power, agility and warmth.
Isabella, whose part encompasses major bravura arias and witty duets with Mustafa, Taddeo and Lindoro, as well as memorable ensembles, is one of the most brilliant comic roles in the operatic repertory. Often a signature role for a star mezzo-soprano, this is clearly one that Barcellona finds comfortable for her comic, dramatic and vocal skills.
[Below: Daniela Barcellona as Isabella; edited image, based on a Felix Sanchez photograph, courtesy of the Houston Grand Opera.]
Barcellona's Isabella was buttressed by a well-cast trio of attractive American singers, comprised of the Lindoro of Lawrence Brownlee, the Mustafa of Patrick Carfizzi, and the Taddeo of Daniel Belcher.
Brownlee, a leggiero tenor, excels in Rossini's comic roles [see Genaux, Brownlee and Vinco Romp in Rossini's "L'Italiana": Garnier Opera House, Paris – October 8, 2010.] Having already appeared in Houston in Font's productions of "Barbiere" and "Cenerentola", Brownlee received a warm ovation at the end of his first aria.
[Below: Lindoro (Lawrence Brownlee, left) and Taddeo (Daniel Belcher, right) convince Mustafa (Patrick Carfizzi, center) of the advantages of becoming a Pappataci; edited image, based on a Felix Sanchez photograph, courtesy of the Houston Grand Opera.]
I had already reported on Carfizzi's contributions as a hilarious Sergeant Belcore in the Donizetti comedy [see Dimitri Pittas a Sparkler in Lawless' Deft "L'Elisir d'Amore" – Santa Fe July 4, 2009.]
Carfizzi has the versatility to excel in a variety of operatic styles. His performances reviewed on the site include operas of Verdi and Puccini, and of Britten and John Adams. On this evening he displayed a competence in the Rossini buffo style, with his presentation of Mustafa's showpiece aria Gia d'insolito ardore nel petto, a highlight of the performance.
[Below: Haly, the leader of the Bey's pirates (Robert Pomakov, left center, on steps) captures the shipwrecked Isabella (Daniela Barcellona, at left in cage) and Taddeo (Daniel Belcher, in cage, right); edited image, based on a Felix Sanchez photograph, courtesy of the Houston Grand Opera.]
The remainder of the cast was strong. Daniel Belcher proved a very funny Taddeo, whose character Font stages in ridiculous routines, clad in Guillen's inspired, if outrageous, costumes.
Robert Pomakov whose major comprimario roles in Houston and Los Angeles I have chronicled [see, for example, L. A. Boheme: Perez, Costello Lead Youthful Cast in Classic "Cinematic" Production: Los Angeles Opera, May 12, 2012, was Haly (Ali), who gets a Papageno-ish aria of his own.
I have admired the work of Lauren Snouffer (cast as Mustafa's wife, with whom he wishes to be estranged, although he never manages to accomplish his goal) in both Houston and at the Glimmerglass Festival [see, for example, Pictures at an Exhibition: John Musto's Opera "Later the Same Evening" Brings Edward Hopper's Art to Life: Glimmerglass, August 13, 2011].
Elvira and her handmaiden Zulma (played by Canadian mezzo Carolyn Sproule), though important in the farcical plot, are principally there to take part in Rossini's witty ensembles, particularly the famous concertato that ends Act I in which the seven characters (Isabella, Elvira, Zulma, Lindoro, Mustafa, Taddeo and Haly) are dumbstruck when Isabella recognizes her lover Lindoro among Mustafa's Italian slaves.
The ensuing pandemonium has never failed, over two centuries, to leave audiences in hysterical laughter, establishing Rossini as the eminent genius of the Italian opera buffa.
[Below: Isabella (Daniela Barcellona, left) impresses Mustafa (Patrick Carfizzi, seated) and his tiger (Caesar F Barajas, crouching at his side); edited image, based on a Felix Sanchez photograph, courtesy of the Houston Grand Opera.]
The opera's roots in Italian (and American) history
The performing repertories of major 21st century opera companies contain works that were created in a different historical period. They are revived because the opera company managements (particularly in the United States where government subsidies are negligible), know that there are elements of the work that they are sure will resonate with their audiences.
"L'Italiana" is a particularly interesting case. It is a comedy about a subject that just a few years before the libretto was written was a major international concern – the outlaw activities of North African pirates, sheltered by the Muslim leaders of territories that in modern times comprise the states of Algeria, Tunisia and Libya.
Incidents of the capture of Italians to become slaves, were part of recent memory when the opera premiered in Venice. Literary accounts of Italian women being enslaved in a Sultan's harem were well-known. Nor were American ships in the Mediterranean immune to being seized by pirates.
The idea of sovereign states sheltering international outlaws (or terrorists, to use a familiar 21st century term) led the third American president, Thomas Jefferson, to send the United States Marines to North Africa ("to the shores of Tripoli") to take on the North African states.
President Jefferson justified his actions through the premise of a novel re-interpretation of international law that – two centuries later – was cited by the administration of the 43rd United States president as a justification for sending American armed forces into other sovereign states declared to be harboring persons engaged in miscreant activities.
In recent years, production designers have attempted to time shift many operas, including "L'Italiana", into modern times to make this or that point. For example, Robert Innes Hopkins, in a production for Santa Fe Opera, shifted the action to Algeria in the early 20th century.
In my comments on the Santa Fe production's revival in San Francisco [see San Francisco Opera: Santa Fe's L'Italiana in Algeri September 30, 2005] that the period chosen, whether or not it mattered to audiences in New Mexico or California, might elsewhere evoke memories of the beginnings of the Algerian struggle for independence from France.
But Parisians had their own saucy time-shift in the 1998 Andrei Serban production at the Opera National de Paris' Garnier Opera House (see the hyperlink earlier in this review to my account of a performance of that production) in which the then contemporary Algerian leadership was parodied, even though it has been centuries since any Algerian leader has had a harem.
My belief is that "L'Italiana", rather than providing some commentary on modern times, should always be done as a whimsical effort in some imaginary time of the pashas, that, say, Disney's Aladdin might find familiar.
Jean-Pierre Ponnelle, who knew his French history and politics, did this in his handsome production for the Metropolitan Opera which still sparkles [see The Italian Girl in D.C. – May 18, 2006].
Font and Guillen have created a magical production that works just fine. They take advantage of the many opportunities for sight gags (Lindoro and the Italian slaves each attached to giant ball and chain restraints, choreographed hand movements for all the principals during key ensembles), that never cease to amuse.
[Below: Taddeo (Daniel Belcher, center top) is inducted into the Order of the Kamaikan, as puppeteers operate his giant arms and legs; edited image, based on a Felix Sanchez photograph, courtesy of the Houston Grand Opera.]
Isabella and the Risorgimento
There is another historical angle to "L'Italiana". Isabella's aria Pensa alla patria (delightfully delivered by Signora Barcellona) can be regarded as one of the earliest operatic contributions to the spirit of the Risorgimento. Its nationalistic sentiment ran aground of censors in the southern Italian cities of Rome and Naples, who were determined to prevent the Italian nation from coalescing from a group of small independent states.
Staged by Font and Guillen, Isabella sings the aria in the presence of a giant chianti bottle, with Italian cafe tables bedecked with red checkered tablecloths, while the Italian flag (that would become a national symbol a half-century later) is surrounded by clear balloons shaped like the boot that maps of the united Italy portray.
[Below: Isabella (Daniela Barcellona) proposes that all the Italian slaves throw off their shackles and join an Italian nation; edited image, based on a Felix Sanchez photograph, courtesy of the Houston Grand Opera.]
Final Thoughts
The conductor Carlo Rizzi led a spirited performance. Albert Faura's lighting designs were often memorable (as when the silhouetted Isabella changes clothes behind a tapestry). Richard Bado as chorus master, oversaw the Houston Grand Opera chorus, which had much to do.
Special mention has to be made of the work of Caesar F. Barajas, who masterfully played Mustafa's pet tiger, on stage much of the evening, with the feline instincts of a pussycat.
I recommend this production and cast, noting especially the memorable Isabella of Daniela Barcellona.