This interview took place at the War Memorial Opera House, San Francisco. The facilitation of this interview by the San Francisco Opera is gratefully acknowledged.
Wm: You have been quoted that when you were about six years old , at a time when Albania was still a Communist state, the authorities in your home town of Elbasan determined that you were to be enrolled in music school to become a violinist. Did you display musical talents at that age that led the Albanian authorities to choose that career for you, as opposed to, say, sports or engineering?
[Below: Lyric tenor Saimir Pirgu; resized image of a Fadil Berisha photograph, courtesy of Saimir Pirgu.]
SP: After 1945, when the world was divided between the Eastern Communist States and Western Europe, Albania, which is very small, became a Communist country, in which all decisions were made by the state. One aspect of the Communist system is that the state became involved with deciding what type of education every person should have. In the Balkans, you need to excel at something to have any power. There were so few musicians, so the state wanted to change that.
The Communists came into every preschool to determine what kinds of talents the students had. They wanted to know who could sing and who could dance well. This assured that Albania and other Communist countries would produce performance artists. That is the only good thing I can say about the Communists.
When I was a small boy, I wanted to learn to play the piano, but the music authorities determined that I had a good ear for pitch, which is required for cello and violin. They decided that I could not be taught piano, for which pitch is not as important, but had to learn the violin. I hated violin, but the Communists made me practice two or three hours every day.
[Saimir Pirgu as Alfredo at the 2009 Santa Fe Opera Festival; edited image, based on a Ken Howard photograph, courtesy of the Santa Fe Opera.]
Wm: You have cited the experience of watching a video of THE THREE TENORS in concert as a turning point in your life, after which you experimented with your own voice. What music did you first try to sing, and what music did you prepare for your earliest auditions with vocal experts?
SP: The first time I saw THE THREE TENORS was in 1995 or 1996 after Albania had become a democracy. Albania received transmissions from the Vienna Philharmonic Concerts. The transmissions included a tape of the Caracalla concert. To me it was a big surprise to see so many people watching these three men who were singing so beautifully. I waited for a scheduled repeat of the concert, at which time I recorded it.
The first song from the Caracalla concert that I tried to learn was Lara's Granada. People who heard began to ask me if I was a singer. A member of our local council in Elbasan said that I had to move to Tirana, the Albanian capital, to study voice.
[Below: Saimir Pirgu as the Duke of Mantua; edited image, based on a Teatro Nacional de Sao Carlos, Lisbon photograph, courtesy of Saimir Pirgu.]
Wm: Tirana is known for its University of Arts, an institution that produced such distinguished singers as Inva Mula and Ermonela Jaho, but that is not where you studied. What was the nature of your vocal training in Tirana?
SP: I had vocal training at Tirana's four year Liceo Artistico, which is more like an American high school for the creative arts, than TIrana's University of Arts, which is a collegiate level institution.
Wm: At age 19, you left Tirana to study at the Monteverdi Conservatory in the Tyrolean town of Bolzano, Italy, just south of Innsbruck, Austria. Your teacher there was Vito Brunetti, who emphasized "technical training". How did he approach your training, and how has he guided your career?
SP: When I auditioned for the Monteverdi Conservatory in Bolzano, after singing only a few phrases Maestro Brunetti stopped me and told me he would accept me into his classes. He said that he had confidence in my abilities and felt that I would be able to sing before too much time had passed.
He taught me technical aspects and thanks to that, after about a year I was granted my diploma, won three competitions and was able to start my career. Maestro Brunetti is still my teacher and every time I have a new role to prepare I work with him as he knows my voice better than anyone.
Wm: What kinds of performance experiences did you have in Bolzano?
SP: Bolzano is a small, beautiful city, with many attractions for tourists and a good quality of life. It hosts the Ferruccio Busoni International Piano Competition, the Haydn Orchestra of Bolzano and Trento, the Mahler Chamber Orchestra (founded by conductor Claudio Abbado) and visiting orchestras. The orchestras have summer festivals.
Artists such as pianist Vladimir Ashkenazy come to this small city to provide music lessons with young people. If I was in Milan or Rome, I would have been lost in the crowd, but in Bolzano you can stand alone and learn from the masters.
[Below: Saimir Pirgu as King Idomeneo in Zurich (2010); edited image of a Susanne Schwierz photograph, courtesy of Saimir Pirgu.]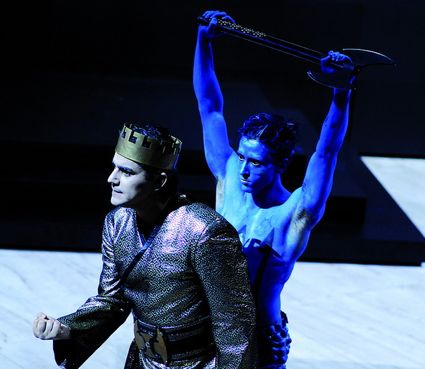 Wm: And in Bolzano you first met Luciano Pavarotti. How did that take place?
SP: There is a famous resort and spa, the Palace Hotel, where Pavarotti would stay, but he did not like the health food it served, nor its lack of television. So he would go to a favorite restaurant, where he asked if there was anyone there who would sing for him. One of the musicians I knew asked me to come and sing.
I was 19 and poor, having arrived from Albania just six months earlier. When we first met, I didn't say hello or buon giorno! I was just watching him. Pavarotti sat up and said: "Little boy, what do you want to sing?" I sang Una furtiva lagrima from Donizetti's "L'Elisir d'Amore". He liked it and we became friends.
Wm: You are making your San Francisco Opera debut as Tebaldo in Bellini's "Il Capuleti e I Montecchi", a role that Pavarotti sang when he was about your present age. He was only a couple of years older than you when he made his San Francisco debut, and over the next 14 years made six role debuts here. You had personal ties with him. How did Pavarotti influence your life and career?
SP: He said, "you have the ability to sing well." When I was learning the Duke in Verdi's "Rigoletto" and Edgardo in Donizetti's "Lucia di Lammermoor" he would give me advice.
Every year I would call him and let him know what was happening with me. I won the Enrico Caruso Competition! I won the Tito Schipa Competition! Conductor Claudio Abbado has cast me as Ferrando in Mozart's "Cosi fan Tutte"! Pavarotti advised me. "If you start like this, you must never go down from a level you have reached".
It is probable that if I had not met Luciano, it would not be as easy for me to perform at these levels. I started my career working with the conductors Sir Antonio Pappano and Claudio Abbado. The connection with Luciano was a good way for the quality of my voice to be recognized by others.
[Below: Luciano Pavarotti and Saimir Pirgu at a Decca Recordes charity event; edited image of a photograph, courtesy of Saimir Pirgu.]
He never said "you are too young, you need time for your voice to mature, you should not start until you are 30". He would say: "You just sing with your present voice and work on the vocal technique. Later it will be much better. Work on the quality of the moment. Don't sing too much. Your voice will change every year. You must protect your voice".
"What is more important now", Pavarotti would say, "is that everyone needs to understand what words you are singing. If everyone can understand your pronunciation, in whatever language you are singing, then you are learning what you need to know now".
I was too young to understand everything he had to teach me. Although I was with him many times, I didn't even think to have pictures taken of us. I have only a couple of photos of us together in a restaurant.
But after five or six years, I began to feel that what I was doing was important, that I had within me to ability to succeed.
[Below: Saimir Pirgu as Alfredo; edited image of a Royal Opera House Covent Garden photograph, courtesy of Saimir Pirgu.]
Wm: In 2004 at Salzburg, Austria, you became closely associated with Conductor Claudio Abbado, who cast you as Ferrando in Mozart's "Cosi fan Tutte", a role you have sung in different productions at various parts of the world. Do you find a special pleasure when you and Guglielmo are disguised as Albanians?
SP: Oh yes. This was the reason why Claudio was so interested in hearing me. He knew I was 19 or 21. His brother, Michele Abbado, who is director of conservatory Milan, told him. "There is a young tenor from Albania. It would be nice if you would listen to him."
I was then informed that Claudio Abbado wanted me to audition for him. Of course, I was very curious about this. The day before I had to audition, I was in Sicily. My flight arrived two hours late. I called to see if I could reschedule the audition, since it was past the time I was supposed to be there. I was told to come over, because Abbado wants to hear you and doesn't want to change the date.
I sang the first phrase from Ferrando's aria Un aura amorosa for him. He stopped me. Can you go to the cadenza in the second line and sing that? I sang only two phrases. I signed a contract with him after his hearing me sing a few notes.
Six months later I was on stage with Ruggero Raimondi in "Cosi fan Tutte". That was my first surprise. I went from the school in Bolzano to a contract to sing in an opera conducted by Claudio Abbado. You don't think a lot when you are that young. If you try to think about whether you should do it or not, you're lost. Now it would be more difficult to decide what I should do.
Wm: Claudio Abbado, to the disapproval of prominent Bellini musicologists, revised Bellini's score of "Capuleti e i Montecchi" to turn the role of Romeo from mezzo-soprano to tenor, and then cast the sexy young Spanish tenor Giacomo Aragall as Romeo, with Pavarotti as Tebaldo. Has there ever been any thought of reviving the Abbado version of "Capuleti" and casting you as Romeo rather than Tebaldo? (Would you rather wait until after the San Francisco run of "Capuleti" performances to answer that question?)
SP: I have the recording of "I Capuleti" with Aragall as Romeo and Pavarotti as Tebaldo. I have never sung any Bellini nor Rossini up until now. First I'm singing Tebaldo. In time I would like to do Romeo in Abbado's version.
[Below: Saimir Pirgu (right) as Tebaldo in Bellini's "I Capuleti e i Montecchi", with Capulet henchmen played by San Francisco Opera choristers; edited image, based on a Cory Weaver photograph, courtesy of the San Francisco Opera.]
I look at Bellini's score. Every single note of Bellini's music needs the best musicality. The quality of every note has to be supported. In Puccini and other composers you do not need to be so concerned about every note.
It's a good time for me to be singing Bellini. The War Memorial Opera House is a big house, and I think it will be very good. Probably, I will love to do much more Bellini.
Wm: You have sung the role of Christian to Placido Domingo in the title role of Alfano's "Cyrano de Bergerac". Soon you will be singing Alfredo to Domingo's Germont at the New York Metropolitan Opera. You have noted that it is quite different taking vocal lessons from a master artist like Pavarotti, than performing onstage alongside a master artist like Domingo. What do these performances with Domingo mean to you?
SP: First, it means that I have been lucky. I first watched a tape of these singers in 1995. When I first met Pavarotti I was 19. I sang with Domingo in Paris and am scheduled to sing at the Met. To be singing with Domingo at the Metropolitan Opera is amazing.
This summer I was in Handel's "Tamerlano" with Domingo. At our first meeting together he said. "When we are together at the Met in "Traviata" [with Pirgu as Alfredo and Domingo as Germont], in the scene where Germont confronts Alfredo, do you want me to slap you on the right cheek or the left?
It's amazing. Placido is one of the most perfect artists and is a wonderful actor. Most importantly, he gives his heart for each performance. From these people you just learn.
Wm: I was present at your American debut performance as Rinuccio in Woody Allen's production of Puccini's "Gianni Schicchi" in Los Angeles with James Conlon conducting.
In a British interview you said it was difficult for you to understand Allen because of his American accent. Did you find special significance in making your American debut with a Hollywood film director in the center of the American movie industry? Are you finding the American accent easier to understand, now that you've performed here more often?
SP: In 2008 it was the first time in the United States using my English. For me, the first meeting was a shock, like Gorbachev and Reagan. All I thought of is "he is Woody Allen!"
Allen was quiet and seemed timid. Sometimes he never spoke. But whatever he said was always completely respectful of the singers, and we were respectful of him.
Unlike other stage directors, he doesn't take applause at the end of the first night performance, but his "Gianni Schicchi" was amazing work.
Wm: At the Santa Fe Festival, you appeared as Alfredo to Natalie Dessay's Violetta and Laurent Nouri's Germont in Verdi's "La Traviata" under Frederic Chaslin. The Santa Fe Opera experience seems like a quite different venue from anyplace else you had sung? What was the Santa Fe experience like for you?
I remember the Santa Fe Festival as a beautiful moment in my life. The festival provided me with a huge house, and I had all my family and my girl friend there. I had everything I could want. The quality of life in this festival is so special.
I had such a good feeling working with Natalie Dessay and Laurent Naouri and the production designer and director, Laurent Pelly.
[Below: the jealous Alfredo (Saimir Pirgu, center, facing front) attends a party at Flora's; edited image, based on a Ken Howard photograph, courtesy of the Santa Fe Opera.]
After a performance or two, I would have one week free. In the free time, I went to Los Angeles, Las Vegas and New York City.
The altitude is high and takes a while to adjust to, but you can see so many stars in the Santa Fe skies. I never see stars like that in Europe.
The freeway can be scary. What happens if I run out of gas in coyote country? But the weather is beautiful and the festival filled with song. I can sing and do my best in my job. My life is happy there!
I would like to make a role debut in Santa Fe. It is one of the most important opera companies in the United States – one of the best companies in the world. They do such good work!
Wm: You are prominently mentioned in the literature of the organization "Opera Sans Frontieres (Opera Without Borders)", comprised of several Albanian artists of your generation, that raises funds for such charities as Albanian children in need. Does this initiative have personal meaning to you?
SP: Albania is a small country that borders Greece and is across the Adriatic from the heel of Italy, but most people cannot identify where Albania is. They are confused about what Albania is like, whether it is a Muslim country or is still Communist. Albania has many Muslims, but Albania is European. We were Communist, but have been free from the Communists for 20 years.
There are prominent Americans descended from Albania, such as Jim Belushi. Robert De Niro mother's and her family were Albanian. My own ancestry is Sicilian as well as Albanian .
This is the reason we support the organization Amici Senza Frontieri, to promote the Albanian people and to recognize the artists it has produced.
Our country existed for 3000 years without a written language and has been part of the Byzantine and Ottoman empires before 1912, when Albania was created.
We are not a lucky country. Now is the time to have more respect fror this country – that a tenor can come from Albania. The politics of the Balkans, such as the battles over Kosovo, are very complicated. If Albania is admitted to the European Union everything will be more clear. We need to be part of Big Europe.
Wm; You just arrived in San Francisco from Buenos Aires, where you performed Count Almaviva in Saverio Mercadante's "The Two Figaros" under Riccardo Muti. What was that like?
SP: The Mercadante opera was a production from the Biblioteca Madrid. Mercadante was there at the start of the bel canto singing style. The music is beautiful. You can hear Rossini and Donizetti in it.
I had worked with Riccardo Muti with the Verdi "Requiem" and the Berlioz "Mass". To work with Muti was one of the best experiences that I have had. He is one of those people who knows what he wants. When he is with young people, he can give them information on what they should do to sing better.
You have beautiful support with Muti. You know with him that you can sing perfectly. I hope that we will work together a lot in the next few years.
Wm: If you were to be able to choose new roles that could be mounted in a new production for you by an opera company like the San Francisco Opera, what roles would you choose?
SP: I would like to concentrate on the lyric repertory. The career can be very short. Before, 50 years ago or more, artists would take a boat across the Atlantic, but now everything moves so fast that there is not enough time to prepare for what one is doing. You must get to this place for that conductor, or another place for that stage director.
The roles I am singing now are all in the lyric repertory, including Edgardo in Donizetti's "Lucia di Lammermoor" and Nemorino in Donizetti's "L'Elisir d'Amore" and Roméo in Gounod's "Roméo et Juliette. My Verdi roles are Alfredo in "La Traviata" and the Duke of Mantua in "Rigoletto".
I would like to add just one role a year. There are some other lyric roles in that repertory I would like to do in a good theater, such as the title role of Massenet's "Werther" ". I am scheduled to perform Fernand in Donizetti's "La Favorite" in Toulouse. In two or three years I will add my next Verdi role – Gabriele Adorno in "Simon Boccanegra".
Wm: Thank you, Saimir.
SP: Thank you.
For my reviews of performances in which Saimir Pirgu appeared, see: Joyce DiDonato, Nicole Cabell Sing Beautifully in Bellini's Bel Canto "Capulets and Montagues" – San Francisco Opera, September 29, 2012 and A Second Look: "Capulets and Montagues" at San Francisco Opera, October 14, 2012, and also,
Stylish Production, Fine Cast for "Cosi fan Tutte" – Los Angeles Opera, September 18, 2011, and also,
Dessay's Scintillating Role Debut as Violetta in Pelly's Imaginative Santa Fe "Traviata" – July 3, 2009, and also,
Woody Allen's L. A. "Gianni Schicchi": Spoofing Italian Films – September 6, 2008.