The facilitation of this interview by the Glimmerglass Festival is gratefully acknowledged.
[Below: Tenor Sean Panikkar; edited image, based on a Kristina Sherk photograph, from imgartists.com.]
Wm: You were born and raised in Bloomsburg, a small city in a rural part of Central Pennsylvania. Nothing in your early experiences would have suggested an operatic career, but it has been reported that as a high school junior, unknown to your family, you were taking voice lessons in secret, while preparing for a career in civil engineering.
SP: First, my parents did know I was taking voice lessons, as they were the ones paying for them. What they didn't know was that I had any kind of voice. When I was in elementary school they thought I was actually lip synching during choir concerts.
My parents are from Sri Lanka and culturally there is often an emphasis on perfection. I was so shy about performing that I never sang at home, not even in the shower. In order to grow vocally, I had a voice lesson everyday following school and sports practice. That served as my practice time and teaching time.
Wm: Your father is an anesthesiologist, which is a career in which one has to perform at a level approaching perfection.
SP: Yes, anesthesia is not something you want to get wrong.
I was always trying to do my best in my voice lessons, but perfection is something that is not easily achieved in singing and I never enjoyed singing in front of them because, whether or not it was true, I always assumed that they were judging me in some way.
I needed a safe environment to pursue my studies and I found that in the studio of my first voice teacher, Li Ping Liu.
[Below: Sean Panikkar as Benedict in Opera Boston's 2011 production of Berlioz' "Beatrice and Benedict"; edited image, based on a Clive Grainger photograph for Opera Boston.]
Wm: What is your earliest recollection of taking vocal performance seriously?
SP: I sang in a choir in elementary school, and then was in both the chorus and band starting in middle school through high school. My middle school music teachers were really influential in my life. Eileen Hower was the choir director, who really saw something in me and encouraged me to develop it. She also made music a lot of fun which made me want to learn.
My band director in middle school, Donald Zeck, was also an early influence. He was my trombone teacher and my love for that instrument lasted into college where I played in the basketball pep band at the University of Michigan.
Even though I was not training for a musical career, I was always in the "select" group of students. People were noticing something about my musical talents that I wasn't really aware of.
Wm: But what caused you to decide to take voice lessons?
SP: Actually, my original goal was to get admitted to a top ten engineering program. I was trying to pad my resume, so as to increase my likelihood of being accepted by a good school. In Pennsylvania there are choral competitions at the county, district, region and state levels. I believed that if I studied voice every day, I could make it to the state level and that is what ended up happening. The first time my parents heard me sing was at the Pennsylvania All State Choir Festival where I was a soloist.
Wm: How did you link up with Li Ping Liu for your voice lessons?
SP: Mrs. Liu was a Juilliard-trained voice teacher,who had moved with her husband to Pennsylvania when he took a position at Bloomsburg University. Opera is not something that most rural Pennsylvanians are exposed to, so she didn't have many students early on. My mother ended up meeting her and she offered to teach me.
In time, I was accepted into the engineering program at the University of Michigan. Mrs. Liu told me that the University of Michigan had an excellent music program,and suggested that I should apply to that as well. I sent the music school a pretty eclectic tape in which I sang You'll Never Walk Alone from Rodgers' and Hammerstein's "Carousel", Kosma's Autumn Leaves, Copland's I Bought me a Cat, Una furtiva lagrima from Donizetti's "L'elisir d'amore" and Where'eer you Walk from Handel's "Semele". Much to my complete surprise, they accepted me into the music school.
Wm: And music began to encroach upon your plans for an engineering career?
SP: The first three weeks of school completely changed my life. The first day of choir I met a beautiful girl who was a pianist and trumpet player. I needed an accompanist for my voice lessons and she was cute, so I asked her. (Fast forward to the present and we are now going on eight great years of marriage and two amazing children).
[Below: Jane and Sean Panikkar; edited image, based on a photograph, courtesy of Sean Panikkar.]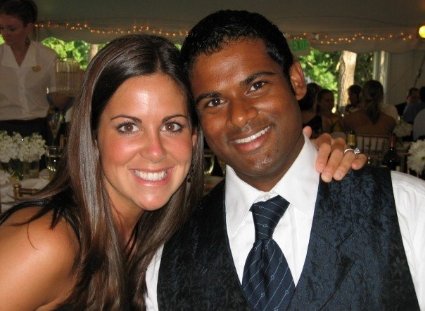 I was introduced to Daniel Washington, who was my first voice teacher at the University of Michigan and we instantly had a great rapport. I could come to him with anything whether it was about music or not.
I have been blessed to have many amazing teachers throughout my life, but had it not been for Daniel Washington, I would definitely not have become an opera singer.
[Below: Daniel Washington, University of Michigan Music Department (left), with his pupil, Sean Panikkar; edited image, based on a photograph, courtesy of Sean Panikkar.]
I auditioned for the Michigan Opera Theater Chorus and was again, surprisingly, accepted. I also joined the University of Michigan Opera Chorus for Donizetti's "Fille du Regiment".
I know that a lot of people read about an opera before they see it. Not me! I knew so little about opera then that I never knew what happened in the parts of the opera in which the chorus does not appear. My first opera with Michigan Opera Theater was Puccini's "La Boheme". When I finally saw the fourth act, I was really moved by Mimi's death. It was such a visceral response. I knew so little about opera that I didn't know people often died.
(My next show, with Michigan Opera Theater, was Verdi's "Aida" with Pavarotti singing Radames.) During rehearsals for "Boheme", I was also in the University's production of "Fille du Regiment" which was being conducted by Martin Katz, the brilliant collaborative pianist. Besides working with all of these famous musicians, I was developing lifelong friendships that last to this day. I knew there was something special in opera and it was a whole lot of fun.
Wm: And so opera began to encroach on your engineering career?
SP: Well, I was a practical thinker, who seeks to make logical career choices. I went back and forth between being an engineer and being a singer. My brother, Rajiv, and his wife Julie were always on my side, whichever choice I made. My parents, being parents, wanted to make sure I was making a safe decision and that I would be able to make a living doing whatever I was doing.
It wasn't so much that they were opposed to a career in music, they just didn't know it was possible. I think if they were more informed, they probably would have been even more strongly against it, as very few are able to sing opera professionally and make a decent career out of it. I was torn between two things that I really enjoyed.
Following my junior year I was accepted to the Seagle Music Colony, a summer music program in Schroon Lake, New York. It was there that I first met Darren Keith Woods (general director of the Fort Worth Opera) and soprano Ashley Putnam. Although I had sung baritone prior to that summer, I was starting to transition to tenor and they cast me as Ferrando in Mozart's "Cosi fan Tutte."
We worked on the role of Ferrando every day and I ended up being able to sing it by the time the performances came around. It was at the Seagle Music Colony that I began to understand that I might have what it takes for an operatic career. With the support of Darren Keith Woods and Ashley Putnam, I went back to the University of Michigan to finish my undergraduate studies with Luretta Bybee.
I learned so much from Luretta and her husband, Greer Grimsley. In fact, Greer would occasionally sub for her and in one particularly memorable lesson he sang the end of Che gelida manina (from "La Boheme") about a foot from my face. Greer is a freak of nature. To have a reigning Wotan singing a perfectly produced high C at you is really amazing and deafening!
My dream job from childhood was to build buildings and when I was in high school my plan was to start a construction company where I could be responsible for everything from design to construction. I knew that if music didn't work out, that my original dream was still intact, but in the short term I wanted to completely focus on music and give it a legitimate shot. I dropped engineering, but only after completing all of the requirements needed to be admitted into a master's architecture program. I had already finished my math and physics requirement so I made sure to get in my studio art classes and architecture history courses.
I stayed at the University of Michigan for my graduate studies and the following year I was accepted to the Merola summer program at the San Francisco Opera and to the Pittsburgh Opera Center. Three months into the Pittsburgh Opera training program, San Francisco Opera selected me to be an Adler Fellow in their two year training program. Pittsburgh Opera graciously allowed me to leave and I continued my training in San Francisco.
After my first summer there, I got married. There were so many amazing experiences in a relatively short span of time. All of this happened before I had turned 24. I never had the opportunity to question whether I made the right decision in giving up engineering because I was so busy working as a singer.
[Below: Sean Panikkar as Lensky in Tchaikovsky's "Eugene Onegin" at Opera Theater of St Louis; edited image, based on a Ken Howard photograph, courtesy of Sean Panikkar.]
Wm: It was after you entered the University of Michigan for engineering studies that you first became knowledgeable and passionate about opera, reportedly through a recording of Jon Vickers singing the Winterstuermme from Wagner's "Die Walkuere". Already you sing Narraboth in Richard Strauss' "Salome". Do you aspire to sing the jugendlicher Wagnerian tenor roles later in your career?
SP: My first teacher at Michigan, Daniel Washington, gave me a recording of Jon Vickers and others, singing full operas, during my first week of school because I literally had never heard an opera in context. I had heard recordings of THE THREE TENORS concerts, but that was about it. Much like I was captivated by the emotion of "La Boheme," I was captivated by the honesty in Jon Vickers' singing.
Regarding fach, that's a hard question to answer this early in my career. I try to avoid statements about the distant future. There are a lot of singers who are my age that think of themselves as heldentenors now. I try to sing whatever I'm doing, well. If my voice continues to grow, if opera companies want to hire me, and if audiences receive it well, I would consider moving into that repertory. I would love to sing slightly heavier repertory, but only if my voice takes me there. Whatever I am singing in the present is what I love to sing and I want to sing as lyrically as possible for as long as I can.
Wm: Your participation in the San Francisco Opera Company's Merola young artists' program was followed by a San Francisco Opera Adler Fellowship. How did these experiences affect your career path?
SP: I don't think I would have a career without the San Francisco Opera. The experience was invaluable. I learned so much about operatic careers, vocal technique, and networking with conductors and directors. Sheri Greenawald and Mark Morash who are in charge of the opera center are so knowledgeable and are really interested in developing young talent. I definitely was not the most refined voice in my Merola class, but they heard something unique in me. That is one of the great things about Sheri. She doesn't look for cookie cutter singers. She loves the uniqueness that a singer brings to the stage and she heard something in me that she wanted to develop.
Another thing that I learned was the importance of the opera patrons and donors. Obviously opera in the United States would not exist without their generosity and many of them give a lot of time in addition to their finances. I came to appreciate that without these donors and the opera patrons who give of their time, there would be nowhere for opera singers to perform. Furthermore, the sponsors of the Adler Fellowship became like a second family to me and my wife.
My best example of networking at San Francisco Opera happened when I was covering Jay Hunter Morris in Heggie's "Doctor Atomic." Jay had to leave for a few days and I got to sing a few rehearsals with Peter Sellars directing. Being enthusiastic and prepared can result in people noticing you and forming a connection with you.
When I was finished with the Adler Fellowship, Peter Sellars invited me to make my European debut as Gomatz in Mozart's "Zaide," which he was directing at the Festival d'Aix en Provence and it was all because of the impression I made in those few days of rehearsals for "Doctor Atomic."
In Part 2 of this interview, Sean Panikkar discusses the role of Nadir, the Sri Lankan hero of Bizet's "Pearlfishers" and other roles important to his career.