For the fourth season in a row, San Francisco Opera's music director, Nicola Luisotti, prior to a performance of Verdi's "Rigoletto", led the San Francisco Opera Orchestra in a rousing Star-Spangled banner to open the San Francisco Opera's Fall Season (this the 90th in its history).
As in the three previous years, the opera chosen for opening night was one of the great classics of the Italian repertory, following two Verdi operas – "Il Trovatore" (2009) and "Aida" (2010) – and Puccini's "Turandot" (2011), an opera whose popularity seems to increase every year.
In an opera season in which six of the eight scheduled productions are new to San Francisco, opening night was dedicated to the 15-year old Michael Yeargan "Rigoletto" sets. An homage to painter Giorgio de Chirico's The Mystery and Melancholy of a Street (see discussion below), the sets were last seen in San Francisco in 2006, although the Los Angeles Opera mounted it in 2010 [See Conlon Conducts Musically Impressive "Rigoletto" – Los Angeles Opera, December 2, 2010.]
[Below: Marullo (Joo Won Kang, center) informs Borsa (Daniel Montenegro, center right in yellow-stripes) as Count Ceprano (Ryan Kuster, forward center left, in black) and the Mantuan courtiers look on; edited image, based on a Cory Weaver photograph, courtesy of the San Francisco Opera.]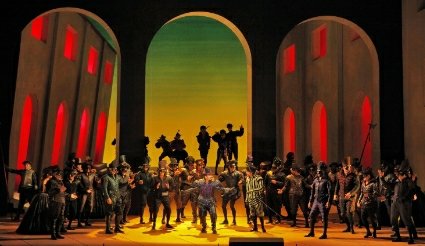 In a departure from the San Francisco Opera's usual practice, opening night was the first of two casts, in which two pairs of artists alternate in the three principal roles.
The opening night trio consisted of the Serbian baritone Zeljko Lucic as Rigoletto, Polish soprano Aleksandra Kurzak and Sardinian tenor Francesco Demuro as the Duke of Mantua.
Zeljko Lucic's Rigoletto
Lucic, who first appeared on the San Francisco Opera stage in 2004 as Giorgio Germont in Verdi's "La Traviata" – including a single performance, that I was fortunate to attend, in which he played the father to Rolando Villazon's Alfredo Germont in the only main stage role that Villazon has performed at San Francisco Opera to date.
More immediately relevant was the second, and, before this evening, the last role that he had performed in San Francisco – that of Don Carlo di Vargas in Verdi's "La Forza del Destino" (2005). This was the production that introduced Luisotti to San Francisco audiences.
Juicy as the roles of Germont and Don Carlo are, neither provides the opportunities to display wide ranging emotions, calling on an artist's vocal and acting abilities, as does the role of Rigoletto. Framed by Yeargan's surreal, distorted visuals and stage director Harry Silverstein's absorbing use of those spaces to pace the action, Lucic's conceptualization was praiseworthy.
Lucic portrayed a loving father of his only "treasure", his daughter Gilda – but a father who is embittered by knowledge of the dark side of human nature, and who seethes with rage at the circumstances in which he finds himself.
Lucic's reaction to Monterone's curse, seemed less from craven fear than anger that Monterone chose him, rather than the Duke, as the object of his damning words.
Possessing a sturdy dramatic baritone, Lucic was effective in Rigoletto's great scenes – his first encounter with the assassin Sparafucile; his expression of rage against the courtiers, followed by pathos as he pleads for information on his kidnapped daughter; and his vow of vengeance against the Duke for raping Gilda.
[Below: Zelijko Lucic as Rigoletto at the end of a pantomime that occurs with the opera's prelude; edited image, based on a Cory Weaver photograph, courtesy of the San Francisco Opera.]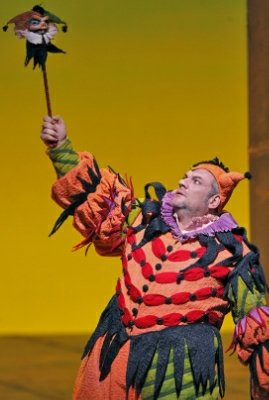 Aleksandra Kurzak's Gilda
Although California audiences had already been introduced to Kurzak's brilliant lyric coloratura [see Stylish Production, Fine Cast for "Cosi fan Tutte" – Los Angeles Opera, September 18, 2011], her Gilda served as the Polish soprano's San Francisco Opera debut. It was a triumphant performance, whose show piece Caro Nome was both technically brilliant and affectingly sung.
Kurzak's duets with Lucic's Rigoletto were beautifully executed, and her duets with the Demuro's Mantuan Duke portrayed, at least on her part, credible romantic tension.
[Below: Rigoletto (Zeljko Lucic, left) embraces his daughter Gilda (Aleksandra Kurzak, right); edited image, based on a Cory Weaver photograph, courtesy of the San Francisco Opera.]
Francesco Demuro's Duca di Mantua
Casting the Duke of Mantua for the spacious War Memorial Opera House with its open orchestra pit and lively acoustics does take some ingenuity on the part of operatic management. In these days where visually impressive and believable actors are in demand, and contracts for such singers are sent out years in advance, there is some guesswork as to whose voice will be ready for this assignment.
Francesco Demuro, who is in his mid-30s, has a light lyric sound that should be fine in many venues, but is challenged by this big opera house. That said, he performed creditably in his duets with Kurzak's Gilda and especially in the final scene, in which the Duke sings not only La donna e mobile but the main melodic line in the justly famous "Rigoletto" Quartet.
He proved that he is able to think quickly onstage when a detail of stage business goes awry. When, in the big aria in the final scene, he doffs his large hat (one of the many memorable Constance Hoffman costume designs), it falls on the floor instead of staying put on the back of a chair. Then, while singing his big aria about the fickleness of women, he scoops the hat off the floor, brushes it off, and sets it in its right place.
One other noteworthy observation. Conductor Nicola Luisotti has the tenors in both casts singing not only the cabaletta to the Duke's double aria that begins Verdi's third act (or the scene after the intermission in this Yeargan production), that is often cut, but restores also the intervening stretta and cabaletta repeat that is almost never performed.
[Below: The Duke of Mantua, disguised as a poor student Gualtier Malde (Francesco Demuro, left), makes his move on Gilda (Aleksandra Kurzak, right); edited image, based on a Cory Weaver photograph, courtesy of the San Francisco Opera.]
The remaining cast, especially the two major comprimario parts – Andrea Silvestrelli's Sparafucile and Kendall Gladen's Maddalena, were uniformly excellent. But since the entire cast other than Lucic, Kurzak and Demuro, sing with both sets of principals, my more extensive remarks will be saved for my review of the next night's performance.
[Below: the Duke of Mantua (Francesco Demuro, seated below) muses about women who attract him as Maddalena (Kendall Gladen, above) finds that he attracts her; edited image, based on a Cory Weaver photograph, courtesy of the San Francisco Opera.]
The Surreality of the Set Designs
I confess to having had mixed feelings about the Yeargan set designs, whose creation in 1997 doomed an extraordinary Jean-Pierre Ponnelle artistic masterpiece. I suspect a selling point for the new production was the unit set that could accommodate all four of the "Rigoletto" acts with just one intermission.
When I first saw "Rigoletto" at the War Memorial in 1966, there were three intermissions to allow for complicated scene changes. The Ponnelle production of 1973 combined the first two acts, reducing the intermissions to two.
As a general rule, the fewer the intermissions, the shorter the evening, which is often financially advantageous to the opera company, particularly if the production has been designed to reduce the number of backstage people needed to change the sets from one scene to the next.
Yeargan's set design is based on the work of the early 20th century Greek-born Italian artist, Giorgio de Chirico, particularly his Mystery and Melancholy of a Street, seen below.
[Below: Giorgio de Chirico's Mystery and Melancholy of a Street, now in a private collection, image from paletaworld.org.]
Perhaps the most evocative scene in the production is that of Rigoletto's first meeting with the murderer-for-hire, Sparafucile, in which the ominous shadow seen in de Chirico's painting is suggested in the shadows that Sparafucile and Rigoletto cast.
[Below: Rigoletto (Zeljko Lucic, left) on his journey home to his accommodations; edited image, based on a Cory Weaver photograph, courtesy of the San Francisco Opera.]
Because I am reviewing both casts on successive performances, I will defer some of my comments on the general production, orchestral and remaining vocal performances that would be relevant here, to my review of the second cast [see Vratogna, Shagimuratova, Chacon-Cruz, Luisotti: "Rigoletto" Magnifico – San Francisco Opera, September 8, 2012.]