The following interview took place in the War Memorial Opera House in San Francisco. The facilitation of this interview by the San Francisco Opera is gratefully acknowledged.
[Below: Baritone Brian Mulligan, resized image, based on a copyrighted Peter Ross photograph, courtesy of Brian-Mulligan.com.]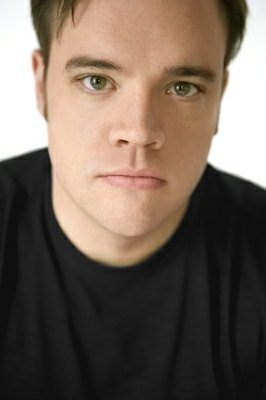 Wm: You grew up in Endicott in South Central New York State, in a family that had emigrated from the Irish County of Leitrim. Because you were born in the United States, you have dual American and Irish citizenship. In 2008 Irish America Magazine listed you as one of the "Finest in Dance, Music and Acting" of the Top 100 Irish Americans along with Robert Downey Jr, Will Ferrell, Rosie O'Donnell and Daniel Day-Lewis. To what extent did your Irish background influence your decision to make a career of vocal performance?
BM: I'm so proud to be Irish, but my Irish heritage did not influence my singing career very much. I love Ireland, I've been going there my whole life. Growing up, we would listen to the Wolfe Tones and the Clancy Brothers.
My grandfather played the fiddle, and he taught me to play too, but I never sang much of the traditional Irish music, unless it was along with a group of people in a pub! All the time I get people saying to me "You're an Irish tenor" and I reply "Nope, I'm an Irish baritone".
Wm: You starred in high school musicals. How did you become interested in musicals?
BM: I was always interested in the theater. Since my high school was performing musicals, I auditioned for them. I was 17 when I first began to sing.
Wm: What roles did you sing in high school?
BM: I did the tenor roles of Motel Kamazoil in Bock's "Fiddler on the Roof" and Tony in Bernstein's "West Side Story".
Wm: In the United States, there is an increasing cross-over between musicals and opera. Are there musicals that you would like to perform at this stage of your career?
BM: I hope some day that I can sing the title role in Sondheim's "Sweeney Todd". I'd kill to do Rodgers and Hammerstein's "Carousel" and maybe, in the distant future, Leigh's "Man of La Mancha".
Wm: How then did you become interested in opera? When did you decide that you had an operatic voice, and where did you pursue vocal studies?
BM: On the basis of my singing in those musicals, my high school teacher Gloria Richardson encouraged me to get some serious vocal training. She introduced me to Todd Geer, who worked with the Tri-Cities Opera, the local opera company in Binghamton, New York. Incidentally, Todd had been an Adler Fellow with the San Francisco Opera!
Todd was a fantastic voice teacher, and he introduced me to the immense world of opera by lending me tons of CD's and videotapes of operas. I watched Wagner's entire "Ring of the Nibelungs"! I would go see performances at Tri-Cities Opera, and soon, I was hooked.
I was always into sports, and in my last year of high school, I began to understand the amazing physical challenge that comes with operatic singing. Learning the languages and the history of it all appealed to the intellectual in me.
Becoming a real opera singer seemed like an impossible challenge, and I'm a terrible sucker for a challenge. And today, opera still challenges me.
Wm: And this was when you applied to the Eastman School of Music in Rochester, New York?
BM: I was a serious student all through high school, very focused on my academics. I did not take the idea of going to college for vocal studies very seriously, but, because most music conservatories were affiliated with universities, I initially thought I might get extra scholarship money if I auditioned for vocal performance programs.
After all the auditions and applications, I had many different schools to choose from, both universities and conservatories. In the end, I chose Eastman because it was close to home and also because my voice teacher Todd Geer had gone there.
Wm: What were your educational experiences at the Yale School of Music?
BM: At Yale I learned just how demanding being a singer is. It's an incredible program there, Doris and Richard Cross taught me so much.
While at Yale, Doris introduced me to my manager, Matthew Horner. The program really challenged me as an artist. I did my first Valentin in Gounod's "Faust" there at 22.
[Below: Baritone Brian Mulligan, resized image, based on a copyrighted Peter Ross photograph, courtesy of Brian-Mulligan.com.]
Wm: And from there, you went to Juilliard. What did you learn there?
BM: I learned nearly everything at Juilliard. Most of my vocal training was there.
I cemented my vocal technique with my teacher W. Stephen Smith (now with the Bienen School of Music at Northwestern University). I coached with many of the greatest coaches in America – Ken Merrill, Corradina Caporello, Margo Garrett, Nico Castel and Brian Zeger were wonderful teachers for me.
I also spent a lot of time at Juilliard studying acting with Ed Berekely and Frank Corsaro. It was an amazing time for me as a student, I am constantly drawing from what I learned at Juilliard.
Wm: In 1998, you were selected to perform the title role in Mozart's "Don Giovanni" at the Juilliard Opera Center. Other artists have emphasized how important successful performances in lead roles at Juilliard and at other major collegiate centers for operatic performance had been for advancing their careers. Do you consider that Don Giovanni as a career breakthrough and, if so, what were the consequences of those performances?
BM: Well, I would not say it was a breakthrough. For me it was a humbling experience. I was completely unaware of all the pressure of being Don Giovanni and all the historical performances of the role that took place at the Met or the New York City Opera.
That was a very tough production and the role is a huge challenge. In that "Don Giovanni", I lost the character I was playing the only time in my experience. I got to hate him. "Who is this monster of a person?" I would think to myself! It was over ten years ago. I performed the role once more. It was the last time.
Wm: You have had great success in entering important vocal competitions, and in receiving study grants and other support from foundations devoted to opera and vocal performance, many of which did not exist a half century ago. Do you believe that in the United States we have reached a threshold of support that makes it possible for talented singers like yourself to pursue operatic careers, and that what is needed now is more live operatic performances?
BM: Being successful on the competition circuit is really a different skill set than being successful in operatic performance. To be successful in competition, you've got to have the exact right repertory and deliver those two or three pieces perfectly. I owe so much to those competitions, and to those foundations that gave me money when I needed it, being a struggling artist in New York City.
The other invaluable thing about those competitions is that is separates you from the pack. To have your name on a list of winners of a competition of which a manager or an opera company would be aware, leads them to say, "Maybe we should hear him".
But winning the competition and getting an actual contract for performance are two different things. It's the experiences in live performance, rather than the competitions, that slowly builds up an operatic career.
Nothing can replace experience in live performances. Just in these past four performances of "Nixon in China" I have sung so far this summer at the San Francisco Opera, I feel so much more comfortable now than on opening night.
Wm: A few years ago, such French repertory staples as Gounod's operas "Faust" and "Romeo et Juliette" were disappearing from the operatic repertory. Now, they seem to be regaining popularity in the United States. I have seen you perform Valentin in both San Francisco and San Diego and saw the Des McAnuff production at English National Opera in which you appeared in its Metropolitan Opera revival.
Would you agree that 21st century audiences are discovering that "Faust" is more than a string of hit tunes? What other French works (with roles for you) would you like to see done more often?
[Below: Brian Mulligan (left) is Valentin (left) with Greer Grimsley (right) as Mephistopheles; edited image, based on a Ken Howard photograph, courtesy of the San Diego Opera.]
BM: I LOVE singing in French. I love the music. I love the special beauty of perfectly pronounced French. I hope more opera companies produce French opera. This season, I'll have my role debut in Thomas' "Hamlet". And I look forward to doing Athanael in Massenet's "Thais".
Both of those are spectacular baritone roles. I also love Poulenc's "Mamelles de Teresias". I'm preparing for Berlioz' "Les Troyens" and also Golaud in Debussy's "Pelleas et Melisande" and I'd like to try Pelleas some day as well.
Wm: You have appeared in two of John Adams' works – the title roles of "The Death of Klinghoffer" and "Nixon in China". There are major baritone roles in Adams' "Doctor Atomic" as well. Have you wanted to perform a role in that work?
BM: I think John Adams compositions are brilliant. I'm certain that I would be up for "Doctor Atomic". There's something in the way Adams writes for the voice, about singing in English in his operas that makes me feel like I'm expressing something really clearly.
My ultimate goal is to be a communicator, and in his works I feel that I'm really communicating with the audience. Yes, I would like to do more Adams roles.
Wm: Your portrayal of Richard Nixon is a masterful characterization that includes the president's famous mannerisms, yet never seems to lack a basic dignity and even sympathy for a complex man. How did you approach the role, and developing the character? What are your thoughts about the Vancouver production, and its staging in San Francisco?
BM: My preparation for the role of Nixon was a multi-year long project for me. I'm happy to hear that you saw that dignity. It's so incredible that you brought up my Don Giovanni at Juilliard. You always have to be on the character's side. It doesn't matter that you are performing a role that others may dislike – you the performer have to be on the character's side.
In terms of the Nixon role, there is so much anti-Nixon rhetoric. I realized from the beginning I needed to keep myself away from hostility towards the man, and that I could love the character.
The fact of the matter is that Nixon was a brilliant man, Shakespearean in his character flaws, and that is is so much a gift for an actor. What I needed was to "get" Nixon and understand how he saw the world.
I read the books that he wrote, and began to see that it was o.k. to be on Nixon's side. I think that Nixon truly believed everything he was doing was for the good fo the country. In fact you can argue that, from his perspective, as far as he was concerned, he was operating in the same way as the Kennedys and LBJ.
[Below: Brian Mulligan as Richard Nixon; edited image, based on a Cory Weaver photograph, courtesy of the San Francisco Opera.]
The important thing is that all the trip to China happened before Watergate. This kind of imminent sense of catastrophe when he sings "the rats begin to chew the sheets" evokes the real emotion of fear that this whole trip to China could be a catastrophe, or a political disaster, if the press didn't report on it.
I spent a lot of time looking at the David Frost-Nixon tapes to really understand who Nixon was and how he acted. Then in addition, I went to Yorba Linda to the Nixon Library. That was enlightening.
I also went to China to experience first hand many of things that Nixon did there, so as to draw from some real sense as to what it was like to walk through the places he visited, and to sample the kinds of food and beverages he consumed there.
Wm: Many of us feel that Michael Cavanagh's production of "Nixon in China" is a major contribution to the opera's future. What are your thoughts on this observation?
BM: I agree. Michael Cavanagh's production of "Nixon in China" is a lot of fun, but it's also a necessary step in the evolution of the piece, moving beyond the brilliant original production.
I loved working with Michael Cavanagh. He is a generous man, a very patient director and a wonderful person to work with.
Wm: It seems to me that Cavanagh's direction affords to five of the six main characters a dignity that comes from the fact that each character believes that they feel they are doing good. I think the treatment of Kissinger is done so differently as to unbalance that character's relationship to the others.
BM: In terms of Kissinger, what may not be clear is that it's all supposed to be Madame Mao's dream or her fantasy. But in terms of the diginity of the other characters, that is the way that Cavanagh set it up.
There is some deliberate silliness at the beginning when Nixon sings his News aria. His jubilant running around disarms the audience. So many people are coming in with old prejudices.
But when the audience sees me running around like a child, they just have to laugh and think, "O.K., we're going to like this guy". It's meant to humanize Richard Nixon, to get them on his side – and I think it works!
Wm: "Nixon in China" follows John Adams' dictum that his operas should be amplified. In my interview with baritone Nathan Gunn, he made the point that there's a big difference whether the typical unmiked opera performance and one that is amplified. Do you approach a miked performance differently from a regular opera performance?
BM: Honestly, I don't sing any differently. Truly, the mike doesn't influence me. However, I will say that there are times that it is aurally disturbing in terms of cues, because when I hear the orchestra and the other voices, they sound different.
It seems like there's an echo, which may be a deliberate part of the sound design. I'm really not sure. I try not to think about it at all. In "Klinghoffer" I learned that the amplification wasn't there to hinder. It was just there to help.
[Below: Brian Mulligan as Klinghoffer and Nancy Maultsby as Marilyn Klinghoffer; edited image, based on a photograph for the Opera Theater of St Louis.]
Wm: You sang the role of Albert in one my favorite productions, Francisco Negrin's mounting of Massenet's "Werther".
BM: I think Francisco is brilliant. I adore working with him. My staging rehearsals with him were so special and intimate. I felt very safe. That production is a huge spectacle. It's big, but within that big set there was so much opportunity to work out a truly intimate, dramatic interplay between the characters.
Being onstage with Ramon Vargas (Werther), Alice Coote (Charlotte) and Heidi Stober (Sophie), was wonderful. We played off our characters so well. I loved it.
Wm: It was so interesting seeing you perform Valentin in the Perdziola production of "Faust" (originally produced at the Lyric Opera of Chicago based on the Frank Corsaro New York City Opera staging) in San Francisco and San Diego, but with the quite different stagings by Jose Maria Condemi (San Francisco) and David Gately (San Diego). Would you comment on this?
BM: Frank Corsaro was one of my teachers at Juilliard. Both directors – Condemi and Gately – are great guys. It was interesting seeing how differently they approached the opera.
With Jose Maria – we had a lot of time to get the staging down the way Jose Maria wanted it and we made something really special. In San Diego, because I was replacing another artist on short notice, we did not have the time to make every onstage moment as nuanced as we wanted, but still, the performances felt special.
I came to Gately's staging, with only the basic information from Frank and Jose Maria. It was amazing how much of that background I was able to bring to San Diego, even though there were some differences between the two stagings.
It wasn't difficult to fit in there at all. It was a great cast, a fantastic administration and San Diego Opera is a wonderful company to work for.
I remember David Gately's staging of the sword-fight was the most aggressive sword-fighting I've ever done onstage and it was really exciting. Those were amazing moves!
Wm: Many artists find they are making commitments to roles and opera companies half a decade in the future, and this can have the effect of boxing one into a very limited number of roles. But suppose you had the luxury of saying, "over the next decade, I'm going to add six new roles to my repertory, that I get to choose, with the understanding that they will be mounted for me in new productions", what would those roles be?
BM: First, Jokanaan in Richard Strauss' "Salome", Athanael in Massenet's "Thais", the title role of Verdi's "Macbeth", Golaud in Debussy's "Pelleas et Melisande" and Nick Shadow in Stravinsky's "The Rake's Progress". At the end of the ten years, would be Amfortas in Wagner's "Parsifal". There are spectacular singing opportunities and amazing dramatic challenges within those roles.
Wm: Thank you, Brian.
BM: Thank you!
For this website's reviews of performances mentioned in this interview, see: 25 Years Old, "Nixon in China" Arrives at San Francisco Opera – June 8, 2012, and A Second Look: "Nixon in China" in San Francisco – June 17, 2012, part 1 and A Second Look: "Nixon in China" in San Francisco – June 17, 2012, part 2, and also,
Costello, Perez, Grimsley and Mulligan Brilliant in Spectacularly Staged "Faust" – San Diego Opera, April 23,, and A Second Look: A Visually, Aurally Praiseworthy "Faust" at San Francisco Opera – June 20, 2010, and also,
"Werther" Re-invented, Yet Again – Francisco Negrin's New Production at San Francisco Opera, September 15, 2010.