The following interview took place in the War Memorial Opera House in San Francisco. The facilitation of this interview by the San Francisco Opera is gratefully acknowledged.
Wm: You are from a musical family of Hawai'i, and both of your parents are musicians.
QK: Yes, I am. My folks had met singing in college. In those years, they sang together both in school and locally in a group called the Maile Aloha Singers. My mother was a choir director at a local Baptist church for 27 years. My father was lead singer for a rock band in high school, but he also sang in the school's choir.
He now lectures in English at the University of Hawaii-Manoa as well as one of the community colleges, holding a Ph.D. in Creative Writing, while my mother continues to teach the various choirs at my old alma mater, the University Laboratory School in Honolulu, now called the Education Laboratory School.
Besides that, both my parents AND my sister are soloists and section leaders for the choir at the Central Union Church in Honolulu where I had my first paid singing job a year after high school.
My sister Blythe, who is currently studying as an operatic soprano, and I both sang in all of our mother's choral programs throughout our middle and high school years.
[Baritone Quinn Kelsey; resized image of the baritone's current publicity photograph.]
Wm: From my interviews with many operatic artists, it seems that an artist's exposure to vocal music, whatever the type, in his or her youth, often proves to be a critical factor in developing an interest in vocal performance. Do you agree with this assessment in general, and as it relates to you especially?
QK: I do. I believe that exposure to any kind of music is quite important for fostering appreciation of music in general. My sister and I were exposed from an early age to a wide variety of music. I attribute my broad eclectic taste for all different kinds of music to that background.
In fact, I listen to different types of music at different times of the day depending on my mood, on how I feel. Opera is, of course, a huge part of that. Opera is my job, what I do for a living. But I think having the broad respect for music of all types only sweetens that.
Wm: What kind of vocal training did you have in the early years, and when and how did the interest in opera and opera performance develop?
QK: There was not a whole lot of vocal training in the beginning. I learned how to sing by osmosis. A lot was due just to that blanket appreciation of all music. I would sing in the Baptist church choir on Sundays and in community choirs other days of the week. I listened to a lot of classical music. And before bed, my sister and I would listen to my dad as he sang us to sleep with some of the music he enjoyed – Simon and Garfunkel, Cat Stevens and Taj Mahal, to name a few.
[Below: Quinn Kelsey, seated, with his mother and father; courtesy of the Honolulu Advertiser.]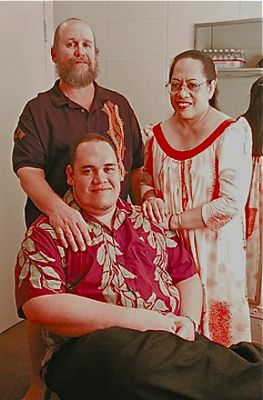 My sister and I really just picked it all up second hand. We were never put into a room with a piano and taught. We were never told you need to produce this kind of sound with this type of quality.
I know that our mother had a huge respect for classical and sacred music, and she understood that we had a high level of appreciation for those kinds of music at an early age, so she did not need to pursue it with us. To some extent she just knew that we would be able to absorb it.
Wm: What were your earliest experiences with vocal performances, both in a chorus and as a soloist?
QK: When I was in my sophomore year of high school, I joined a community choir of which my sister had already been a member for years. In the spring of my junior year, the choir launched their first spring recital, part of which was to showcase solo voices.
They picked me as one of the soloists and assigned me Valentin's aria from Gounod's "Faust". Suddenly, I didn't have a large number of people standing singing beside me.
I had no idea how to go about learning the music. I'd never done anything like this before. It was at this point that my mother realized that I needed the help and the attention. That was something she knew and that it was just time to guide me through it.
She has an extensive background in piano, so she was able to sit me down and play through the music with me. I had never had done that before. I'd never really been a true soloist on a stage before. Not of this calibre.
Wm: When you were a young teenager, first your parents and then yourself ended up in the opera chorus of the Hawai'i Opera Theater (HOT) . Take me through the steps as to how this happened.
QK: It was my mother who was approached, through a colleague from school, to join the HOT chorus so that they would sing together. After my mother sang in the opera chorus for a couple of seasons, she suggested to my dad that he should be a part of it also. To them, it was just another chorus.
However, the staging rehearsals, which went late into the evening, meant that my sister and I had to stay with our grandparents for the duration of the productions in which our folks were singing in any given opera season. Obviously, if my sister and I could have been part of the HOT chorus with our parents, there would not have been a problem, but we were too young back then.
In 1991, HOT scheduled performances of Verdi's "Aida" and they needed to recruit more men for the Priests' chorus.
Wm: And teenage choristers were recruited as priests?
QK: No, I was still underage and couldn't be hired directly. However, my father was singing in the Alumni Glee Club for the Kamehameha Schools in Honolulu.
[Below: Quinn Kelsey, left, is Ezio and Ferruccio Furlanetto, right, is Attila in Verdi's "Attila"; edited image, based on a Cory Weaver photograph, courtesy of the San Francisco Opera.]
HOT approached the glee club asking if its men could be enlisted as the priests' chorus. The company had a plan to engage the whole club without any individual auditions, so it occurred to my dad that if I could join the glee club I could become one of the "Aida" priests.
When my dad suggested this, the glee club music director agreed to it on the condition that I learn all the glee club's music, to which I agreed. So I learned their whole repertory of Hawaiian music to get to sing in "Aida".
Wm: So your very first operatic performance was in "Aida".
QK: Yes, at age 13 I was a first tenor in the priests' chorus.
Wm: That must have been a formative experience for your later career.
QK: Well, it was a shock – the whole schedule of preparing for and performing the opera, the late nights, all the effort that went into learning the music and the language.
I recognized the notes on the page and the markings, so it wasn't that much of a stretch from performing in a chorus, but my perspective of theater changed so much. Before that I only sat in the house. I only knew the hall from the audience's point of view.
The first day we rehearsed on stage, to be on the other side was very eye-opening. In the same way I became turned on to the idea of singing opera, although it wasn't until the end of high school that I got a taste for the soloist point of view.
Wm: And those early experiences were the catalysts that resulted in your pursuit of an operatic career?
QK: The whole experience of becoming a soloist, and beginning to move further to the front of the stage, was a strong factor, as was the experience of singing on the operatic stage.
By the time I started college I needed to decide what I wanted to do. I felt I couldn't fool around in college, but had to decide what course I was going to take. By the spring of my college freshman year, I had declared my major in vocal performance and actually had thought of it as a kind of "skating" – of taking the easy route – because I felt as though I already had a healthy chunk of experience in singing by the time I got to college.
So, to pursue other career possibilities, I took courses in marine biology, visual art, and, because I am part Hawaiian and have huge respect for my culture, also enrolled in Hawaiian studies and language. But music won over.
About a year after I'd begun college, the Hawai'i Opera Theater created the Mae Z. Orvis opera studio for young artists, much like those programs of the San Francisco Opera, New York Metropolitan Opera, the Lyric Opera of Chicago, and many other major American houses, but on a much smaller scale, of course. My sister is a current member of this studio, having resumed her own operatic studies after 10 years away from home.
The timing was uncannily perfect, in that when I was just beginning to discover my voice and trying to figure it out, suddenly there was this studio for young artists aat Hawai'i Opera Theater that operated as if it were basically built for me.
I applied for the HOT young artists program and the company accepted me and a handful of my classmates at the university. It was just the perfect opportunity. That little program gave us the type of attention young singers really needed at that point in their lives.
Wm: Luciano Pavarotti suggested that an operatic career required both talent and good luck.
QK: It has worked for me. Each year HOT would invite a number of clinicians and folks from major opera companies and other areas of the business to visit and hold one or two week long classes.
Among them were music staff from San Francisco Opera's Merola program who have visited the opera studio in Honolulu ever since I was a member, back in 1997 or 1998, as well as my former boss from the Lyric program, Richard Pearlman.
Along with them, I had the opportunity to work with opera greats the likes of Jerry Hadley, Denyce Graves and Marilyn Horne. I doubt that I would have had the exposure to important people like this had HOT never brought them to Hawai'i. But they did, and I can honestly say I am so much the better for it.
By the Merola Program's second visit, they were inviting me to come and audition. It took three years after that before I was able to follow through with their suggestion, but I finally auditioned in fall 2001 in Los Angeles and by the middle of December of that year, got a call from them that I had been accepted to the 2002 Merola program and that they were hiring me to be part of the Western Opera Theater, the San Francisco Opera's former touring company.
This was the beginning of a trend that just began to happen in my life and I consider is still happening. I feel like I've always been in the right place at the right time.
There has been a progression in that everything that has been presented to me has been a step up from where I was before. It's pretty surprising how opportunities just popped up right in front of me, and that I was always able to understand and accept them and commit to taking the next step forward.
Wm: How did the Merola program influence your career preparation?
QK: The Merola program has been such a staple for the progression of young artists' careers. Many of the big names in opera were Merolini, the name given to the kids who go through the summer program.
The program has given me what it's given them; the kind of training for and exposure to opera that singers at the forefront of their careers need.
Everything that young singers need to experience and learn is addressed. We learn how to develop a certain work ethic, building habits for preparing music, and many other important lessons besides all the stage experience and background in preparing roles.
The program exposes singers to the financial side of the business in handling taxes and expenses. Artists are even given a hand in procuring formal wear for concerts or business attire for auditions and the like. I consider it to be such an important environment for young singers as they develop their skills and abilities.
I consider the program to have been a huge stepping stone in the progression of my career. It is one of the foremost summer programs in opera for young singers. I am certainly a stronger, more confident performer and musician for the time I spent at Merola.
Wm: After the Merola experiences, you were then accepted into the Lyric Opera of Chicago's Ryan Center for Young Artists. As both a Ryan alumnus and one of the San Francisco Opera Merolini, do you feel like you are returning home when you sing in Chicago and San Francisco?
QK: Very much so. Both of those companies have made me feel just that; like I'm returning home. I feel that it's a huge honor to come back and work at these companies as a main stage artist.
;[Edited image: Quinn Kelsey as the Count Monterone in Verdi's "Rigoletto" (2006); edited image, based on a Dan Rest photograph for the Lyric Opera of Chicago.]
I'm very fortunate. I made my main stage debut as a last minute addition to the production of Puccini's "La Boheme" and then in 2009 at the last minute to cover di Luna in Verdi's "Il Trovatore" and was given the last two performances of the run. In 2010 I sang Sharpless and then Amonasro in the second cast. And now I'm back here in "Attila".
In Chicago I was a member of the ensemble at the opera center, then they hired me back again the following two years for covers and as Ping in Puccini's "Turandot" and Marcello again. Last fall around Halloween I was a last minute addition as Enrico in Donizetti's "Lucia di Lammermoor".
This March I did Amonasro in "Aida". This fall I cover the title role in Verdi's "Simon Boccanegra" and will sing Paolo in the same opera. There are already two other projects coming in Chicago, so that's very nice. Chicago and San Francisco are two of my favorite places to work in the States. I'm based in Chicago. Never bad to work at home.
Wm: Speaking of Chicago and San Francisco, I've seen you perform Amonasro in "Aida" in Chicago and di Luna in "Trovatore" and Ezio in "Attila" in San Francisco. Also, Paul Curran has had you sing the title role of "Rigoletto" at the Norwegian Opera in Oslo and you've performed the role also in Toronto.
You have the good fortune of being recognized as a first rank Verdi baritone just as we go into the Verdi bicentennial year. What there Verdi roles do you expect to add in the near future? Are there Verdi roles that you do not want sing, or at least sing often, while still in your mid-30s?
[Below: Quinn Kelsey is Rigoletto with Eli Kristin Hanssveen as Gilda in the Den Norske Opera production is Oslo; resized image from quinnkelsey, com.]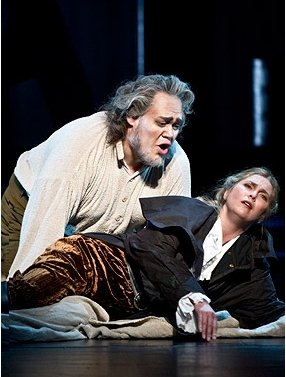 QK: I have lots of Verdi scheduled in the near future. I'll add Guy de Montfort in "Vêpres siciliennes" to my list next year. But my "go-to" Verdi roles are those in "Rigoletto", "Il Trovatore" and "La Traviata". It's nice to do roles I know, especially the roles in bel canto operas and the middle Verdi period that fit my voice well at this stage.
I believe that I am presently capable of singing roles like Scarpia in Puccini's "Tosca" and the title role of Wagner's "Fliegende Hollaender", but a young singer must be careful NOT to perform these types of roles too early in one's career. For the sake of my vocal longevity, I intend to wait a while before adding these roles to my repertoire.
Wm: In addition to your Verdi roles you also sing Marcello in Puccini's "La Boheme" and Sharpless in Puccini's "Madama Butterfly". In San Francisco you've sung a bit more Puccini than Verdi. Is there a difference in your preparation for singing Verdi and Puccini?
QK: I don't think my preparation is any different from one composer to the next. I believe there to be one specific preparation for me – for my voice. I don't need to prepare one way for Italian, German, or French opera. There is one way to prepare for everything. Tbere is one way to approach all of that music. This is how my voice functions. Everyone's different. We all as opera singers function differently. No two voices are alike. What all of us must do is to know ourselves.
Wm: Of course, next year will be the Wagner Bicentennial as well as the Verdi Bicentennial. You say that you'll wait for the role of Dutchman, but is there any Wagner in your near future?
QK: I've covered some Wagner – Donner in "Das Rheingold" on two separate occasions. In fact, I wish Wagner had written more for my type of voice, but obviously Verdi did. I enjoy it all. Sadly, there is a limited amount of Wagner I can sing now, so for now I concentrate on the Verdi and roles from other composers whose music I enjoy. I'd love to add some Wagner to my rep in the very near future.
Wm: Although you are not particularly associated with the French repertory, in Summer 2011 you performed Athanael in Massenet's "Thais" with some of your Chicago Lyric colleagues in Edinburgh. Will you be exploring more of the French repertory in the future?
QK: "Vêpres siciliennes", by Verdi, will be sung in French when it comes around. I've sung Valentin in Gounod's "Faust". There is a Sancho in Massenet's "Don Quichotte" in the future as well.
Wm: Now that you have sung in major roles in several top tier international opera companies, what do you regard as the most significant experiences that you have had? Are there things about being an "opera star" that surprise you?
QK: I have to mention my 2008 debut at the New York Met as Schaunard in Puccini's "La Boheme". The Met is definitely a Mecca for opera singers. To me, it's anything and everything that people say about it, very professional – definitely the leading opera company in the United States.
It is just another level because of the attention and the respect and the control that they command at that company. If they need something in a rehearsal like a piece of a set or a prop, it's there immediately.
The vibe there can be quite impressive. You almost get a feel as though you're working at a government agency. You have a card that says "principal artist" with a magnetic strip. You have a key pad at the security guard booth or another one at a door tht leads to the dressing room corridor.
You swipe the card. If the light on the keypad glows green, you've checked out and are allowed in. Likewise, strangers you pass in the hallway will often blindly regard you without another look as though you are part of the "club". It's all assumed. You don't get that at other companies.
I love working at the Lyric Opera of Chicago and the San Francisco Opera because of how personable they are and how happy they are to see you. To have that warmth of hospitality makes the work day much easier. There are definite advantages to singing at the Met, Chicago and San Francisco.
I consider myself to have come from humble beginnings in opera in Hawai'i. And now, to enjoy performing on stages of such grandeur and acclaim is so very refreshing to me. To perform at such a high level renews my love and desire for the art form constantly. I am reminded again and again how fortunate I am to have this exceptional career. And I am still just at its doorstep.
Wm: There are very few opera singers with a Hawaiian or Pacific Islander heritage. Are there ways that your cultural background impacts your vocal performances or your approach to the characters that you play?
QK: Very much so. I consider classical singers of Pacific Island background to have a unique advantage in classical singing.
On the whole, Pacific Island people have a principally oral tradition, which gives those of us with that background an edge. Singing is second nature to us.
The Hawaiian culture was not one of any written language. The hieroglyphs found on stone surfaces did not constitute a written language. It was more of a means of record-keeping rather than a method of daily communication. All communication was oral.
I know this to be true, because I've seen a number of classical voices produced in Hawai'i. You don't see many of them on the international stages. Opera is not an easy idea to fathom when you come from an island in the Pacific Ocean, regardless of how much of contemporary society is present. But the talent is there.
Wm: Many artists find they are making commitments to roles and opera companies half a decade in the future, and this can have the effect of boxing one in to a very limited number of roles. But suppose you had the luxury of saying, "over the next decade, I'm going to add six new roles to my repertory, that I get to choose, with the understanding that they will be mounted for me in new productions", what would those roles be?
QK: One would be the title role of Verdi's "Falstaff"
One of my mentors, whose advice I trust, has suggested to me that Falstaff would be one of the roles to take on with a new production with the right director. Perhaps in ten years I would want to try Scarpia in Puccini's "Tosca".
For the other four roles, I would explore the title role of "Macbeth", Don Carlo di Vargas in "La Forza del Destino", Rodrigue in "Don Carlos" and Carlo in "Ernani".
However, right now I am singing the repertory that I should be singing, so I don't give that much attention to what I should be doing a decade from now. I have a lot on my plate.
Wm: Thank you, Quinn, for your time.
QK: Thank you.