The Santa Fe Opera's new production of "Arabella" marked the return of Richard Strauss to the Summer Festival repertory after an absence of four seasons – the first time in Santa Fe Opera history that the Viennese composer's compositions had been absent for that length of time.
Erin Wall's Arabella
The Festival's last performed Strauss opera, 2007's production of "Daphne", shared one important feature with 2012's "Arabella". Both operas had Canadian soprano Erin Wall in the title role.
The role of Arabella, perhaps as effectively as any in opera, portrays the yearning for a stable, loving lifetime commitment to the kind of husband of whom she dreams. She ultimately meets and bonds with Mandryka, who is to be her life partner, but not without their relationship nearly being destroyed by intrigues and coincidences of which she is not part.
Strauss has written long passages of monologue for Arabella, in which her inner hopes and fears are revealed, and similar passages of dialogue with her sister Zdenka and her husband-to-be Mandryka that always reflect the dignity and serenity that has protected her from the chaotic surroundings in which she has had to live. In fact, it would be hard to make a list of operatic characters that have to maintain such a outward appearance of dignity (even if in the final act smouldering with outrage) for such long periods.
She requires a beautiful lyric voice, that can sustain long periods of legato singing. Wall did this, and made the case that she is the Arabella for this generation, just as Dame Kiri Te Kanawa was the Arabella for the last.
[Below: Erin Wall as Arabella; edited image, based on a Ken Howard photograph, courtesy of the Santa Fe Opera.]
The new production proved to be a triumph for Wall, who has become a major presence at both and Lyric Opera of Chicago [See Britten's "Midsummer Night's Dream" in Chicago: Enchanting, Luminous, Hilarious – Lyric Opera, November 17, 2010] and the Santa Fe Opera [see Groves, Wall, Lindsey Excel in Christopher Alden's Harrowing, Hallucinatory "Hoffmann" – Santa Fe Opera, July 17, 2010.]
Mark Delavan's Mandryka
Fresh from such triumphs as the three Wotan roles in the Zambello production of Wagner's "Ring of the Nibelungs" at San Francisco Opera [See "Rheingold" Evolves in First Full Zambello "Ring" – San Francisco Opera, June 14, 2011 and Power Singing, Powerful Imagery in Zambello's "Walkuere" – San Francisco Opera, June 15, 2011 and Down and Out in Zambello's American Ring: Sly, Theatrically-Centered "Siegfried" Satisfies – San Francisco Opera, June 17, 2011], Mark Delavan portrayal was the emotional counterpoint to Wall's serene outward appearance.
Portraying the super-rich, but unsophisticated Slavic nobleman, Delavan made believable Mandryka's boyish crush that developed from receiving Arabella's picture, his understandable suspicion when Zdenka's sexual deception of Matteo confused both Matteo and himself, and his emotional highs and lows as the consequences of that deception plays out.
[Below: Mark Delavana as Mandryka; edited image, based on a Ken Howard photograph, courtesy of the Santa Fe Opera.]
Mandryka requires both dramatic and comic skills, as well as a robust baritone. Delavan delivered on all counts, and was a strong and affecting presence throughout the opera.
Heidi Stober's Zdenka and Zach Borichevsky's Matteo
The idea of a sexual liaison in which one of the parties is deliberately deceived, is, of course, a dramatic device with a long history. (Think, for instance, of the deception of Angelo in The Bard's Measure for Measure.) It's a fascinating psychological question to speculate on whether Matteo's forced marriage to Zdenka, who, just a few minutes before he thought was his friend Zdenko, a boy; has the prospect of eternal bliss that we can believe that Mandryka and Arabella has. But as a plot device, it has the desired effect.
Stober's work has been admired here [see for example, Graham, Daniels, Prina Excel in Elegant, Witty "Xerxes" – San Francisco Opera, October 30, 2011 and A Second Look: the Kaneko-Gockley Production of "Magic Flute" – San Francisco Opera, June 24, 2012].
She already has scored a great hit as Sophie [see "Werther" Re-invented, Yet Again – Francisco Negrin's New Production at San Francisco Opera, September 15, 2010], who has fallen in love with the dangerously obsessive and suicidal tenor, Werther. But in "Arabella", she achieves her objective of getting the dangerously obsessive and suicidal tenor for herself, to paraphrase the Bard, "paying with falsehood, false exacting".
Stober and Zach Borichevsky did a great job in their roles, both of which have tragicomic roots, humorous in the outcome, but both who skate on the edge of potential disaster.
[Below: Zdenka, disguised as Zdenko (Heidi Stober, left) deceives Matteo (Zach Borichevsky, right) into thinking he has received the key to Zdenka's sister's bedroom; edited image, based on a Ken Howard photograph, courtesy of the Santa Fe Opera.]
Other Members of the Cast
The opera abounds in juicy comprimario roles, including the role of the vivacious Belle of the Coachman's Ball, Fiakermilli, excellently played by Texas coloratura soprano Kiri Deonarine.
Her vocal and comic high-jinks provide the opportunity for Delavan's Mandryka, seething with anger, to make a spectacle of himself to the shocked guests.
[Below: the Coachman's Ball onto which Mandryka (Mark Delavan, on table at left in black) has stepped with the Fiakermilli (Kiri Deonarien, on same table in red); edited image, based on a Ken Howard photograph, courtesy of the Santa Fe Opera.]
Arabella's unsuccessful suitors include tenor Brian Jagde (the Santa Fe season's Cavaradossi in Puccini's "Tosca") as Count Elemer, Jonathan Michie as Dominik and Joseph Beutel as Lamoral.
Victoria Livengood, and , especially, Dale Travis in one of his best roles to date, were effective as the parents in Arabella's dysfunctional family.
[Below: the Countess Waldner, Adelaide (Victoria Livengood, standing left) converses with her husband, Count Waldner (Dale Travis, seated); edited image, based on a Ken Howard photograph, courtesy of the Santa Fe Opera.]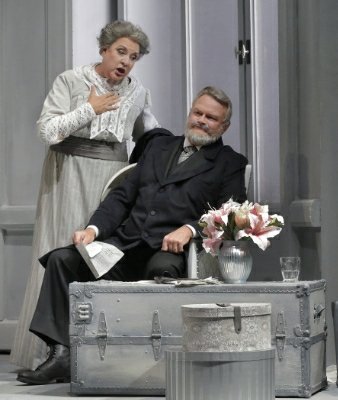 Susanne Hendrix was the Fortune Teller. Mandryka's retinue included Christian Sanders as Welko, Ryan Milstead as Djura and Matthew Newlin as Jankel. Edwin Vega was a Servant. Every member of the cast performed admirably.
The new production
Tim Albery directed the production, which is a co-production with the Canadian Opera Company and the Minnesota Opera. The attractive sets and costumes were by Tobias Hoheisel, and lighting by David Finn.
Sir Andrew Davis conducted the complex score with distinction.
This is a brilliant production. I recommend it unreservedly.
For my interviews with Mark Delavan, see: The Dawning of a New Wotan: Interview with Mark Delavan Part 1 and The Dawning of a New Wotan – An Interview with Mark Delavan, Part 2.
.