In 1979, the young basso Ferruccio Furlanetto stood on the War Memorial Opera House stage, making his San Francisco Opera debut as Alvise in Ponchielli's "La Gioconda" in a starry cast led by Renata Scotto and Luciano Pavarotti. Their performances were recorded for posterity by means of an Emmy-winning PBS telecast. Returning for three roles in the 1981 season – the final year of Kurt Herbert Adler's general directorship – Furlanetto has been absent from the San Francisco company for 31 years until this evening.
[Below: Ferruccio Furlanetto as Attila; edited image, based on a Cory Weaver photograph, courtesy of the San Francisco Opera.]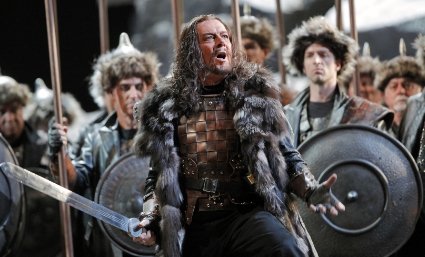 Southern Californians have enjoyed Furlanetto's performances in ensuing years at the Los Angeles Opera and especially at the San Diego Opera, which has often mounted works with prominent basso roles as vehicles for his formidable talent (see my reviews at Furlanetto's, San Diego Opera's, Compelling 1869 Version of "Boris Godunov" – January 30, 2007 and Furlanetto, Campbell Lead Compelling Revival of Massenet's "Don Quixote" – San Diego Opera February 14, 2009.)
Notes on the Production
The vehicle that San Francisco Opera chose to welcome Furlanetto back was its new co-production of Verdi's "Attila" with Teatro alla Scala, which debuted last June in Milan. Directed and designed by the creative team from the first San Francisco Opera-La Scala collaboration (see Meachem, Vinco, Lead Cast of Imaginatively Staged "Don Giovanni" – San Francisco Opera, October 23, 2011), the staging was by Gabriele Lavia, the set designs by Alessandro Camera and costumes by Andrea Viotti. As with last fall's Mozart offering, "Attila" was conducted by San Francisco Opera's music director, Nicola Luisotti.
The production proved to be an imaginative assertion of Italian national and cultural pride. The opera itself has always had geopolitical significance. Verdi, obviously relishing his personal and artistic identification with the Italian Risorgimento was attracted to elements in a German drama about Attila, King of the Huns, the fifth century invader of Central Europe.
Enlisting his brilliant librettist Temistocle Solera – whose mind seems fertile as that of operatic personality Peter Sellars, who, 140 years later, first conceived the idea of an opera about an American president's travels to the Far East – Verdi and Solera created an opera in which a Roman General, Barbarian King, and Catholic Pope, can variously go about the business of breaking up the Roman Empire, founding Venice, and preventing the destruction of Rome.
[Below: the Barbarian Huns have sacked Northern Italy and are moving towards Rome; edited image, based on a Cory Weaver photograph, courtesy of the San Francisco Opera.]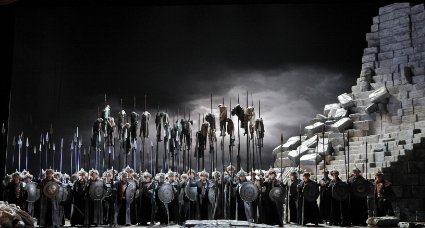 But unlike the opera about Nixon in China, whose meaning is not always obvious, the opera about Attila in Italy had unmistakable significance to the Venetians of 1846. The German Speaking Hapsburg dynasty, seated in Vienna, by having title to the Holy Roman Empire, controlled wide swaths of the Italian peninsula.
Attila, who had fought with the Romans, alongside its General Aetius (Ezio in the opera), found himself defending the geographical integrity of the Roman Empire (as would the Austrian Emperor and his court at the time of the opera's composition) against Ezio's subversive idea that Italy should become its own nation. Attila – to some of most engaging of Verdi's music from his early operas – dismisses the idea of Ezio leading an Italian nation as "vanity".
[Below: Quinn Kelsey is the Roman general Ezio; edited image, based on a Cory Weaver photograph, courtesy of the San Francisco Opera.]
Weaving the impact of Verdi operas on Italian cultural identity is being explored in different ways in contemporary new productions (see my account of Thaddeus Strassberger's new production at Kennedy Center –Strassberger's Verdi-Year "Nabucco" – Leo An, Csilla Boross Are Magnificent in Inventive Production – Washington National Opera, May 15, 2012). In his production, Strassberger time travels between ancient Babylon and Austria-controlled Risorgimento Italy.
However, Lavia's production makes a further statement, dividing his production into three time periods – the fifth century, the 19th and (disguising itself as the 20th century), the 21st. The unit set is re-dressed as the opera progresses to represent the devastated Italian terrain of Attila's time, a destroyed 19th century opera house and a 1950s movie theater, showing Sign of the Pagan. (The changes are sufficiently subtle as likely not to disturb someone who strongly prefers traditional staging.)
World War II was a destructive time for Italian culture, but I suspect that the postwar theater is intended or will be interpreted as a metaphor for the current European debate on the degree to which Northern European nations should be able to impose their will upon a reluctant Italian culture. It's likely that traders in sovereign bonds do not have the colorful costumes of Hunnish warriors or Austrian soldiers, but it may be argued that economic forces that might impact Italian subsidies for the arts are the unseen "barbarians" of our day.
In the opera, Attila has no friends. Odabella (dramatic soprano Lucrecia Garcia), the woman warrior who impresses him enough to be offered the queenship, is a double agent who plots against – then assasinates – him. The Aquileian Foresto (lyric tenor Diego Torre) is Attila's sworn enemy as well as the lover of Attila's queen-elect. Even Uldino, his Breton slave (whom I have always imagined might have been a friend of the Bretons Tristan and Kurwenal from another opera) becomes part of the conspiracy to do Attila under.
[Below: Odabella (Lucrecia Garcia, below) and Foresto (Diego Torre, above) are reunited; edited image, based on a Cory Weaver photograph, courtesy of the San Francisco Opera.]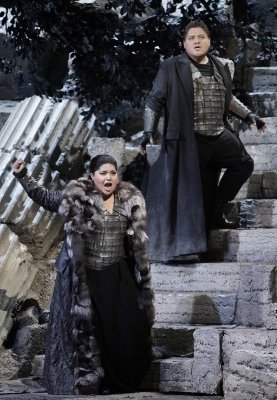 The raison d'etre of the opera is the famous story of Attila's nightmare about Leo, the reigning Pope, and the subsequent confrontation with him that causes Attila to abandon his original objective of sacking Rome.
In this production, Leo is sung by the most famous Attila of the late 20th century, Samuel Ramey (the only person besides Furlanetto to perform Attila on the War Memorial Opera stage). Here Andrea Viotti's lavish clerical costumes make quite a spectacle.
[Below: Samuel Ramey as Pope Leo I; edited image, based on a Cory Weaver photograph, courtesy of the San Francisco Opera.]
The Vocal Performances
Seeing Furlanetto's Attila is like attending a master class in the art of the operatic basso. A full-bodied, powerful, yet elegant cantante, he is also a fine actor, portraying a warrior in his last days, after fears and doubts have eroded the confidence that had made him the master of Central Europe.
Quinn Kelsey's Ezio is further confirmation that Kelsey is joining the ranks of the great American Verdian baritones. [For a recent review, see An Admirable "Aida": Hui He, Berti, Smirnova, Kelsey Are Impressive – Lyric Opera of Chicago, March 15, 2012.] His sonorous spinto voice fills the War Memorial and his duets with Furlanetto are themselves worth the price of admission.
Venezuelan Lucrecia Garcia has sung this role both in Milan's La Scala and in Seattle (see my review at Reveling in Early Verdi: Relyea, Garcia, Vratogna, Palombi in Montanaro's Uncut "Attila" – Seattle Opera, January 14, 2012.) Any singer who has assays the Verdian roles of Odabella in "Attila", the Lady in "Macbeth" and Abigaille in "Nabucco" demands respect, but that she sings Odabella's mix of fierce vocal pyrotechnics and introspective lyricism so beautifully suggests she will be a major operatic star, in command of some of most daunting repertory in Italian opera.
[Below: a frightened Attila (Ferruccio Furlanetto, kneeling, front, far right) hides his face from Pope Leo I (Samuel Ramey, holding staff, front right center); edited image, based on a Cory Weaver photograph, courtesy of the San Francisco Opera.]
I had last seen the young tenor Diego Torre at Los Angeles Opera [see Impressive Debuts in L. A. Opera "Carmen" – December 6, 2008.] Although I would classify his voice as a lyric tenor with Foresto arguably requiring a spinto voice, Torre has a stylish sound. I have already seen his Don Jose, and suspect he will be taking on roles of heavier weight in time. In the opera's smallest role, Nathaniel Peake, whose work as a Houston Grand Opera young artist I've noted before, brought a substantive voice to the comprimario part of Uldino.
Samuel Ramey's presence on the stage added a dignity and significance to the production, even more than what would expect from his superstar cachet. Now in his 70s, the wide vibrato does not recall the Ramey voice of earlier decades, which, fortunately is well documented through an impressive discography and videography, but his appearance in this brief role was well-received by the San Francisco Opera audience, many of whom saw him perform his greatest roles.
[Below: from left to right, Ezio (Quinn Kelsey), Foresto (Diego Torre), Attila (Ferruccio Furlanetto) and Odabella (Lucrecia Garcia) assemble for a final showdown; edited image, based on a Cory Weaver photograph, courtesy of the San Francisco Opera.]
Since Maestro Luisotti arrived in San Francisco, only a few years after his professional debut, he has melded his ebulllient personality and prodigious talent with the San Francisco Opera Orchestra. Every Luisotti-conducted opera I have seen and heard has been a memorable experience. With a great cast and likeable production, he makes the case for the restoration of the popularity of this opera – one of Verdi's most successful until his great Middle period masterpieces started crowding most of his earlier works out of the repertory.
I recommend the opera, this cast and creative team and this production unreservedly, and regard this as a "must see" for any lover of Italian opera able to get to San Francisco to experience it.