Two Italian artists – lyric tenor Francesco Meli and mezzo-soprano Sonia Ganassi – are respectively Werther and Charlotte in their Washington National Opera debut roles. The production of Massenet's "Werther" in which they appeared was originally created for Opera Australia (1989) and is presently owned by Opera de Montreal with new costumes by Barila.
"Werther" is a fascinating opera, quite different in many ways from usual 19th century operatic fare, in which arresting melodies are employed to portray passionate love. Arresting melodies abound in this opera as well, but this opera deals with obsession, rather than romance in its conventional sense.
The two principals kiss once early in the opera, and Charlotte kisses Werther again when he lays dying, but all other manifestations of their love are mental, rather than physical.
Like Ghermann in Tchaikovsky's "Queen of Spades", Werther is obsessed by an all-consuming delusion, and, just as with Ghermann, the delusion not only leads his self-destruction, but negatively impacts the lives of those around him.
[Below: Francesco Meli as Werther; resized image, based on a Scott Suchman photograph, courtesy of the Washington National Opera.]
The Impetus for the Production Design
The original production dates from the time when many opera companies were beginning the process of redoing productions to reduce the time required to change sets from one scene to another. Veteran opera goers may recall that Bizet's "Carmen" and Puccini's "La Boheme" would sometimes have three intermissions, because of the complexity of changing sets.
A production designer who could conceptualize how to minimize the time changing from the first to the second acts of such operas and then from the third act to the fourth, could end up creating a stream of savings through reducing an opera company's labor costs. Since there were no opera company patrons objecting to the shorter evenings at the opera that resulted from eliminating the no longer needed extra intermissions, a trend was set into motion.
The creator of these sets for Opera Australia was Michael Yeargan, who is one of the most inventive and resourceful of the new wave of set designers intent on reducing the time between scenes. An obvious way to accomplish this is to invent a way to move from one scene to another without a pause.
Thus, turntable sets, one of the principal ways to quickly move between scenes, became a valuable commodity. Yeargan's production of "Werther", for its final two scenes (described below), employs one of the cleverest uses of a turntable.
The Production's Time and Place
The imperative to create new sets, besides dooming some of the wonderful productions from the past that did not meet the quick-change criterion, required the creation of new productions. Many of these were time- and place-shifted, for various reasons, as are these "Werther" sets.
Sometimes the time- and place-shifts help illuminate universal truths that the opera plumbs. Sometimes they obfuscate, rather than clarify, what is being shown. Sometimes they don't matter much at all.
Both Massenet's opera "Werther" and Goethe's novella on which it is based take place in a small German town, some distance from Frankfurt. This production's time shift places "Werther" in the American Roaring 1920s, in a place like the Hamptons or, perhaps, Newport, Rhode Island.
On balance, there is some dissonance in the sociological history of the two places. Goethe, in his youth, saw a woman executed for adultery (inspiring Goethe's literary imprisonment of his Faust's Marguerite character for just such a transgression). It seems plausible that the time- and place-shifted Charlotte, living in the upper class Yankee enclaves along the Atlantic coastline during the Gatsby era, might have been encouraged just to have an affair with Werther.
[Below: Werther (Francesco Meli, left) declares that he is in love with Charlotte (Sonia Ganassi, right) who, against her better judgment, is ambiguous in her response; edited image, based on a Scott Suchman photograph, courtesy of the Washington National Opera.]
Of course, any sexual encouragement of an obsessed, mentally unbalanced male likely would have had the same consequences whatever the time or place, so, to that degree, the arguments against the shift need not prevail. For the story it adds nothing, but detracts not too much.
Charlotte and Werther
Stage Director Chris Alexander (and Massenet's music) make very clear that Charlotte is, not just empathetic, but physically attracted to Werther and conflicted by her spousal obligations. She, neglecting to mention that she is engaged to be married to Albert, hold hands with Werther underneath a full moon.
Throughout the opera, when she encounters Werther, she equivocates in her responses to him. She appears incapable of articulating that "No means no!" She reads and saves his letters even if she does not respond to them. She banishes him, but gives him a date certain when he can return to her. She cannot even disguise her feelings for Werther to her husband.
[Below: Charlotte (Sonia Ganassi, left) does little to allay the fears and jealousy of her husband Albert (Andrew Foster-Williams, right) that she loves another man; edited image, based on a Scott Suchman photograph, courtesy of the Washington National Opera.]
Massenet's Musical Score
Cast in these terms, one could imagine time-shifting "Werther" into a 1940s Hollywood film noir. Massenet's music for this opera has a coloration that seems to foreshadow the musical scores of so many Hollywood sound tracks of movies made 20 or 30 years after Massenet's death.
The music accompanying sudden appearances, surprise, terror and anguish in "Werther" would easily translate into movie scores, evoking the sentiments for the film audiences that Massenet intended for his opera audiences.
For example, the descending modal chords that accompany Werther's sudden appearance in Charlotte's home on Christmas Day, heard also in the prelude at the beginning of the opera, would instantly alert a movie audience that something sinister, even evil, is about to occur.
Massenet, to me, seems to write music in three different styles, each for a deliberate theatrical purpose. There is the everyday music that everyone, excepting Werther, Charlotte and Albert sing, that dominates the first half of the opera, and includes Christmas carols, the church organ music, Sophie's cheerfulness, and the songs of children at play and of men carousing.
The music that Werther sings is dreamy and intensely melodic. We seem to in his head, with its delusion of a reciprocal love affair with Charlotte. On the other hand, Charlotte's music is often writhing, reflecting her intense agony and inner conflicts.
These musical elements signal to the stage director as to what the composer expects to happen on stage at each musical cue. Inventive production designers, like Michael Yeargan and stage directors, like Chris Alexander, will use all of these cues and add their own elements to the inherent theatricality of the piece.
Werther's Suicide
In any production of "Werther" interest should build toward the events of the third and fourth acts. So it is with this "Werther".
[Below: Sophie (Emily Albrink, left) assures Charlotte (Sonia Ganassi, right) that all will work out, as the table is set for Christmas dinner; edited image, based on a Scott Suchman photograph, courtesy of the Washington National Opera.]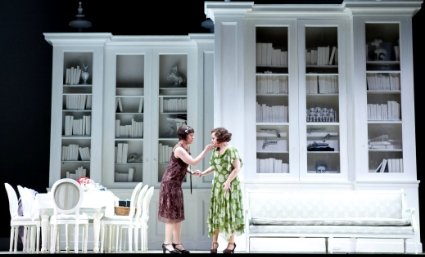 Meli's Werther has reappeared suddenly, as Ganassi's Charlotte prepares for Christmas dinner. Meli sings Werther's great aria Pourquoi me reveiller (garnering the expected ovations at aria's end).
Meli's Werther eyes Albert's pistols, is rebuffed by Charlotte, then sends a note to Albert asking that he be able to borrow the pistols to embark on a long journey. Albert directs Charlotte to bring the pistols over to their butler, whom he instructs to take them to Werther.
The Yeargan production's coup de theatre occurs in the transitions between the third and fourth acts. Charlotte obviously wishes to leave the house to prevent Werther from taking his life, but one by one the Christmas dinner guests arrive, each one making her escape impossible. She is forced to sit at the table.
Then, in a dramatic flair, Ganassi's Charlotte knocks over her chair and runs out the door as Foster-Williams' frustrated Albert himself loses his composure.
At that point, the set begins to break up and the turntable moves during the dramatic orchestral interlude between the acts.
We are in Werther's room and he lies bloodsoaked and dying, although with enough breath in him for one of the longest and most melodramatic death scenes in all of French opera. Meli and Ganassi proved to be triumphant pair in this luxuriously scored final act.
The supporting cast was a worthy one with particularly notable Albert sung by British baritone Andrew Foster-Williams and a sprightly Sophie by Emily Albrink. Julien Robbins sang the Bailiff, Kenneth Kellogg was Johann and Tim Augustin was Schmidt.
Conductor Eduard Villaume, as always, showed his rapport with the French repertory. Director Chris Alexander and Lighting Designer Mark McCullough deserve special commendation for many touches, such as placing Werther's face in shadows at his third act appearance. The Washington National Opera Children's Chorus charmed the audience.
I strongly recommend the Washington National Opera mounting of this production, for the uniformly excellent singing, particularly of the principals Meli, Ganassi, Foster-Williams and Albrink.