Below is a selection of French operas, by Bizet, Massenet and Saint-Saens, with performances scheduled in California, New Mexico, Illinois and Washington, D.C., of productions that I have previously reviewed, or expect to see in their upcoming runs (or both).
Werther (Massenet), Washington National Opera, May 12, 14, 17, 19, 22, 25 and 27(m), 2012.
Italian tenor Francesco Meli and Italian mezzo-soprano Sonia Ganassi make their Washington National Opera debuts respectively as Werther and Charlotte, the character whose contented life Werther's presence disrupts. American soprano Emily Albrink is Sophie and British bass-baritone Andrew Foster-Williams is Albert. Julien Robbins, Kenneth Kellogg and Tim Augustin round out the cast.
[Below: Werther (Francesco Meli, left) in conversation with Charlotte (Sonia Ganassi, right); edited image of a Scott Suchman photograph, courtesy of Washington National Opera.]
Michael Yeargan's sets, created for a 1989 Elijah Moshinsky production for Opera Australia, were purchased by Opera de Montreal. The original production moved the opera into an upper class Yankee community close in time to the Gatsby Era. Barila recreated the costumes for the Montreal revival. Chris Alexander is WNO's stage director, Emmanuel Villaume its conductor.
[For my performance review, see: Francesco Meli, Sonia Ganassi in Theatrically Absorbing "Werther" – Washington National Opera, May 14, 2012.]
The Pearlfishers – Les Pecheurs de Perles (Bizet), Santa Fe Opera, June 30, July 6, 11, 31, August 10, 13, 22 and 25, 2012.
The Sri Lankan lovers Leila (Nicole Cabell) and Nadir (Eric Cutler) are saved through the selflessness of (and some high stakes skullduggery by) Zurga (Christopher Magiera) who loves them both. Bizet's youthful romp in exotic Orientalism was originally to have been set in Acapulco rather than Ceylon, but the Mexicans' military victory over the French on May 5, 1863 (Cinco de Mayo) caused the opera's composer and producers to rethink what they would be offering to the Parisian public.
[Below: Nadir (Eric Cutler, left) expresses his love for Leila (Nicole Cabell, right); edited image, based on a Ken Howard photograph, courtesy of the Santa Fe Opera.]
This has become one of the hit operas of the 21st century, after comparative neglect in the 19th and 20th – the great duet between Nadir and Zurga only one of its many charms. Wayne Tigges sings Nourabad. Lee Blakeley is the Director, Jean-Marc Puissant the Scenic Designer, with costumes by Brigitte Reiffenstuel. Conductor Emmanuel Villaume continues his performances of French operas in American houses.
[For my performance review, see: The Stylishly Gallic Santa Fe Opera: Eric Cutler, Nicole Cabell Radiant in Bizet's "Pearl Fishers" – July 31, 2012.]
Werther (Massenet), Lyric Opera of Chicago, November 11, 14, 17, 20, 23 and 26, 2012.
I have read accounts suggesting how to make Werther appear less pyschotic than the character that first Goethe, then Massenet and his librettists created for our pleasure. But I believe the real enjoyment of this opera can come from plumbing this opera's psychological depths. I've seen no one do that better than Mexican director Francisco Negrin, whose production premiered in San Francisco in September 2010.
In Chicago the cast will be led by American tenor Matthew Polenzani's Werther, with French mezzo-soprano Sophie Koch as Charlotte. Craig Verm is Albert and Kiri Deonarine is Sophie.
[Below: Werther (here, Ramon Vargas, seated), obsessed with the image of Charlotte (here, pictures of Alice Coote); edited image, based on a Cory Weaver photograph, courtesy of the San Francisco Opera.]
Negrin's conceptualization is masterful. He make abundantly clear that the character of Werther, who regales us with much of the most beautiful French operatic music ever written for tenor, is in no way a mentally balanced person. But Negrin adds another element – the surreal world of Charlotte's dream fantasies – and gives some thought to the characters of Albert and Sophie as well.
[This is one of my very favorite productions! For my review of the production in San Francisco, see: "Werther" Re-invented, Yet Again – Francisco Negrin's New Production at San Francisco Opera, September 15, 2010.]
Samson et Dalila (Saint-Saens), San Diego Opera, February 16, 19, 22 and 24(m), 2013.
In 2007, San Diego secured the imminently exotic Nicolas Joel production of Saint-Saens' "Samson et Dalila", owned by the San Francisco Opera. It was such overwhelming hit that they the San Diego Opera has arranged for its return, six years later, with Bulgarian mezzo-soprano Nadia Krasteva as the seductress Dalila, who appears to subjugate the Hebrew leader Samson (played, as in 2007, by Texan Clifton Forbis), but totally misjudges the heavenly forces that take his side.
[Below: Samson (Clifton Forbis, center) is chained to load-bearing pillars in the Temple of Dagon as the High Priest (here, Greer Grimsley, standing near left pillar) and Dalila (here, Denyce Graves, standing at right pillar) look on; edited image, based on a Ken Howard photograph, courtesy of the San Diego Opera.]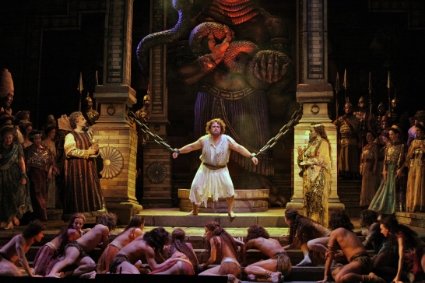 Tomas Tomasson will be the High Priest of Dagon, Gregory Reinhart the Old Hebrew. Karen Keltner will conduct. The revival will be staged by Leslie Koenig.
[For my performance review, see: San Diego Opera Offers Saint-Saens' Sensuous "Samson and Delilah" – February 16, 2013.]