The year 2013 is the 200th anniversary of the birth of the great Italian opera composer Giuseppe Verdi (as well as the bicentennial of the great German opera composer Richard Wagner). Opera companies throughout the world are creating new productions or brushing off their older productions of Verdi and Wagner operas.
I have argued for categorizing the operas that Verdi wrote in the two decades bracketed by 1851 and 1871 separately from his earlier works.Verdi's pre-1851 canon of works are wonderful, and share some important and felicitous similarities with the great but prematurely deceased Italian opera composer Gaetano Donizetti.
I have already testified on behalf of the American performances of some of these operas (see Donizetti and Early Verdi in the American West, January-June, 2012). Shortly, I will update the Donizetti-Early Verdi lists (which already herald the upcoming "Attila" in June at San Francisco Opera) with new suggestions.
But the great Verdian operas in the period between his "Rigoletto" and his "Aida" are among the greatest treasures of the operatic repertory. I have already reported on Placido Domingo's arresting portrait in the title role of "Simon Boccanegra" (see Legend Making at Los Angeles Opera – Placido Domingo, James Conlon Lead Star-Studded "Simon Boccanegra", February 11, 2012) and on Chicago's esteemed NIcolas Joel production of "Aida" (see An Admirable "Aida": Hui He, Berti, Smirnova, Kelsey Are Impressive – Lyric Opera of Chicago, March 15, 2012.)
Although it is not intended as an exhaustive list of opportunities that North Americans will have to attend live performances of the major "Middle Verdi" works, I have listed suggestions in New York, Texas, Ohio and California. Each of these performances are offering casts, stage directors and/or conductors that have received my praise in my previous reviews on this website.
It is my intention to try to get to and to review one or more of each of the "Middle Verdi" operas productions listed below.
Don Carlos (Verdi), Houston Grand Opera, April 13, 15(m), 19, 22(m) and 28.
Houston Grand Opera imports the Welsh National Opera's 2005 production, which presented the French version of Verdi's masterpiece, in as complete a version as one could possibly expect. The production, directed by John Caird in what was his first ever operatic production, has sets by Johan Engels.
[Below: A scene from the 2005 performances at the Welsh National Opera; resized image of Bill Cooper photograph for the Welsh National Opera.]
Conducted by Patrick Summers, the opera stars Brandon Jovanovich in the title role with Tamara Wilson as Elisabeth and Christine Goerke as Princess Eboli. Two veterans of the 2005 new production at Welsh National Opera, Andrea Silvestrelli (King Philip) and Scott Hendricks (Rodrigue) are repeating their roles.
[For my performance review, see: Brandon Jovanovich Triumphant in Historic "Don Carlos" Production – Houston Grand Opera, April 13, 2012.]
Aida (Verdi), Glimmerglass Festival, July 7, 13, 15(m), 23(m), 27, August 4, 9, 11(m), 14(m), 17 and 25.
Glimmerglass Festival Director Francesca Zambello will personally direct a new production of "Aida" in which she focuses on the intimate relationships of the four principals. The Aida will be Michelle Johnson, who was a 2011 prizewinner of the Metropolitan Opera National Council Grand Finals. Her father Amonasro will be Eric Owens, Glimmerglass' 2012 artist in residence.
[Below: Radames (Noah Stewart, right) and Amneris (Daveda Karenas, left) celebrate the army's triumphs; edited image, based on a Karli Cadel photograph, courtesy of the Glimmerglass Festival.]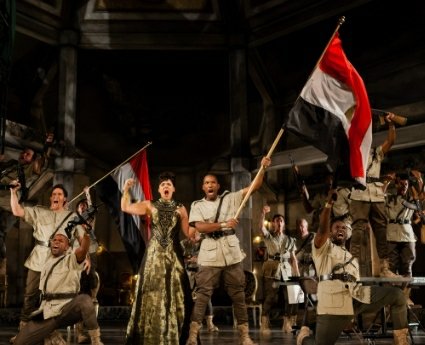 Two former San Francisco Opera Adler Fellows, Noah Stewart and Davenas Karenas, are respectively the Radames and Amneris. Nader Abbassi is the conductor. The sets are by Lee Savage, the costumes by Bibhu Mohapatra.
[For my performance review, see:Role Debuts All Around in Intimate "Aida" – Glimmerglass Festival, July 23, 2012.]
La Traviata (Verdi), Cincinnati Opera, July 26 and 28, 2012.
Three favorites of this website, soprano Ailyn Perez (Violetta), tenor Stephen Costello (Alfredo) and stage director Jose Maria Condemi are teamed in Cincinnati in a performance conducted by Carlo Montanaro, whose "Attila" at Seattle Opera I praised earlier this year.
[Below: Alfredo (Stephen Costello, left) reveals his love to Violetta (Ailyn Perez, right); edited image, based on a Neil Gillespie photograph for the Royal Opera House, Covent Garden.]
The sets are by the famed Desmond Heeley, whose three Tony awards and Bronze Award from the United Kingdom's Stratford-upon-Avon Festival are measures of his artistic accomplishments.
For my performance review, see: Ailyn Perez and Stephen Costello Star in Cincinnati Opera's "La Traviata" – July 26, 2012
Rigoletto (Verdi) September 7, 8, 11, 12, 15, 16(m), 18, 19, 21, 23(m), 25 and 30(m).
Although Verdi wrote worthy operas and had spectacular hits prior to this blockbuster, his reputation was sealed and his status in the history of opera transformed by "Rigoletto". San Francisco Opera has chosen it for its season opener. In a departure from San Francisco Opera tradition, the opera is double-cast, each with formidable protagonists.
Zeljko Lucic and Marco Vratogna alternate in the title role. Coloratura sopranos Aleksandra Kurzak and Albina Shagimuratova share the role of Gilda, Francesco De Muro and David Lomeli the role of the Duca di Mantua. Kendall Gladen and Andrea Silvestrelli are respectively Maddalena and Sparafucile in all performances.
The brilliant conductor Nicola Luisotti is responsible for all of the performances except for the final two, when his colleague Giuseppe Finzi takes the podium.
[Below: Rigoletto (Marco Vratogna, center) takes part in a pantomime during the opera's prelude; resized image of a Cory Weaver photograph, courtesy of the San Francisco Opera.]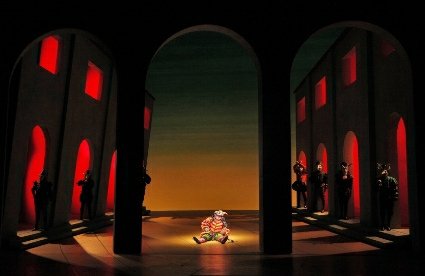 Once again, Michael Yeargan's 1997 production is on display.
For my performance reviews, see: Lucic, Kurzak, Praiseworthy in Season Opening "Rigoletto" – San Francisco Opera, September 7, 2012, and also, Vratogna, Shagimuratova, Chacon-Cruz, Luisotti: "Rigoletto" Magnifico – San Francisco Opera, September 8, 2012.