Torquato Tasso's elegant poem Jerusalem Delivered ostensibly recounts historical events relating to the First Crusade at the turn of the 12th century, which attempted to forestall the Fall of the Byzantine Empire and especially the fall of the holy city of Jerusalem to the Ottomon Turks.
In some of the actual battles associated with this effort, the knight Godfrey of Boulogne and his brother Eustace led the Crusaders. However, Tasso approached the subject matter as did the authors of 12th century French Song of Roland and Ludovico Ariosto's Orlando Furioso, with minimal interest in actual historical events, but maximum interest in employing fantastical and magical elements to create epic works of fertile imagination.
George Frideric Handel loosely adapted one of the story lines from Jerusalem Delivered for what in 1711 became his first great operatic hit in London, and which was to remain his most popular opera during his lifetime. In the story a trio of Crusaders (Godfrey/Goffredo, Eustace/Eustazio and Rinaldo) and Rinaldo's beloved Almirena are in conflict with King Argante of Jerusalem and the sorceress, Armida.
Handling the Baroque at the Lyric
Mounting a Handel opera in the 21st century requires many accommodations to modern realities, most obviously what types of voices will sing the roles and what types of instruments will comprise the orchestra.
Among the questions to be answered is in what time period will the drama be presented – in the century and geographic location implied by the story (say, 12th century Jerusalem for "Rinaldo"), someplace associated with Handel (usually, early 18th century London), or, perhaps, a supposedly contemporary setting somewhere in the 21st century Middle East?
Although epic narratives about battles between Muslims and Christians go back at least to the 11th century, and dramatic works based on them to at least the 16th, there is virtually nothing in "Rinaldo" other than the names of two actual Crusaders that is historical. Given that the adversaries faced by the "Rinaldo" Crusaders have paranormal powers and engage in witchcraft and the dark arts, instead of utilizing the warfare conventional to the 12th century, there is little in the plot to make any point about either ancient or current events relating to the Middle East, even if one wished to do so.
Therefore, the production designer, Francisco Negrin, has chosen, I believe most appropriately, a Timeless Nowhere. No physical city of Jerusalem exists in the production, but the idea of some deeply desired place exists is a pile of Roman letters that spell out the holy city's name in its Italian form – Gerusalemme.
The Heroes from the West
A foursome of three men and a woman represent the forces of, say, The West, who wish to overcome the alliance of a king and a sorceress who are in control of, say, The East.
[Below: Almirena (Julia Kleiter, left) and Rinaldo (David Daniels, right) study the logistics of their situation; edited image, based on a Dan Rest photograph, courtesy of the Lyric Opera of Chicago.]
Their object is to break the spell of the Sorceress Armida whose magical powers help Argante sustain his grip on the land of Gerusalemme. Armida is aided by nine principal dancers – five men (Jonathan Emanuell Alsberry, Kyle Lang, Todd Rhoades, James Monroe Stevko and Louis A. Williams, Jr) and four women (Jennifer Goodman, Kristy Hronick, Sara Swenson and Teanna Zarro) who appear in various guises together or separately (usually grouped by gender) as demons, warriors, sirens, birds – whatever might be needed to confound the Western forces.
The Distribution of Voices
The opera, which premiered in London three centuries and a year prior to the Chicago performances, had famous castrati of the day cast in the roles of Rinaldo, Eustazio and a "Christian Magician".
Several major recordings, dating from the past 25 years, use a female mezzo-soprano for Rinaldo and a tenor or basso for for the Magician. One, starring Marilyn Horne, simply excised the substantial role of Eustazio entirely.
But in present times, we now have world class countertenor voices and Chicago secured the talents of three of them, David Daniels (Rinaldo), Iestyn Davies (Eustazio) and Ryan Belongie as the Magician (here called a Sage).
Although I had reviewed extraordinary performances from both Davies and Daniels in the same role in different theaters [see my reviews of their respective Oberons in Houston and Chicago at Incandescent Houston "Midsummer Night's Dream" – January 25, 2009 and Britten's "Midsummer Night's Dream" in Chicago: Enchanting, Luminous, Hilarious – Lyric Opera, November 17, 2010], this is the first time I was able to see them both onstage together.
The title role is a felicitous one for Daniels who lists it as one most favorable to his voice [see the report of my conversations with him at Top of His Game – An Interview with David Daniels.]
Joining them is Sonia Prina, an artist associated with the Italian baroque, in the male role of Goffredo. This is the third theater in which I have reviewed performances by Daniels and Prina together in a Handel opera. The distinctive timbre of each of their voices in the overlapping portions of their high ranges is wondrous to hear.
The forces of the West include Julia Kleiter as Almirena, a woman beloved of Rinaldo, whom Negrin makes into the warrior princess prototype reminiescent of the superhero women of 21st century popular fantasy.
[Below: Eustazio (Iestyn Davies, left) counsels his younger brother Goffredo (Sonia Prina, right); edited image, based on a Dan Rest photograph, courtesy of the Lyric Opera of Chicago.]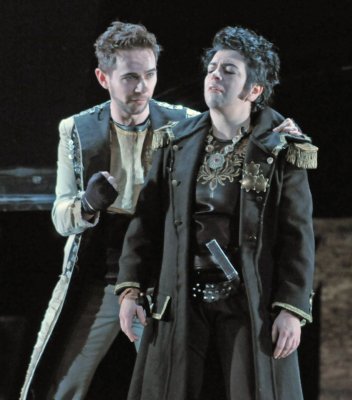 For the forces of the magical East, the soprano Elza van den Heever assumes the role of Armida and basso Luca Pisaroni that of King Argante.
[Below: Armida (Elza van den Heever, left) displays a passionate affection for Argante (Luca Pisaroni, right); edited image, based on a Dan Rest photograph, courtesy of the Lyric Opera of Chicago.]
Armida's powers are associated with a giant harpsichord (inspired, obviously, by the close association of much of Armida's music with harpsichord passages of stunning virtuosity). In fact, the harpsichord becomes a centerpiece for Negrin's presentation of the opera. It is here that Julia Kleiter's Almirena is captured and imprisoned, and sings Lascia ch'io pianga, perhaps the opera's most famous aria and certainly one of the most beautfiul ever written.
Kleiter, who was a brilliant Susanna in Paris [see my review at Fine Cast Revives Strehler's Treasured "Nozze di Figaro" Production – Opera National de Paris, May 31, 2011], sang the plaintive air expressively and with consummate beauty.
[Below: the imprisoned Almirena (Julia Kleiter) reflects on her fate; edited image, based on a Dan Rest photograph, courtesy of the Lyric Opera of Chicago.]
Handel's superbly written arias of the heroic foursome (Daniels' Cara sposa is another of the evening's many high points) were beautifully sung. Their adversaries also held the audience's rapt attention, with Luca Pisaroni, whose American appearances have most often shown him as a Mozartean, leaving a stunning impression as a Handelian basso.
The bravura performance of the evening was without question that of Elza van den Heever's Armida. Director Negrin, rather than taking Armida's fantastic aria Vo' far guerra seriously, unleashed van den Heever's comic skills.
At first her minions appeared to be playing the harpsichord accompaniment. Then, in an amusing interplay Armida, who has ordered her vassals to desist their playing, still hears the incessant sounds of the harpsichord. Scowling, she berates the Lyric Opera Orchestra's harpsichord virtuoso, Jory Vinikour, then takes over mimicking his playing on the fantastical stage harpsichord. The audience howled with laughter.
[Below: Rinaldo (David Daniels) confronts the reality that his beloved is a captive of the forces of darkness; edited image, based on a Dan Rest photograph, courtesy of the Lyric Opera of Chicago.]
Van den Heever, another artist whose Mozartean skills I have admired, proved adept at Armida's vocal fireworks. [For an account of my conversations with her, see Rising Stars: An Interview with Elza van den Heever and Rising Stars: an Interview with Elza van den Heever, Part II.]
Conducting the opera was Harry Bicket, returning to Lyric after last year's performances of Handel's "Hercules". His orchestra included the theorbo played by Peter Swenson and continuo cello of Patrick Jee.
Louis Desire was the Set and Costume Designer, Bruno Poet the Lighting Director. Ana Yepes, the choreographer, produced very challenging and always interesting dance routines.
Special mention must be made of Ryan Belongie, the former San Francisco Opera Adler Fellow who played the countertenor role of the Sage. Belongie's accomplished singing suggests yet another generation of countertenors will be available for the great baroque opera roles suited to the high male voice.
[Below: Argante (Luca Pisaroni, center) is at the gates of Gerusalemme; edited image, based on a Dan Rest photograph, courtesy of the Lyric Opera of Chicago.]
Considering the Production Designs of Francisco Negrin and Peter Sellars
I have had the opportunity over the past couple of years to review new productions of pre-Mozartean opera at both the Santa Fe Opera and the Lyric Opera of Chicago by two of the most imaginative contemporary concept designers. Francisco Negrin has chosen to mount productions as otherworldly fantasies, both "Rinaldo" and Gluck's "Alceste" (see my review at Christine Brewer, Paul Groves Lead Elegantly Sung "Alceste": Santa Fe – August 1, 2009).
The two Peter Sellars' productions that I reviewed both attempted to distill lessons for our present time from Handel (see Strong Cast for Peter Sellars' Reconceptualization of Handel's "Hercules" – Lyric Opera of Chicago, March 16, 2011) and Vivaldi (Extreme Makeover: A Vivaldi Revival's Reveal – Peter Sellars' "Griselda" at Santa Fe Opera – August 4, 2011 – both of which included David Daniels in estimable casts.)
[Below: the Sage (Ryan Belongie, top left with wings) imparts magical properties to the brothers Eustazio (Iestyn Davies, bottom left) and Goffredo (Sonia Prina, right); edited image, based on a Dan Rest photograph, courtesy of the Lyric Opera of Chicago.]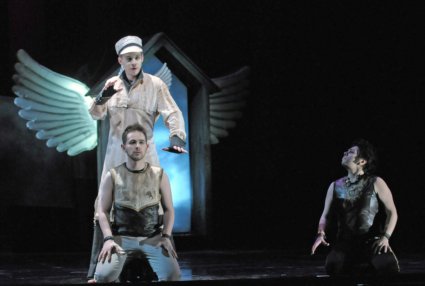 Despite Sellars' conviction that "Hercules" and "Griselda" can yield morals for contemporary society, I find these baroque stories simply barren of any modern meanings. I'm much more inclined to go with Negrin's presentation of absorbing, even if fantastical, frameworks for piecing together Handel's supremely beautiful music. Negrin's 18th century opera fantasy world works (even better, I think, for Handel than for Gluck).
Negrin's imagination, however, is not limited just to finding the right way to interest audiences in baroque operatic masterpieces. In November, 2012 Francisco Negrin's work will again be seen at the Lyric Opera, in this case a revival of Negrin's production of "Werther" originally seen in San Francisco [see my review at "Werther" Re-invented, Yet Again – Francisco Negrin's New Production at San Francisco Opera, September 15, 2010.]
Here Negrin merges the pyschological realities of the disturbed protagonist with Charlotte's surreal dreamworld, demonstrating yet again that Negrin is one of the currently most inventive, imaginative and substantive operatic stage directors of our time.
For my reviews of other performances together by David Daniels and Sonia Prina, see: Graham, Daniels, Prina Excel in Elegant, Witty "Xerxes" – San Francisco Opera, October 30, 2011, and also,
"Xerxes" Unexcelled – Houston Grand Opera, May, 2, 2010.
For my review of another performance by Sonia Prina, see: Graham, Swenson, Prina Luminous in S. F.'s Stellar "Ariodante" – June 15, 2008.
For my reviews of other performances by both Elza van den Heever and Luca Pisaroni, see: Kwiecien Excels in McVicar's Dark Side "Don Giovanni" – S. F. June 2, 2007.
For my reviews of other performances by Elza van den Heever, see: Bel Canto "Cosi fan Tutte" at Dallas Opera – February 18, 2010, and also,
The Man Who Loved Women: Lucas Meachem's Empathetic Don Giovanni – Santa Fe, July 31, 2009, and also,
For my review of other performances by Luca Pisaroni, see: Copley Directs, Luisotti Conducts, Sparkling "Nozze" Ensemble – San Francisco Opera, October 3, 2010, and also.
Kwiecien, Pisaroni Lead Youthful "Figaro" Ensemble in Santa Fe – August 13, 2008.