Lyric Opera became the first stop of a new production of the venerable 1927 American musical "Show Boat", whose music is by Jerome Kern and libretto by Roger Hammerstein. A co-production of four major American opera companies, the Show Boat sails next to Houston Grand Opera in January 2013, then Washington National Opera in May 2013. San Francisco Opera audiences can expect the Show Boat's arrival in Calendar Year 2014.
[Below: the Show Boat "Cotton Blossom" arrives in town; edited image, based on a Robert Kusel photograph, courtesy of the Lyric Opera of Chicago.]
Launching a Show Boat
Production designer, stage director and impresaria Francesca Zambello has proven not only to be a major figure in the world of opera, but also to be comfortable in mounting productions of the type of musical theater that is traditionally considered "Broadway" rather than opera [see my interview at: Born to the Theater: An Interview with Francesca Zambello.]
At the Glimmerglass (New York) Festival, where she is now General Director, she presented Irving Berlin's "Annie Get Your Gun" – mixing stars of the opera stage with artists from Broadway, to great success [for my review, see: Deborah Voigt, Rod Gilfry Romp in Irving Berlin's "Annie Get Your Gun" – Glimmerglass Festival, August 12, 2011.]
Her formula of merging the live performance talents of both opera and Broadway is even more evident in the "Show Boat" cast. Opera is represented by lyric baritone Nathan Gunn as Gaylord Ravenal, basso Morris Robinson as Joe and sopranos Alyson Cambridge and Angela Renee Simpson respectively as Julie LaVerne amd as Queenie.
Artists more closely associated with the Broadway musical and legitimate stage include Ashley Brown (who sings the title role of Broadway's "Mary Poppins") as Magnolia Hawks, Ross Lehman as Captain Andy Hawks, Cindy Gold as Parthy Ann Hawks, Bernie Yvon as Frank Schultz, and Ericka Mac as Ellie May Chipley.
The creative team that joined Zambello included several persons associated with her highly regarded production of George Gershwin and DuBose Heyward's "Porgy and Bess" [see my reviews at The Zambello "Porgy and Bess" An Historic Success at Chicago's Lyric – November 18, 2008 and Eric Owens, Laquita Mitchell Lead Powerful "Porgy and Bess" at San Francisco Opera – June 21, 2009] – Conductor John DeMain, set Designer Peter J. Davison and Costume Designer Paul Tazewell.
The Musical Performance
After a rousing overture, led by John DeMain, which contains many of the best known melodies in the opera, the chorus and dancers, supplemented by tumblers and a juggler, greet the docking of the showboat Cotton Blossom. Within a few minutes three consecutive hit numbers, among the most famous songs from Broadway musicals of the 1920s, are heard.
The first is the duet Make Believe between Nathan Gunn's Gaylord Ravenal and Ashley Brown's Magnolia Hawks. Although Ravenal is usually considered a tenor role, there are precedents for baritones singing it. Gunn and Brown made an appealing, thoroughly believable pair, with Gunn particularly dashing as the rakish gambler. [For my interview with Nathan Gunn, see: Heartland Heartthrob: An Interview with Nathan Gunn, Part I and Heartland Heartthrob: An Interview with Nathan Gunn, Part 2.]
[Below: Magnolia Hawks (Ashley Brown, left) and Gaylord Ravenal (Nathan Gunn, right) "make believe" that they are attracted to one another; edited image, based on a Robert Kusel photograph, courtesy of the Lyric Opera of Chicago.]
The most obviously operatic number in the score is its most famous song – Joe's ballad Ol' Man River. Basso Morris Robinson delivered the great ballad with power, emotion and style.
[Below: Joe (Morris Robinson, lower center, standing on wharf) sings "Ol' Man River"; edited image, based on a Robert Kusel photograph, courtesy of the Lyric Opera of Chicago.]
Following that was the classic Can't Help Loving Dat Man of Mine, sung first by Alyson Cambridge's Julie LaVerne and joined in an ensemble rendtion by Simpson's Queenie and Brown's Magnolia.
[Below: Julie LaVerne (Alyson Cambridge, center) explains why she can't help lovin' that man of mine to Magnolia Hawks (Ashley Brown, left) and Queenie (Angela Renee Simpson); edited image, based on a Robert Kusel photograph, courtesy of the Lyric Opera of Chicago.]
The theme of the impact of the institutionalized and legislated racism that existed along the Lower Mississippi in the post-Civil War period is central to the earlier episodes in the show. Opera goers who are now familiar with the full operatic version of "Porgy and Bess" that are less familiar with "Show Boat" might be struck by some of the parallels between the musical and the opera that premiered eight years afterward – even to "Show Boat's" references [Mis'ry's comin aroun'] to the saucer ceremony, in which the costs of a funeral are offset by contributions from the person's neighbors through placing coins in a saucer on the dead person's chest.
The image of a strong, enduring African American community beams through the tribulations of "Show Boat", where they are best shown by the affectionate bonds between Queenie and Joe, just as throughout "Porgy", Catfish Row's community support structure is exemplified.
[Below: Queenie (Angela Renee Simpson, left) shows affection to her husband, Joe (Morris Robinson, right); edited image, based on a Dan Rest phtograph, courtesy of the Lyric Opera of Chicago.]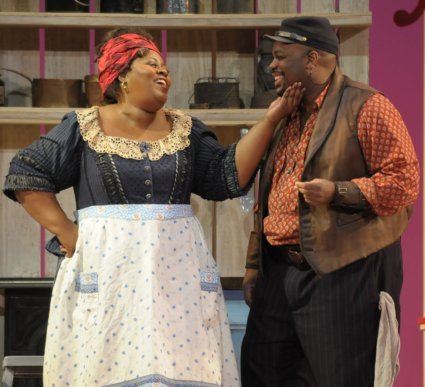 An overarching theme of "Show Boat" is how the American musical theater evolved over two or three generations, so the second act episodes relating to Chicago and Broadway are essential elements. That many of these characters, including the Ravenals or Julie LaVerne, suffer from bouts of extreme poverty and addictive behaviors that split the showboat's families, suggest that the outcomes may not be happy ones.
But eventually in "Show Boat" things do work out. Broadway beckons to Magnolia Ravenal and daughter Kim (the latter's name, of course, referring to the Show Boat's itinerary through the river junctions of Kentucky-Illinois-Missouri (K-I-M)) and the Ravenals are ultimately successful as New York theater stars. In the end, even Gaylord Ravenal, who abandoned his family, is, to his surprise, welcomed home senza rancor.
Another major cast figure is Ellie May Chipley, played by Chicagoan Ericka Mac, who not only gets the standard Life On a Wicked Stage, but participates in much of the show's razzle-dazzle choreography, designed by Michele Lynch.
[Below: Ellie May (Ericka Mac, second from left); edited image, based on a Robert Kusel photograph, courtesy of the Lyric Opera of Chicago.]
Erasing Lines Between Opera and Broadway
In the 19th century, opera houses specialized in particular forms of opera. It mattered in which language an opera was performed, and there were expectations that the opera would meet the particular criteria for which the opera house was founded, whether the operas were comic or tragic, whether there was spoken dialogue, whether the opera incorporated a ballet.
At some point in the 19th century, some companies evolved that were inclusive of operas of various languages and styles, and which imposed no restrictions on whether or not and how dance (particularly, ballet) was incorporated. In time a standard repertory evolved that included such seemingly disparate styles as those of Mozart, Wagner, Verdi and Gounod, to which was added the comic opera – exemplified by Rossini's "Barber of Seville". The 20th century added a couple of new languages and the operas of Richard Strauss, Puccini, Janacek and Britten. Late in the century, the operas in the times before Mozart became more mainstream.
There will certainly be opera patrons that will wonder why their subscriptions now include Kern's "Show Boat" rather than, say, Ponchielli's "La Gioconda". I doubt that anyone is a fiercer partisan of "Gioconda" than myself, yet I am sympathetic to Zambello's idea that there are some real advantages in expanding the repertory of the major opera companies to include some of the greatest and most interesting and enduring of the 20th century American musicals.
Chicago audiences obviously enjoyed their new production of "Show Boat" and knowing the Houston, Washington and San Francisco audiences, I'm convinced that they will find it a grand evening as well.
Tickets are on sale for both the Houston and Washington, DC seasons. I would recommend those able to do so to secure tickets to those performances.
For muy other reviews of Nathan Gunn's performances, see: Spirited, Beautifully Sung "Don Pasquale" at Dallas Opera – February 19, 2010, and also,
Florez and DiDonato Dominate Los Angeles Opera's "Barbiere di Siviglia" – December 6, 2009 , and also,
Los Angeles Opera's Magic Potion: Nino Machaidze in "L'Elisir d'Amore" – September 12, 2009, and also,
Conlon's Magical Revival of Mozart's "Flute" at L. A. Opera – January 10, 2009, and also,
Eyecatching, Mellifluous "Pearl Fishers" at Lyric Opera – October 16, 2008, and also,
Deconstructing S.F. Opera's Super-sized "Barber" – November 12, 2006, and also,
Warhorse Warriors: John Cox' 'Cosi Fan Tutte' in S. F. – July 2, 2005.
For my other reviews of Morris Robinson's performances, see: Meachem, Vinco, Lead Cast of Imaginatively Staged "Don Giovanni" – San Francisco Opera, October 23, 2011, and also,
Achim Freyer's Fascinating "Rheingold" Begins L. A. "Ring" – March 11, 2009, and also
Shining L. A. Opera "Magic Flute" on Sunny Matinee Day – January 11, 2009.