The Los Angeles Opera's first offering of calendar year 2012, the year before the bicentennial of Verdi's birth, is Verdi's masterpiece "Simon Boccanegra". Placido Domingo, one of the greatest tenors in operatic history, sings the title role, which is written for the baritone voice.
There is an inherent baritonal quality to the tenor voices that have mastered, as Domingo has, such Wagnerian roles as Siegmund in "Die Walkuere", and there are precedents for dramatic tenors, such as the mid-20th century heldentenor Ramon Vinay, becoming baritones in late career.
But Domingo has had unimaginable success at maintaining vocal lyrical beauty and prowess over the several decades of his astounding career. Now in his early 70s, one does not hear the vocal disrepair that one can detect in some artists almost a generation younger. Part of this is an intelligent choice of the roles whose ranges showcase his strengths and (surely no small consideration to an artist whose acting skills are first rate) in which he can be dramatically plausible.
Once deciding on the role of the 14th century corsair elected Doge of Genoa, he has performed it at the Royal Opera House Covent Garden, London, and at New York City's Metropolitan Opera. Now he brings it to Los Angeles, the city that now derives the greater share of his artistic attention.
For those who wonder if Domingo – late in his career – is following Vinay's example into the baritone repertory, I think he is not. Boccanegra is a special case. In my conversations with a singer (whose interview appears on this website), the artist, a natural baritone, lists Boccanegra as one of the Verdi roles that is comfortable for baritones whose voices are centered deeper in the range.
Domingo's next Verdian assignment, the Venetian Doge Francesco in "I Due Foscari", is also a baritone role, and will open Los Angeles Opera's 2012-13 season in September. Even so, hearing Domingo sing the role of Simon, one understands that many of the opera's great scenes – Boccanegra's duets with Maria Amelia (and trio including Gabriele Adorno), the plea for peace between Italy's warring factions in the Council scene, and Boccanegra's death – are pitched precisely where Domingo's voice shows its pristine brilliance, low in a tenor's range, but high in a baritone's. The effect is a theatrical and vocal triumph.
[Below: the corsair Simon Boccanegra (Placido Domingo) discovers that the woman he loves is dead; edited image, based on a copyrighted Robert Millard photograph, courtesy of the Los Angeles Opera.]
But "Simon Boccanegra" is an ensemble piece, rather than a showpiece for a single artist. The production and performance team Domingo assembled for the Los Angeles Opera, of which he is the general director, is the stuff about which we can predict young audience members a half century in the future will brag to their (hopefully, opera-loving) grandchildren.
Even though the opera is not one that many Angelenos have seen performed, great artists have sung it in Los Angeles in the past, including artists that have inspired the performance's conductor – Domingo's colleague and Los Angeles Opera musical director, James Conlon.
Mid-20th century "Boccanegra" in Los Angeles
Fifty-five years ago, a legendary operatic cast assembled at the Los Angeles Shrine Auditorium to present Verdi's opera [See Simon Boccanegra – October 20, 1956.] Leonard Warren was the Boccanegra, Renata Tebaldi the Maria Amelia and Boris Christoff the Fiesco Grimaldi. All were on tour with the San Francisco Opera.
Fifty-one years ago, the San Francisco Opera tour again brought the opera to Los Angeles, then starring Tito Gobbi in the title role [See 50 Year Anniversaries: "Simon Boccanegra" with Tito Gobbi, Giorgio Tozzi – October 6, 1960 for an account of the production's performance in San Francisco.]
Soon after this, a 13 year old New York City boy became enraptured with the EMI recording of "Boccanegra" with Christoff and Gobbi, subsequently attended a live performance of the opera with Tebaldi at the Met and became a lifelong advocate for Verdi's extraordinary opera. In February 2012, that boy, James Conlon, stood at the Los Angeles Opera orchestral podium to conduct his superstar colleague, Placido Domingo, in a performance that ranks with, and, in many ways, exceeds these legendary performances of old.
Ana Maria Martinez' Amelia
There has always been prestige for an artist to appear with Domingo. Throughout the progress of his long career he has nurtured operatic talent through various initiatives that he has created. One of these initiatives is the Operalia Competition, held annually throughout the world in a chosen city. International recognition is afforded to the winners in the various operatic categories.
Ana Maria Martinez was winner of the female zarzuela prize named for the famous zarzuela artist Pepita Embil de Domingo (Placido's mother). Martinez is also a recipient of a Grammy for an album of songs recorded with Domingo.
Martinez brought a secure, yet youthful lyric soprano sound (with a beautifully executed trill) to the role of the Doge's daughter, Maria Amelia. She exuded the exuberant charm of a young girl in love, and displayed rapport, both vocally and dramatically, in the affecting scenes with her famous mentor who plays her father.
[Below: Maria Amelia (Ana Maria Martinez) in the Doge's palace; edited image, based on a copyrighted Robert Millard photograph, courtesy of the Los Angeles Opera.]
[For previous reviews of Ana Maria Martinez' performances, see Halevy Triumphs in Ponnelle "Carmen" – S. F. December 3, 2006 and Gripping "I Pagliacci" Revival at Lyric Opera of Chicago – February 25, 2009 and Lyric Opera Revives Inventive Corsaro-Perdziola "Faust": Chicago November 3, 2009 and David Lomeli, Ana Maria Martinez Shine in Deeply Cast "La Boheme" – Santa Fe Opera, July 2, 2011.]
Vitalij Kowaljow's Fiesco Grimaldi
Yet another career beneficiary of Domingo's Operalia Competition, and a first prize winner, is Ukrainian basso Vitalij Kowaljow. I am already on record in praise of Kowaljow's Fiesco at the San Francisco Opera, now enshrined in that company's 90 year performance history as one of only seven bassos to sing the role there – the seven constituting a huge sample of the great basso voices of the past 75 years. [For my review, see Verdian Back to Basics: San Francisco's Satisfying "Simon Boccanegra" – September 21, 2008.]
[Below: Vitalij Kowaljow is Fiesco Grimaldi; resized image, based on a copyrighted Robert Millard photograph, courtesy of the Los Angeles Opera.]
Kowaljow has become a familiar presence in California since his debut at the Los Angeles Opera several years ago. Even though his voice seems tailored for the Verdian bass roles, he has proved equally effective in performing the three Wotan roles in Wagner's "Ring of the Nibelungs" (Los Angeles Opera, 2009-2010), Pimen in Mussorgsky's "Boris Godunov (San Diego Opera, 2007, San Francisco Opera, 2008), Frere Laurence in Gounod's "Romeo et Juliette" (Los Angeles Opera, 2011) and Alfonso d'Este in Donizetti's "Lucrezia Borgia" (San Francisco Opera, 2011).
Kowaljow's Fiesco, as expected, was the commanding presence in the opera's prologue, with a sonorous and authoritative presentation of arguably the opera's most famous aria Il lacerato spirito.
Paolo Gavanelli's Paolo Albiani
One of the supreme contemporary voices in the tradition of the great Italian baritones is possessed by Paolo Gavanelli, who, although taking the baritone role of the conspirator Paolo, is a distinguished Simon Boccanegra himself. Paolo Albiani, responsible for the machinations that put Simon into power, like many political kingmakers throughout history, becomes the enemy of the man whose career he created.
It's not unknown to cast an important Boccanegra as Paolo, who could theoretically become available to take over the lead role in an emergency. I actually had witnessed such an occurrence. Arriving at the San Francisco Opera in 2000 to see Gavanelli perform Simon and the great Bolshoi baritone Nicolai Putilin as Paolo, an indisposed Gavanelli was replaced by Putilin. I may never have seen Putilin's famous characterization otherwise, but, regrettably I still haven't seen Gavanelli's Boccanegra.
But Gavanelli proved a sinister, treacherous, but melliflously-voiced Paolo, a memorable experience, that made the entire opera performance even more lustrous.
[Below: Paolo Albiani (Paolo Gavanelli), in a fit of spite at being denied a non-negotiable demand, decides to poison the Doge; edited image, based on a copyrighted Robert Millard photograph, courtesy of the Los Angeles Opera.]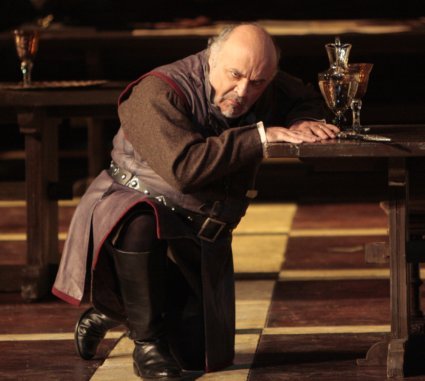 Stefano Secco's Gabriele Adorno and Grant Gershon's Chorus
The other major principal voice is the tenor role, Gabriele Adorno. Secco, who has appeared in the title role of Gounod's "Faust" and as Pinkerton in Puccini's "Madama Butterfly" at San Francisco, proved a satisfactory Adorno, effective in his solo aria, his duet with Kowaljow's Fiesco (his blessing of Adorno's engagement to Maria Amelia), and in Adorno's ensemble scenes with Martinez' Maria Amelia and Domingo's Simon.
[Below: Gabriele Adorno (Stefano Secco, in black, left front) is arrested by Simon Boccanegra (Placido Domingo, right front, in Doge's gown; resized image, based on a copyrighted Robert Millard photograph, courtesy of the Los Angeles Opera.]
"Simon Boccanegra" is one of the most challenging of Italian operas for the chorus. The Los Angeles Opera Chorus, under the direction of Associate Conductor and Chorus Master Grant Gershon, was an imposing presence throughout the opera.
The production, owned by the Royal Opera House Covent Garden, was originally created and staged by Elijah Moshinsky, and it is he who is stage director for its revival at the Los Angeles Opera. Michael Yeargan designed the attractive sets, which were used for the revivals in San Francisco (2000 and 2008) and Houston (2006), Peter J. Hall the costumes. Robert Pomakov sang the role of Pietro.
[Below: the common folk of Genoa are invited into the Doge's palace; edited image, based on a copyrighted Robert Millard photograph, courtesy of the Los Angeles Opera.]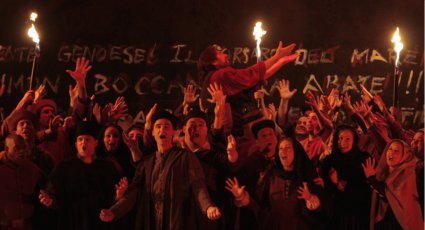 Charles Currier, as Fight Director, had much to do. Duane Schuler was the lighting designer.
No opera aficionado who has the ability to secure tickets for any performance of this production at the Los Angeles Opera should fail to take the opportunity to do so.