An ongoing feature of this website is the "Best Bet Revivals" series. When one opera company mounts a physical production of an opera that has been favorably praised by this website, and offers it with a cast of singers who are comparable (at least) to those seen previously, then we alert potential opera goers to the upcoming performances and to our previous relevant reviews.
The examples of "Best Bet Revivals" discussed here are the first two offerings of 2012 of both the Los Angeles Opera and the San Diego Opera. (Each of the four productions featured below, from the standpoint of that audience, is a production new to the company.)
Salome (Richard Strauss), San Diego Opera, January 28, 31, February 3 and 5(m), 2012.
Dancer Sean Curran, who has extended his artistic career by assuming the roles of operatic stage director, chose an opera in which a dance (indeed, a wilden Tanz) by the title character becomes a central plot point. Curran revives his production, seen in San Francisco a little over a year ago, in San Diego, with the San Francisco Opera Jokanaan (Greer Grimsley) and Herodias (Irene Mishura) joining him.
The title role in the opera, which opens San Diego Opera's 2011 season, is to be sung by Lise Lindstrom, who was spectacular in the title role of Puccini's "Turandot" that opened San Diego's 2010 season.
[Below: Jokanaan (Greer Grimlsey) is the object of the sexual desire of Salome (here Nadja Michael); resized image, based on a Cory Weaver photograph, courtesy of the San Francisco Opera.]
The surreality of Bruno Schwengl's set design (in this co-production of the opera companies of Saint Louis, San Francisco and Montreal) fits the surreality of the opera, in which some of most exotically lyrical melodies in the German repertoire are counterpoised with the depravity of the court of the Tetrarch Herod (Allan Glassman). Sean Panikkar is the Narraboth. Steuart Bedford conducts.
[For my performance review of the production as seen in San Francisco, see: Nadja Michael a Sensation in Luisotti's Soaring San Francisco "Salome" – October 18, 2009.]
[For my performance review of the production as seen in San Diego, see: Lindstrom, Grimsley, Glassman Gleam in Sensuous, Searing San Diego Opera "Salome" – January 28, 2012.]
Simon Boccanegra (Verdi), Los Angeles Opera, February 11, 15, 19, 21, 26, March 1 and 4, 2012.
Elijah Moshinsky's version of "Simon Boccanegra", first produced for the Royal Opera House Covent Garden with sets by Michael Yeargan and costumes by Peter J. Hall, is arguably the most elegant amd venerable production of "Boccanegra" in current use. Moshinsky himself will be the stage director for the vehicle for Placido Domingo's first major baritone role.
[Below: Placido Domingo (center) as Doge Simon Boccanegra; resized image, based on a photograph, courtesy of the Los Angeles Opera.]
For the Los Angeles performances, Puerto Rican soprano Ana Maria Martinez will be the Maria Amelia and Paolo Gavanelli, an eminent Boccanegra himself, will be Paolo. Vitalij Kowaljow, whose Fiesco Grimaldi has been seen by San Francisco audiences, will bring this role to the Southland. Stefano Secco is the Gabriele Adorno. Los Angeles Opera's Music Director James Conlon will conduct.
[For my performance reviews of this production in San Francisco and Houston, see: Verdian Back to Basics: San Francisco's Satisfying "Simon Boccanegra" – September 21, 2008 and Hvorostovsky, Guryakova, Berti Excel in Houston "Simon Boccanegra" – November 4, 2006.]
[For my performance review of this production as seen in Los Angeles, see: Legend Making at Los Angeles Opera – Placido Domingo, James Conlon Lead Star-Studded "Simon Boccanegra", February 11, 2012.]
Moby Dick (Heggie), San Diego Opera, February 18, 21, 24 and 26(m), 2012.
Jack Heggie's richly lyrical score and Gene Scheer's intelligent adaptation of Melville's iconic novel as a libretto for the operatic stage are essential elements of what is arguably the most successful 21st century opera to date.
San Diego Opera, as one of the original four opera companies who commissioned this work, describes it as a "world premiere co-production".
[Below: Captain Ahab (Ben Heppner left) appears on the deck of the Pequod to officiate a ceremony of crossed harpoons; edited image, based on a Ken Howard photograph, courtesy of the San Diego Opera.]
Four of the major roles from its first performance ever in April 201o are reassembled for the San Diego Opera, the second stop on the opera's three-country, five opera company tour: Ben Heppner (Captain Ahab), Morgan Smith (Starbuck), Talise Trevigne (Pip) and Jonathan Lemalu (Queequeg) and stage director Leonard Foglia. Joining them will be Jonathan Boyd (Ishmael). Karen Keltner will conduct.
[For my review of the world premiere in Dallas, see: World Premiere: Heggie's Theatrically Brilliant, Melodic "Moby Dick" at Dallas Opera – April 30, 2010.]
[For my review of the production as seen in San Diego, see: A Majestic West Coast Premiere for Heggie's "Moby Dick" – San Diego Opera, February 18, 2012.]
Albert Herring (Britten) Los Angeles Opera, February 25, 28, March 3, 8, 11(m), 14 and 17(m), 2012.
We use the adjective "superlative" sparingly on this website, and when we do it is because either me or my colleague Tom regard a production as worth special commendation. Tom has awarded it to the Santa Fe Opera's Summer 2010 production of Benjamin Britten's hilarious comedy about a May Queen contest in which the eligible contestants are the virgin girls of Loxford, England.
But what if there is not a single girl who fits the ideas of the guardian of the community's morals, Lady Billows, as to what constitutes a proper May Queen? What if the only virgin is a male, in this case Albert Herring, the grocery clerk tied closely to his mother's apron strings? Then revise the contest to name a May King! But, as the opera will show, this will not assure an outcome that meets Lady Billows' expectations.
[Below: Nancy (here, Kate Lindsey, left) has her own thoughts about how Albert Herring (Alek Shrader, right) should live his life; edited image, based on a Ken Howard photograph, courtesy of the Santa Fe Opera.]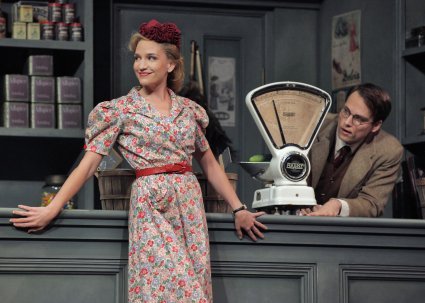 Director Paul Curran, who created the staging for the successful Santa Fe Festival production mounts the opera, again with Kevin Knight's sets and costumes, for Los Angeles. Alek Shrader, who performed the title role in Santa Fe, is again the lead in Los Angeles. His Santa Fe Lady Billows, Christine Brewer, performs the last two performances in Los Angeles.
The rest of the cast is new to the production, with most of them new to Los Angeles Opera, including Daniela Mack as Nancy, Liam Bonner as Sid, Janis Kelly as Lady Billows (first five performances), Jane Bunnell as Mrs Herring and Robert McPherson as the Mayor. Stacey Tappan is Miss Wordsworth and Ronnita Nicole Miller is the Florence Pike. James Conlon will conduct.
[For Tom's review of the production in Santa Fe, see: Superlative: Britten's "Albert Herring" Brings Big Time Laugh-in to Santa Fe Opera – August 25, 2010.]
[For my review of the production in Los Angeles, see: Countdown to the Britten Centennial: Conductor James Conlon, Director Paul Curran in Reverential Mounting of Britten's "Albert Herring" – Los Angeles Opera, February 25, 2012.]