Note from William: This post continues my series of observances of historic performances that I attended at San Francisco Opera during the general directorship of Kurt Herbert Adler. This is the fifth of six such observances of performances from the company's 1961 Fall season.
Having become a subscriber in Fall 1961, as a college Freshman, to San Francisco Opera's fall season six opera Thursday night series, I had gloried in opera performances for four Thursday nights in a row. When it came to the fifth and sixth Thursday night offerings, I used the subscribers' privilege (that existed in 1961) to trade tickets between operas.
I traded the fifth opera (Verdi's "Nabucco" starring Cornell MacNeil) for a later performance of the same opera, starring Ettore Bastianini). The sixth opera was the American premiere of Britten's "Midsummer Night's Dream". As appealing as the idea of seeing the Britten work might have been, limitations of funds and available time (with term papers and mid-terms looming) caused me to decide that should I trade the opera by the 48 year old Britten  for the work of another composer who was born 100 years earlier than Britten – Richard Wagner.
Having already seen San Francisco Opera perform two of Wagner's works with great casts – "Die Walkuere" with Birgit Nilsson, Leonie Rysanek, Nell Rankin, Ludwig Suthaus and Hans Hotter (see Historical Performances: Die Walküre with Nilsson, Hotter, Rysanek, Suthaus and Rankin, San Francisco Opera in Los Angeles, November 4, 1956) and "Lohengrin" with Sandor Konya and Irene Dalis (see Historical Performances: Sandor Konya, Irene Dalis in "Lohengrin" – San Francisco Opera, October 27, 1960), I couldn't resist the cast that General Director Kurt Herbert Adler had assembled for Wagner's "Die Meistersinger von Nuernberg".
Paul Schoeffler's Hans Sachs
The Hans Sachs was the great German baritone Paul Schoeffler – my first Barak in Richard Strauss' "Die Frau ohne Schatten" (see see Historical Performances: The Woman Without an Equal: Leonie Rysanek in "Frau ohne Schatten": San Francisco Opera, September 24, 1960) and Don Pizarro in Beethoven's "Fidelio".
[Below: Paul Schoeffler was Hans Sachs; resized image, based on a photograph, courtesy of the San Francisco Opera.]
Here was Schoeffler, a master of the German vocal arts, portraying Hans Sachs, the greatest of the Master Singers. The audience was treated to an evening of lyrical singing, in which Wagner's legato lines were observed by all three of the principals (the Sachs, the Walther and the Eva).  It was as if Schoeffler were the embodiment of Sachs.
Lisa Della Casa's Eva
The Eva was the Swiss soprano, Lisa Della Casa, the great interpreter of the operas of Richard Strauss and Mozart, who is one of the most physically beautiful opera stars ever to grace the operatic stage, reminding many of such great mid-20th century film stars as Elizabeth Taylor. At 42, she was a sumptuous Eva, singing as beautifully as she looked (even in a blonde wig that covered her stunning brunette locks).
[Below: Lisa Della Casa is Eva; edited image, based on a photograph, courtesy of the San Francisco Opera.]
Della Casa was an engaging actress. San Francisco Opera historian Arthur Bloomfield's adjective to describe her voice was "velvety", and that seems to me as apt a description as any.
She appeared in two seasons at the San Francisco Opera (1958 and 1961) for a total of nine performances at the War Memorial and five at the Shrine Auditorium in Los Angeles. She had also appeared in 1961 as the Countess Almaviva in Mozart's "Le Nozze di Figaro", but this performance as Eva was the only time I was ever to see Della Casa.
Fritz Uhl's Walther von Stolzing
Although I was appreciative of Fritz Uhl's Florestan, with its great and challenging aria Gott! welch' Dunkel hier! (see Historical Performances: Brouwenstijn, Bastianini, Zampieri in "Ballo in Maschera" – San Francisco Opera, October 12, 1961), it was the much larger role of Walther that I felt truly displayed his lyrical vocal gifts.
[Below: Fritz Uhl as Walther von Stolzing; resized image, based on a photograph, courtesy of the San Francisco Opera.]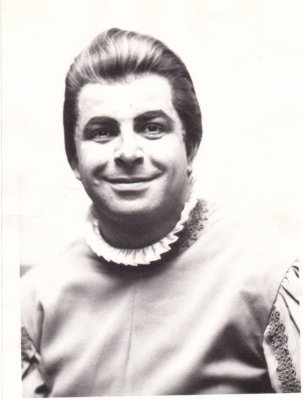 Alas, this was the last time I saw Fritz Uhl.  No Wagner was performed in 1962, and the Wagnerian tenor roles for the two seasons after that would be Jon Vicker's Siegmund in "Die Walkuere" and Sandor Konya in the title role of "Parsifal".  By mid-decade Jess Thomas, a heldentenor with San Francisco Opera roots, would become a dominant presence at the War Memorial Opera House, and would have first call on the Wagnerian tenor roles for years to come.
Geraint Evan's Sixtus Beckmesser
Although this performance was the last time I would see Schoeffler, Della Casa and Uhl, there was one of the principals, Geraint Evans (later Sir Geraint), whom I was to see many more times in San Francisco. The Welsh bass-baritone had already become a consummate character actor in San Francisco.  Debuting in the 1959 season, in the three seasons from 1959 to 1961 he performed 33 times (20 in San Francisco, the remainder in Los Angeles) in nine different roles, including the title role in Berg's "Wozzeck" and Figaro in Mozart's "Nozze di Figaro".
I had already seen him as Paolo Albiani in Verdi's "Simon Boccanegra" (see Historical Performances: "Simon Boccanegra" with Tito Gobbi, Giorgio Tozzi – San Francisco Opera, October 6, 1960). As one would expect, his irascible Sixtus Beckmesser, one of the great comic roles in Wagner, was a striking portrait.
[Below: Geraint Evans as Sixtus Beckmesser; resized image, based on a photograph, courtesy of the San Francisco Opera.]
In my notes to myself, I made the observation that of all the performances I had seen in 1961, the most completely satisfying of the amazing group was this Leopold Ludwig-conducted "Meistersinger" – my personal pick for "best performance of the season".
But there was one more performance for which I had tickets, and that one, Verdi's "Nabucco", turned out to be one of the most memorable nights in San Francisco Opera history.