Note from William: This post continues my series of observances of historic performances that I attended at San Francisco Opera during the general directorship of Kurt Herbert Adler. This is the fourth of six such observances of performances from the company's 1961 Fall season.
On the fourth night of my 1961 San Francisco Opera series subscription, I attended my first performance of Verdi's "Un Ballo in Maschera". This was my fifth Verdi opera and sixth Verdi performance (having seen "Simon Boccanegra" in both 1956 and 1960).
Between San Francisco Opera's 1956 and 1960 seasons (including its Southern California tours) I had seen a lustrous group of legendary Verdian performances: sopranos Renata Tebaldi (Maria Amelia in "Boccanegra"), Leyla Gencer (Violetta in "La Traviata"), Herva Nelli (the title role in "Aida") and Gabriella Tucci (Maria Amelia); mezzo-soprano Blanche Thebom (Amneris in "Aida"); tenors Mario del Monaco (the title role in "Otello") and  Giuseppe Zampieri (Gabriele Adorno in "Boccanegra"); baritones Robert Merrill (Germont in "Traviata"), Mario Zanasi (Iago in "Otello) and Tito Gobbi (Boccanegra); and bassos Boris Christoff and Giorgio Tozzi (both as Fiesco in "Boccanegra") and Nicola Moscona (Ramfis in "Aida").
The "Ballo" performance, like the "Aida" and  "Otello" was conducted by Fernando Molinari-Pradelli. The "Ballo" evening added two important Italian opera singers to my "observation" list of distinguished Verdians: baritone Ettore Bastianini (Renato) and coloratura soprano Graziella Sciutti (Oscar).
Notes on the Vocal Performances
The San Francisco "Ballo" was my second and last performance by Zampieri (Riccardo), whom I only saw in the two Verdi roles. But Zampieri's stylish Gabriele Adorno and Riccardo were a convincing introduction to the excitement produced by a healthy Verdian spinto tenor voice, particularly when heard in the sonic splendor of the War Memorial Opera House.
The opera's very first scene provides first Zampieri's Riccardo and then Bastianini's Renato the opportunity to display their vocal powers in their respective arias La rivedra nell'estasi and Alle vita che t'arride. That scene would be memorable for those arias alone, but the scene also includes Oscar's brilliant ballata and ends with a rousing chorus, in which the Riccardo and his courtiers leave  his chambers disguising themselves for their encounter with Ulrica.
That finale always seems as energetic as a Parisian can-can. In fact, every scene in "Ballo" can and should be a tour de force. Molinari-Pradelli and this cast provided just that.
[Below: Renato (Ettore Bastianini, right) brings news of the realm to Riccardo (Giuseppe Zampieri, left); edited image, based on a photograph, courtesy of the San Francisco Opera.]
"Ballo" also permitted Brouwenstijn, who had debuted with the San Francisco Opera a week in her signature role of Leonore in Beethoven's "Fidelio" (see 50 Year Anniversaries: Brouwenstijn, Uhl, Schoeffler, Horne, in "Fidelio" at the War Memorial – San Francisco Opera, October 5, 1961) to demonstrate that she, performing Amelia, was equally great as a Verdian dramatic soprano.
Molinari-Pradelli, who was one of a group of European-based conductors that Adler used to recruit talent, especially during the first decade he was at the San Francisco Opera helm, had conducted "Ballo" in Amsterdam starring Brouwenstijn and Zampieri. Surely the long association between conductor, soprano and tenor, assured that the extended duet Teco io sto for Brouwenstijn and Zampieri would be triumphant, with Brouwenstijn's beautiful phrasing portraying the agony that this tortured character feels.
In my notes to myself at the end of my six opera season I expressed the opinion that Brouwenstijn's Amelia was the greatest female performance I had seen that year, and that Bastianini's Renato was the greatest male performance.
In reflecting on Zampieri, I believe that the performances in which I saw him were at the height of his career. Tenor Luciano Pavarotti described him just a few years later as a great tenor, who had become very wealthy, but was not singing well, and was canceling often. Pavarotti noted that although Zampieri was popular with opera audiences in Vienna and with the superstar Austrian Conductor Herbert von Karajan, Pavarotti was asked to take over some of Zampieri's Viennese assignments, which proved to be a major stepping stone to Pavarotti's international success.
[Below: Dutch soprano Gre Brouwenstijn was Amelia; image based on a promotional photograph.]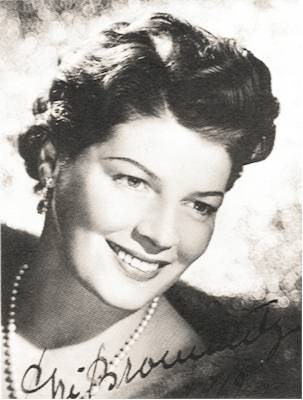 Scuitti was a sprightly Oscar, memorable in the ensembles. Although she had other assignments in the 1961 season, this and a 1970 turn as Despina in the premiere of a new production of "Cosi fan Tutte" by Jean-Pierre Ponnelle, were the only times I heard her in live performance. (She later was a stage director for three later productions at the San Francisco Opera in 1984, 1997-1998 and 2000.)
The Ulrica was the 31 year old American contralto Margarethe Bence. Born into a German family, her career was based in postwar Europe, particularly at the Stuttgart Opera. She was originally expected, in addition to her Ulricas, to sing three performances as Fenena in Verdi's "Nabucco". However, on the night of Friday, September 20, the second "Ballo" of the season  (according to San Francisco Opera historian Arthur Bloomfield), soprano Janis Martin, who was performing the much smaller role of Anna in "Nabucco", was informed that, over the weekend, she must learn the role of Fenena so as to replace Bence in  that coming Monday's (September 23) "Nabucco" performance.
Thus, one of the great feats in San Francisco Opera history came to be, as Martin, a future Bruennhilde in three operas of Wagner's "Der Ring des Nibelungen", was provided coaching to have a role ready for performance on extremely short notice. Thus Bence, a noted Bach specialist who herself sang at the Wagnerian festivals in Bayreuth, was best known in San Francisco as being the artist whose indisposition led to a major boost to Janis Martin's operatic career.
[Below: Contralto Margarethe Bence was the Ulrica; resized image of a promotional photograph.]
The San Francisco 1961 sets utilized the Swedish setting of the story, in the court of Swedish King Gustavus III, the 18th century monarch whose assassination at a masked ball was the inspiration of the story. Sweden was the location for a new production at San Francisco Opera (for Jose Carreras and Katia Ricciarelli) in 1977, as well as the currently used Zack Brown production that was purchased in 2006 from another company. But the next outing for "Ballo" in San Francisco would be a new production for Leontyne Price and Sandor Konya, in which the opera was located in Boston.
Some Comments on a Half Century of "Ballo" Productions
Verdi's "Ballo in Maschera" is one of the most musically and dramatically effective of Italian operas. It could be considered a docu-opera in the sense that, like Donizetti's "Anna Bolena", "Maria Stuarda" and "Roberto Devereux" or Verdi's "Don Carlos", there is a mix of historical fact and total fiction. Gustavus III of Sweden was indeed assassinated at a masked ball in 1792. A few factoids about Gustavus were incorporated into the opera's libretto: Gustavus did have a fortune teller predict his assassination; he did receive a letter (in this case, from a man) warning him about the conspiracy to kill him at the upcoming masked ball; and he did pardon his assassins as he was dying.
Onto this rootstock of historical anecdotes is grafted a story that has virtually nothing to do with Gustavus or  of Swedish affairs of state. Three people are in a situation not unusual in human history – a man (in the opera, Renato) is married, and his close friend (in the opera Riccardo) and his wife (Amelia) find themselves in a repressed sexual attraction to each other. But so long as that attraction is not actualized, there is nothing about which anyone should be concerned.
The opera's plot unfolds through a series of coincidences. Riccardo overhears Amelia's confession that she is struggling with her attraction to him and wants to subdue it. With that information, Riccardo  pursues her in a manner that results in their discovery by her husband in a compromising situation, and that suggests to the husband that his friend and wife have betrayed him.
Furious, the husband kills his friend, then finds, to his regret, that the facts, as he understood them, were wrong. (Of course, had the husband not surprised the couple at a time they were both vulnerable, the imagined betrayal might have become a reality.)
There are several mischiefs that interfere with our enjoying the presentation of this rather simple story. One is the mid-19th century political geography, in which the political power structure that governed cities that might wish to present Verdi's opera, were adamant that no opera about crowned heads of Europe being assassinated be performed.
That non-starter was addressed ultimately by the mischief of moving the action of the opera from Sweden to Colonial Boston, even if some of the characters (i.e., Ulrica, Oscar) or the situations (masked balls) didn't seem to fit in the Massachusetts of the Puritan era or the New England of Colonial times. I have written elsewhere that the opera's characters and story would better fit the Southern U. S. cities of Charleston (South Carolina), Savannah or New Orleans, and the New Orleans Opera indeed has located the opera in the Crescent City (see Louisiana Locale, Impressive Casting for Paul Groves' First "Ballo" – New Orleans Opera, November 18, 2011.)
In the mid-20th century, with no local censors around sensitive about the assassination of 18th century crowned monarchs, it became fashionable to return the action to the Sweden of Gustavus III, the Swedish monarch who actually was shot to death at a masked ball. Since the opera contains the anecdotal historical bits (fortune-telling, warning notes, pardoning of assassins), it seems harmless enough, as long as one understands that the plot about the repressed romance between Gustavus and Amelia is not historical, and is certainly not the motivation that led the Swedish count, whom we associate with Renato, to assassinate Gustavus.
But another mischief arose out of the opera's return to Stockholm. The historical King Gustavus (if his sexual orientation could be accurately identified from the bizarre accounts we have of his sexual practices), seemed to be more gay than not. Because in the late 20th century, some people noticed that openly gay characters were under-represented in opera, that if the original Swedish setting of "Ballo" could be restored, that Gustavus could be portrayed as gay.
That Verdi and his librettist gave us nothing in the story line of the opera, be it situated in Boston or Stockholm, to make this gay orientation plausible, seemed not to daunt the likes of concept directors Goeran Gentele or Götz Friedrich (see Power Verdi: Chanev, Marambio, Ataneli in Deutsche Oper Berlin "Ballo" – April 25, 2009).
I have argued in the past that it is possible in at least one very specific case to improve an opera's dramatic logic if two characters are portrayed as gay, whether or not that would have occurred to the composer (see The Donizetti Revival, Second Stage: Radvanovsky, Grigolo in Pascoe's WNO "Lucrezia Borgia" – November 17, 2008). However, the mid- and late 20th century notion that some purpose is advanced through gratuitous changes in the sexual orientation of characters, even if such changes make nonsense of the opera's plot, seems to me to be a disservice to everyone.
Having seen well-conceived, easily defended and thoroughly enjoyable productions of "Ballo" set in Sweden, in Boston, and even in Louisiana, I am an agnostic as to what should be the geographical home for the opera, but do feel this is an opera to be played straight, preserving the storyline to which Verdi gave his approval.