[The following interview of David Holloway, Director of the Santa Fe Opera Apprentice Program for Young Artists was conducted at the Santa Fe Opera "Ranch", and augmented with subsequent communications.]
Wm: You have been Director of the Santa Fe Opera Apprentice Program since 2005 and you were an Apprentice yourself here in 1966. From the outside, it appears that the Santa Fe Summer Festivals provide the artists chosen to be apprentices with experiences that are quite unique.
DH: I have watched this program in operation for over five years. I think that, for a summer festival situation, the Santa Fe Apprentice program is remarkable in the number of opportunities for singing that it gives young artists. We use them in small parts in the five operas we schedule each summer and as the Chorus. In addition, there are a number of outside engagements they do, and they are paid for what they do. Besides that, how many opera companies have their own swimming pool?
[Below: David Holloway, Director of the Santa Fe Opera Apprentice Program; resized image.]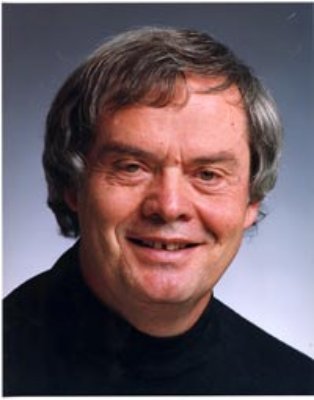 Certainly, just becoming an apprentice, and getting that designation for your resume, puts you into a professional category. What John Crosby, Santa Fe Opera's founding director, always said about the program, was that he wanted it to be a bridge program from conservatory to professional life. Many people make the bridge, but some people do not make the crossover.
Wm: Forty-five years ago, you were one of the Santa Fe Opera apprentice artists. Now you are the Apprentices Program Director, as well as chair of the Performance Department of Roosevelt University's Chicago College of the Performing Arts. How did you come to assume the directorship of this program?
DH: Santa Fe Opera's former General Director Richard Gaddes invited me to be the first person to hold the title "Director" of the Santa Fe Apprentice program in 2005. For me, it was a coming home. I had not been around Santa Fe since 2000 and 2001, when Gaddes had me do some winter opera – Gay's "Beggars Opera" and Gilbert and Sullivan's "HMS Pinafore" in Downtown Santa Fe.
Wm: Would you agree that the Santa Fe Opera Apprentice Artist program has had an influence on the way American opera companies operate?
DH: Yes, all of the training programs in every company are based on John Crosby's original idea. He implemented his vision of a young artists' program in 1957.
After our apprentice program came the Lyric Opera's Ryan Center in Chicago, the New York Met's Lindemann Center, the Domingo-Thornton program in Los Angeles, and the Domingo-Cafritz in Washington, D.C. Houston Grand Opera has the Texas Opera Theater, and there are programs in other cities based on the Young Artists model.
Wm: 1957 was also the year that Kurt Herbert Adler established the Merola Young Artists Program at the San Francisco Opera.
DH: The Merola Program is not connected with the regular San Francisco Opera season, as the Santa Fe Opera apprentices are. The Adler Fellowships, which were created 20 years later, produce the artists that participate in the San Francisco Opera's season performances.
Wm: What does choosing the Santa Fe Opera Apprentices entail?
DH: In collaboration with the Santa Fe Opera's Artistic Administrator, Brad Woolbright, and Conductor Robert Tweten, the Head of the Music Staff, we start choosing our singers. I personally heard 760 auditions for the 2009 season. We had 1400 applications, and our team heard a total of 900. We hold auditions all over the country.
Wm: What criteria did you use for selecting 37 or 38 apprentices?
DH: The listening process is very complicated. We do several rounds of preliminary auditions. With the help of Bob Tweten and Kathleen Kaun (of the Rice University Shepherd School of Music), we listen to singers in several cities throughout the U. S. In order for people to get into the program, they have to sing for Bob and me together in Chicago, New York, Los Angeles, and Albuquerque.
We know when we are on the road what types of voices we will need to cover principals. Young singers do not understand very well, that it is not just having a good voice that determines who is selected. There are so many elements that have to be considered. Sometimes we have to pass over a terrific possibility for one season, then invite them to cover another artist the next year. We also invite some of our young artists to be second year apprentices.
We try to listen very carefully. We know in about 15 bars what kind of talent they have. In collaboration with our artistic directors, we cast the smaller roles and covers from people we hear at the auditions. In the case of Adina in 2009's performances of Donizetti's "L'Elisir d'Amore", we knew at her audition that Deborah Selig would make an excellent cover for the role.
Erin Snell was the cover for the lead role of Leslie in Morevac's "The Letter" in the 2009 season. We knew from the 2008 summer season that she could handle difficult music. The 2009 apprentices were a particularly strong group.
Wm: When is it decided which roles will be sung by Apprentices?
DH: We develop spreadsheets that list all the characters in each of the five operas in the Santa Fe season. Some of the characters listed can stay in flux for awhile, and we have time to see if there is an Apprentice that could handle that part. I was able to suggest that the part of the Priest in 2009's performances in Gluck's "Alceste" should be handled by an apprentice, Nicholas Pallesen.
Wm: I was very impressed attending the Apprentice Singers' Santa Fe Community Concert at the Cathedral Basilica in Downtown Santa Fe.
DH: Five of the local churches pay them to perform at their services. We require the young artists to learn how to engage with the people of Santa Fe. The opera is on its mountain, but the opera goes singing into the town. The young artists perform fundraising events at Vanessie's Restaurant and in the more informal settings of Vanessie's piano bar. I get to facilitate a variety of community-based programs in Santa Fe, such as one in the Whole Foods Grocery Store, which is operated by Tom Di Ruggiero, an opera lover!
[Below: the 2011 class of Santa Fe Opera apprentices. Director David Holloway is in the third row, third from right; edited image, based on a photograph, courtesy of Santa Fe Opera.]
Wm: When you were an apprentice in 1966, who were your fellow apprentices?
DH: In my summer were John Duykers, Charles Elsen (who later became a great makeup artist), Brent Ellis, Ruth Falcon, Gary Glaze, David Gockley, Rodney Godshall, Carolyne James, Samuel Ramey and Patricia Wise.
Wm: Your colleagues in that class have all made their impact on American opera. Ramey became an international superstar and Gockley the general manager of first the Houston Grand Opera, and more recently the San Francisco Opera. You, Brent Ellis and Patricia Wise had long careers. You later participated in the Santa Fe Opera in the 1960s as both a principal and comprimario artist.
DH: Yes, although at the time that I first came to Santa Fe, it was after the famous early seasons associated with Igor Stravinsky, when Ragnar Ulfung sang Tom Rakewell in Stravinsky's "Rake's Progress" and Cavaradossi in Puccini's "Tosca".
I made my debut at the Santa Fe Opera as Papageno in Mozart's "Magic Flute" with Robert Baustian conducting and Bliss Hebert directing.
What is your musical background?
DH: I came from the tiny town of Gas, Kansas which is near Iola, a small town in Allen County, in Kansas' Southeast. My sister Ruth played the piano, and so I became interested in piano at age five. I had strong musical instruction and training in piano and voice. In 1958, my parents sent me to the University of Kansas band camp, which was a revelation. It was the first time in my life I met other kids who were as interested in music as I was. They made it seem normal to me. Before that, I felt like such a nerd – a musical nerd – because I had tremendous interest in this thing that no one else was interested in.
Wm: Obviously, a Santa Fe Opera apprentice artist is training for a career in opera; but how did you come to be an opera singer originally?
DH: I attended Kansas University, during the time that Robert Baustian taught conducting. Although Iowa-born, Baustian had received training in Europe and had been associated with both the Zurich Opera and the Hessian State Opera in Wiesbaden. He was also a music director and conductor for the Santa Fe Opera for 21 seasons.
My freshman year at KU, I got cast as the Postman in "The Most Happy Fella". When the performances were over in early November 1960, Robert Baustian came up to me and said "What are you majoring in, young man?" I mumbled something about piano or Music Ed and he said – and I'll never forget this – "I think you can aspire to more. I think you should look into being a voice major."
Well that changed everything. Of course my dad said "What's a voice major? I'm not paying tuition for a voice major." But he still sent my $108 tuition check every semester. At Kansas University I studied with Irene Peabody, who was a terrific teacher and a wonderful person. Since I played piano, I also accompanied singers in voice lessons taught by soprano Patricia Wise, now on the Indiana University voice faculty, but then at the University of Kansas.
Wm: And you continued to use your accompanist skills after you joined the Santa Fe Opera Apprentice Artists?
DH: My abilities as accompanist came in handy when I was in the Apprentice Program. When there was no accompanist available to cover Margaret Harshaw's voice lessons in Santa Fe, I assumed that task, so that, for example, I was the pianist when David Gockley was taking his voice lessons.
Wm: For much of your performing career you were associated with the Deutsche Oper am Rhein in Duesseldorf, Germany where you were a lead baritone. What are some of your roles there?
[David Holloway as Penteus in a 1991 production of Henze's "Die Bassariden" in Duesseldorf; edited image, based on a photograph for the Deutsche Oper am Rhein.]
DH: In Duesseldorf, I sang Figaro and Count Almaviva in Mozart's "Marriage of Figaro", and the title roles of Tchaikovsky's "Eugene Onegin" and Handel's "Julius Caesar". At the Glyndebourne Festival in Great Britain, I sang Escamillo in Bizet's "Carmen". If you check YouTube, you can see me singing the Toreador Song.
Wm: As of the date of this posting, your performance of the Toreador Song has had over 747,000 YouTube views.
DH: Then I came back to the states in 1991, where I began teaching. I continued to sing for about three more years. When I finally started teaching I had five children and wanted to be closer to home. I moved to Chicago and started teaching at Roosevelt University.
[Below: David Holloway as Penteus in a 1991 production of Henze's "Die Bassariden" in Duesseldorf; edited image, based on a photograph for the Deutsche Oper am Rhein.]
Five years ago, I sang the seven nemesis characters in Britten's "Death in Venice" at Chicago Opera Theater. Counting those roles, between Europe and the U. S. I have had over 75 major roles.
Wm: Including seven seasons at New York's Metropolitan Opera.
DH: Yes, I had debuted at the Met in 1973 and spent the year as a Met's "plan artist". It was a great year for famous artists. My debut role was as Yamadori in Puccini's "Madama Butterfly", and sang that role in performances in which both Leontyne Price and Dorothy Kirsten starred. I was the Herald in Verdi's "Otello" with Jon Vickers and Kiri Te Kanawa, and was Schaunard in Puccini's "La Boheme" in this season where both Montserrat Caballe and Franco Corelli were present.
During my Met seasons, I sang Guglielmo in Mozart's "Cosi fan Tutte", Sharpless in "Madama Butterfly" and Lescaut in Puccini's "Manon Lescaut" in which Mirella Freni was Manon. I also performed in "Manon" with Neil Shicoff and Catherine Malfitano. I returned to the Met in 1981 in Poulenc's "Les Mamelles de Tirésias".
[Below: David Holloway as Le Mari in Poulenc's "Les Mamelles de Tiresias", which he sang at the New York Metropolitan Opera in 1981 and two subsequent seasons; edited image, based on a photograph for the Metropolitan Opera.]
Wm: Returning to the subject of the Santa Fe Opera Apprentice Program, do you find that it helps the young artists set their career goals?
DH: Yes, the apprentices get a look at the life an artist leads by being around these artists. Having a great voice doesn't mean that one is suited to the life of an artist. I know we lose some great voices because the life is not something they want.
From my own personal experience, I know that when I was a performing artist, my wife and I moved to Europe, because that was one place where I could work steadily and come home to my family at night. But I was lucky that my wife wanted to pick up and move to another continent. Some people would not choose to live such a life.
Wm: Thank you, David.