Five years ago, Bizet's "Carmen" was presented by San Francisco Opera, in the classic Jean-Pierre Ponnelle production (See my review at Halevy Triumphs in Ponnelle "Carmen" – S. F. December 3, 2006). Mezzo-soprano Kendall Gladen, then an Adler Fellow, the highest level of the San Francisco Opera Young Artists' programs, was the Mercedes, the comprimario mezzo role, to both of that season's Carmens (Hadar Halevy and Kate Aldrich).
Last December, reviewing Gladen's Maddalena in Verdi's "Rigoletto" at the Los Angeles Opera (see my review at Conlon Conducts Musically Impressive "Rigoletto" – Los Angeles Opera, December 2, 2010), I made the following statement with an implied prediction: "When I last saw Gladen in a "Rigoletto" performance (which took place in 2006 in San Francisco . . .) she was in the much smaller role of Giovanna, Gilda's maid. With a large, sultry mezzo, this former San Francisco Opera Adler Fellow demonstrated the vocal and acting skills that will assure her much larger assignments in the great international houses."
[Below: Kendall Gladen as Carmen; edited image, based on a Cory Weaver photograph, courtesy of the San Francisco Opera.]
Since Gladen's 2006 appearance in a comprimaria role in San Francisco Opera's 2006 "Carmen", she has been singing the opera's lead part with companies large and small in both North America and Europe, with the result that Carmen has unquestionably become Gladen's signature role. Although Kate Aldrich was announced as Carmen for San Francisco's 2011 season, illness has caused her cancellation of all performances.
In a situation that changed according to the latest information on whether Aldrich would be available for any of her scheduled performances, Gladen was announced as the replacement for the majority of Aldrich's assignments. Although Aldrich's withdrawal was regretted, opera goers holding tickets for performances that Gladen took over, were provided the opportunity to experience Gladen's Carmen that audiences elsewhere had received so well. The sultry Maddalena I noted in my Los Angeles "Rigoletto" review gave just a hint of how completely formed is her conception of Carmen, as well as her voice's size and technical skill.
The Ponnelle "Carmen" in the 21st Century
One of the "world treasures" owned by the San Francisco Opera is a Jean-Pierre Ponnelle production created for the Zurich Opera based on his 1981 production for the San Francisco Opera, created by Ponnelle for Kurt Herbert Adler's final season, but down-sized to fit the much smaller Zurich Opera stage. (Of course, there are some of us who feel that it would been better to have not destroyed the original production, requiring the purchase of its smaller Zurich copy to replace it, but, as far as I have been able to tell, no one responsible for the original production's destruction is still employed by the San Francisco Opera.)
Some of the coups de theatre of the larger production – such as the third act descent of a large cannon from a mountainous path at the top of the stage to the smuggler's encampment below – were compromised by the sets being down-sized. However, one must concede that since Ponnelle's Adler Farewell San Francisco production no longer exists, Ponnelle's Zurich sets are a very welcome next best thing. The production's colors are still warm and evocative of Spain. They are still a sight to behold.
[Below: the entrance of the toreador in Lillas Pastia's Tavern in Jean-Pierre Ponnelle's second act sets; edited image, based on a Cory Weaver photograph, courtesy of the San Francisco Opera.]
Ponnelle, a la Condemi
What is different in 2011 from all the mountings of the Ponnelle production since 1981, is that Jose Maria Condemi, the stage director, has chosen to depart significantly from Ponnelle's stage director's playbook. Condemi, like Ponnelle, is brilliant in his attention to detail and in the motivations of the characters. Condemi has staged this opera before, including working elsewhere with Gladen. For my interview with him, see Rising Stars: An Interview with Stage Director Jose Maria Condemi, Part I.
Last Summer in a physical production based on Frank Corsaro's ideas about staging Gounod's "Faust", Condemi approached the task of including or excluding Corsaro-inspired stage business eclectically. He has done likewise with Ponnelle's.
Therefore, although some of Ponnelle's staging is retained (Zuniga smashing through the door of Pastia's tavern; the children standing at the footlights in the final scene to sing about the procession of the bullfighters), Ponnelle details big and small have disappeared (Frasquita and Mercedes communicating with Carmen in Act I just prior to her escape; Don Jose escorting Micaela to the bullring in the final scene, with Micaela watching Carmen's murder below).
[Below: Zuniga (Wayne Tigges, right) explains to Don Jose (Thiago Arancam) how he wishes Carmen to be handled; edited image, based on a Cory Weaver photograph, courtesy of the San Francisco Opera.]
Although Carmen's presence dominates every scene, the opera's story is about the destructiveness of her encounter with the socially inexperienced Basque corporal, Don Jose. Brazilian Thiago Arancam returns to San Francisco after last year's performances as Christian in Alfano's "Cyrano de Bergerac" mounted for Arancam's mentor, Placido Domingo (see my review at Domingo's Swashbuckling, Cinematic San Francisco "Cyrano" – November 6, 2010.)
The role of Don Jose is most often sung by spinto tenors at the War Memorial (this was spinto tenor Marco Berti's San Francisco Opera role debut; and the Don Joses of Jon Vickers, Franco Bonisolli and Placido Domingo in this house are among my fond memories of previous San Francisco "Carmens".) Arancam's voice, at least in the 3200 seat War Memorial, seems of a more lyric weight. Yet when expressing Don Jose's despair, Arancam summons up a muscular sound, to me reminiscent at times of Vickers. Trained at La Scala, and still early in his career, his repertory even now is dominated by spinto assignments.
Arancam's interactions with Gladen in Condemi's staging provided yet another insight into the complex relationship between Don Jose and Carmen.
One senses a true affection beyond just sexual attraction between these two characters that prevails almost through the entire opera, even as Don Jose's jealousy and possessiveness makes Carmen's withdrawal from the relationship inevitable. (Perhaps Carmen senses a Tristanesque satisfaction in the "love-death" fate for herself and Don Jose that she reads in the cards.)
Condemi made a point in printed comments that Carmen and Jose as gypsy and Basque are outsiders in the rigid Spanish society (of which the military officers such as Zuniga are part). Jose is a victim of circumstances. He and Carmen had agreed that they did not belong together, and he would have left the tavern, with only his memory of this strange encounter with Carmen that caused him to be busted a rank and to spend a month in jail.
Had not the inebriated (in Condemi's staging) Zuniga broken down the tavern door, Jose would not have been goaded into a career-destroying fight with Zuniga (that Condemi makes even more violent by having the gypsies force Jose to slash Zuniga's face). Jose's attack on Zuniga limits Jose's choices to pursuing a life with Carmen or spending the rest of his life incarcerated (if not hung for insubordination and attacking an officer). With only those two options, Don Jose's choice would have been that of (virtually) Everyman's.
[Below: Now that Don Jose (Thiago Arancam) has no other options than to pursue the smuggler's life with Carmen (Kendall Gladen), she explains its attractions to him; edited image, based on a Cory Weaver photograph, courtesy of the San Francisco Opera.]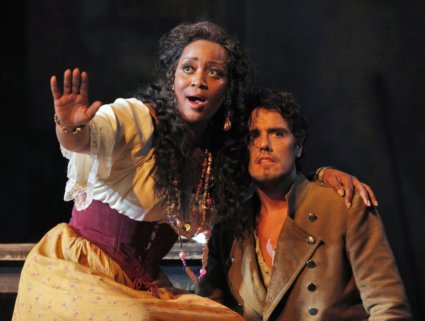 Condemi's changes from Ponnelle's stagings were almost invariably dramatically valid. He eliminated the first act freeze frame where all characters are motionless as Carmen and Don Jose gaze at each other while Bizet's "fate theme" sounds. If Micaela's extra-textual appearance at the bull-ring has been jettisoned, he uses the Ponnelle device of a face in the upper window to a chilling effect. It is Don Jose that peers down at Carmen, and he is spotted first by Carmen's sister gypsies, and then Carmen herself.
Condemi touches are everywhere. In the third act smuggler's hideaway, suggesting that the sexual relationship between Don Jose and Carmen still burns bright, Don Jose feels her stomach to see if she might be pregnant.
In this production, beyond the two principals, I found the comprimario roles of the officers (Wayne Tigges' Zuniga and Trevor Scheunemann's Morales) and of Carmen's gypsy companions – Susannah Biller's Frasquita, Cybele Gouverneur's Mercedes, Daniel Montenegro's Remendado and Timothy Mix' Duncaire – to be as fine as any Team Carmen assembled at the War Memorial previously.
Paulo Szot, whose successes on Broadway in the revival Rodgers' and Hammerstein's "South Pacific" have established his wider fame, was an avuncular Escamillo, superstitious, seemingly fearful that all of his high risk activities (including pursuing the love of the gypsy Carmen). He was surely not the dangerous, vigorous rival of Don Jose that we usually expect.
Sara Gartland's Micaela provided a youthful image (the character is 17). The San Francisco Opera Chorus, as is their custom, was excellent.
[Below: the smugglers -from left to right, Ramendado (Daniel Montenegro), Carmen (Kendall Gladen), Frasquita (Susannah Biller), Mercedes (Cybele Gouveneur) and Duncaire (Timothy Mix) – make their plans; edited image, based on a Cory Weaver photograph, courtesy of the San Francisco Opera.]
Nicola Luisotti and the French Repertory
Conductor Luisotti, whose credentials in Italian opera were never doubted, two years ago conducted Richard Strauss' "Salome". Other forays into the German repertory, including Wagner, are expected in the future.
With "Carmen", the iconic French Opera, Luisotti introduces the War Memorial Opera House audiences to his approach to yet another style of opera, presenting it in its opera-comique form with spoken dialogue and, at this or that moment, some notable differences in music from that of the standard Guiraud version, created after Bizet's death to eliminate the dialogue.
Every Luisotti performance is an extraordinary experience. For the opera's rousing Overture, he adopted a series of postures, in which he would thrust his arms on a major beat (usually accompanied by sonorous cymbals) while simply waving his fingers in between beats. The San Francisco Opera Orchestra that has bonded so well with him had no trouble in reading his intentions. He produced wonders throughout the performance, including a slow-paced beginning for the second act gypsy's song that was followed by an accelerando. It was said that he asked the orchestra to be "sexy" and sexy their performance was.
For those who love the opera, I recommend this production and cast unreservedly. Veteran opera goers will appreciate a "Carmen" done this well. For those who are new to opera, I believe this is would be an excellent first "Carmen" or even more, a first opera.