As the vehicle for her return to the San Francisco Opera after a decade's absence, Renee Fleming introduced California audiences to an opera and production that she has championed, the John Pascoe production of Donizetti's "Lucrezia Borgia". The Fleming-Pascoe collaboration on Donizetti's influential masterpiece – a milestone in Italian opera – is clearly a labor of love.
[Below: Lucrezia Borgia (Renee Fleming) wreaks vengeance on her enemies, but with unexpected consequences; resized image, based on a Cory Weaver photograph, courtesy of the San Francisco Opera.]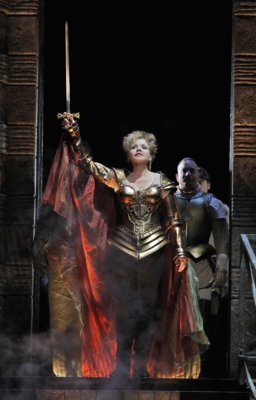 First seen at Washington National Opera, where Fleming shared the role with Sondra Radvanovsky [for my review, see The Donizetti Revival, Second Stage: Radvanovsky, Grigolo in Pascoe's WNO "Lucrezia Borgia" – November 17, 2008], Pascoe's production adds credibility to the opera's storyline by positing that Lucrezia's son Gennaro (stunningly sung by Michael Fabiano in his San Francisco Opera debut) and his sidekick Maffio Orsini are lovers.
This plot device adds a compelling reason why Gennaro disregards Lucrezia's admonition to leave Ferrara at once (since Orsini is determined to stay for an A-List party to which he and his friends have been invited) and why Gennaro then refuses Lucrezia's antidote to the poisonous "Borgia wine" that she intentionally served Gennaro's comrades but had not meant to serve Gennaro himself.
Star Donizetti Tenors are Born
Both the Washington National Opera and San Francisco Opera mountings of the production had substitutions in the lead tenor role of Gennaro late in their preparations, but in both cases to extraordinary effect. Vittorio Grigolo's success in the role at the Kennedy Center has to be regarded as a milestone in his meteoric career. It undoubtedly will also be the case for Michael Fabiano in San Francisco, who now must be recognized as a fully invested member of the fraternity of great Donizetti tenors who have appeared over the last half decade or so to excite audiences.
[Below: Michael Fabiano is Gennaro; edited image, based on a Cory Weaver photograph, courtesy of the San Francisco Opera.]
Fleming and Fabiano should be a sufficient inducement to attract opera goers to secure any tickets that might become available (the performances, even with "enhanced" ticket prices, are a virtual sellout), but there is the added bonus of Ukrainian basso cantante Vitalij Kowaljow in the role of the vicious Alfonso d'Este.
Kowaljow has appeared triumphantly at all three of California's major opera companies, including singing Wotan in the performances of the 2010 Los Angeles Opera's mounting of Wagner's "Ring of the Nibelungs). His sonorous Alfonso shows that he is as adept in the operas of Donizetti as he is in those of Verdi, Wagner and Mussorgsky.
[Below: Vitalij Kowaljow is Alfonso d'Este; edited image, based on a Cory Weaver photograph, courtesy of the San Francisco Opera.]
The role with some of the opera's most memorable music (in the sense that Orsini's upbeat songs are still going through one's head long after the opera's end) is that of Maffio Orsini, sung by Elizabeth DeShong. This is her second appearance in San Francisco, in both cases in a musico role in which she not only plays a man, but a gay man. (Making Orsini gay is likely not an idea that would have occurred to Donizetti, although Richard Strauss fully intended it for the Page Boy in "Salome").
DeShong is an alumna of the Ryan Center young artist's program at Lyric Opera of Chicago, and is a consummate operatic actress. (For a DeShong performance of a quite different character, Suzuki, see my review at Kaduce's Incandescent Cio Cio San, Jovanovich's Injudicious Pinkerton, Emblazon Blakeley's "Butterfly" – Santa Fe Opera, July 16, 2010.)
[Below: Maffio Orsini (Elizabeth DeShong, second from left) lifts a goblet of poisoned "Borgia wine" above his head as his mates, Ascanio Petrucci (Ao Li, left), Gennaro (Michael Fabiano, third from left), Oloferno Vitellozo (Brian Jagde, standing right) and Apostolo Gazella (Austin Kness, kneeling right), join him in his fate; edited image, based on a Cory Weaver photograph, courtesy of the San Francisco Opera.]
The three Italian composers most usually associated with the term bel canto opera (Gioacchino Rossini, Vincenzo Bellini and Gaetano Donizetti) are often thought of as producing plots lacking in dramatic interest that maximize the opportunities for florid, elegaic singing. Whether any of the three deserve this reputation, it is least applicable to Donizetti, whose operas advance the Romantic Era passion for fast-moving, passionate, bloodsoaked dramas. "Lucrezia Borgia" was a giant hit, a favorite of Verdi. Its influence on the first two scenes of "Rigoletto" is unmistakable. Its fast pace precedes and obviously inspires such Verdi masterpieces as "Ernani" and "Il Trovatore".
Debuting conductor Riccardo Frizza, a Donizetti specialist, whipped up the San Francisco Opera Orchestra in a stirring performance.
John Pascoe's sets effectively used the vertical spaces of the San Francisco Opera stage, evoking a spacious Venice piazza and an oppressive and sinister Renaissance Ferrara.
[Below: In a Venice piazza, Maffio Orsini (Elizabeth DeShong, center front left) confronts Lucrezia Borgia (Renee Fleming, center front right) as Gennaro (Michael Fabiano) stands between them; edited image, based on a Cory Weaver photograph, courtesy of the San Francisco Opera.]
The Donizetti Revival, Second Stage
I have written that we currently are in a Second Stage of the Donizetti Revival, that builds on the period of the 1950s through 1970s, during which the soprano divas Maria Callas, Leyla Gencer, Joan Sutherland, Montserrat Caballe and Beverly Sills used their fame to revive international interest in the operas of Donizetti beyond "Lucia di Lammermoor" and his three most famous comedies. In the second stage, attention is being given to the inherent dramatic values of Donizetti's work, as evidenced by such efforts as this production and the new productions of the three operas now named the Tudor Trilogy by Stephen Lawless and others.
That Renee Fleming has devoted much of her time during the past decade in promoting "Lucrezia Borgia" is something that opera lovers, especially those passionate about their Donizetti, should give their appreciation. The current production is something to behold and to experience. I recommend it unreservedly.
For my reviews of other operas conducted by Riccardo Frizza, see: Claycomb, Podles, Banks Shine in Houston "Fille du Regiment" – November 3, 2007, and also,
The Italian Girl in D.C. – May 18, 2006.
For my reviews of other performances by Vitalij Kowaljow, see: An Incredible Domingo and Other Marvels of the Los Angeles Opera Ring – "Walkuere", May 30, 2010, and also,
Ramey at S. F. Opera in Fascinating 1869 "Boris" Production – November 2, 2008, and also,
Verdian Back to Basics: San Francisco's Satisfying "Simon Boccanegra" – September 21, 2008
Furlanetto's, San Diego Opera's, Compelling 1869 Version of "Boris Godunov" – January 30, 2007.
For my reviews of other Elizabeth DeShong performances, see: Britten's "Midsummer Night's Dream" in Chicago: Enchanting, Luminous, Hilarious – Lyric Opera, November 17, 2010, and also,
Nadja Michael a Sensation in Luisotti's Soaring San Francisco "Salome" – October 18, 2009.