This is the eighth post that I've made from a visit to the 2011 Glimmerglass Festival, of events that occurred in a period of 52 hours duration – five operas, an interview with Glimmerglass Festival Artistic & General Manager Francesca Zambello, and a concert of American songs by lyric baritone Nathan Gunn, accompanied by his pianist-wife, Julie Gunn.
If the Glimmerglass Festival fare is arguably different from other musical festivals, including the 2011 Santa Fe Opera Festival from which I have already posted five opera reviews and four interview posts (with more posts to come), the last event was quite different from any other vocal performance I've ever experienced.
[Below: the 2011 Glimmerglass Festival's Artist-in-Residence, soprano Deborah Voigt as Annie Oakley; edited image, based on a Julieta Cervantes photograph, courtesy of the Glimmerglass Festival.]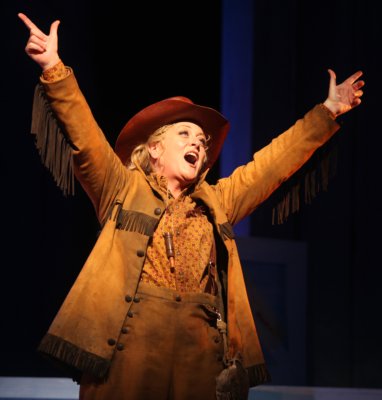 That event occurred Sunday at 5 p.m., a bit over an hour after Alexandra Deshorties's Medea in the Cherubini classic dispatched Jason's new wife, Glauce, by poison, and then murdered Medea and Jason's children.
The "Medea" audience was urged to vacate the opera house as quickly as possible after the curtain calls so that the Glimmerglass Festival staff could get the stage ready for the final event of the day, the second (and last) scheduled presentation of "Voigt Lessons", Deborah Voigt's one-woman show.
"Voigt Lessons" was written in collaboration with the esteemed playwright Terrence McNally, whose long association with both Broadway and opera is yet another place where these two influences connect at the Glimmerglass Festival. In fact, "Voigt Lessons" seems an homage to "Master Class", McNally's 1995 Broadway show about the long-dead Maria Callas reminiscing about her life experiences during her famous early 1970s classes at Juilliard.
[Below: Playwright Terrence McNally; resized image of a Walter McBride photograph for www.broadwayworld.com.]
But if his imagination guided what McNally thought Callas might say about her personal life in her conversations with her students, "Voigt Lessons" was developed in close collaboration with one of the reigning contemporary opera divas – one obviously quite willing to share her painful experiences as well as her triumphs with the Glimmerglass Festival audience.
The hour and a quarter Voigt-McNally-Zambello-Stites event was a coup de theatre for Zambello's first Glimmerglass Festival (Zambello was listed as stage director for the minimalist settings and Kevin Stites, possessing another long Broadway resume, received credit for the "musical direction").
The performance contained a generous sprinkling of biographical tidbits – Voigt sang in Baptist choirs in Wheeling, Illinois and Orange County, California; her stage debut was as a Dogpatch Girl in an amateur production of Gene DePaul's musical "L'il Abner" (Voigt: "The Dogpatch Girls are the equivalent of the Flower Maidens in Wagner's 'Parsifal'"); her desire to be able to sing the tenor aria, Nessun dorma, from Puccini's "Turandot" was thwarted by an unsympathetic voice teacher.
[Below: Deborah Voigt, having returned to London in 2008 as a "svelter belter" (to use Jessica Duchen's phrase for the Independent); resized image of a David Sandison photograph for the Independent (London).]
Her delivery was sometimes bawdy. But her show also included much that was painfully introspective – her weight gain that topped at 333 pounds (she said she would never forget those three threes), resulting in her decision to undergo gastric bypass surgery, the crumbling of a long-time marriage after discovery of her husband's infidelity; and struggles with alcoholism, including a 36 hour blackout.
Between her comments on her life passages she would sing various popular standards – including the likes of Rodgers and Hammerstein's Edelweiss, Henry Mancini's Moon River, Stephen Foster's Beautiful Dreamer, and Charles Gabriel's hymn His Eye is on the Sparrow.
Although she did concede that her talents were appreciated through such feats as winning the 1990 Tchaikovsky Competition in Moscow, she and McNally made much of supposed slights, even though I suspect that their making fun of her operatic debut at San Francisco Opera as A Celestial Voice ("not even The Celestial Voice") from Verdi's "Don Carlos" was tongue-in-cheek.
William's note: A Celestial Voice was one of the seven roles that Voigt, then only in her mid-20s, sang during her two years as an Adler Fellow at the San Francisco Opera, a pretty impressive assignment in itself, without even considering that Adler Fellows are also covering artists in major roles.
But in 1990, only three seasons after her fellowship, she was invited back for the season's performances of Amelia in Verdi's "Ballo in Maschera", a major stepping stone to her international career. Four years later she returned for her role debut as Elizabeth in Wagner's "Tannhauser". I saw her (or, in the case of A Celestial Voice, heard her) in each of her San Francisco roles, both as comprimario and star, including her Sieglinde in Wagner's "Die Walkuere" in 1999 and her Ariadne in Richard Strauss' "Ariadne auf Naxos" in 2002.
Christof Loy and the "Little Black Dress" Affair

When Voigt was singing Ariadne in San Francisco, that same year concept director Christof Loy was preparing a new production of the opera for the Royal Opera House Covent Garden. Covent Garden planned to revive the Loy production for a second season in 2004 with Voigt cast in what was considered her signature role.
The costume Loy created (in 2002) for Ariadne to wear to (an admittedly non-textual) cocktail party became a flashpoint. It created an international brouhaha when the issue of the incompatibility of Voigt's dress size at the time of the revival to Loy's "concept" appeared to be more important than her vocal prowess.
That controversy thrust Voigt for a while into the attention of the cultural mainstream press, which gave media play to Voigt's public scolding of Covent Garden and the ensuing worldwide denunciations of certain current operatic practices. Subsequently, the Covent Garden management offered Voigt the role in that same production for a 2008 revival in which she appeared (post gastric-bypass) triumphantly.
I had no doubt that many members of her audience were waiting to hear her remarks about the "little black dress", and she did not disappoint them. Voigt, who was in control of everything said and sung during the evening, took the opportunity to revive her grievance against a "concept director", whom she did not name, but who, of course, was Christof Loy.
[Below: Ariadne (Petra Lang, second from left) appears at a cocktail party in a black dress; edited image, based on a Clive Barda photograph for the Royal Opera House, Covent Garden. ]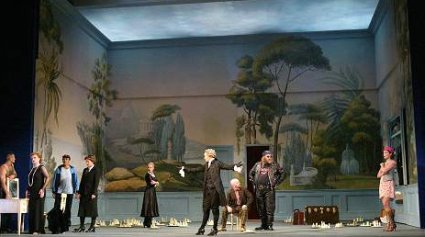 Voigt, in the Glimmerglass Festival show, unleashed a couple of transatlantic zingers: "'Concepts' are the last refuge for those who do not trust the opera". She even suggested as a concept, a "Gay 'Ring of the Nibelungs' in which Siegfried wore the "little black dress".
[Below: Deborah Voigt in 2008 as Ariadne, in her cocktail dress; resized image of a Clive Barda photograph for the Royal Opera House Covent Garden.]
The hour plus spent gave a sense of the both the warmth and vulnerability of the artist, even while realizing that what she was sharing was a persona vetted by an experienced theatrical team. This is her side of every story, but she is the person who cares the most deeply about these stories.
And, in the spirit of doing things her way, her final selection was Nessun dorma, transcribed for the soprano voice.
Voigt may have established the precedence that the Glimmerglass Festival artist-in-residence each year have a "let their hair down" session with their audiences, although one suspects it would take a lot of work to come up with an artist-in-residence whose stories are as absorbing as those of Deborah Voigt's.
Postscript: As my wife and I left the Alice Busch Theater for our car, we came across Francesca Zambello once more doing what she has done so effectively throughout the Glimmerglass Festival, working one-on-one with patrons, encouraging 2012 festival subscriptions and renewals. "Bye, Operawarhorses", she called to us. "See you in San Francisco for 'Heart of a Soldier'", I replied.
For my reviews of Deborah Voigt's performances, see: Deborah Voigt, Rod Gilfry Romp in Irving Berlin's "Annie Get Your Gun" – Glimmerglass Festival, August 12, 2011, and also,
A Second Look: Nicola Luisotti, San Francisco Opera, Champions of "Fanciulla del West" – June 27, 2010, and also,
Voigt, Licitra Lead Sizzling San Francisco Centennial Celebration for "Girl of the Golden West" – June 9, 2010, and also,
Forbis, Voigt Brilliant as Lyric's Tristan and Isolde – Chicago, February 24, 2009, and also,
Missing "That 70?s Show": S. F. "Ballo" — September 17, 2006.