In just under 45 hours of an August weekend, I saw five musical works performed in Glimmerglass' attractive Alice Busch Opera Theater – Berlin's "Annie Get Your Gun", Bizet's "Carmen", Musto's "Later the Same Evening", Tesori's "The Blizzard at Marblehead Neck" and Cherubini's "Medea".
[Below: the interior of the Alice Busch Opera Theater; resized image of a Peyton Lea photograph, courtesy of the Glimmerglass Festival.]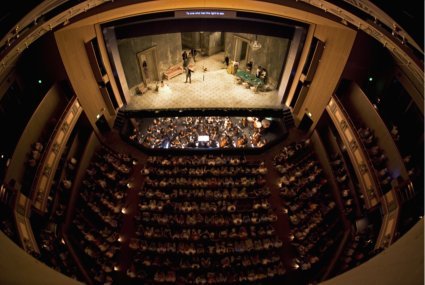 Yet, the Glimmerglass Festival's General and Artistic Director Francesca Zambello clearly felt that a festival should offer much more, so, less that five hours before Deborah Voigt and Rod Gilfry performed the roles of Annie Oakley and Frank Butler in Berlin's 1944 Broadway smash-hit, American baritone Nathan Gunn, accompanied by his wife Julie, presented a concert of American music.
The Gunns' concert was then followed by a fundraising champagne and chicken barbecue entitled the "Annie Get Your Gun(n) Hoedown", in which Nathan and Julie Gunn were the guests of honor. (Ms Voigt and Mr Gilfry, of course, did not participate, as they preparing to be onstage just a couples of hours later.)
However, there was an opportunity for the audiences to get to know a lot more about Deborah Voigt, through her relentlessly introspective autobiographical one woman show (with accompanist), entitled "Voigt Lessons" (to be described in Part 2 of this feature.)
With three operas (two on a double bill) on the schedule for the next day and a scheduled interview with Ms Zambello between the matinee and evening performances, I did not have the opportunity to avail myself of other activities, but John Musto and Amy Burton were presenting a concert elsewhere in the Glimmerglass complex, and every performance was preceded by the scholarly lectures (these in the open air) that most opera companies provide.
Even so, my interview with the Glimmerglass impresario, whom I regard as one of the most creative forces in opera worldwide today, was remarkable in the degree in which she stressed her need to discover what the Glimmerglass Festival's present and potential audiences want, and to build a cultural destination where those wants can be satisfied (see Born to the Theater: An Interview with Francesca Zambello).
With my high regard for Ms Zambello's accomplishments, and a commitment to review her productions of Wagner's "Ring of the Nibelungs" and Theofanidis' "Heart of a Soldier" in San Francisco, I suspect I would have been curious about the Glimmerglass Festival anyway.
But it was Nathan Gunn, in my interview with him last summer (see Heartland Heartthrob: An Interview with Nathan Gunn, Part I and Heartland Heartthrob: An Interview with Nathan Gunn, Part 2), who suggested that I travel to the Glimmerglass Festival for the first time, specifically the weekend in which he and his wife would be performing a concert of American songs.
[Below: Julie and Nathan Gunn; edited image, based on a photograph from www.myspace.com/nathangunn.]
The Nathan and Julie Gunn Concert
The Gunns concert was a unique event (in that it was performed only once during the Festival). It was comprised in part of selections from two of Nathan Gunn's albums, the early career 1999 "American Anthem " and the more recent "Just Before Sunrise ", supplemented with music from "Camelot" that related to the Zambello celebration of the American musical and other fare that seemed specifically to be an homage to the next hour's scheduled hoe-down.
The concert was devoted to the American song, with a notable emphasis on such Great Depression Era standards as Jimmy Van Heusen's 1940 Polka Dots and Moonbeams, George Gershwin's 1930 I've Got a Crush on You, Sweetie Pie, Richard Rodger's 1937 My Funny Valentine, Harold Arlen's 1932 I've Got the World on a String, Cole Porter's 1934 Don't Fence Me In and Jay Gomey's 1931 Brother Can You Spare a Dime? and mid-century classics like Ned Rorem's 1954 Early in the Morning.
More contemporary fare included Tom Waits' 1990 Briar and the Rose, Ben Moore's setting of James Joyce's poem In the dark pine-wood and Gene Scheer's music to the W. H. Auden poem You Put a Spell on Me.
Nathan Gunn's performance of these classic American songs was done in a naturalistic way, free of the affectations (particularly the over-pronunciation that one associates with singers both operatic and non-operatic during the 1930s, and that still might be expected from some operatically trained voices of current times.) Secure and confident in his baritone range, he employed head tones in the Moore song to Joyce's poem, while seeming at times almost to croon My Funny Valentine.
He occasionally bantered humorously with wife Julie, who, since their college days, has often accompanied his concerts on the piano. But Nathan Gunn's innate charm that shines in such operatic assignments as Papageno in Mozart's "The Magic Flute" was particularly evident in the two songs from Lerner and Loewe's "Camelot" – exuding romantic passion in If Ever I would Leave You and cocky humor in C'est moi!.
I have no doubt that had Zambello conducted a poll of the Gunn Concert audience following his performance of the "Camelot" show-stoppers, with the question, "would you like the Glimmerglass Festival to present "Camelot" with Nathan Gunn as Lancelot?", the response would have exceeded 95% "yes".
The audience obviously included a large number of persons who held tickets to that evening's performance of "Annie Get Your Gun" and a number of these (including my wife and myself) who availed themselves of the post-Gunn concert "Annie Get Your Gun(n)" hoedown and barbecue fundraiser in a large circus tent enclosure a few hundred feet from the Alice Busch Theater.
In the spirit, the Gunns revived two cowboy songs – Don't Fence Me In (although I concede that Cole Porter is most famous for his non-cowboy songs) and Home on the Range. Nathan confessed he had left its music at home, but both he and Julie demonstrated their mastery of both verses of the iconic song about where the deer and antelope play.
The Western-themed fundraiser, priced not that much higher than dinner and wine for two at one of the locally favorite restaurants with Lake Otsego views, was a pleasant event, with abundant opportunities to interact with the Gunns, Zambello, the long-term patrons of the Glimmerglass Festival, and several of the performers in the season's operas.
[See also: More News from Glimmerglass – the Festival, Part 2: "Voigt Lessons" – August 14, 2011.]