The following interview took place at the 2011 Glimmerglass Festival.
[Below: Francesca Zambello at Glimmerglass, New York; edited image, based on a Claire McAdams photograph, courtesy of The Glimmerglass Festival.]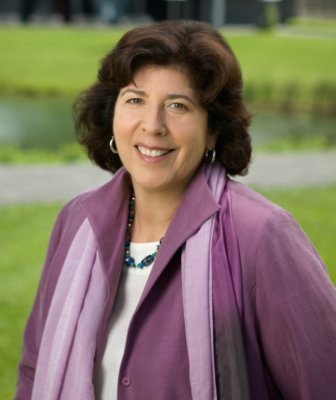 Wm: How did you become interested in opera, and in opera production?
FZ: Because my mother was an actress, I basically was interested in theater production from childhood. I worked in "summer stock" theater as a gopher all the way through high school. It was clear to me that I wanted to be a director. I became interested in opera in college, when I fell in love with the music. It was a natural connection.
I went to Germany where my parents lived then. I worked apprentice and intern jobs. When I came back to the States, I went to work at Chicago Lyric as an intern, then as an assistant director. One thing led to another.
Wm: You worked with the great director Jean-Pierre Ponnelle. How did that association come to be, and how did working with him influence your later career?

FZ: It was through the recommendation of Sarah Billingshurst, who is now at the Met, but was then at San Francisco Opera. Ponnelle had lost an assistant for a production he had scheduled in Italy and needed someone who could speak Italian. I interviewed with him in New York City. He liked me and he hired me.
A month later we were at Venice's La Fenice directing Rossini's "Otello". Then Ponnelle got sick, so I had to direct all of his rehearsals. And he came back for the last week and was happy with the work I had done. After that, I got to work with him all over Italy and Germany.
Ponnelle gave me an understanding about the craft of directing – the importance of storytelling being married to the visual. He taught that you must do all your work in the rehearsal room, that you can't fix a problem onstage. He was a great colleague and a mentor.
Wm: Some of your earliest work occurred at Houston Grand Opera, where you developed a professional relationship with its General Director, David Gockley, which continues to the present day. How would you characterize the influence that each of you has had on the other's career?
FZ: David did hire me for my first big show – Beethoven's "Fidelio". He had fired another person. He asked if I could come up with a concept of "Fidelio" for a week. At that time we had a major conflict in Central America, so I set it as if it were taking place in a Banana Republic. Even though it seems like a dated concept now, everyone seemed to enjoy it. It starred Hildegard Behrens.
[Below: Houston Grand Opera's 1984 production of Beethoven's "Fidelio"; edited image, based on a Jim Caldwell photograph for Houston Grand Opera, from francescazambello.com]
David Gockley and I did many new works together, and earlier this summer we completed Wagner's "Ring Cycle". He's a great impresario in the old fashioned sense of the word, in the way he leads. He gives his inputs and thoughts to what his artistic team is doing.
Wm: Some of that your early work in Houston is of interest even today. I have done an essay on the production of Gounod's "Faust" that you did there in 1986, and a review of a recent revival in Houston, in which you have the death of Valentin occur before the church scene, with Valentin's body there in the church when Marguerite is bedeviled by Mephistopheles.
FZ: I loved doing that "Faust". I'm glad to hear you liked it.
Wm: Although there have been several major stage directors who have been associated with both opera and the Broadway stage, the breadth of your accomplishments in different musical genres is unique. Do you find the creative process different for opera, for unmiked musical theater, and for Disney shows such as "Aladdin" at the California Adventure theme park or "Little Mermaid" on Broadway?
[Below: Francesca Zambello's staging of Disney's "Aladdin" at the California Adventure Theme Park at Disneyland; edited image, based on a photograph, from francescazambello.com.]
FZ: Honestly, for me the process is the same. The director has to create a world that the story can live in. That process is the same, whether it is a new work, a musical or Wagner's "Ring". What's it going to look like? How will I tell the story?
The creative work as a director is all the same, but the process after that is different. In theatre it's much quicker. It's under a year. In opera it can be several years between beginning planning and the final result.
The process of how the artists work is very different. The singers arrive knowing the music. The actors arrive knowing nothing and you build the production together with them.
Wm: One of your significant endeavors of the past decade has been the creation of a new production of Wagner's "Ring of the Nibelungs" for Washington National Opera and San Francisco Opera. One of the extraordinary features of that "Ring" are the new insights into the relationships of pairs of characters, notably Hunding and Sieglinde, and of Fricka and Wotan, as well as relationships that Wagner probably wouldn't have imagined, such as between Hagen and Gutrune. In developing these new insights, do you develop a backstory and then invite singing actors to develop the "relationships", or have you preconceived how those characters act?
[Below: Wotan (Mark Delavan, left) instructs Bruennhilde (Nina Stemme, right) in what he wishes the Valkyries to do; edited image, based on a Cory Weaver photograph, courtesy of the San Francisco Opera.]
FZ: I think it's all of those. I do know what I want. I knew that Hunding, Hunding's men, and Sieglinde lived in the film Deliverance. Wotan and Fricka lived in the television show Dallas. Hagen and Gutrune are the Scottish Couple.
[Below: Hunding (Daniel Sumegi, center), standing with his wife, Sieglinde (Anja Kampe, left), is deeply suspicious about the unexpected arrival of the stranger Siegmund (Brandon Jovanovich, right); edited image, based on a Cory Weaver photograph, courtesy of the San Francisco Opera.]
I can only give the performers a general idea of what I'm looking for. Most of the "Ring" is two people. Most of the characterizations are involved from discussions, the two singers talking with each other. Let's translate the whole thing together. Let's improve the whole scene. Then I may add a word.
Different pairs of actor-singers will approach the same scene differently. Let's say that Sieglinde and Hunding had a "Stockholm syndrome" relationship. Eva-Marie Westbroek, who was Sieglinde in the 2010 San Francisco Opera "Walkuere" had a sense that that Sieglinde believed she was going to escape, What the actor thinks is happening affects how they play the scene.
Wm: When assuming the directorship of the Glimmerglass Festival, you announced several innovations, such as the Artists-in-Residence program and the dedication of a portion of each season's repertory to the masterpieces of musical theater. Are you encouraged by the response to these ideas in your first season? How do you see this festival evolving in future seasons?
[Below: Picnickers before a Glimmerglass Festival performance on a hill above the Alice Busch Opera Theater; edited image, based on a Claire McAdams photograph, courtesy of The Glimmerglass Festival.]
FZ: I am encouraged. The artists-in-residency program has attracted even more high-quality singers to the program. The incorporation of musicals into the Festival has had detractors, but has brought in new audiences, and some of those new audiences are staying around to attend the other shows. That's been vital.
I'm looking for ways to broaden the meaning of "festival". A lot is to add more lectures and related events, but also to incorporate more ideas about what it means to make a group of performances into a festival.
Wm: You currently hold the positions of Artistic & General Director at Glimmerglass, and also was recently announced as the new Artistic Advisor at Washington National Opera. These are obviously two quite different opera companies. What, in general, does an artistic advisor do, and does your advice differ depending on the company?
FZ: Absolutely! The mission of the two companies is so different. You pay attention to what your audience wants. At Glimmerglass, it means reinventing the festival. In Washington, I'm just beginning to figure out what will work. I'm excited by the challenge of working with Kennedy Center President Michael Kaiser and the fact that we will have the entire Kennedy Center and that we will be able to use the three different theaters.
Wm: The world premiere of Christopher Theofanidis' "Heart of a Soldier" will occur in September 2011 at the San Francisco Opera. You were a motivating force in conceptualizing how the book about the events of particular people in the "9-11" events of 2011 in New York City could become an opera.
One has seen operatic commissions that have gone awry because of apparent inattention of operatic managements as to what the librettist and composer were creating. My impression is that you and San Francisco Opera General Director David Gockley are working very closely with the librettist and composer to assure that this new opera will be a success. Are you feeling good about the outcome?
FZ: Theatre is a collaborative art form. If everyone is not on the same page, it just doesn't work. I am excited by "Heart of a Soldier" and was in San Francisco last week working with the team. I know you'll enjoy the final product.
[Below: Rick Rescorla (Thomas Hampson, front center right) and Dan Hill (William Burden, fron center left) at Fort Benning Officer Training School in a scene from Theofanidis' "Heart of a Soldier"; resized image, based on a Cory Weaver photograph, courtesy of San Francisco Opera.]
Wm: You have had a successful career so far, but there must be operas and other musical works, for which you would like to create new productions. What works would you like to take on over the next decade or so?
FZ: I want to do more new works. I don't know now what my other commitments might be, but I love Richard Strauss and feel I haven't had a chance to do all works that I would want to of his. I want to do Wagner's "Lohengrin" and "Parsifal" very much also. And there are some of the Verdi operas that I've never done that I would like to.
Wm: Thank you, Francesca.
For selected reviews of Francesca Zambello productions, see: "Goetterdaemmerung": Strong Finish to the First Zambello "Ring" – San Francisco Opera, June 19, 2011, and also,
Down and Out in Zambello's American Ring: Sly, Theatrically-Centered "Siegfried" Satisfies – San Francisco Opera, June 17, 2011, and also,
Power Singing, Powerful Imagery in Zambello's "Walkuere" – San Francisco Opera, June 15, 2011, and also,
"Rheingold" Evolves in First Full Zambello "Ring" – San Francisco Opera, June 14, 2011, and also
Zambello's Dazzling "American Ring 'Walkuere'" at Kennedy Center – March 28, 2007.
For selected reviews of revivals of other Zambello productions, see: Eric Owens, Laquita Mitchell Lead Powerful "Porgy and Bess" at San Francisco Opera – June 21, 2009, and also,
Racette, Ventre Impress in Zambello-Inspired "Butterfly" at San Diego Opera- May 20, 2009, and also,
A "Faust" Surprise in Houston – January 23, 2007.