Discussions of Francesca Zambello's insightful mountings of the masterpieces of opera as diverse as Wagner's "Ring of the Nibelungs" and Gershwin's "Porgy and Bess" have often appeared on this website. For the past quarter century, her ideas have impacted American opera performance.
Her influence is now even greater as she assays her first season as Artistic Advisor and General Director of the Glimmerglass Festival in the Finger Lakes region of New York State, while taking on even more responsibilities as the Artistic Advisor of the Washington National Opera.
One of her announced innovations for the 2011 Glimmerglass Festival with indications of an ongoing commitment in future years is the idea of staging a classic Broadway musical each season, starting with Irving Berlin's "Annie Get Your Gun", with its witty libretto by Dorothy Fields. (The 2012 season will include Meredith Willson's "The Music Man").
The lead roles in Berlin's 1946 Broadway blockbuster were taken by three opera veterans, Deborah Voigt (Annie Oakley), Rod Gilfry (Frank Butler) and Jake Gardner (Buffalo Bill Cody). They were joined by colleagues from musical and legitimate theater, Drew Taylor (Charlie Davenport), Nick Santa Maria (Chief Sitting Bull), and Peter Macklin (Foster Wilson and Pawnee Bill).
Notes on the musical performance
Conductor Karen Blodgette, utilizing the musical's 1946 edition in its original keys, led the 42 piece orchestra in the rousing overture, that weaves together some of the greatest of the hit songs in which this musical abounds – Got the Sun in the Morning and the Moon at Night, There's No Business LIke Show Business, They Say It's Wonderful, You Can't Get a Man With a Gun and The Girl That I Marry.
[Below: Deborah Voigt as Annie Oakley; edited image, based on a Julieta Cervantes photograph; courtesy of the Glimmerglass Opera.]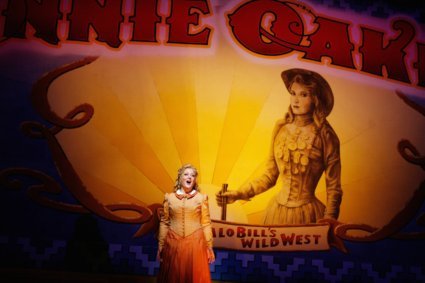 Deborah Voigt's Annie
Over the past year Voigt has been associated with a cluster of productions of Puccini's "La Fanciulla del West" revived for major centennial celebrations of this operatic masterpiece (See my reviews at Voigt, Licitra Lead Sizzling San Francisco Centennial Celebration for "Girl of the Golden West" – June 9, 2010 and A Second Look: Nicola Luisotti, San Francisco Opera, Champions of "Fanciulla del West" – June 27, 2010.)
Even though there are some obvious parallels between the gunslinging roles of Minnie – Puccini's Girl of the Golden West – and Berlin's Annie Oakley, it is the former role that exploits Voigt's gleaming top voice, while the latter's range is centered in Voigt's middle voice. There is no equivalent of Minnie's soaring Su, su, come le stelle that exists in "Annie Get Your Gun". That said, Glimmerglass patrons who attended her autobiographical recital show, "Voigt Lessons", whose review will appear on this site in few days, heard abundant examples of the stratospheric upper register of Voigt's power voice.
But Voigt's presence at Glimmerglass has other purposes than to appear in an operatic vehicle that exploits her upper range. Not only is she the first Glimmerglass Visiting Artist, with attendant artistic, educative and creative responsibilities, she is the draw to launch the new Glimmerglass musical comedy initiative.
Voigt's Annie Oakley is a star turn that will be long remembered. With the humorous faux Southern Ohio lengthened diphthongs of her Doin' What Comes Naturally and You Cain't Get a Man with a Gun to the humorous counterpoint of her affecting last act duet (An Old Fashioned Wedding) with Gilfry's Frank Butler, she has set the standard for this new Glimmerglass venture.
Voigt's comic timing, theatrical presence, and comfort with the choreographed movements of vaudeville troupers in such showstoppers as There's No Business Like Show Business, provided an opportunity to develop a light-hearted and welcome rapport with the Glimmerglass audience. This stage of her career recalls the several "crossover" opera stars of the 1940s and 1950s, who were a presence in both opera and popular culture.
Rod Gilfry's Frank Butler
It's been several years since I last reported on a Rod Gilfry performance, the melliflous role of Lionel in Tchaikovsky's "Orleanskaya Deva" (see Zajick is Victor in S. F. Opera "Maid of Orleans" – June 18, 2006.) Gilfry's lyric baritone proved felicitous for the part of Frank Butler, Annie's chief rival and love interest. He seemed like a movie star, when he crooned "The Girl that I Marry" to the very attentive Oakley, who later joins him in the romantic duet to the lyrics They Say that Falling in Love is Wonderful.
[Below: Frank Butler (Rod Gilfry, center) laughs with Wild West Show colleagues (Glimmerglass Young Artists); edited image, based on a a Julieta Cervantes photograph, courtesy of the Glimmerglass Opera.]
Other Cast Members
Jake Gardner, who is familiar in number of the character bass baritone roles was an authoritative Buffalo Bill Cody. Intermixed with the three stars with long operatic careers were the Broadway stars Drew Taylor, Nick Santa Maria and Peter Macklin.
Glimmerglass Opera's Young Artists filling in the remaining roles included Jessica Stavros (Mrs Sylvia Potter-Porter) and Wes Mason (Mac). The remaining members of the Young Artists Ensemble were John Boehr, Rachel Calloway, Andrea Carroll, Mario Diaz-Moresco, Neil Ferreira, Edward Hanlon, Cynthia Hanna, Katherine Henly, Steven Dean Moore, Megan Ort, Dominick Rodriguez, Yoni Rose, Lindsay Russell, Jonathan Tuzo and Allan K. Washington.
[Below: Annie Oakley (Deborah Voigt) shoots at clay pigeons as Charlie Davenport (Drew Taylor, left), Chief Sitting Bull (Nick Santa Maria, second from left) and Buffalo Bill Cody (Jake Gardner, right) look on; edited image, based on a Julieta Cervantes photograph, courtesy of the Glimmerglass Opera.]
The stage direction was by Impresario Francesca Zambello herself, with serviceable sets and costumes by Court Watson. Eric Sean Fogel, the choreographer and Ms Zambello, decided not to bowdlerize Berlin's 1946 version of the musical by cutting some of the scenes and numbers that likely would not pass every campus' political correctness test, including the number I'm an Indian Too that pokes fun at the practice of anglicizing Siouxland Indian names by inventing some that are much quirkier than the likes of "Dances with Wolves".
Fogel's choreography, utilizing a very small corps de ballet, added to the fun. Dancing silhouettes visible through a cloth scrim (a technique employed elsewhere this Glimmerglass season) was a theatrical touch that quite possibly would have been incorporated by Buffalo Bill into his Wild West Show had that showman had the opportunity to see the Glimmerglass performance.
[Below: The silhouettes of dancing Indian warriors; edited image, based on a Julieta Cervantes photograph, courtesy of the Glimmerglass Opera.]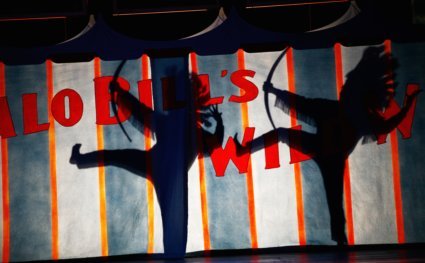 The Moonshine Lullaby, sung by Annie to the younger siblings that joined her, often cut in later revivals, was nicely done and welcome. (Her siblings were played by Richard Pittsinger (Little Jake), Nellie (Maria Pittsinger), Jessie (Addy Schneider) and Minnie (Lauren Snouffer).
Final Thoughts
"Annie Get Your Gun" is a vehicle for a major star who must hold her own as the center of attention in virtually every scene. Deborah Voigt brought the 65 year old work to life, and made a strong case for the inclusion of classic Broadway musicals as part of the effort to expand the core operatic repertory.
[Below: Annie Oakley (Deborah Voigt) has returned triumphantly from a tour of the crowned heads of Europe; edited image, based on a Julieta Cervantes photograph, courtesy of the Glimmerglass Opera.]
For my other reviews of Deborah Voigt performances, see: Forbis, Voigt Brilliant as Lyric's Tristan and Isolde – Chicago, February 24, 2009, and also,
Missing "That 70's Show": S. F. "Ballo" — September 17, 2006.