Concept director Peter Sellars is noted for his often brilliant, and almost always controversial, staging of classical and baroque operas, reworked to make some point about contemporary society. For Santa Fe Opera, he was commissioned to mount a production of Vivaldi's 1735 opera "Griselda", whose plot is derived from one of Boccaccio's tales from his 14th century The Decameron.
Griselda's tale, about a shepherdess who became the bride of a king to the consternation of the population of the king's realm, who desired no one to lead them who wasn't of royal blood. To prove that he observed the "consent of the governed", the King announced that he would murder the daughter who was the issue of himself and the shepherdess and subject the queen to decades of humiliation.
In fact, he arranged for their daughter to be "kidnapped" and raised in a distant place. When that daughter was old enough, the king then announced to his subjects that he would repudiate his marriage to the shepherdess and take on this unknown woman (his daughter) as his queen. To the delight of all, Griselda took these decades of abuse with poise and gracious submission. It all ends happily.
[Below: the Santa Fe Opera ensemble for its 2013 Peter Sellars production of Vivaldi's "Griselda", with, from left to right, Griselda (Meredith Arwady, kneeling), Ottone (Amanda Majeski, standing behind Griselda, second from left in fedora), Costanza (holding Griselda's hand), Corrado (Yui Minenko), Gualtiero (Paul Groves) and Roberto (David Daniels); edited image, based on a Ken Howard photograph, courtesy of the Santa Fe Opera.]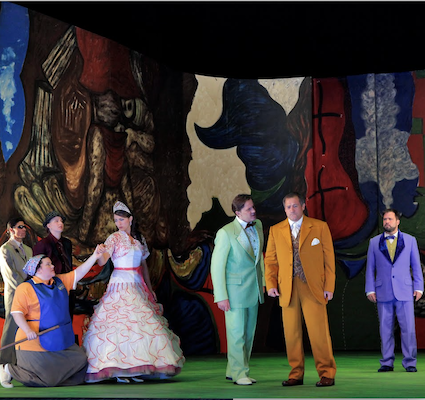 At least some of my readers will suspect that it would be difficult to relate this ancient story to contemporary concerns, but Sellars explains that the opera "[speaks] across the centuries of highhanded executive privilege, absolute power, women's roles, and strange social and spiritual complicities. It is still speaking to an age of "Reality" Television in which nothing is real and people are willing to sell themselves, their friends, or anything within reach for the dangled promise of instant wealth and mechanical happiness."
I am not prepared to concede that anything one encounters in such Reality Television shows as CBS' The Amazing Race, Survivor or Big Brother, or their equivalents in other countries, approaches the cruelty or the preposterous ingenuity of the King's evil multi-decade confidence game (the "long con"). I can associate Sellars effort with another genre of reality show, the "Extreme Makeover" series, in which the appearances of apartments, houses, and people – whatever will secure viewers – are transformed to reflect contemporary tastes. The high point of such endeavors is the "reveal" where the audience gasps appreciatively at the makeover's results.
I will divide my review into two reveals – my thoughts on the vocal performances and on the production's concept and execution.
Notes on the Musical Performances
Unlike such later Handel operas as "Xerxes", each of "Griselda's" arias – as well as its single ensemble piece, a trio – follows the unyielding formula of the Vivaldi da capo aria. Each such aria begins with an orchestral introduction, often of some length, followed by two statements of the principal melody, then a countering melody, followed by the return to the original melody in a form that the singer is expected to embellish. Each aria expresses some emotion – rage, despair, amorous thoughts. Whenever some action is supposed to occur, its exposition takes place in the intervening recitatives.
The opera has six characters and each has two or more da capo arias to sing for a total of 18, one of which is an interpolation for the Griselda, Vivaldi's Stabat Mater. Of the six artists singing, I was familiar with the work of five. The conductor of the small orchestra, supplemented with baroque-style instruments, was the rising star of the Los Angeles Opera, Grant Gershon.
The title role was the most ambitious assignment to date for Meredith Arwady, the former San Francisco Opera Adler Fellow who has taken on the niche of the low mezzo soprano and contralto roles, many of which require comic skills, such as the Marquise of Berkenfeld (see Debuting Diana Damrau Delights as Donizetti Diva: San Francisco "Fille du Regiment" – October 13, 2009 or the Innkeeper at the Polish border (see World Treasure: a Stunning Dallas Opera Revival of Tarkovsky's Classic, Insightful "Boris Godunov" – April 1, 2011.
Arwady projected a warm, rich voice, with welcome power in the low part of her range that eludes many mezzo-sopranos. The appropriateness of interpolating an aria about Mary mourning Jesus' crucifixion was unpersuasive from a dramatic sense, but Arwady performed it beautifully nonetheless.
[Below: King Gualtiero (Paul Groves, left) banishes Queen Griselda (Meredith Arwady, right); edited image, based on a Ken Howard photograph, courtesy of the Santa Fe Opera.]
Paul Groves' lyric tenor voice (the lowest voice of a cast that included two countertenors, a soprano, a mezzo and a mezzo-contralto) was further evidence of his accomplishments in this genre. (See my interview at Master of the Lyric Voice – An Interview with Paul Groves.)
David Daniels, who has, more than anyone else, established the counter-tenor as a major vocal category in opera (see my interview at Top of His Game – An Interview with David Daniels), was effective in the role of Roberto.
[Below: David Daniels as Roberto; edited image, based on a Ken Howard photograph, courtesy of the Santa Fe Opera.]
I first became aware of the vocal abilities of Amanda Majeski on the first night that she replaced an ailing colleague for two performances as the Countess in Mozart's "Le Nozze di Figaro" at Lyric Opera of Chicago (see Festival Casting for Lyric Opera's "Nozze di Figaro" – Chicago, March 9, 2010.) Triumphant in the lead Mozart role, she appears in "Griselda" in the musico role of Ottone.
Apparently that role struck Sellars as one of the opera's "strange social and spiritual complicities", so he had her dress and move rather like the contemporary rap singer Usher. Whether she thereby created a bond with her contemporary Santa Fe audience is an open question, but she executed Ottone's arias admirably.
[Below: Amanda Majeski as Ottone; edited image, based on a Ken Howard photograph, courtesy of the Santa Fe Opera.]
Previously, I had reviewed performances of Isabel Leonard as Cherubino in Santa Fe (see Kwiecien, Pisaroni Lead Youthful "Figaro" Ensemble in Santa Fe – August 13, 2008) and Paris (see Fine Cast Revives Strehler's Treasured "Nozze di Figaro" Production – Opera National de Paris, May 31, 2011). She has become a force in the mezzo world.
Ukrainian counter-tenor Yuri Minenko as Corrado, assays the counter-tenor roles centered in the lower part of the range, and thus provided a nice sonic balance with Daniels among the two high male voices.
[Below: Costanza (Isabel Leonard), apprehensive about being designated Queen, is comforted by Corrado (Yuri Minenko); edited image, based on a Ken Howard photograph, courtesy of the Santa Fe Opera.]
A Vivaldi opera is one in which every aria is a flood of melody, with wave after wave of sonic splendors succeeding one another. The cast assembled to present "Griselda" was as strong as one can imagine, and is indicative of how well-equipped the world's current group of vocal artists is at being able to perform baroque music skillfully.
Because it was the only ensemble piece, the terzetto Non piu regina was especially interesting, particularly with the effective blending of the voices of tenor Groves, mezzo Leonard and mezzo-contralto Arwady.
[Below: the deposed Queen Griselda (Meredith Arwady, left), King Gualtiero (Paul Groves, center) and their daughter Costanza (Isabel Leonard) meet prior to the resolution of all of the opera's problems; edited image, based on a Ken Howard photograph, courtesy of the Santa Fe Opera.]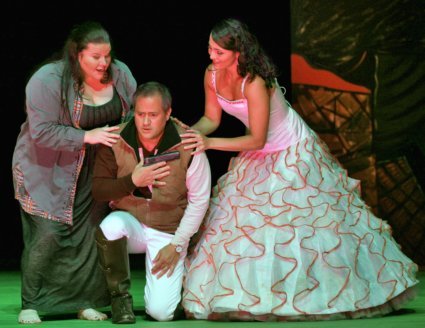 Notes on Peter Sellars' Production
This is my second review of a new Peter Sellars production this year (see Strong Cast for Peter Sellars' Reconceptualization of Handel's "Hercules" – Lyric Opera of Chicago, March 16, 2011.) Previously, I had expressed some rapport with his objective – producing an opera that relayed the impact of war on the families that the warriors have left behind, but had felt that Handel's oratorio "Hercules", based on a Sophocles play, was not a logical vehicle for presenting his ideas.
I am even more uneasy about his approach to "Griselda". I think that there are stories that simply have no relevance to the 21st century. If one wishes to revive them for the musical values, and "Griselda" abounds with them, perhaps such a story might survive period dress (say medieval or classical costumes), as do the more substantive of the many operas based on Ludovico Ariosto's Orlando Furioso. But "Griselda", to me, does not work as a vehicle for decrying "absolute power" and "reality television" (as if those two issues were integral to a common theme)?
Perusal of the photographs above will give a hint of the sets, the work of Los Angeles' Gronk, who appears influenced by street art. As vibrant as Gronk's color palette might be, I don't think his set paintings illuminate the story or enhance the operatic experience.
The whole enterprise suggests a planning process that brought together a talented cast, who are tasked to work with an artistic team that has been triumphant with other assignments. But since others found merit in Sellars' "extreme makeover" of the opera, and merit as well in Gronk's set paintings, it may be simply a matter of personal taste. My reserved opinion of their "reveals" might be in the minority.
At any rate, performances of any Vivaldi opera is a rare event, and the opportunity for many opera goers to indulge in alternative productions of "Griselda" is unlikely. Fortunately, the singing and Vivaldi's luxurious melodies, are in themselves reasons for investing time and money in attending this performance.