The interview took place at the Santa Fe Opera Ranch prior to opening night of the 2011 Summer Festival. The facilitation of this interview by the Santa Fe Opera is gratefully acknowledged:
[Below: Tenor Paul Groves; edited image of a promotional photograph.]
Wm: You are from Lake Charles, Louisiana. When did you first hear opera, and when did you first try at singing it?
PG: My father was head of the music department of the McNeese State University School of Performing Arts in Baton Rouge for 30 years. He was choral and symphonic conductor. My mom was a singer. A brother was a petroleum engineer.
The family's classical vocal music tastes were more towards the oratorio than opera. At age seven, I was taken to the Houston Grand Opera for the first time. I saw Bellini's "Norma". I wasn't interested in "Norma". I was interested in playing cello, piano and trombone. I always sang. I grew up in that music-oriented life.
I became interested in the recordings of the tenors Luciano Pavarotti and Placido Domingo when I was 14 or 15, and then collected those of Jussi Bjoerling. By the time I was 17 or 18 I had recordings from almost every operatic tenor you could buy. But I had broader tastes than opera. I liked Led Zeppelin and other rock bands also.
Wm: You attended Louisiana State University and from there was accepted into the Juilliard School of Music. What experiences led you to consider a career in opera performance?
PG: It wasn't until I got to college that I thought I could be an opera singer. At LSU, the opera stars Martina Arroyo and Robert Grayson both were instrumental in getting me into opera. They convinced me that I had the type of voice to succeed in the field.
[Below: Opera soprano Martina Arroyo, one of Paul Groves' mentors at Louisiana State University; resized image, based on a professional photo i.]
I had a lot of experience at LSU and at Baton Rouge Opera, which was a small regional company. When I was a junior in college the Baton Rouge Opera joined with LSU opera. We would put on productions. Some of the money for staff and productions came from the university. The students would sing the chorus parts. We would bring in the professional singers for the principal roles.
About a year into this, the Baton Rouge Opera folks realized they could save a lot of money if I sang some of the principal tenor parts. Thus, I got to sing with a lot of well known singers. I was Rodolfo in Puccini's "La Boheme", Nemorino in Donizetti's "L'Elisir d'Amore", Tamino in Mozart's "The Magic Flute", and sang the title role of Offenbach's "Tales of Hoffmann". I really felt that I had a jump start by the time I got to Jiulliard, because I knew what it was like to be onstage with professional singers.
Wm: What were the decision points that led you to enter and then win the Metropolitan Opera National Auditions in 1991?
PG: I had entered the regional auditions in Louisiana in 1988. The competition's rules specified that only one person from our region, which consisted of Louisiana, Mississippi, Alabama and Puerto Rico, would go to the finals. It came down to me and a Puerto Rican tenor, and it was the Puerto Rican who ended up winning.
I wasn't angry about it, because at least I had come in second, and because I felt I wasn't ready to go to New York to be in the finals. One of the judges (a Metropolitan Opera singer) took me aside and said please keep on with what you're doing, you're singing very well. As it turned out, the tenor who won the regionals is not known these days.
Marlena Malas was my teacher at Juilliard. I told her I had the money to fly home for the regional Met competition. She said, do your auditions in New York City. You're doing leading roles at Juilliard, and the judges for the New York City regionals are singers from the Met, who really know voices well. I followed her advice, and everything worked out all right.
Wm: When you were a member of the Metropolitan Opera Young Artists Development program, you credited Musical Director James Levine with advising you to develop the light lyric repertory, especially the Mozart tenor roles?
PG: I was singing heavier repertory, and had success with it. The first time that James Levine worked with me individually, he asked if I knew Ferrando's principal aria from Mozart's "Cosi fan Tutte". I went into the List hall with him. We worked for an hour on the opera's aria.
At the end of that session, Levine told me that I had a chance to do something not usually heard in Mozart singers. He said that if I brought the passion from such operas as Donizetti's "Lucia di Lammermoor", and from "La Boheme", and "Tales of Hoffmann", I would be completely different from a typical Mozart tenor. Since I thought he probably knew what he was talking about, I said I would. Every audition after that I got a job.
[Below: Pylade (Paul Groves, left) comforts Orest (Placido Domingo) in the Metropolitan Opera's production of Gluck's "Iphigenie en Tauride"; image from photograph for Metropolitan Opera, New York.]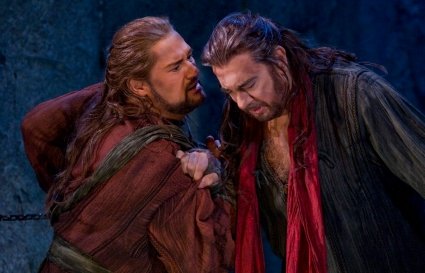 Wm: As your repertory expanded, you have played an important part in the revival and re-evaluation of the French opera repertory. Which of the French roles give you the most satisfaction? Which roles have you not performed so far that you would like to do in the future?
PG: It is hard to make a career solely as a Mozart tenor. I had sung Nadir in Bizet's "The Pearl Fishers", but what really changed my career and the way I was viewed, was my taking on the role of Faust in Berlioz' "Damnation of Faust" in 1999. I love that piece, especially its choral parts.
I love the French repertory. These days you can perform such classic French roles as the title roles in Gounod's "Faust", Massenet's "Werther", Offenbach's "Tales of Hoffmann" and Romeo in Gounod's "Romeo and Juliette" and audiences will not come with specific expectations about how you are supposed to sound, as is the case with many Italian operas. It's hard as an audience opera member to "clean the slate" when there are familiar recordings and a performance tradition for the Italian works that affect audience expectations.
I have never sung Enee in Berlioz' "Les Troyens". I would not want to perform it if it were cast and conducted as if it were a Wagnerian opera. However, in Madrid they will be presenting it with a cast that includes Susan Graham, Anna Caterina Antonacci and Lucas Meachem, and the vocal size and repertory of these artists balance nicely with my voice.
Wm: I saw Jon Vickers and Regine Crespin, both of whom I had seen in Wagnerian roles, in the lead "Troyens" roles.
PG: But Vickers could sing the huge stuff and still back off and sing the light lyric roles as well.
Wm: As could Crespin also.
You have been compared to Nicolai Gedda and Alfredo Kraus in your attention to the French style. Are those tenors who have been a major influence on you? Who among tenors of past and present do you especially admire?
PG: Being compared to those two guys is pretty flattering. It's Gedda whom I've listened to the most and have tried to emulate. Gedda, even now, can still sing. I passed by his house in Switzerland. It's amazing that he could sing the wealth of repertory he did and still be able to do it. In 1996 I saw an operetta concert at the Vienna Volksopera when he was over 70, and he could sing like you couldn't believe.
[Below: Tenor Nicolai Gedda; resized image, based on a photograph, courtesy of www.handelmania.com.]
The reason I have done so much French repertory, is to try to produce sound like Gedda's, whose voice is so right for the French language. When you hear a recording of Gedda singing in French, you know what I'm trying to do. His voice fit the French language much better than it did the Italian.
Gedda could do this incredible stuff. In vocal technique he was a perfectionist. I believe all young tenors should know everything that Gedda and Pavarotti recorded, and to regard them as the prime examples of perfect tenor technique. I have a deep interest in their careers and with whom they studied. I can still listen to these artists' recordings and be able to say they did everything right.
Kraus was a beautiful human being, but my voice does not replicate Kraus' style of vocal production. No one has ever sung like he did.
Wm: You were Pylade in Robert Carsen's production of Gluck's "Iphigenie en Tauride"? Was this your first time working in a Carsen production?
PG: I'd seen a lot of Carsen's operatic productions. My ex-wife had sung with him a lot, but this was the first time I worked with him on stage.
[Wm: For my review, see: Night at the Museum: "Iphigenie en Tauride" Springs to Life in S. F. – June 17, 2007.]
Wm: Do you approach Gluck's music in a particular way?
PG: I view Gluck as just Romantic Mozart. I love it that there is no certain style for performing Gluck. It can be sung in many different ways. Singers as different as Jessye Norman and Maria Callas can all be successful with Gluck's music, because it doesn't matter so much in what style you do it.
I performed in a production of Gluck's "Alceste" with Sir John Eliot Gardiner, at Paris' Theatre du Chatelet that was different from the production heard in 2009 in Santa Fe [See Christine Brewer, Paul Groves Lead Elegantly Sung "Alceste": Santa Fe – August 1, 2009].
Wm: Recently, you performed the title role in Berlioz' "The Damnation of Faust" at the Lyric Opera of Chicago in Stephen Langridge's production, that, I think, solved many of the riddles of how to stage this wonderful, but chaotic work. What was it like working in that production, with your colleagues Susan Graham and John Relyea?
PG: I've done four different productions of "Damnation of Faust". Every one has been successful, especially since "Damnation" wasn't intended to be staged, there are no expectations. It takes quite a lot of imagination to stage it.
[Below: Marguerite (Susan Graham, left) dances with Faust (Paul Groves); edited image, based on a Dan Rest photograph, courtesy of the Lyric Opera of Chicago.]
If an offbeat approach doesn't disturb the music and helps explain the storyline, it can work. In preparing a few past productions I had imagined that we will be booed off the stage, but that hasn't happened.
One in particular staged by Achim Freyer, which I sang with Samuel Ramey, was really far out. We had no idea of what the public would think of it, but at the curtain calls on opening night, the audience went mad with enthusiastic applause. You only are involved in your own character, so do not have an idea of how the production will actually look. We made a DVD of it. When I watched it, I understood why it appealed to the audience.
[Below: Mephistopheles (John Relyea) and Faust (Paul Groves); edited image, based on a Dan Rest photograph, courtesy of the Lyric Opera of Chicago.]
The production in Chicago was very enjoyable. Susie Graham is one of my best friends. She always calls me the "social director".
When the cast members know each other so well it's hard not to make your colleagues laugh onstage. But it's fun. Relyea and I discuss rock and roll backstage. My friendships with other performers are one of the great attractions of the job. Sometimes I am working with certain colleagues for months and then don't see them again for five years. There are few jobs like that.
Wm: You are one of the artists who has received the Richard Tucker Award. After you received in in 1995, how did it affect your career?
PG: The Tucker Award recognition affected my career quite dramatically. I never got to meet Richard Tucker, but, under the Tucker Foundation's auspices, I sang for Marilyn Horne and Franco Corelli.
Every year I sang in the gala. The first American gala I did, I brought my father up to see it. He was able to join me during the five days of rehearsals, where my dad sat for three hours with Robert Merrill, Sherrill Milnes, and Leontyne Price. Being around all those people helped my career – especially, seeing how professionally these famous people of stature reacted to the younger singers. You can learn so much from them.
The Tucker Foundation helps younger singers with money and master classes. For a singer in the early or mid-20s singers it can help a career get started.
By 1995 one didn't have to audition to receive the award. I already had had jobs in Vienna, Paris and London, so it was not the money that I needed. The major award is nice to have. When I look at the list of people who won before me and won after me, I am proud and honored to be listed with them.
Wm: Santa Fe Opera has cast you in an adventurous repertory over the years, with the succession of Admete in Gluck's "Alceste" in 2009 the title role in the original version of Offenbach's "Tales of Hoffmann" in 2010, and Vivaldi's "Griselda" in 2011. Do you have a special affinity for the Santa Fe Opera experience?
[Below: Hoffmann (Paul Groves, left, seated at table) pursues a romance with the doll, Olympia (Erin Wall, seated center) while Spalanzani (Mark Schowalter, right) stands by; edited image, based on a Ken Howard photograph, courtesy of the Santa Fe Opera.]
PG: I love being with casts of all these productions in these beautiful surroundings. That's what makes it unique. My favorite part of the day is the time between noon and 2 p.m. when you can spend an extended lunch hour here in the cantina with colleagues. The camaraderie is different from every another opera company. In a place like Salzburg, I never see anyone else.
This is my third summer in a row here in Santa Fe. It still takes a few days to adjust to the altitude, and particularly to the dryness of the air. You can always take a few more breaths to compensate for altitude, but you can't do much about the lack of humidity.
I loved working with Christopher Alden as the stage director as in last season's "Tales of Hoffmann". It was the decision of the Conductor, Stephen Lord, to use the original version with the spoken dialogue, but I'm unconvinced that the spoken dialogue works well with non-native French speakers. I prefer the Metropolitan Opera's production that uses the beautfully orchestrated recitatives. I don't think spoken dialogue can take the place of these recitatives.
[Wm: See my review at: Groves, Wall, Lindsey Excel in Christopher Alden's Harrowing, Hallucinatory "Hoffmann" – Santa Fe Opera, July 17, 2010.]
The roles of Admete and Hoffmann have some similariities. Admete is a pretty substantial role as far as weight of voice required. I did Renaud in Gluck's "Armide" at La Scala in 1999, which is similar to the role of Admete. But Gualtiero in Vivaldi's "Griselda", the role that I'm singing in Santa Fe this summer, is like nothing I've ever sung before. I really have had to learn how to sing it, but it's interesting at my age to discover a new repertory and to try something out for the first time. It's fun for me and probably it's good for me also.
I just finished singing Faust in "Damnation of Faust" and my next opera is Riccardo in Verdi's "Ballo in Maschera" in New Orleans.
Wm: What would you like do after your performing career?
PG: I've decided that I would not want to teach. What I would like to do is to run an opera company.
Wm: Well, by the time you're ready for that, several posts likely will have opened up.
Thank you, Paul.
For a review of another Paul Groves performance, see: Warhorse Warriors: John Cox' 'Cosi Fan Tutte' in S. F. – July 2, 2005.