The facilitation of this interview by the Dallas Opera and by the Houston Grand Opera is gratefully acknowledged:
For the first part of this inteview, see: Rising Stars: An Interview with Laura Claycomb, Part 1.
[Below: Laura Claycomb as Gilda; edited image, based on a Karen Almond photograph, courtesy of the Dallas Opera.]
Wm: In 1984 I saw Ruth Ann Swenson sing the comprimario role of Giannetta in Donizetti's "L'Elisir d'Amore" at the San Francisco Opera and eight years later saw you as Giannetta when Swenson was in the starring role of Adina. I have long maintained that the depth of talent coming out of the Young Artists programs in the United States and elsewhere is so great, that many small parts are being performed by artists who will achieve stardom in less than a decade afterwards.
Are there artists in small roles that you have sung with recently whom you recognize have the potential to be leading opera stars of the future?
LC: That's a fantastic question! But the problem is that I don't really categorize people in my brain, so I don't think, "Ah, here's my list of people who were young artists!" They're just colleagues like everyone else. I can tell you about a few immensely talented people I've worked with lately. The names are countless, but quite a few do stick out – my Alisa in Lucia was the wonderful Marjorie Owens, who is a phenomenal huge voice – one to look out for.
I sang "Rigoletto" in Pittsburgh and my Giovanna there was Jennifer Holloway, who is a wonderful mezzo soprano. I recommended her to my agent, and her career really took off (deservedly!) I was recently hanging out in Houston with Liam Bonner, who sang Hortensius in Donizetti's "La Fille du Régiment" at Houston Grand Opera [HGO] a few years ago; he just made his Met debut this year and is booked all over the place. Every time I have sung in Houston, there have been wonderful young artists in the "small roles." It's so wonderful to meet up with them later when they're "grown up" and see how wonderfully they're doing.
Perhaps one of the most exciting voices and talents I have experienced lately is David Lomeli, who came through the program in San Francisco, as well. He's a beautiful musician, a wonderful colleague, a great performer and such a gorgeous voice. Most of all, he's humble and works hard. I reckon he will go far.
Wm: You sang Xenia in Mussorgsky's "Boris Godunov" in San Francisco in 1992 in a production based on the Tarkovsky-Dvigubsky Royal Opera House Covent Garden production that I have described as a "world treasure". The San Francisco production revival was staged by Stephen Lawless and Sergei Leiferkus was Rangoni. That production was just shown at the Dallas Opera, with Lawless and Leiferkus again participating, in rotation to your Gilda in Verdi's "Rigoletto". Appreciating that you were simultaneously rehearsing Zerbinetta at the Houston Grand Opera, did you get a chance to see the "Boris" revival, and, if you did, did it evoke memories of your San Francisco Xenia?
LC: I wish! Since I was going back and forth between my shows in Dallas and rehearsals in Houston, I unfortunately missed getting to see Dallas' "Boris". When I sang it in San Francisco, my Boris was James Morris. My most vivid memory of the show was when I hugged him in my scene; I could hear this fantastic growl of a Ferrari motor inside him as he sang. It was amazing.
It sounds really stupid, but when I was IN the show, I didn't get to really see it. So I really do regret I missed it in Dallas. I only realized recently when reviving shows I originated, that since my focus is so much out to the audience in rehearsals and performance, I really don't remember much of any sets I've performed on – because they're behind me.
It sounds like a pea-brained soprano joke, but if you think about it, we rehearse on taped lines on the floor for weeks of the rehearsals. By the time you're in the house on the actual set, you have two or three (maybe four) rehearsals on it before opening. So when you're onstage, you're also checking out the hall and its acoustics, trying to stay with the now-further-away maestro, and deal with technical onstage challenges. You really don't have time to look at the set. Who spends time looking upstage (behind them) when they are ON stage? Since most of my parts are quite demanding, I don't have that luxury!
[Below: Giulietta (Laura Claycomb) awakes to find that her lover Romeo (Vivica Genaux) has poisoned himself in Pittsburgh Opera's production of Bellini's "I' Capuleti e i Montecchi"; edited image, based on a David Bachman photograph, courtesy of the Pittsburgh Opera.]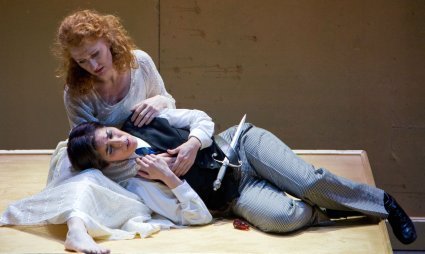 Back to "Boris", I adore the music in it – ah, those choruses!! In Dallas, I passed Stephen Lawless in the hall, and we both looked at each other strangely, and then two seconds later realized why we recognized each other! So funny! Jonathan Pell joked (I hope!) that he knew who to call if his Xenia got sick…
Wm: In your early career, you had particular success in learning roles to cover other artists, and some of those roles in time became part of your international repertory. Such roles would include Gilda in Verdi's "Rigoletto" and the title role in Donizetti's "Lucia di Lammermoor".
As an Adler fellow at the San Francisco Opera, you covered the performances of Cecilia Gasdia as Giulietta in Bellini's "I Capuleti e i Montecchi", which led to a later engagement to cover her in the same role at Grand Theater du Geneve. Although Gasdia fulfilled her engagements in San Francisco, circumstances required you to step into the role in Geneva, which gained you international recognition. Do you feel that your success in Geneva "jump-started" your career?
LC: While an Adler Fellow, I had a few personal study projects of my own on top of my official assignments: one was the role of Zerbinetta in Richard Strauss' "Ariadne auf Naxos". I didn't debut it for almost another ten years, but it was worth the wait, since it had become like a second skin to me by then.
Like I said, I learned Gilda to cover in Merola my first summer in San Francisco, and I learned Lucia for my second Merola summer (although there was no way in hell at the age of 21 that I'd have sung it!) I didn't sing either of these roles on stage until much later.
While an Adler Fellow, the first role I covered, I actually did go on – as Suor Genovieffa in Puccini's "Suor Angelica". I was singing the Novice at the time. It was a heady feeling to jump in like that. I covered tons of roles – Tytania in Britten's "Midsummer Night's Dream" and Sophie in Strauss' "Der Rosenkavalier", to name just a few. I sang a stage rehearsal when the Tytania got sick, and she got better quite quickly! ha ha! My first Tytania came many years later, and at the last minute. So I just had to dust off my score, and it came back to me in one coaching. I just jumped right in.
When I was an Adler Fellow, I had to resist the urge to throw Christine Schäfer down the stairs to get to do Sophie; I only did one production of it years later in Spoleto, unfortunately. I love that role. Besides "La Fille du Régiment" where I did the matinee shows (and covered Kathleen Battle – that's a whole 'nuther story right there! ha ha!), I don't think I immediately was able to debut any of the roles that I had covered in San Francisco. Most of them came years later, which was great. But one fortuitous debut did come right on the tail of my Adler Fellowship, a few years after having covered the show.
I did some rehearsals as an Adler Fellow cover for Gasdia in "Capuleti" when she came in late for rehearsals. She didn't like to rehearse. Forward a few years later: I was called at the last minute to cover Gasdia, who was replacing another soprano who had to leave at the beginning of rehearsals. Gasdia couldn't come to the majority of the rehearsals because of a prior engagement. I was just supposed to be a body to do the rehearsals, but Gasdia got in a car accident in Italy, and I ended up singing all the shows in Geneva. Of course it launched my career.
[Below: Romeo (Jennifer Larmore) holds Giulietta (Laura Claycomb) in a 1994 production of Bellini's "I Capuleti e i Montecchi"; edited image of a production photograph for the Grand Theatre du Geneve.]
I had fired my agent the week before opening because I hadn't heard back from him the entire time I'd been there, despite numerous attempts to get him on the phone to tell him I was going on. I'd had him about a month, my first agent, and he had never seen me perform onstage. As the curtain came down at opening, there was Tom Graham, the biggest agent in the industry and my Romeo's (Jennifer Larmore's) agent, shaking my hand and congratulating me even before I went out for my bow; we set up a meeting for early the next morning, and I've been with IMG ever since.
The day after our opening night, I was on the front page of the Geneva newspaper. As a result, I was hired for the same show in Paris, a different show in Nice (which then got me three contracts in Lausanne with Dominique Meyer, now the head of Vienna Staatsoper), the conductor hired me for my Italian debut (which led me to meet my now-husband!), and I moved to Italy. It was an amazing time in my life. All this because the right people knew that I was prepared!
The best thing about preparing all these roles early on was that it gave them time to "settle." This is a very interesting concept. Even if you're not consciously working on a role, by letting it sit in your memory already prepared, it seems to develop on its own, even if you're not working on it in the interim years.
It is an amazing luxury to have the music already set in your throat and brain memory. When you finally come back to it, you've worked on other roles and grown technically and physically in the meantime. Since you've already rendered all the music and technique to sing it automatically, you can just concentrate on adding feeling, nuance, musical gestures, etc… to it. I can't tell you the difference this makes in a performance.
[Below: Laura Claycomb, backstage at a performance as Tytania in Britten's "Midsummer Night's Dream" with her husband; resized image, based on a personal photograph, courtesy of Laura Claycomb.]
Wm: In a South Texas newspaper, at the time of your performances as Marie in Donizetti's "Fille du Regiment" at Houston Grand Opera, you expressed your opinion that the public pays too much attention to the tenor's showpiece – Tonio's "Ah! mes amis!" – and does not appreciate how difficult the role of Marie actually is. Would you comment on this?
But, since most of the Donizetti operas currently performed center around the soprano, shouldn't the tenors have a couple of roles (including Nemorino in "L'Elisir d'Amore") in which they have the most famous aria?
LC: Sure, give the tenors their day, but please just don't act like high C's are such a bloody big deal! I'm popping off a high F, numerous C's and D's and quite a few long high E's over the evening, yet everyone is just counting the stupid high c's in the tenor's ONE aria? Give me a break – I'm busting my ass up there! I just make it look easy… Just because the tenor may look like his head's going to pop off, I don't think we should think that's so much more impressive. ha ha!
Wm: You have identified two operatic legends of the past as influential to your career – Maria Callas and Beverly Sills. Yet, both artists suffered from vocal difficulties by the time they reached their late 40s and both retired from the operatic stage relatively early in their careers.
Especially in the case of Callas, many people believe the vocal decline was the result of accepting roles too heavy for her voice. You have centered your repertory in the leggiero and light lyric coloratura repertory. Is it your intention to avoid roles of heavier weight than, say, Gilda or Zerbinetta in "Ariadne auf Naxos"?
LC: Yikes – I hadn't thought about these two that way! I do agree that both did too much, and taxed their voices with pretty crazy schedules and too-heavy rep. Callas was doing vastly different repertoire in the same season. I have to say, I think both of them had some emotionally difficult things going on in those years, as well, which can also wear on your voice. But I also hold Edita Gruberova as a big influence, and she's still singing Zerbinetta on stages at her age, whatever that may be.
I don't know what my trajectory will be. My voice has filled out a little in the past two years, but I don't see the need to go too far from what I'm doing right now in heaviness, repertoire-wise. I wouldn't mind looking into other roles that are in my fach that I still haven't done yet.
I'm looking at the Queen of the Night in Mozart's "Magic Flute" these days, as I've avoided it my whole career because of preconceived ideas about the steeliness needed for that role. My voice is not steely. But I've finally been convinced that I should just sing it with my own voice, and that I can bring my own musicianship and talents to the role. Luckily (or not?), my voice has remained quite fresh and young-sounding after 20 years of career.
I started when I was 20, so I am quite proud that my voice is in such good shape after so much work. (I worry that people think I'm ancient since I've been around so long in this business!) Since most sopranos start out with that role and then move on to less stratospheric roles, I think it's quite a testament to my technique that I can pick up the role now.
I will probably approach some roles already in my fach that I steered clear of before because I feared I lacked presence in parts of my voice. I'm not worried any more. I'm giving more than a look at the title role in Massenet's "Manon" (which I learned while an Adler Fellow.) In roles, I always need some kind of suppleness to the line, or some high, dreamy bits, so there are quite a few things left on my list that I'm interested to try out. I know I would sing Amina in Bellini's "La Sonnambula" wonderfully, for example! There are some things I did earlier in my career that I wish I'd have a chance to dust off again (Rossini's "Le Comte Ory", for example…) and I'm very interested in having music written for me (by people I love – I don't trust my voice to just anyone…)
So I hope to keep developing not only as a singer but as an artist. On that count, I love what Dawn Upshaw and Lorraine Hunt Lieberson are/were able to do – to have wonderful new composers write for them, and to find interesting repertoire that says something in the world. I don't want to just be singing the same old Donizetti opera ten years from now. (!)
Wm: And to return to the subject of "Lakme".
LC: As for Lakmé, I'd love to do it. People just don't do it that often, and in the States it's usually done in a smaller opera house in which I haven't performed. Since I live in Italy and am married to an Italian, I try valiantly to keep my U. S. appearances to a minimum without disappearing entirely. You never know, though! I've studied the score! I agree with you (and Tchaikovsky!) about Delibes' fine qualities as a composer. It is is actually quite beautiful music all the way through the opera, and the story, if you took up the whole "colonists who trod roughshod over the inhabitants' customs" theme, it is actually quite timely!
Wm: In the 2002 Janos Gereben interview you spent a great deal of time explaining your thoughts about Zerbinetta's view of the role of women in society and their romantic relationships with men. You were performing Zerbinetta at the San Francisco Opera then in John Cox' production. Almost a decade later you performed Zerbinetta, again with John Cox, at Houston Grand Opera. Have you gained yet further insights into her character and her philosophy in the intervening years?
LC: That was the first time I performed the role, and although I did a lot of study on the role at the time, of course I have a lot more life experience now when I come back to this same production nine years later. I think she's a character that can be played so many ways, and who will reveal herself inexorably with the years. She's a little more wise now, a little more knowing. I also think she must always remain vulnerable at moments (at least in the prologue) in order that her brittleness doesn't grate.
[Below: Zerbinetta (Laura Claycomb) is the object of attention of Harlequin (Boris Dyakov) in a Houston Grand Opera production of "Ariadne auf Naxos"; edited image, based on a Felix Sanchez photograph, courtesy of the Houston Grand Opera.]
I also think she is truly taken with the Composer; it's not an act just to get the show on the road. The aria is also a treatise on her take on life. I found it infinitely insulting that some people I love simplified her character into "Oh, Laura's playing the SLUT!" and laugh.
Actually, that's exactly what Zerbinetta herself rails against – the world is weighted against someone like her who truly does love every man who sweeps her off her feet like a god, and even when she loves him, she unwittingly betrays him. I think there's a world of hurt hidden behind her mask that we glimpse when she allows the Composer into her confidence.
Wm: Who are some of the people who have most influenced your career?
LC: Probably my top two (besides my family) would be Patrick Summers and Peter Sellars. Others would be the people that trusted their own ears and hired me early on when I hadn't established my name; they helped me establish it. Patrick is one of these, but I must also thank Hugues Gall (in Geneva and Paris) and Dominique Meyer (Lausanne) for taking a chance on me early on.
[Below: Following a Houston Grand Opera performance of Verdi's "Rigoletto", Laura Claycomb (Gilda) poses with the conductor, Patrick Summers; edited image, based on a personal photograph, courtesy of Laura Claycomb.]
Emmanuelle Haim, the late Richard Hickox and Michael Tilson-Thomas are also three biggies who introduced me to new musical worlds, and who have been my champions throughout my career. Emmanuelle taught me Baroque style. Period. I did my first Cleopatra in Handel's "Giulio Cesare" when she was still assisting Christophe Rousset, and she is the one who helped me develop my ornaments and the style of ornamentation for Handel.
Richard brought me to vastly different repertoire that I didn't even think I could do (Ann Truelove, Gretel, Sea Symphony…) and taught me to how to en-joy (inject joy!) into making music. I miss his mischievous eyes so much! Michael has taught me about a whole new realm of Old World music that I didn't think was for me before knowing him – all of this turn of the century and beginning of the 20th century German and Austrian music. It's not stratospheric, but it's out of this world! We just won three Grammies for our Mahler Eighth, to boot!
Back to my top two! Patrick Summers picked me for Merola when I was 20 years old and still incredibly young vocally. He heard the talent there, despite me singing inappropriate repertoire (I started with Senza mamma from "Suor Angelica" for my second round of auditions!) and he has been a mentor and support ever since. He made my HGO debut possible, and guided my career there; I have done some of the best work of my career in that house. He is someone that I run new repertoire choices by first, and he is always a trusted sounding board when I need one. I trust him implicitly; he's the person who knows my voice better than anyone else in the world.
Now Patrick has been named the new general director in Houston. I couldn't be prouder. I remember back in the day when I was lamenting him starting to conduct because he was the best coach I ever worked with, and he didn't have as much time to coach as a result. I think this is a fantastic move for Houston and a great place for him – with one caveat: that he will have enough staff to help him with administrative duties so he can still have time to make lots of music!
It was he who orchestrated my quick return to Houston after my big debut there, to capitalize on my success before the hubbub died down. Boy, did he know what he was doing! I've been back almost every season, since, and was the top-requested artist in a poll of HGO patrons a few seasons ago. I think HGO is in extraordinarily capable hands.
[Below: Concept director Peter Sellars; resized image, based on an Alberto Estevez photograph for Esa-Pekka Salonen.]
I worked with Peter Sellars in 1998, and have been incredibly inspired by him ever since. I was lucky to witness his work from many angles, as an ex-boyfriend was his assistant and dramaturg (from whom I also learned sooo much over our 10 years together!); and I have seen a ton of Peter's body of work over the years. Peter made me realize that opera is not just about "decoration" and naturalistic portrayal, but that opera can and should be so much more – a cathartic confrontation of the here and now in sung form.
He also spoiled me for much of the opera world's "normal" work, because most of the time it does not touch the underlying universal themes, nor does it even try to find a correlation with today's problems. Most people find his work so confrontational because they don't want to be shown their own world when they go to the theater or the opera: they want to escape. He forces you to see that we have been struggling with the same battles for aeons, and that we must deal with our contemporary challenges front-on. I feel lucky to call him a friend, and hope that we can come up with a project together again sometime soon.
Wm: I see on your website some information about a young Congolese singer. Is he your student?
LC: Serge Kakudji is more like a son to me than a student. He actually studied very little directly with me: I wouldn't want to feel like I'm taking credit where credit is not due. I met him in 2006 in the Democratic Republic of Congo (long story!) and with the help of many people brought him to Europe to study. I taught him for two hours in the Congo and decided this kid deserved to be able to develop his talent – something totally impossible in the DRC, unfortunately. So we got him to Belgium, by hook or by crook, and now I'm helping him get through conservatory in France. It has taken a village, and my ex-boyfriend has been instrumental, as well.
Serge has since won singing competitions, done a huge tour all over the world with Alain Platel's show "Pitié," been named one of the 100 most influential people in the Congo by Jeune Afrique magazine and just recently filled in for Dominique Visse in the role of Tolomeo in a production of "Giulio Cesare" at Versailles with Jean-Claude Malgoire. My husband and I are very, very proud of him.
[Below: Congolese Counter-tenor Serge Kukudji with Laura Claycomb; edited image, based on a personal photograph, courtesy of Laura Claycomb.]
He is a natural-born artist but has worked his butt off to develop his talent. Most importantly, he's an exceptional human being, intent on developing himself in every way. I wanted to make sure he works on being a great person as well as an artist; otherwise for me, it's all in vain.
Touching this young man's life and watching his successes (and failings!) has been one of the most satisfying endeavors of my life. All I ask now is that he try his best to develop to his highest potential and to give back to the world. Although it's great that he's able to come to the "first world" and follow his dream, it's equally important for third world countries that their best and brightest like Serge come BACK to enrich their mother country. I think that investing in people, one at a time, is a great way to bring about true change. We shall see!
Wm: Thank you, Laura!
__
—