A bravura Samson in the French heroic style sung by German tenor Endrik Wottrich (who replaced an ailing Jose Cura for the remainder of Cura's scheduled performances); a credible vocal performance by Vesselina Kasarova as Dalila, whose role debut occurred just two weeks earlier; a rousing delivery as the Grand Priest by Laurent Naouri; and a supporting cast led by a most distinguished performance of the Old Hebrew by Ante Jerkunica, would have seemed a transcendent evening for most performances of Saint-Saens' "Samson et Dalila".
[Below: Endrik Wottrich who takes over the part of Samson at Deutsche Oper Berlin; edited image, based on a promotional photograph.]
Kinmonth and Regietheater
Instead, it became an adventure in the mind of Patrick Kinmonth, who is known for striking images and brilliant costume designs. His operatic sets and costumes are particularly associated with 17th and 18th century opera, but he has worked with such later works as Richard Strauss' "Elektra" and Puccini's "Madama Butterfly".
Opera seems to be only a small part of a much larger career. Vogue Magazine has described Kinmonth as a "Renaissance man", citing his design of the interiors of the Wiltshire mansion of clothing firm Juicy Couture's co-founder; his photographic essays on Princess Diana; and his organization of an exhibit of the works of fashion designer Valentino. He has designed settings to exhibit the fashions of Givenchy, Gucci, Calvin Klein and other firms. There are dozens of other citations relating to his recognition for painting and scenic design.
Kinmonth's most notable success in opera to date had been designing the sets for Robert Carsen's award winning production of Janacek's "Katya Kabanova".
Regettably, although I have seen photographs of his other work, including opera, my only actual experience with live performances of a Kinmonth project is his new production Saint-Saens' exotic Biblical spectacle for the Deutsche Oper Berlin. I do not regard his interpretation of the work as a success, nor one that I would recommend.
[Below: Samson (here, Jose Cura, center in top hat) confronts soldiers of the Prussian army; edited image, based on a Barbara Aumueller photograph, courtesy of the Deutsche Oper Berlin.]
The Promise of the First Act
To be fair, Kinmonth's first act, even with its inchoate suggestions of a relationship between Samson and Dalila that has lasted for a long time, had some interesting features. The image of the basso Jerkunica as the Old Hebrew in top hat and overcoat was impressive. The appearance on a railroad car of coffins of Jews, who had been deliberately shot by the Prussian invaders of Paris (Kinmonth's historicity is always murky) was followed by the extraordinary theatrical image, a funeral dinner on the railroad flatcar that transported the coffins, carefully choreographed to the dancing music that Saint-Saens wrote for Dalila and her attendants.
[Below: Dalila (Vesselina Kasaraova) joins mourners at a Jewish wake dinner for victims of a Prussian massacre; edited image, based on a Barbara Aumueller photograph, courtesy of the Deutsche Oper Berlin.]
But, for whatever reason, Kinmonth's interest in whatever he set out to do seems not to have been maintained. If a person seeing only Kinmonth's staging of Act I dinner at the wake wondered how Kinmonth would stage the famous third act bacchanale, the answer is that, for most of that extended ballet sequence, he simply closed the curtains and had Conductor Alain Altinoglu and the Deutsche Oper Orchestra perform it as a unstaged symphonic interlude.
Iconoclasm without Enlightenment
Some commentators on his project have tried to guess the meanings of his images and Kinmonth himself has written an article explaining his thoughts. I will recount some of those images for the record, but believe that this is one of those cases, familiar to certain opera companies during the late 20th century in which a director has agreed to do an opera for which he has no respect and possibly not even an understanding of why people would wish to see the opera performed that incorporates the storyline that the composer and librettists intended.
[Below: during the second act, Dalila (Vesselina Kasarova) having journeyed to a remote place on her railroad hand-cart, serves tea to her son; edited image, based on a Barbara Aumeuller photograph, courtesy of the Deutsche Oper Berlin.]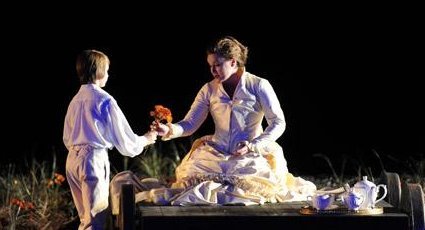 In one of my earlier posts, I posited a reductio ad absurdam (see Jones the Ripper's "Queen of Spades" in S.F. – June 12, 2005), in which an operatic concept director wanted to do one thing and the opera company needed him to do something else, so the director used his own concept anyway, even though it made no sense to the storyline or words of the libretto to which the opera was set. Perhaps Kinmonth always had in his mind that he would like to design a theatrical piece, whose every scene took place on and around railroad tracks. Perhaps he also always wished to dress his characters in Victorian era bustles and fancy dress.
If that is the case, perhaps the storyline of "Samson et Dalila" became too problematic for him to try to fit in the elements of the existing story – Samson's loss of power at the event of Dalila's cutting his hair, the blinding of Samson, the third act bacchanale and the crushing of the worshippers of Dagon when the blinded Samson's strength is restored by a prayer to his God.
So Kinmonth devises a new story, in which Dalila and Samson are lovers who live in an elegant private railroad car; a story in which there are Jews who are shot by Prussian soldiers in Act I and then, at a party at the end of the third act, disrobe and are sent away in cattle cars; in which, instead of Samson getting a haircut, he aggressively rapes Dalila in Act II; in which instead of Samson being blinded, he and his son by Dalila draw masks on each others' faces; nor does Samson, with strength restored by his god, destroy the temple of his enemies, but instead lies prostrate while Dalila pours a watery red liquid on his shirt.
Different observers have tried to follow these thematic threads and describe what they mean, but it seems to have confused everyone who has taken on that challenge. A frustrated audience at the performance I attended (as has been reported for previous performances) either booed the production or spent no effort in trying to shush the booers or to drown them out.
[Below: Dalila (Vesselina Kasarova, top in yellow dress) watches as her son leaves the private railway car in which they live to be with his father Samson (here Jose Cura, at bottom); edited image, based on a Barbara Aumueller photograph, courtesy of the Deutsche Oper Berlin.]
Readers of my posts over the years will note an appreciation for innovative conceptualizations of alternative ways to show a familiar piece. But, in every such case, a reasonable person with familiarity with the piece should be able to "get" what the concept director is trying to show us about the work – that he or she understands that looking at the work from a different perspective yields new insights into it. But there is a responsibility to the opera audience, both the sophisticated opera goer and the novice.
[Below: Dalila (Vesselina Kasarova, center in red dress) anoints Samson (here, Jose Cura); edited image, based on a Barbara Aumueller photograph, courtesy of the Deutsche Oper Berlin.]
"Samson et Dalila" is one of the great operatic works of the French Third Republic, and, although it is performed reasonably often, it is still somewhat of a rarity. It is also a beautifully crafted work that is a pleasure to see performed, when it is done right. If a production of an opera like "Samson" goes so far afield that it disrespects the opera and the story its trying to tell, it robs the novice of the ability to understand why the piece is performed at all and infuriates the veteran opera goer, with memories of fine performances and great productions of the past. Why would any opera company these days want that to happen?
For my reviews of successful productions of "Samson et Dalila", see: Blythe Leads Impressive Role Debuts in "New" Pittsburgh "Samson et Dalila" – October 18, 2008, and also,
Exotic Immersion: "Samson" in S. F. – September 11, 2007, and,
Seductive Denyce Graves Enthralls San Diego in "Samson et Dalila" – February 23, 2007.