In 2010, a new production of Offenbach's operetta "La Périchole" at the Komische Oper's 1270 seat opera house in Berlin proved controversial, with negative reviews and reports of claque booing. It was revived in 2011. Undaunted by the previous year's critical scoldings, I decided I would see for myself as to whether the revival of a production of one of Offenbach's greatest operettas was as off the mark as august critical conventional wisdom found it to be. Au contraire! I loved it, and am prepared to explain why.
[Below: the impoverished Piquillo (Johannes Chum) arrives at a party for Peru's viceroy carrying his red commune flag; edited image, based on an Iko Freese photograph, courtesy of the Komische Oper Berlin.]
Your Basic "Périchole" Plot
The basic plot is well within the musical comedy tradition. Two impoverished Peruvian street balladeers, Périchole and Piquillo, are trying to use their vocal talents in Lima to accumulate enough money to be able to 1) eat and 2) pay for a marriage license.
[Below: Piquillo (Johannes Chum, left) sings of his love for Périchole (Karolina Gumos); edited image, based on a Iko Freese photograph, courtesy of the Komische Oper Berlin.]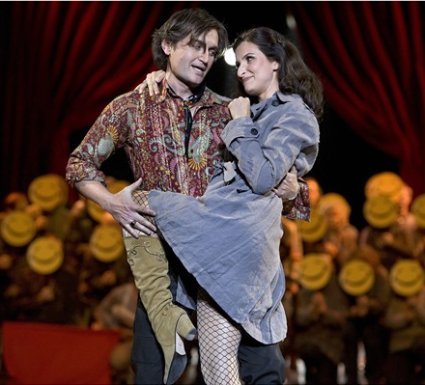 Peru's viceroy, Don Andres, has a habit of coming into Lima frequently in disguise to find out what his people think of him (although the disguises are always so transparent that no one is ever fooled). When Piquillo is distracted, Don Andres hits on the hungry Périchole, who accepts his invitation (in exchange for food and comfort) to become a lady-in-waiting in his court, with Don Andres having a specific quid pro quo in mind for Périchole. She writes to Piqullo (the justly famous "letter aria") that she has to leave him.
But Don Andres has a problem. All ladies-in-waiting must be married. His two functionaries Panatellas and Hinoyosa thus seek a husband for Périchole and find the unmarried Piquillo. A drunk Périchole recognizes that her husband-to-be is actually Piquillo, but he is unaware that it is her. When he figures it out, assuming that she is to be Don Andres' concubine, he insults her and Don Andres, and the latter sends him to the Prison for Recalcitrant Husbands. But she visits him in jail and tells him she loves only him. Eventually, Don Andres consents to letting the two lovers go on their way.
The music is uniformly vibrant and appealing and includes some of Offenbach's finest work – in fact, many see "Périchole" as well on the path of Offenbach's more serious musical intentions that ultimately led to the abandoning of operetta to compose the opera "Tales of Hoffmann". The silly situations and running gags written into the libretto and the abundant melodies in Offenbach's brilliant musical score, assures an audience that any performance of "Périchole" will abound in over-the-top humor and lavish spectacle.
[Below: the Viceroy Don Andres (Roger Smeets, center, wearing crown) has disguised himself to try to find out what the people of Lima really think about him, but they can see through his disguise; edited image, based on an Iko Freese photograph, courtesy of the Komische Oper, Berlin.]
"Périchole" Purity?
Obviously, a "Périchole" production can depart from the performance traditions, as the Komische production does, but "Périchole" has a level of zaniness never reached in, say, Johann Strauss' "Die Fledermaus", which premiered a couple of years after "Périchole's" second version. The director who wanders too far from the way "Fledermaus" is traditionally done is taking a huge risk.
There are, indeed, "Périchole" purists, as the initial reactions from many critics to this production's 2010 premiere reveals, but outrageousness is a trademark of this operetta, and the production's conceptualizer, Nicolas Stamann, passed up no opportunity to surprise the audience with his wacky ways. Assisted by stage director Sibylle Polster, set designer Katrin Nottrodt, costume designer Marysol del Castillo and dramaturg Bettina Auer, even with new material grafted onto Offenbach's operetta, the evening always seemed fast-paced and absorbing.
Some Historical Allusions in Komische's "Périchole" Production
A review of this production might not make sense without discussion of a few factoids about the year 1868, when Offenbach's two act "La Périchole" was first performed and 1872, when it was lengthened  to a three act operetta with additional numbers composed for it.
In 1867, Wagner's ""Tristan und Isolde", on which there should be unanimous agreement that it is quite a different style of work from "Périchole", was premiered in Munich. In 1870, between the first and second versions, the Emperor Napoleon III was chased from his throne, and, after the Paris commune and other activities of the Revolution of 1870,  the Third Republic was declared.
One might not expect that a new production of "Périchole" would take into account the close proximity of the operetta's first performance to ""Tristan" nor the revolutionary Paris Commune of 1870-71. But Stamann augments his "Périchole" to include surprisingly long excerpts from Wagner's great music drama. Whenever we are to be reminded of the Périchole-Piquillo love affair, several bars of the prelude are played, and the liebestrank motive returns several times. When Piquillo is in prison, we hear the mournful prelude to "Tristan's" third act, as the wounded hero lies dying in Kareol. When the lovers' relationship is returned (somewhat) to its status quo ante the Orchester der Komischen Oper Berlin, under conductor Kristina Poska, plays a long quotation from the Act II Liebesnacht's O sink hernieder as a stunningly beautiful symphonic interlude.
Between the first and second versions of "Périchole" (1868 and 1872) a very unfunny event occurred – the Paris Commune and associated revolutionary events of 1870-71. Stamann makes this historical event a central part of his production. A non-singing character in the original – an old prisoner who has spent 12 years digging his way from his cell into the cell next to his (occupied by Piquillo) is transformed into a revolutionary who attempts to educate the audience on Marxist ideology and the happenings at the commune parked at the Hotel de Ville. He appears in most scenes in the act, occasionally becoming part of the action.
[Below: the Old Prisoner (Andreas Doehler), with all the decadent bourgeois lying dead at his feet, at least for the moment, appears triumphant; edited image, based on an Iko Freese photograph, courtesy of the Komische Oper Berlin.]
The References to Contemporary Popular Culture
However, the audience is not expected to spend the evening reliving Stamann's images of late 19th century Parisian concerns, but weaves the other threads of "Périchole's" plot into a myriad of references to more recent cultural phenomena. He gives some of the most over-the-top assignments to the Three Cousins, Guadalena, Berginella and Mastrilla, who own the local tavern and scene of the first act shenanigans. Early on, they briefly appear dressed as jerky and candy bars, and from that point on, both in scenes in which Offenbach and his librettists Henri Meilhac and Ludovic Halevy intended them to appear and in scenes where they did not, they show up in a dazzling array of pop culture images, including dressed as the Andrew Sisters in military garb and in the glittering gowns that we associate with Motown girl trios.
[Below: the Three Cousins (Anastasia Melnik, Mirka Wagner and Annelie Sophie Mueller), owners of Lima's most popular nightclub/tavern dress up as candy and jerky bars; edited image, based on an Iko Freese photograph, courtesy of Komische Oper Berlin.]
Don Andres' two functionaries, Count Miguel de Panatellas and Don Pedro de Hinoyosa, appear throughout the operetta as television masters of ceremonies, sometimes altering their costumes to take part in some of the stagecraft that might have been intended by Team Offenbach and some that they could not have possibly have imagined.
[Below: the Viceroy's henchmen Count Miguel de Panatellas (Peter Renz, right) and Don Pedro de Hinoyosa (Guenther Papendell) briefly don a disguise; edited image, based on an Iko Freese photograph, courtesy of the Oper Komische, Berlin.]
These wild and wacky dudes provide the mechanisms for moving the action in whatever direction is called for. They, of course, would easily mimic whatever TV personalities have huge audiences on the national or regional stations. I could imagine an American version of this production mimicking the trademarks of Ryan Seacrest and Tom Bergeron. In fact, for the Berlin equivalents of their respective blockbusters American Idol and Dancing With the Stars, Doehlers' Old Prisoner joined the Viceroy's henchmen in a call for the TV audiences to vote on whom Périchole should marry, by cradling his hand in the apparent universal sign to call in your votes.
There are dozens of details that might be included in an exhaustive report on the delights of the evening. The most famous part of the opera, the "Letter Song" is dashed off beautifully by Polish soprano Karolina Gumos (after demanding of the orchestra that they play "The Letter Song, please"). She leaves before the inevitable applause, but the Three Cousins stay to accept the applause, mugging the curtain call antics of certain personalities.
The second act uses extensive use of video projections of Périchole (designed by Claudia Lehmann) to play with Piquillo's head. Périchole's aria about how stupid men can be in a situation where sublety is required that ends with the memorable refrain Mon Dieu! que les hommes sont betes (in its German translation by Bernd Wilms, of course) becomes a showstopper, where almost the entire cast repeats it over and over and then invites the audience to sing along.
[Below: Périchole (Karolina Gumos, left) hugs Piquillo (Johannes Chum) as revolutionaries from the Hotel de Ville commune surround them with AK-47s; edited image, based on an Iko Freese photograph, courtesy of the Komische Oper Berlin.]
Périchole et Moi!
I personally had first become aware of the existence of Offenbach's operetta as a schoolboy. I was the brainiac sort, and had sent in a question to, of all things, the Metropolitan Opera Quiz (the only time I have ever done so) about passages in opera which call for singers to arrive on horseback. It was used, but the question was altered to plug the Metropolitan Opera's production of "Périchole" (with which I was not familiar) to include some horsing around goings on in a Cyril Ritchard production of the operetta.
I did see the opera on two subsequent seasons of the San Francisco Opera (1976 and 1979), both with Leonard Frey as Don Andres, but first with the Périchole-Piquillo of Maria Ewing and Neil Rosenshein and second with that of David Eisler and Pamela South.
Summary
The Komische Oper performs all of its productions in German, and provides "back of the seat" translations in English, or, alternatively, presents the German text. I recommend the current Berlin production, particularly for German or English speaking audiences.
Would the Berlin spectacle translate to American audiences if bought to North America? Certainly, translated into English and modifying some of the gags to relate to American cultural tastes. The summer festivals, especially, should give some consideration to this interesting play on Offenbach's eternally funny work.