Arriving at the War Memorial Opera House before this season's wildly extraordinary "Siegfried", San Francisco was treated to colorful flags all over the city proclaiming this 2011 Ring Festival, continuing a long tradition in San Francisco of presenting full-scale Ring productions for decades – as in 1935, 1972, 1985, 1990, 1999. But the first full cycle here was in 1900 – imported by puffer-train from New York with tickets said to be in the $2 – $7 range.
[Below: Francesca Zambello; edited image, based on a promotional photograph, courtesy of the San Francisco Opera.]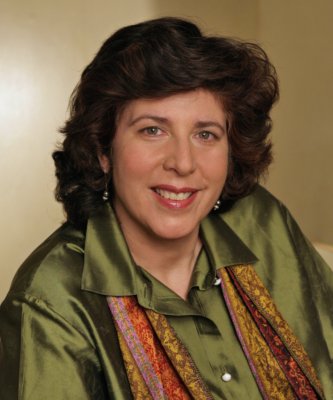 Note well: the first presentation with Wagner himself conducting was at Bayreuth in 1876, just 24 years before the Ring hit San Francisco – then certainly the cultural capitol of the Golden West (i.e. everything west of St Louis) at the time! It was just six years later when the 1906 earthquake shook up that world-famed tenor Enrico Caruso, singing here the evening before, staying at the fabled (and still here) Palace Hotel, fled the wreckage hurling ghastly epithets in Italian, vowing never to return – he didn't ! But you will with opera like this !
And you ask how come this Wagner Summer Festival starts with the Third Opera in Wagner's colossal Tetralogy? It doesn't really start until three cycles of all four operas are presented, first one commencing June 14, 2011, next June 21, and final June 28. In fact this "Siegfried" of May 29 and the "Goetterdaemmerung" of June 5 conclude the years-long SF Opera project to present the entire Francesca Zambello Ring with "Rheingold" and "Die Walkuere" having already debuted (see your website host William's reviews, cited at this review's end.)
This "Siegfried" production, and the two previous "Ring" operas in the Zambello cycle were first seen at the Washington National Opera, in co-production with San Francisco. However, budgetary issues at the WNO, resulted in the San Francisco Opera agreeing to develop and premiere the "Goetterdaemmerung" production, with the entire Zambello "Ring" to be seen for the first time. But San Francisco has never seen a Ring like this. All prior readings here (your website host and I have seen most, but not the 1900 nor 1935 versions!!) have been very traditional. Ms Zambello – well known all over America – has re-conceived this world-scale masterwork. She places it in America, in essentially recent (and contemporary) times, highlighting the rape of America's environment in this industrial age. Thus the costumes are generic and the scenic-filmed backgrounds are nascent American growing industrial-age genre. We clearly saw this in both of the first two presentations, and this ambience definitely appears in Acts I and II of this Siegfried, yet Act III is very traditional and hardly departs at all from all the earlier Rings seen here.
As the curtain ascends in Act I of Ms Zambello's conception of Siegfried, we see power lines and metal support-structures amidst swirling industrial smoke. On Stage Right is this auto-trailer (you've seen thousands on the road) open to audience view with a stove out front, a beach chair, a stack of beer cases, jeep-cans of fuel and other very familiar trappings of our youth- and now.
[Below: the home in which Siegfried grew up; edited image, based on a Cory Weaver photograph, courtesy of the San Francisco Opera.]
Suddenly a bounding Yosemite-emigre' bear arrives (great antics) with Siegfried – whose "father & mother combined" erstwhile colleague/ instructor/ guide/ keeper Mime cowering in the background in fear of this strapping Siegfried. This wonderfully animated act develops with Siegfried and Mime hurling insults, brandishing weapons and fists – plus an operatic first for me as Siegfried gives Mime a head-first dunking in the water trough (audience roars). Yet Ms Zambello underlines actual warmth between these two – rarely seen these days.
[Below: Siegfried (Jay Hunter Morris) presents his list of non-negotiable demands to Mime (David Cangelosi), edited image, based on a Cory Weaver photograph, courtesy of the San Francisco Opera.]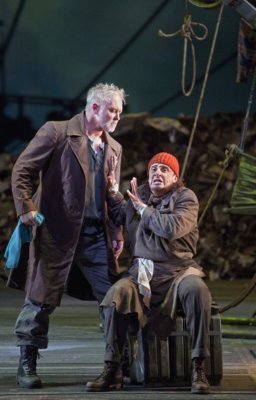 Momentarily Wotan (marvellously presented by Mark Delavan) arrives on the scene which gets underway with the famed Riddles (like 20 questions) – a bout which Mime flunks. Again Zambello shows us real warmth between these two as they pop open a beer in the trailer, sharing a bag of potato chips.
[Below: Mime (David Cangelosi, left) is distressed by the appearance of the Wanderer (Mark Delavan); resized image, based on a Cory Weaver photograph, courtesy of the San Francisco Opera.]
Mime finally digs out the shards of the great sword Nothung. After Mime's pathetic attempts to forge it – as Siegfried lambasts him repeatedly, Siegfried takes over – having been presented his Mother's blue scarf (i.e. Sieglinde) which he caresses with huge emotion (so do we!). He wears this throughout the balance of the opera, including as he successfuly re-forges Nothung, holding its hilt wrapped in that scarf – to me a coup de theatre for the emotions before us – a Zambello Magic-Moment! Oh yes, he had a couple more beers while on the job!
Our Mime is David Cangelosi – beyond any doubt whatever the best acting I've seen anywhere in the world for this very fun – and challenging role. Our Siegfried is Jay Hunter Morris giving his all in a wonderfully lyrical, quite lush reading, but not looking remotely like a youth. But does Siegfried have to be an ungainly Geek-teenager?
Act II is almost identical to Zambello's Act II Scene 2 of her "Walkuere" which was under a freeway – this is under a bridge. Alberich (Gordon Hawkins) is on the scene with an AK-47 shoved along with his booze in a shopping-cart.
[Below: Alberich (Gordon Hawkins) stays near the site where the Ring is kept; edited image, based on a Cory Weaver photograph, courtesy of the San Francisco Opera.]
Shortly the Forest Bird (wonderfully sung by Stacey Tappan) from the high metal bridge hanging over the trash-scattered scene, appearing in bright orange costume -cueing Siegfried what to do, where to look, where to go, etc. Hearing her magic flute (a la Mozart), he tries to create one for himself using industrial tools, to no avail (audience roars).
At last it's time for him to meet Fafner the monster whose got the Ring, the gold and all the other goodies. Suddenly the doors open and here comes a gigantic German Panzer-tank style Scrap-Metal Compactor which gyrates about the stage, assaulting Siegfried with hissing jets of steam. Siegfried wins, gets the Ring and loot, and runs off to the Forest Bird's directions in pursuit of The Sleeping Beauty.
[Below: Siegfried (Jay Hunter Morris, right) battles Fafner (Daniel Sumegi), who has taken the form of a giant, metal machine; edited image, based on a Cory Weaver photograph, courtesy of the San Francisco Opera.]
Act III is totally traditional – and totally sublime with luscious music fabulously transmitted to us by SF Opera's world-class orchestra under Donald Runnicles' excellently-in-command baton. The Earth-goddess Erda (wonderfully done by Ronnita Miller) lectures Wotan who ultimately seeks – and receives – her blessings. Rising up from her rock resting place surrounded by the industrial-chemicals-colored magic fire only a Super-Hero can penetrate, after that inevitable kiss to awake The Sleeping Beauty, Bruenhilde (brilliantly sung – shaking the chandeliers – and garnering the biggest, standing applause – Nina Stemme) slowly rises, blinded by the sun, whom she greets Heil dir Sonne – from here on it's pure, unadulterated Mega-ecstacy as this monumental work ends – preparing us for The End in "Die Goetterdaemmerung".
[Below: Bruennhilde (Nina Stemme) is awakened from her 20 years of sleep; edited image, based on a Cory Weaver photograph, courtesy of the San Francisco Opera.]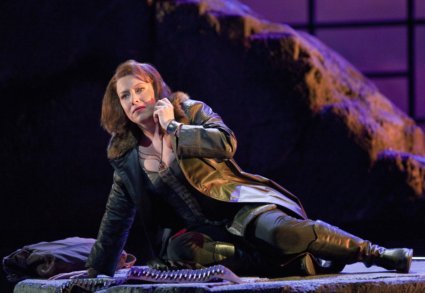 Special kudos – and applause – should go to the lighting director Mark McCullough and Projections (fabulous !!!) Director Jan Hartley – both utterly superb.
All this whipped together made for a San Francisco Opera – Zambello triumph with a world-class cast, orchestra, conductor, back-stage troops drenching us with an afternoon of absolute operatic delight worth the price of the ticket (now, a century and a decade later, more than $2) and vastly more. By all means see this Ring – your ears will be ringing with it for years!!
For William's reviews of San Francisco Opera performances of the Zambello "Ring", see: A Second Look: Stemme, Delavan, Lead Power Cast of San Francisco Opera "Walkuere" – June 13, 2010, and
An American "Walkuere": Runnicles, Wagner and Zambello At San Francisco Opera – June 10, 2010, and,
Pure Gold: A Second Look at S. F.'s "American Ring Rheingold" – June 22, 2008, and,
Delavan Shines in a Gleaming San Francisco "Rheingold" – June 14, 2008.