The facilitation of this interview by the San Diego Opera and by the Dallas Opera is gratefully acknowledged.
Wm: You are from Philadelphia, a city with a long tradition in presenting opera, yet you've reported that your earliest musical memories are of Elvis Presley. At what point did you come to know about opera, and when did you decide you that that would be your career?
[Below: Tenor Stephen Costello; edited image, based on a promotional photograph.]
SC: It wasn't until very late in my schooling that I learned about opera, but I knew about Elvis from my earliest childhood. There was a Philadelphia radio station that played Elvis' songs each Sunday morning, and it was the one thing my father would have on the car radio every Sunday morning when we traveled to my grandmother's house.
When I went on to middle school, I began playing the trumpet, which I did for 15 years. Then, when I was in high school, my trumpet teacher persuaded me to join the chorus for ear training exercises. The competitive side of me came out in the tenor section of the chorus. My goal was to be louder than one of the other tenors at every rehearsal.
I discovered that I enjoyed singing. I did the smaller madrigal groups and auditioned for the role of Lieutenant Cable in Rodgers' and Hammerstein's "South Pacific". I was collaborating with artists instead of accompanying them in the orchestra. And, it was a great way to meet girls.
I wasn't sure if it was what I wanted to do. I was accepted by the University of the Arts in Philadelphia, which used to be Philadelphia College of Performing Arts. Now it hosts dance, instrumental music, and fine arts. I ended up going into the vocal program with a musical theater emphasis.
Although I was first attracted to musical theater – Rodgers and Hammestein and Rodgers and Hart – in my last years as an undergraduate, I was mentored by a teacher who gave me a good foundation in vocal technique and chose some arias and songs for me to sing. It was he who introduced me to the recordings of the German tenor, Fritz Wunderlich, whose voice had the greatest impact on me.
[Below: German tenor Fritz Wunderlich; edited image, based on a historical photograph from famousmaleoperastars.com.]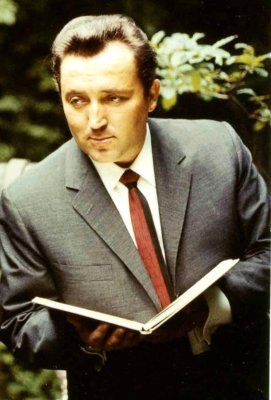 I knew of Pavarotti, who had a long association with Philadelphia's AVA, but had never heard a sound like Wunderlich's voice. I listened to his recordings, and his German radio arias. I set a goal was to learn his complete works. That is how I became interested in opera.
Wm: You are a graduate of Philadelphia's Academy of Vocal Arts, which is a unique and prestigious institution. From your standpoint, what are the advantages of having attended and in being a graduate of AVA?
SC: The benefit of going there is that you get a well-rounded experience. If you can survive it, you can survive in a career. It's a tough school with only 28 kids. Perhaps four people will be learning a role, but only two will get to perform it. You have to know you music and your marks.
The vocal training is supervised by Maestro Cristofer Macatsoris, who had been an assistant to the conductors Gianandrea Gavazzeni and Tullio Serafin. When Maestro Macatsoris teaches you a role, it means you can go anywhere with it. You will always have the understanding of the the style and that character's relationships with the opera's other characters. I learned Nemorino in Donizetti's "L'Elisir d'Amore" with him.
[Below: Maestro Cristofer Macatsoris; edited image, based on a photograph for the Academy of Vocal Arts, from www.images.google.com.]
As a result of my training at AVA, I've learned how to study music in a way that I won't do damage to my voice. I've learned how to study a score and how to get a part into my voice. I've learned how much I can do within a given week of rehearsals, such as which days to rest. You learn your voice.
The first day I went to a "L'Elisir" rehearsal. I sang the duet with Dulcamara. Macatsoris said, next time you come, bring something more to the table than a nice voice. You have to bring more to the character and to the role. You learn how to sing. You have to rely on the text and the required technique.
Wm: In my recent interview with Conductor James Conlon, he decried the lack of preparation in the artistic traditions of particular operatic styles. Do you believe that AVA is a place that preserves those traditions?
SC: Conlon is a brilliant man. He studies each score and his performances show the results of his studies. I received that kind of preparation in Philadelphia.
I do believe that I've learned the performance styles of the operas I sing. I spend a lot of time studying the performance traditions. They are traditions for a reason. Some of the stage directions associated with "concept productions" that try to depart from those traditions, often end up diminishing what the piece is supposed to be about. Whatever is presented on the operatic stage has to have a meaning that is also meaningful to the score. The AVA faculty all are well knowledged in the French, Italian, Russian and German styles.
There was a soprano working on a Verdi opera with Conductor Georg Solti, who said she did not wish to sing a particular passage with a portamento. Solti said, Toscanini insisted on it, and he played the cello in performances under Verdi's supervision, so the portamento is what must be done.
[Below: Stephen Costello as Gounod's Romeo; edited image, based on a photograph, courtesy of the San Diego Opera.]
I don't seek coaching outside of the AVA faculty. They are the people that know my voice. So many artists make the mistake of having too many advisors on how they should sing, instead of relying on persons who are fully knowledgeable about that singer's voice.
Wm: It is reported that at your auditions for the AVA, some of the instructors felt you lacked the training they desired, but that faculty member Bill Schuman, who became your voice teacher, saw your potential. How did Schuman approach training your "untutored" voice?
SC: I admit I was green. I had never sung an operatic role. I had done one recital. I had auditioned for five schools. I didn't expect to get into AVA. It was a free school with a great reputation for training, and was in Philadelphia, where I was born and raised. I sang the aria Che gelida manina from Puccini's "La Boheme". I went home and a couple of weeks later I got a letter that I had been accepted.
Schuman had coached Marcello Giordani, Stuart Neill and Shawn Mathey. So I was happy to get into AVA and work with him. He and Maestro Macatsoris liked that I had a good ear. Schuman started working on breath control, and on connecting and securing my range. He would not let me do any competitions or engagements until my second year at AVA.
Outside of the school you have more opinions, more coaches. As a youmg singer you should not have more than one teacher or, at most, a couple of coaches that are both on the same page. I thank Schuman for protecting me in that way. He has a way of giving you technique but not forcing it in your throat. Every one's body works in a completely different way. He can tell what is a healthy sound and one that lines up with, and has the ability to support the growth in my voice.
Wm: Even before you graduated from AVA, at age 24, you debuted as Rodolfo in Puccini's "La Boheme" at the Fort Worth Opera. But it was also the year that you began your string of Donizetti tenor roles, with Nemorino in "L'Elisir d'Amore" in Bordeaux and Leicester in "Maria Stuarda" at the Dallas Opera. Not every 24 year old tenor gets so many job offers. How did these opportunities come about?
SC: We did "La Boheme" at AVA and stage director David Gately was directing it. At the Fort Worth Opera, they would double cast the roles of Rodolfo and Mimi. One of the tenors dropped out, and Gately proposed to the Fort Worth folks that I replace that tenor, suggesting they could get me pretty cheap. And they did.
The Maestro and faculty at AVA agreed that I was ready. Jonathan Pell, artistic director of the Dallas Opera had come to see my performance. He offered me the part of Camille de Rosillon in Lehar's "The Merry Widow". So from there, in the fall of the December 2006, I was engaged to sing the Duke in Verdi's "Rigoletto".
Then their tenor had dropped out of the role of Leicester in Donizetti's "Maria Stuarda". I was asked if I could learn the role in a week. We got a score, learned the part and in a week, I started rehearsals.Then they asked if I would take on the title role in Donizetti's "Roberto Devereux". From there I got to do Percy in Donizetti's "Anna Bolena". I also perform Edgardo in Donizetti's "Lucia id Lammermoor" and Nemorino in Donizetti's "L'Elisir d'Amore".
I can sing the Donizetti tenor roles any time of day. It is said that a young tenor voice should conserve one's voice by singing Mozart. Yet singing the role of Don Ottavio in Mozart's "Don Giovanni" makes me feel shot down. On the other hand, singing Donizetti keeps my voice healthy.
Wm: Although many Donizetti operas were written specifically for prima donnas, there are some he wrote principally for the leading tenors of his day. I have long advocated that there be a tenor who develops the cachet with opera managements to revive the great Donizetti tenor roles just as, say, Leyla Gencer and Montserrat Caballe did the Donizetti soprano roles or Marilyn Horne the Rossini mezzo roles. You have a great start with the three "Tudor Trilogy" tenor roles, as well as the lead tenor roles in "Lucia di Lammermoor" "L'Elisir d'Amore" and "Linda di Chamounix". What other Donizetti roles are in your sites?
SC: I am repeating many of the Donizetti roles I have done before. I am scheduled to sing Percy in "Anna Bolena" four more times. I will do my first Tonio in "La Fille du Regiment" here in San Diego. As to the more obscure Donizetti, I sang Carlo in a concert performance of "Linda di Chamounix" at Covent Garden because Opera Rara wanted to record it
Wm: With Eglise Gutierrez as Linda and Alessandro Corbelli as Boisfleury, conducted by Sir Mark Elder.
SC: It's gorgeous music. No one else is doing it. We want to do this. The future Donizetti assignments, besides Tonio in San Diego, may include another Leicester in "Maria Sturada". It took forever for me to get another chance as Nemorino in "L'Elisir d'Amore". Now four Nemorinos are scheduled. If I had chance to sing a new Donizetti, I would choose it over a "Boheme" any day.
Wm: I have found British Director Stephen Lawless to be one of the most interesting directors now working, and he obviously has theories on how to make bel canto operas interesting to 21st century audiences. He's not a director that seems to believe in "stand and sing" and often has his artists crouching or in other unexpected postures? What is it like working in a Lawless production?
SC: It's interesting. Most of the rehearsal times for the "Tudor Trilogy" at the Dallas Opera have started with Lawless and Conductor Graeme Jenkins, who had been roommates in college, laughing and joking with each other.
As a director, I think Lawless is brilliant. The first time we stage a scene, he lets you do what you want to see how your body moves, then you'll build your character with him. He's not a director that arrives with a preconceived idea of what he wants each artist to do, although he knows when he has to arrive at a certain look for the production. He is such a funny guy. He's good at what he does. He's a director that can get the most out of you. He will not yell. He seems to be giving you the freedom to create the character, but he will get what he wants.
Wm: The first time I saw you in performance was in Dallas in the title role of Donizetti's "Roberto Devereux". I would think that anyone that saw you in the prison scene, singing the final cavatina and both verses of one of Donizetti's greatest cabalettas, would have a vivid memory of you in that role. What do you think about the opera, and do you agree with me that both verses of all the bel canto and Verdi cabalettas should be performed as intended?
SC: Yes, I think the second verses of the cabalettas always should be performed. I would love to make a career out of the bel canto operas, and have contracted for many bel canto roles in the future. Even so, I'm nervous about the role of Arturo in Bellini's "I Puritani".
[Below: Stephen Costello as Roberto Devereux, Earl of Essex; edited image, based on a Karen Almond photograph, courtesy of the Dallas Opera.]
The role of Roberto Devereux sits in a funny place in a tenor's range. You are singing F sharp and D and at the end of the opera there are the two verses of that ridiculously hard cabaletta.