For the first part of the interview, see: An Interview with Conductor James Conlon, Part 1.
The facilitation of this interview by the Los Angeles Opera is gratefully acknowledged.
Wm: It has been written that it was in Cologne you made your commitment to the "recovered voices" – composers whose lives were lost or careers destroyed or dirsupted by the Nazi regime in Germany. What were the steps that led you to the conviction that you should dedicate yourself to the works of Zemlinsky, and other composers whose works had been undervalued or unknown?
JC: There were political and racist motivations to suppress and destroy the careers and lives of composers and musicians who became targets of the Nazi regime. I believe the loss of the life work of these composers went beyond simply the individual compositions, but impacted the whole course of European music. The second half of the 20th century with its orthodoxy of serial and atonal music is partially the result of the destruction of the healthy milieu of polemics in which artistic ideas could freely be expressed and argued.
[Below: James Conlon at the Dorothy Chandler Pavilion; edited image, based on a Robert Millard photograph, courtesy of the Los Angeles Opera.]
Wm: Your years as musical director of the Opera National de Paris took place after the rather tumultuous period that the Bastille Opera House was opened. Many credit you, an American in Paris, with the eventual success of that house and its acceptance by Parisian audiences. Were there lessons learned and skills developed from the traditionalist's 20th century assault on the Bastille?
JC: The opera house, the Bastille, opened in 1989 and I was there as principal conductor from 1995 to 2004. I will value my experience in Paris for the rest of my life. They were great years. My daughters Luisa and Emma (who was born there) have made Paris a permanent part of their lives as well.
I think the challenge of integrating the Bastille into Parisian life was met through the work of my general director, Hugues Gall. I accepted his invitation because I felt he was the one person who could run the enormous operations of the Opera National de Paris. Our job was to build up the productivity of the company to the point where it could justify the large sums it receives from the French government.
The company increased the number of performances. The result of this effort was some 320 performances a year at the two theaters of both operas and ballets. To do this required a very high degree of discipline and productivity. Over the period of nine years, the orchestra was replenished to a total of 170 musicians, approximately 70 of whom auditioned and entered during my tenure.
[Below: Hughes Gall; resized image, based on a photograph for the Opera National de Paris.]
Hugues Gall and I have remained great friends. We see each other several times each year in Paris. I have learned an enormous amount from him.
Wm: The first time that I saw you conduct an opera was at the Bastille in 2002, for the Paris revival of Herbert Wernicke's Salzburg production of Richard Strauss' "Der Rosenkavalier" with Soile Isokoski leading an impressive cast.
JC: You were at my first, and , so far, only "Rosenkavalier".
Wm: You have become quite the celebrity in Los Angeles, particularly for your enthusiastically received scholarly lectures to the Los Angeles Opera audiences an hour before every performance you conduct? How did this tradition evolve, and do you relish or have you come to regret that it has become such a popular feature of LA Opera performances?
[Below: James Conlon tells the Los Angeles Opera audience what to expect in Wagner's "Das Rheingold"; edited image, based on a Robert Millard photograph, courtesy of the Los Angeles Opera.]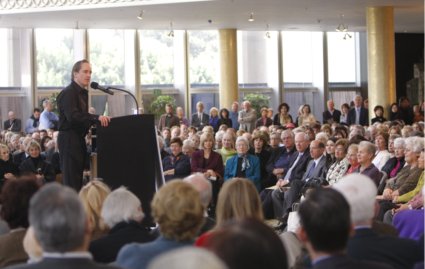 JC: I relish it. I started immediately with my first new production of Verdi's "Don Carlo." I noticed that there were free lectures given before each performance, in a format in which someone knowledgeable about opera answered questions from a moderator. I asked the person who was doing this, would you mind, if I could be the person you interviewed for "Don Carlo"? The response was that no performer had ever volunteered to do that before a performance.
After a while, it evolved into a regular feature. By the time that we began to perform the operas of Wagner's "Ring", it seemed that this format would allow for educating the audience on what to listen for. I wanted to discuss Wagner's leitmotivs, so I started using an iPod. I now know from experience how to best structure the talk.
It requires an ability to present ideas without speaking down to the audience or being pedantic, which can be off-putting for audiences. I want the lectures to be substantive. Many talks in opera circles are primarily banter, which is diametrically opposed to my goals. Those goals are to preserve the cultural essence. I want Mozart to survive and people to understand as much as they can about why his work is so great.
I believe the public has the intellectual grasp to process all of it. I present an analysis of the music, the work, not stories about divas and stars. That is the model for me. That is how I want to build a relationship with my audience. We often have 1200 to 1300 people at the talks. That gives me a sense of satisfaction.
I enjoy these talks because I like teaching – especially teaching the public. I am not going to get into the subject of classical education in schools at the moment. I do feel that whatever energy I have left, I want to devote to opening the public's mind to the classics. I don't know what form it's going to take, but it must be done. I am planning to expand my activities in the near future.
Wm: In six Los Angeles Opera seasons in which you have conducted or are scheduled to conduct operas, you have had conducting responsibilities for six Wagner operas (including the "Ring" operas severally and together, four Verdi operas, four Puccini (including the three operas of the "Trittico", and the works of 11 other composers of operas in Italian, German, English, Czech and Russian. Yet, despite your many years centered in Paris, you have yet to conduct a French opera in Los Angeles. Granted, of the three French operas scheduled in these six seasons, Placido Domingo has taken on conducting responsibilities for two of them. But is there a particular reason why you are not performing French works in L. A.?
JC: There's no reason at all. For economic reasons, our season is shorter than we would like it to be, so there's less opportunity to do everything we want. We have made the decision to maintain quality in every production we mount. If money is short, we don't want the savings to come from, say, reductions in the number of rehearsals. No compromise of artistic standards; that is the decision. The economy will come back.
I learned the French repertory from my studies with Conductor Jean Morel. I learned how to approach Ravel and Debussy. He imprinted the French culture with it. I watched him conduct Bizet's "Carmen", his last at the Met.
[Below: Conductor Jean Morel on a tour with the Juilliard Orchestra to Glyndebourne, England; edited image, based on a photograph from www.juilliard.edu.]
Wm: Morel conducted the very first opera I ever saw – Gounod's "Faust", with Albanese, Peerce, Cornell MacNeil and Siepi.
JC: You saw Morel at the Met?
Wm: No, in San Diego, where the San Francisco Opera used to tour.
JC: That's wonderful! I wasn't aware he conducted there.
Wm: One of the truly amazing experiences was seeing the Achim Freyer "Ring" and particularly its most extraordinary feature – the use of avatars to visually represent each of the leitmotivs in the "Ring". As Freyer's ideas were being formulated, did you discuss these elements with him? Was the conceptualization of the Freyer "Ring" in part a collaborative effort, or was it wholly the vision of a single man?
JC: The "Ring" was a collaboration, but the visual vocabulary was Achim's. I couldn't imagine the conductor conceptualizing what is to happen onstage. In the case of Achim, he is an artist who comes with his own ideas. I didn't agree with everything he did, but we evolved together.
The biggest part of the evolution, was moving from a closed pit to a standard open pit. The pit cover didn't work adequately in Los Angeles. If it's not Bayreuth it doesn't work. It was blocking light, but it was also blocking sound. The closed pit robbed us of our overtones. We wanted to emulate the concept of Bayreuth, but if the sound isn't right, you have to abandon it. We abandoned it by "Siegfried" and "Goetterdaemmerung" and the complete Ring, to the great advantage of the orchestral sonority.
I'm extremely proud of the orchestra. When we started to prepare the "Ring" only one person in the orchestra had ever played "Rheingold," another one "Walkuere," and two for "Siegfried" and "Goetterdaemmerung."
It was exhilarating and gratifying to take an orchestra through its first experience playing the Ring. I told the orchestra, that when returning to "Rheingold" after "Goetterdaemmerung," it would look easy. A Ring cycle expands the capability of an opera orchestra, like a complete Mahler cycle expands a symphony orchestra.
[Below: Gustav Mahler; resized image of a historical photograph, published by Adolph Kohut.]
I am presently completing my third complete cycle of Mahler symphonies with the Chicago Symphony at the Ravinia Festival. I did the same with the Rotterdam Philharmonic and the Gürzenich Orchestra in Cologne. Together with these three cycles and many individual performances of the symphonies, I estimate that I have given about 300 performances of Mahler symphonies.
In 1990, I gave the Chicago Symphony's first performances of Mahler's Das Klagende Lied, a piece he wrote as an 18 year old, and the New York Philharmonic's first performances as well.
Wm: You recently compiled your performance history. How many operas and how many productions have you conducted so far in your career?
JC: I get a kick out of statistics. I estimate having conducted 90 operas in 214 productions. As best as I can reconstruct, it is probably around 1400 total performances. Verdi is the composer I've conducted most often with 365 performances, followed by Puccini with 165, Wagner with 154, Mozart with 135 and, amazingly, Mussorgsky with 76.
The opera I've performed the most is Puccini's "Tosca" with 55 performances, followed by 52 performances of Verdi's "Otello," 49 each of "Boris" and "Don Carlo," 45 of "Falstaff" and 42 of "Macbeth." At the Paris Opera, I did 357 performances of 32 operas; at the Cologne Opera, 293 performances of 32 operas. At the Metropolitan Opera, I've done 269 performances of 21 operas. And at Los Angeles Opera, 158 performances of 27 operas.
Wm: Thank you, James.
For William's most recent reviews of performances conducted by James Conlon, see:
An Incredible Domingo and Other Marvels of the Los Angeles Opera Ring – "Walkuere", May 30, 2010 and,
Countdown to the Wagner Bicentennial: James Conlon Conducts Bel Canto "Lohengrin" – Los Angeles Opera, November 20, 2010 and,
Conlon Conducts Musically Impressive "Rigoletto" – Los Angeles Opera, December 2, 2010 and,
Partying in L. A.: Machaidze, Gavanelli Romp in All-Star "Turco in Italia" – Los Angeles Opera, February 19, 2011 and,
Countdown to Britten Centennial: Conlon, Racette and Burden Impress in Enigmatic "Turn of the Screw" – March 12, 2011.