There are two principal reasons why an opera company might invest in a new production of an opera never before seen in its community. The first is as a vehicle for displaying the talents of a particular artist. The second is the conviction that the repertory of that company should be expanded to include that particular opera.
Of course, a company can present an opera for the performer they wish to showcase by borrowing (renting) the production from another company, or by creating sets that would be dismantled and discarded or "repurposed" at the end of the run, but a new production that a company plans to keep represents a commitment to the opera beyond the company's current season.
Seattle Opera's new production of Massenet's "Don Quichotte (Don Quixote)" was designed both as a showpiece for the maturing vocal prowess of basso (or bass-baritone, depending on one's terminology preferences) John Relyea, and, at the same time, reflects a decision by the Seattle Opera to add this century old opera (which celebrated its 101st birthday in the previous week) to its performance repertory.
The opera is one of the few operas even remotely close to being included in an expansive list of opera's standard repertory that was written for a celebrity basso – the renowned Russian basso, Fyodor Chaliapin. For its first few decades, its performance history was dominated by Chaliapin and especially, Massenet's favorite Quichotte – the elegant French basso, Vanni Marcoux. (Recordings of both Chaliapin and Marcoux singing arias and scenes from "Quichotte" are available as MP3 downloads from amazon.com.)
But the opera's current fame rests on its attraction to leading bassos of the postwar era – in Europe to Boris Christoff, Nicolai Ghiaurov, Ruggero Raimondi and Jose Van Dam, and in the United States (and Europe also) to Samuel Ramey (Lyric Opera, Chicago, Houston Grand Opera, San Francisco Opera, and later Paris) and Ferruccio Furlanetto (San Diego Opera, as well as Palermo).
Organized in the French five act style, in Seattle, as elsewhere, the short acts are combined, with three before the single intermission and two afterwards. Don Quixote is the dominant presence in every single scene, always commanding the audience's sympathy. The role has ample opportunity for a singing actor to demonstrate comedy, sentiment and pathos, with beautiful music to sing throughout the performance.
The Seattle Opera has afforded John Relyea the opportunity for role debuts in operas that show off his resonant basso – the Four Villains in Offenbach's "Tales of Hoffmann", Bluebeard in Bartok's "Bluebeard's Castle" and, scheduled for January 2012, the title role in Verdi's "Attila", in addition to his current role debut as Don Quixote.
In my recent interview with him (see Rising Stars: An Interview With John Relyea, Part 1 and Rising Stars: An Interview with John Relyea Part 2) he stated that his voice had matured to the point that it was ready to operate on "more pistons" – his metaphor for the long legato lines associated with the operas of Verdi, Wagner and the Romantic era French works. Massenet's Quixote is a role that reflects his career's new directions.
On one's first hearing of the opera, the aria that most stands out is likely to be the lusciously lyrical Quand apparaissent les etoiles, sung as a hymn to Dulcinee (Malgorzata Walewska), whose melody returns in orchestral passages in later scenes of the opera. Relyea sang this most famous of Quixote's musical passages beautifully and with great dignity. Although he carried a lute as a stage prop, one has every confidence that Relyea, an accomplished classical guitarist, could accompany himself in this aria with consummate skill.
[Below: John Relyea as Don Quixote; edited image, based on a Rozarii Lynch photograph, courtesy of the Seattle Opera.]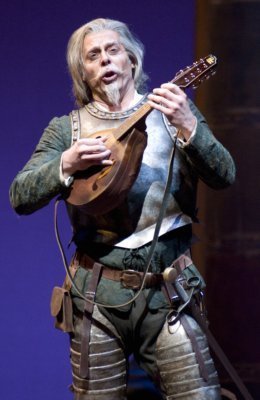 The West Coast's previous experiences with this opera began with San Diego Opera performances originally mounted in 1969 for Norman Treigle (although Treigle's cancellation for illness helped bring natonal attention to his replacement, the young Michael Devlin). Two decades later (1990), San Francisco Opera performances highlighted Ramey.
Then, after the lapse of another two decades, the West could boast of two new productions in 24 months, one in 2009 at San Diego Opera for Furlanetto, Eduardo Chama and Denyce Graves (see my review at Furlanetto, Campbell Lead Compelling Revival of Massenet's "Don Quixote" – San Diego Opera February 14, 2009) and the current Seattle production for Relyea, Chama and Walewska. Both productions utilize Missy West's costumes created for San Diego.
The 2011 Seattle and the 2009 San Diego productions both provide homage to the Spanish novelist Miguel Cervantes, whose Don Quijote de la Mancha was the inspiration for a 1904 Parisian play (translated as The Knight of the Rueful Countenance) by the semi-amateur playwright Jacques Le Lorraine, which formed the basis for Henri Cain's libretto for Massenet's opera.
That play displayed no intention on Le Lorrain's part of attempting a faithful adaptation of Cervantes work. Like some Hollywood movies based on classic literature, it built itself on some famous images derived from the original work (the delusions of a elderly, lanky would-be knight from his obsessions with the chivalric literature that Cervantes parodized, with the adaptation of one familiar episode from the novel as a scene in the play – Quixote's battle with the windmills). Except for details, the playwright invented an entirely new story with very little similarity with Cervantes' narrative.
Quixote's character in the French play and Massenet's opera is much changed from the object of ridicule of the Spanish novel. At his very first entrance, with his squire Sancho, he distributes what's left of his meager resources to begging children. If having a somewhat eccentric knight errant appearing in a small Spanish village seems out of the ordinary, Quixote, his squire, and their steeds never seem particularly unwelcome.
[Below: the Knight Errant Don Quixote (John Relyea, riding the horse Rosinante (Desperado). followed by his squire Sancho Panza (Eduardo Chama, left) ridiing his donkey, Dapple (Milly); edited image, based on a Rozarii Lynch photograph, courtesy of the Seattle Opera.]
Yes, he mistakes windmills for dangerous adversaries, but through force of personality (and something of a Christlike aura) he persuades a gang of bandits to return to him valuable jewelry they stole from Dulcinee, the lady Quixote has chosen to serve. Unexpected as his attention may have been, he ultimately charms Dulcinee, even as she feels compelled to decline Quixote's offer of marriage.
As juicy a role as is Quixote, the "co-starring" principals both have engaging roles as well. Sancho Panza is is as fully realized a comic character as Leporello in Mozart's "Don Giovanni", and has a master who is consistently more likable. Eduardo Chama, sidekick to both Furlanetto in San Diego and Relyea in Seattle, delighted both audiences with the his humerous aria in defense of that most downtrodden category of human victims – husbands. In the final scene, Chama was impressive in his immensely sympathetic tribute O mon maitre, o mon grand! ro the dying Don.
In a move that would give most opera companies pause, but which resounded with the Seattle audiences, the production used both a live horse and donkey, each of whom behaved impeccably on opening night.
[Below: Sancho (Eduardo Chama) whispers to Rosinante (Desperado) and holds his donkey, Dapple (Milly); edited image, based on a Rozarii Lynch photograph, courtesy of the Seattle Opera.]
There is a character named Dulcinee in Cervantes' novel, but, to me, she bears no more resemblance to the Le Lorrain/Henri Cain/Massenet Dulcinee than Siebel in Gounod's "Faust" does to the Siebel in Goethe's Faust Part I.
Some commentators on the opera have wondered what Dulcinee's "station" might be. In fact, I believe the Massenet Dulcinee is an underappreciated portrait of a woman of power in complete control of her surroundings – not because she is a duchess, or a barmaid, or a courtesan, but because she has achieved success and community standing through her own pluck. The Le Lorrain play, produced in turn of the 20th century Paris when the woman's movement was in its early stages in Western Europe and North America, I believe, should be recognized as symbolically in tune with what within a few years would be the political emancipation of women.
One of the curiosities of this opera, that can be found elsewere in the works of Massenet, is the use of the "semi-chorus" – a group of comprimario singers who often sing together. Dulcinee has four male suitors, but, in this opera, with two basses and a mezzo-contralto comprising the three principals, two of the males are played by high women's voices, thereby, in Massenet's scheme of vocal coloration, achieving a more satisfactory distribution of high and low voices. (Even though, brief as the two parts are, "trouser roles" were by then a curiosity in French opera, Richard Strauss had some additional trouser roles to contribute to the German repertory, beginning 11 months later with Octavian in "Der Rosenkavalier".)
[Below: Dulcinee (Malgorzata Walewska, center, in pink dress) is courted by Juan (Alex Mansoori, top left), Rodriguez (Marcus Shelton, top right); Pedro (Jennifer Bromagen, bottom left) and Garcias (Emily Clubb, bottom right); edited image, based on a Rozarii Lynch photograph, courtesy of the Seattle Opera.]
The new Seattle production was directed by Linda Brovsky, who should be credited as concept designer as well, as it is she who devised the idea of staging the entire opera amidst giant books that represent the chivalric romances that inspired Quixote's "impossible dreams". Skillfully realized by set designer Donald Eastman, the sets are comprised of what appear to be large leatherbound volumes, some upright, some on their sides, which provide heights the characters can climb or levels that that they can stand upon.
The Cervantes connection was further reinforced with large quill pens that served several functions, most markedly (and, I think, less successfully than in other productions I have attended) as the arms of the windmills.
[Below: Don Quixote (John Relyea, right) prepares to battle with windmills as Sancho (Eduardo Chama) looks on; edited image, based on a Rozarii Lynch photograph, courtesy of the Seattle Opera.]
French opera provides ample opportunity for dancers, with "Don Quichotte" particularly, with its abundant music evoking sunnuy Southern Spain, for dancers skilled in the flamenco and Andalusian styles. Authentic dances were realized by the choreographer and principal dancer Sara de Luis, teamed with principal dancer Raul Salcedo.
[ Below: a performance by the principal dancers Sara de Luis, center front and Raul Salcedo (behind de Luis); edited image, based on a Rozarii Lynch photograph, courtesy of the Seattle Opera.]
The introduction of "Don Quichotte" to Seattle was a successful endeavor, with a first rate cast, and spirited conducting by Italian conductor Carlo Montanaro in his Seattle Opera debut.
Seattle's General Director Speight Jenkins, in his celebrated post-opera talks to the large numbers in the audience who stay late to take part in them, announced that several representatives of other opera companies were scheduled to see the new production. In fact, for the performance I attended, which was Relyea's role debut, San Francisco Opera's General Director David Gockley was sitting with Jenkins in the row behind me.
The Seattle performance was another achievement in the career of basso John Relyea, and is yet another milestone in the expansion of opera's standard repertory to include this immensely likable work.
[Below: The dying Don Quixote (John Relyea, left) is comforted by Sancho Panza (Eduardo Chama); edited image, based on a Rozarii Lynch photograph, courtesy of the Seattle Opera.]
For my review of Malgorzata's Azucena, see: Seattle's "Trovatore": Standing Ovations for Antonello Palombi, Lisa Daltirus – January 16, 2010–