Here is the fifth in Arthur Bloomfield's occasional series of Time Machine trips into the world of opera three or four generations ago, focusing on the conductors' art.
As Maestro Fausto Cleva once said on the Met Opera Quiz, in answer to the question "Who is the most important person in an opera performance?", "The conductor – because he can do the most damage!"
The conductor Artur Bodanzky presided over the then-segregated German wing of the Metropolitan Opera for almost a quarter century, 1915-39, conducting a steady and to him perhaps endless diet of the same dozen or so operas that came round and round again like Cognac, or Coke, bottles on a factory conveyor belt. It was they in their relentlessness, or his reaction thereto, that probably killed him, his heart failing before the Valhalla of Social Security kicked in.
[Below: Conductor Artur Bodanzky; image from Henry Edward Krehbiel's "More Chapters of Opera", New York, Nenry Holt and Co., 1919.]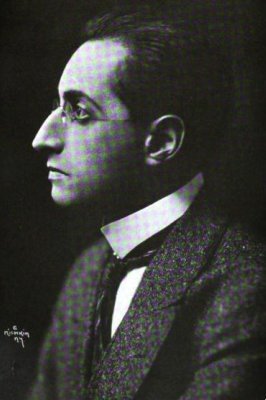 His Met broadcasts, mostly Wagner of course, are all over opera aficionados' shelves of historical CDs and LPs, he was truly inescapable, but a consideration of his merits reads, alas, like a ledger of profit and loss. Boredom aside — and is a servant of the public standing on that podium in the orchestra pit really allowed to be bored? — Bodanzky was artistically like the clock that strikes 13 or 14 times. His taste if put too long in front of a Blue Network microphone could falter, his commitment lapse.
A loose cannon compared to that precision gunner Fritz Reiner who was also conducting a lot of Wagner (see our second Time Machine article: Arthur Bloomfield's Guest Commentary on mid-20th Century Conductors, Part 2: Fritz Reiner), Bodanzky with his rather irascible baton was a more brittle and highstrung maestro than the glowing Fritz with his full tank of finesse. Bodanzky had "good wheels" as they say, he favored brisk tempos and sometimes faster ones than that, so he wasn't exactly dull, just boring sometimes.
Sometimes one really could learn from his baton. At his best he was a wonderful excavator of near-hidden felicities of expression, as when in the Liebestod from Tristan und Isolde (1-2-37) he reveals the golden, sexy sound of the high horns whose rapturous sequences are shared with other instruments tending in many performanes to obscure the horns' engaging color. The desperation in the violins' runs on the fraught final page of act 2 of Tannhaeuser (1-18-36) is also memorable.
And who has made Bruennhilde seem to CRY OUT so vividly from the Walkuere Magic Fire via that repeated falling phrase in the winds (2-3-24)?
But heavens, the automatic pilot on which his Rosenkavalier of 1-7-39 so frequently runs! Lyrical passages looked forward to by hungry Straussians tend to be as cold as pats of butter taken straight from the fridge. As for the pompous and ponderous orchestral recitatives Bodanzky concocted to replace the spoken dialog in Fidelio (12-31-38) — the tension-starved string tremolo as Pizarro menacingly reads the dispatches is a low point — these must charitably be considered flukes of history lodged inside a performance in this case not without its appropriately feisty excitements.
Clean articulation was not one of Bodanzky's strong points and the '35 Walkuere in which a little-known Kirsten Flagstad made her American debut suffers from great honey pots of syrup from the strings. The solo cellist in particular he fails to restrain from great fits of portamento. It's as if there were gum on the performance's shoes.
[Below: Kirsten Flagstad, historical photograph.]
The Immolation Scene in Goetterdaemmerung (1-11-36) is for the most part ardently and satisfyingly done — until Bodanzky flies into the orchestral postlude in a near-frantic rush not in sync with Bruennhilde's proud and majestic personality, and when the Rhine motif flows into the orchestra it has, alas, the sing-song voice of a provincial tributary.
Better by far is the moment in Siegfried (1-30-37) when our hero comes close to that strange breast-plated object lying on a rock and Bodanzky's brass sound off pingily indeed from their high orchestral horse. I can hear it now in front of my computer! Then in the Venusberg music of that '36 Tannhaeuser the bustle coming out of the Met's pit is wonderfully wild. Although sex at this speed could be challenging.
A very interesting question is whether Bodanzky would have emerged as a classier conductor if his minders had assigned him a greater variety of repertoire. An Otello here, a Tosca there, a Carmen for a lark — if you were a Toscanini you could get away with crossing borders, but Bodanzky's clout seems to have stopped short of avoiding the great Wagnerian pigeon hole prescribed by Gatti-Casazza and his successor Edward Johnson. Alas, I tend to doubt it, I think Bodanzky's welt-schmalz ran a little too deep.
Meanwhile it's just struck me what was on those general managers' minds: if the same fellow always conducted a particular opera you'd probably need less rehearsal next season and the season after that. A bit cynical, eh what?
On a happier note . . . connoisseurs of Die Walkuere haven't finished their homework until they've heard the broadcasts of Riccardo Muti (La Scala 1990s) and Ferenc Fricsay (Berlin '51). Not to metnion late bloomer Reginald Goodall and his English language Ring at London's Coliseum in the 70s — gods and dwarfs and slow tempos inside and snowball fights outside in St. Martin's Lane on a February evening.
[Below: Conductor Riccardo Muti; a promotional photograph.]
Muti transmutes podium glamour into a broad legato sweep, the short-lived Fricsay slips magically in and out of a suave and inner interpretive world woven in an Olympian ermine, echt-tragic and absolutely individual. My how Fricsay could do heartbreak, as subtly yet searingly as Penelope Lively delivers by implication the heroine's death at the end of her novel Moon Tiger. To borrow from another of my favorite writers, this is "the transmission of sore spots into beauty."
Curious that some commentators link Fricsay stylistically with Toscanini. In my role as a non-combative chronicler I must remain silent on this. However, as Mr. Gilbert's Pooh Bah would say, in my role as a purveyor of public service of a sort I must own that such a linkage makes no sense at all. The only conductor in my estimation who really wanted to "do a Toscanini" was George Szell, a conductor felicitous on Monday and crude on Tuesday.
That reminds me, the San Francisco Opera's Kurt Herbert Adler tried to hire Szell one season but he wasn't available.
And a footnote here: in my recent Operawarhorses.com article about Adler's 1978 San Francisco Opera season, and his artistic policies in general, I should have added a few more names to his excellent conducting hires: Lamberto Gardelli, Gianfranco Masini, Niksa Bareza and one James Levine.
Arthur Bloomfield is the author of More Than The Notes: The Conducting of Toscanini, Furtwaengler, Stokowski and Friends, available at www.morethanthenotes.com.
A hyperlink to Bloomfield's "time machine" discussions of conductors may be found at: Arthur Bloomfield – Dropping in On the Final Adler Years at the San Francisco Opera: The Spirit of '78.