Note from William: This post continues my series of observances of historic performances that I attended at San Francisco Opera during the general directorship of Kurt Herbert Adler. This is the fiourth of five such observances of performances from the company's 1960 Fall season.
The first Italian opera that I had experienced in live performance was Verdi's "Simon Boccanegra" with a trio of legendary singers – baritone Leonard Warren (Boccanegra), soprano Renata Tebaldi (Maria Amelia)  and basso Boris Christoff (Fiesco Grimaldi). (For my 50 year retrospective, see: Historical Performances: "Simon Boccanegra" with Warren, Tebaldi and Christoff, San Francisco Opera in Los Angeles – October 20, 1956.)
When San Francisco Opera announced its 1960 season, Tebaldi was scheduled to return, among assignments, to sing Maria Amelia again, with Italian recording artist Tito Gobbi as Boccanegra, Maria Amelia's father.  The often ill Tebaldi (who had suffered from childhood paralysis) was felled by arthritis and, on doctor's advice, had to cancel all of her performances that autumn in San Francisco, a city over 6000 miles away from her home.
Her replacement was announced to be Lucine Amara, whom I associated with roles much lighter than Maria Amelia, such as Musetta in Puccini's "La Boheme" and Nedda in Leoncavallo's "I Pagliacci". As a young Tebaldiano, who had, after all, seen as great a "Boccanegra" cast as I could imagine just four years prior, I thought it best to spend time and fortune on operas I had not seen yet.
This was my first season that I was living near enough to San Francisco to buy seats at the War Memorial Opera House. I scooped up "dress circle" seats (behind the Grand Tier in the lower balcony, which is just above the horseshoe ring of boxes) for performances I could schedule that had famous artists of the day – Schwarzkopf in Richard Strauss' 49 year old "Der Rosenkavalier", Rysanek and Schoeffler in the Strauss' "Frau ohne Schatten", Kirsten, Konya and Gobbi in Puccini's "Girl of the Golden West" and Konya in Wagner's "Lohengrin".
I also had a ticket to see Anna Moffo in Bellini's "La Sonnambula", but a conflict required me to work out a change in performances. At the opera box office, I was told that the office had just received a nice center orchestra seat for the upcoming "Simon Boccanegra" whose price was only $10 (sic!, that really was the center orchestra price in 1960), for which my exchanged dress circle would cover most of the cost. Of course, since the days of junior high school, I was told by every classical music buff (there are probably some even now in junior high school) that the only place to sit in any concert hall or opera house is in the less expensive seats in the balcony, because "the sound is better".
But, I decided to test that urban legend, and bought the seat the box office offered, and found myself in awe of how being that much closer to a live operatic performance so totally changed the experience. The very next season, as an entering freshman in college, I bought a subscription for an aisle seat in center orchestra and have had a subscription in the orchestra section at San Francisco Opera each season since 1961 (since 1965, next to the conductor's podium).
The Lowdown on Downloads
When I posted my remembrance of the 1956 "Boccanegra" performance on its 50th anniversary, I had the studio recording of "Boccanegra" with my 1956 Fiesco, Boris Christoff and 1960 Simon, Tito Gobbi.  The lack of an accessible recording in their "Boccanegra" roles of Christoff's co-principals in 1956 – Warren and Tebaldi – was frustrating, In the case of the 1960 "Boccanegra" performance, besides the famous studio recording with Gobbi and Christoff, there are now several more historical performances, including the recordings, with reasonable sound, of "Boccanegra" broadcasts with combinations of Warren, Tozzi and Gobbi, and the 1960 performance's Gabriele Adorno, Giuseppe Zampieri.
[Below: Tito Gobbi as Simon Boccanegra in 1960; edited image, based on a photograph, courtesy of the San Francisco Opera.]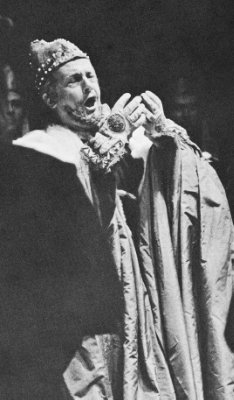 Now, five decades later, I sit at my laptop recollecting that experience and sharing my thoughts with the world. But in 2010, I find myself with the ability to supplement my thoughts with references to documentary evidence, most particularly the recorded legacy of many of the operatic artists whose performances I am remembering. This is the result of a contemporary phenomenon – the transformation of popular music by Apple i-pod and i-tunes. I am describing only the tiniest sliver of a relatively obscure corner of the music scene. But my 50 year retrospectives, I do expect, will be transformed by the widening catalogue and increasingly easy accessibility of inexpensive mp3 downloads.
Four years ago, if you perused the available mp3 downloads offered on the website of the best known Internet merchant, you would find comparatively little operatic material available. Now it seems every day brings new downloadable operatic treasures from both studio recordings and broadcasts. And, unlike the past, in which one might have to buy (or download) an entire album to have access to an individual artist in a role, you can now buy one aria by Artist A, a duet by Artists B and C, and longer portion of an act with other artists, and build your own playlist of performance excerpts to approximate, say, the composition of a cast you have seen, or whatever you wish to do. I have a "1956 SF Opera 'Boccanegra' cast playlist" and one for the 1960 cast. And we are only up to 1960 in my "50 year anniversaries".
Notes on the "Boccanegra" Prologue: Electing a Pirate as Your Sovereign
Like Verdi's "Il Trovatore", "Simon Boccanegra" is based on a play by the Romantic Era Spanish Playwright Antonio Garcia Gutierrez, an exact contemporary of Verdi and Wagner. In both of these Verdi operas, events take place in one generation that have profound consequences for the next generation, with characters from the older generation (Ferrando and Azucena in "Trovatore", Fiesco, Paolo and Simon in "Boccanegra") impacting the lives of those of the younger (Manrico, di Luna and Leonora in "Trovatore", Maria Amelia and Gabriele Adorno in "Boccanegra".) "Trovatore" relies on exposition narratives from the older pair to explain what happened in the past, but "Boccanegra" has a prologue for this purpose.
Onstage, in "Boccanegra's" somber prologue, only a few dozen paces from me, was that consummate actor  and superb baritone, Tito Gobbi as Boccanegra, the compatriot of Maria Callas on so many of her recordings, interacting with another consummate actor and superb singer, the Welsh baritone, Geraint (later Sir Geraint) Evans. With credible actors, the odd idea of bestowing the powerful position of Doge of Genoa on a corsair, with the idea of controlling him from behind his throne, gains some plausibility.
[Below: Tito Gobbi as the pirate, Simon Boccanegra, in the opera's prologue; edited image, based on a historical photograph from the CBS Interactive Music Group.]
I already had spent time in an earlier post on Tito Gobbi's performances at the San Francisco Opera (see 50th Birthday Celebrations: Dorothy Kirsten Rides High in "Girl of the Golden West" – San Francisco Opera, October 1, 1960), in association with the "Fanciulla" production I had seen the weekend previous to this "Boccanegra" night.
[Below: Tito Gobbi as Doge Simon Boccanegra; edited image, based on a historical photograph, from CBS Interactive Media Group.]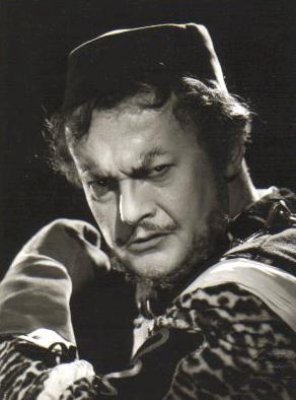 The highlight of the Prologue is Fiesco's great aria Il lacerato spirito. Even with Christoff's memory still in my mind (constantly reinforced at the time, of course, by the stereo recording of the opera with Christoff and Gobbi that I own to this day), Tozzi's sonorous basso was delicious to hear. What is more, nearly contemporary documentary evidence exists to support my assertion. One needs only to go to the "Mp3 downloads" section at amazon.com and insert "Il lacerato spirito" and (as of the date of this post) 43 options appear, including two separate live performances with Tozzi. (I can even construct a playlist consisting of some of the other bassos I have seen perform the role, such as Christoff and Cesare Siepi.)
Chicago-born Tozzi was associated with 139 performances with the San Francisco Opera of 28 roles in five cities.  Of these, 103 performance of 27 roles occurred at the War Memorial in San Francisco. He debuted in San Francisco in 1955 and performed every season between 1955 and 1964, returning in 1966 and 1976 through 1978. Subsequently, Tozzi joined the voice faculty of Indiana University, where he is a distinguished emeritus professor. Among his students whose work is regularly reviewed on this website is bass-baritone Kyle Ketelsen.
[Below: Giorgio Tozzi; photograph from bass-baritone Kyle Ketelsen's website, www.kylek.net.]
Geraint Evans was nearly as prolific a performer with San Francisco Opera as Tozzi, with 126 performances of 18 roles, of which 93 regular performances (i.e., not student matinees) of 16 roles took place at the War Memorial. Although his Paolo was a memorable role, he was best known in San Francisco  for the title roles in Berg's "Wozzeck", Verdi's "Falstaff" and Mozart's "Marriage of Figaro", Sixtus Beckmesser in Wagner's "Die Meistersinger" and Papageno in Mozart's "The Magic Flute". Each of these five roles he performed in two or more seasons.
"Boccanegra's" Next Generation
After a two decade interval, we meet two new principal characters – a woman whom Boccanegra learns is his long-lost daughter Maria Amelia (Lucine Amara) and her lover and conspirator against Boccanegra's reign, Gabriele Adorno (Giuseppe Zampieri).
Amara, the American born soprano from an Armenian family, possessed a light, lyric soprano, that lacked the spinto weight that I have always believed is required for performing the big Verdi roles in the large American houses. My colleague, Arthur Bloomfield, regards her as underappreciated as a Verdian, describing, in his history of the San Francisco Opera, her dolcissimo passages in the Nile scene of Verdi's "Aida" as "just right"; yet he conceded "often she was overwhelmed [as Aida] and one yearned for more weight".
My impression of Giuseppe Zampieri as Adorno was quite different. One of the impressive group of Italian spinto tenors seen in San Francisco in the postwar years (I have already reported on performances by Giuseppe Campora and Gianni Raimondi, as well as the tenore di forza Mario del Monaco), I still regard him as one of the more effective Adornos of the past five decades at the War Memorial.
One can sample Zampieri as Adorno and Tozzi as Fiesco singing together in the beautiful duet Vieni a me, ti benedico and Zampieri in Adorno's extended solo passage that begins O inferno and includes the passage Sento avvampar nell'anima and the aria Cielo pietoso rendila.
[Below: Conductor Leopold Ludwig; historical photograph from CBS Interactive Music Group.]
Conducting the opera was Leopold Ludwig, who was midway in his 20 year career as music director of the Hamburg Staatsoper. Two weekends before, he had conducted my first performance of "Frau ohne Schatten", and in the subsequent eight seasons I would see him conduct 16 additional performances, including ten operas I was seeing for the first time.
I will report more on Ludwig, in an observance next year of one of his 1961 performances.
For my recent reviews of this opera, see: Hvorostovsky, Guryakova, Berti Excel in Houston "Simon Boccanegra" – November 4, 2006, and
Verdian Back to Basics: San Francisco's Satisfying "Simon Boccanegra" – September 21, 2008.