[Note from William: The second part of my interview with basso cantante Raymond Aceto took place in San Diego at the administrative offices of the San Diego Opera, where he was appearing as Zaccaria in Verdi's "Nabucco" and in London, England, where he was performing Sparafucile in Verdi's "Rigoletto" at the Royal Opera House, Covent Garden. See also Rising Stars: An Interview with Raymond Aceto, Part 1.]
Wm: In my travels, I have seen you perform four times in 2010, in Houston (Scarpia in Puccini's "Tosca" ), in San Diego (Zaccaria in Verdi's "Nabucco" ), in San Francisco (Hunding in Wagner's "Die Walkuere") and in London (Sparafucile in Verdi's "Rigoletto" ) in four quite different productions. I suspect it's unusual for a single reviewer to see an artist with four different opera companies in a ten month period. Although it was by coincidence rather than a deliberate plan, it does give us a chance to take a more comprehensive approach to the questions in these interviews.
In Part 1 of this interview, we discussed John Caird's production of "Tosca" in Houston. When we had talked earlier this year, you had gone from singing Scarpia in Puccini's "Tosca" in Houston to Zaccaria in "Nabucco" in San Diego within a few days of each other. There are not a lot of singers who sing both of those roles. How do you handle those changes?
RA: You're right, there are not a lot singers doing both Scarpia and Zaccaria. Even so, the immediate transition from singing Scarpia in Houston to Zaccaria in San Diego required very different ways of singing. I'm pleased that my voice has developed in a way that can handle these different styles comfortably.
[Below: Tosca (Patricia Racette) kills the Baron Scarpia (Raymond Aceto); edited image, based on a Felix Sanchez photograph, courtesy of the Houston Grand Opera.]
Wm: Although we discussed the role of Zaccaria, I haven't asked you yet about the San Diego Opera "Nabucco" production itself.
RA: Prior to my performances in San Diego, I had done "Nabucco" twice – once as Zaccaria at the New York Met and as the Gran Sacerdote, which was my debut with Lyric Opera in Chicago, in the same sets used in San Diego, although with different costumes. Samuel Ramey was the Zaccaria.
Even with some familiarity with the role of Zaccaria, it was a wonderful experience working with Director Lotfi Mansouri and Conductor Eduardo Mueller. One trusts these two veterans. Lotfi has seen it all and done it all. You know that when he asks you to do something, it will work in performance. He is not going to have you stand on your head and make you sing a cabaletta in that position.
Mueller is a conductor who knows what he is talking about. In bel canto and the Verdi repertory, you need a conductor who can lend support to the singers. I regard Mueller as having the rapport with vocal artists that one experiences with Conductors James Levine and Nicola Luisotti.
[For the "Nabucco" review, see: Fink, Valayre and Aceto in San Diego Opera's Exceptional "Nabucco" – February 20, 2010.]
Wm: We had talked previously before you went to San Francisco to perform Hunding in "Die Walkuere" in Francesca Zambello's production. I had seen Gidon Saks do the role when the production first was seen at the Washington National Opera, and thought you would find it an interesting assignment. Zambello seems to portray Hunding and Sieglinde as a reasonably happy rural American couple, until Sieglinde's brother arrives unexpectedly on the scene to break up their marriage.
As you may have read, I was quite impressed by your acting as Hunding in the Zambello "Die Walkuere" in San Francisco in June 2010 and that of your colleagues Eva-Marie Westbroek as Sieglinde and Christopher Ventris as Siegmund. What was it like being in that Francesca Zambello production, particularly that first act with Westbroek and Ventris?
RA: Well, Zambello's take on Hunding's relationship with Sieglinde is quite unexpected, but really well thought through and it works dramatically. Eva-Marie is a dream to work with and Ventris is great. The three of us were really in tune with each other. What was remarkable about that San Francisco cast is how close we all were. We all socialized and spent time together.
[For my "Walkuere" reviews, see: An American "Walkuere": Runnicles, Wagner and Zambello At San Francisco Opera – June 10, 2010 and A Second Look: Stemme, Delavan, Lead Power Cast of San Francisco Opera "Walkuere" – June 13, 2010.]
Wm: We are talking in London, where you are reprising the role of Sparafucile in David McVicar's production of Verdi's "Rigoletto". I found the first scene in which you sang with Dmitri Hvorostovsky's Rigoletto to be an extraordinary experience, both musically and dramatically. What is it like working with Hvorostovsky, the great Russian baritone?
RA: Actually, the first time I worked with Dmitri was in Houston in 2001. It was his first Rigoletto. It was in those performances in which I met my wife.
Wm: You met your wife in "Rigoletto"? How did that happen?
RA: Rebecca was a supernumerary, playing a courtesan in the first act. She is a criminal lawyer, who works with two other lawyers in Houston. Because of the nature of her work, in which she handles criminal cases on appeal, she is able to travel with me. She can do her work anywhere that she is able to communicate electronically with her home office.
Wm: Do you find singing Sparafucile in McVicar's production is different from other productions?
RA: I have sung Sparafucile in nine or ten productions or revivals. I find it's simple to do a traditional "Rigoletto". I show up prepared. I'm not a "stand and sing" performer, so I always look for what is being done differently, what nuances the stage director might bring to the show.
But it's different in a McVicar production. With McVicar you are drawn in by the sets, the costumes, the lighting. I think of McVicar's sets as a character in the drama. I was here at Royal Opera House Covent Garden for the previous revival, working with McVicar directly. This season David's Revival Director is Leah Hausman. But she works closely with him, so when I arrive, it's simply a matter of picking up where we left off.
[Below: Raymond Aceto (right) as Sparafucile, with the Rigoletto of Franz Grundheber in David McVicar's production of "Rigoletto"; edited image, based on a Clive Barda photograph, courtesy of the Royal Opera House, Covent Garden.]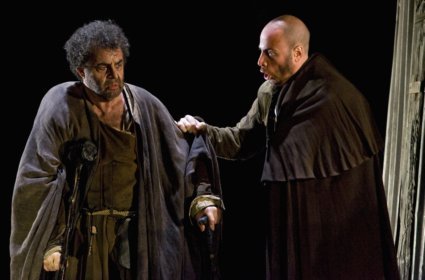 I believe that the test of a good Sparafucile is whether one can float the high E flat in the duet with Rigoletto, then sing the low F and continue it (all the way to your dressing room, if you can). The lines are written beautifully. When you do it right, it's magic. It's all in the music Verdi has written – long lines of legato. A basso can make the part interesting for 30 seconds or so, as some big, gruff character. But, for Sparafucile to work there must be suavity. You want to like him as soon as you see and hear him.
[For my review of the performance, see: 21st Century Verdi: Hvorostovsky, Ciofi, Kim, Aceto in McVicar's Illuminating "Rigoletto" – ROH Covent Garden, October 11, 2010.]
Wm: I had a discussion with Laura Claycomb, following Houston Grand Opera's Nicholas Hytner's production of Handel's "Xerxes" who said that whether the original director or a revival director is there, things in the production will change with a different cast.
RA: Laura Claycomb was the Gilda in my first "Rigoletto" along with Dmitri in Houston. The three of us made our Houston Grand Opera debuts in 2001, when David Gockley was general director there.
Laura is right. You're dealing with a different group of singers every time a production is revived. Artists want to contribute to the process. What is important is that the singer taking over a role is true to the director's concept of the character. That needs to be honored, but the details of the stage business are worked out between the individual artists and the director or his or her assistant.
Wm: One company that you perform at quite a bit is the New Orleans Opera.
RA: New Orleans is a great place. My wife is from there, and there are people there whom we really enjoy being with. I recently did Gounod's "Romeo and Juliet" there with Paul Groves and Nicole Cabell and will be performing Sarastro in Mozart's "Magic Flute".
Anything I can do for that community, I will. I've given three concerts for free for Hurricane Katrina victims. Sometimes you do jobs for career reasons, sometimes to help a cause.
Wm: Are there bassos who are your role models?
RA: It's my plan to model my career along the lines of Samuel Ramey. Sam and I studied with the same teacher, Armen Boyajian.
Wm: How does Boyajian assist you as your teacher when you have to travel so much.
RA: Unfortunately, when I am not in New York City, it is impossible to to schedule weekly lessons with him. However, we do have telephone conversations regarding repertory.
But Boyajian teaches us how to look after ourselves. Because we singers are physiologically unable to hear ourselves in the way that everyone else does, he teaches us to be able to maintain "muscle memory" and the memory of the sensation that you feel when others let you know your sound is right. We also need to realize that every theater is going to have a different feel and that sometimes you have to make adjustments to your singing.
Wm: One of the points I make in my reviews is that the same voice can have a different sound in different theaters, and that some theaters seem better or worse for particular voices.
RA: You are probably right.
Wm: John Relyea (whom I have also interviewed) is also a student of Armen Boyagian. When you cross paths with another Boyajian's successful students, like Relyea, do you compare notes, and do you feel a camaraderie with his other students?
RA: Vocal technique is personal with each singer. Each one of us has our own approach to utilizing Armen's technique. When John and I get together, we never talk about vocal technique. I can't imagine John Relyea and myself even talking about opera. We talk about guitars and rock music. He is a fantastic guitarist.
Wm: Do you see yourself dropping your higher bass-baritone roles like Scarpia and Escamillo to concentrate on the lower basso roles?
RA: I don't look at my repertory as to what I should subtract. If someone should ask me to do the title roles in "Don Giovanni" or "Marriage of Figaro", I would love to add them, but that doesn't mean I wouldn't also continue to sing roles like Scarpia.
At the time of my debut, people would say to me that my voice sounds good, but I should wait until I am 40 for the big basso roles to see what my voice sounds like. And, as I got into my late 30s, I could really see where the sound of my voice was really starting to change. My voice became darker, my projection brightened, my top got fuller. People who hadn't heard me for awhile say that my voice sounds so full.
During my career I've always taken care of myself and my voice, I've exercised, practiced, taken lessons. But most of what has caused my voice to continue to grow in size and maturity is simply that I've gotten older. There is something in the physiological nature of the basso voice, in how it develops. It is an interesting arc, and one that the soprano voice sometimes follows as well.
It's like a fine wine. I've studied enology and viniculture. I have these wonderful conversations with winemakers about how they make these great wines and look for the blending of ingredients that will improve the basic wine. Age is what matters in wine and in the basso voice. But the best winemakers also have the skills to take something that is accessible to anyone and to make it special. So an opera singer like myself, like the fine winemaker seeking the right blend, is always looking for ways to obtain the right interpretation.
Wm: In those career plans, what roles do you foresee adding?
RA: I would like to concentrate on the Italian and French repertory, and add roles such as the title roles of Verdi's "Attila" and Boito's "Mefistofele".
Even so, I expect to do Russian and German roles as well. Some time in the future, I will do Boris in Mussorgsky's "Boris Godunov". I feel comfortable in the German repertory. Someday I may do more Wagner roles – the Dutchman in "Die Fliegende Hollaender" or the Wotan roles in the "The Ring of the Nibelungs". But my greatest strength is in the Verdi roles and the bel canto repertory. That's where my heart is.
I will be returning to the West Coast for Timur in Puccini's "Turandot" next Fall to open the San Francisco Opera's 2011-2012 season.
Wm: Do you foresee doing any of the comic or buffo roles?
RA: I very much love doing comic roles. I have done Don Basilio in Rossini's "Barber of Seville" quite often. But, I don't really see myself doing too much in the way of basso buffo.
Wm: You have indicated your interest in singing the title role in Mozart's "Don Giovanni". When I interviewed Lucas Meachem last year, he suggested that that role fit more comfortably in the baritone range, particularly because of the high tessitura in the Don's serenade to Donna Elvira.
RA: Oh, really? Interesting . . .
[Below: Raymond Aceto as the Commendatore in Houston Grand Opera's 2006 production of Mozart's "Don Giovanni", here with Marius Kwiecien; edited image, based on a photograph from mariuskwiecien.com.]
Wm: You have experience in Europe and the United States. What is your assessment of the American companies?
RA: Those of us who perform much of the time in the United States are lucky that we have so many companies of such good quality.
Wm: What are some of the memorable experiences you have had with famous contemporary directors?
RA: I spent back to back seasons at the Deutsche Oper in Berlin, and was Escamillo in the vintage Peter Beauvais productions of Bizet's "Carmen" and also Ramfis in Christopher Alden's avant-garde production of Verdi's "Aida".
[Below: Ramfis (Raymond Aceto) supervises a pie-eating contest during the triumphal scene in Christopher Alden's production of Verdi's "Aida"; edited image, based on a photograph for the Deutsche Oper, Berlin.]
Wm: Where do you now call home?
RA: As you know, I am from Ohio. My wife and I live in a suburb of Cleveland.
Wm: Thank you, Raymond.
[For my review of Raymond Aceto's Scarpia, see: A New "Tosca" for Houston Grand Opera – January 30, 2010.]