Los Angeles Opera Music Director James Conlon is conducting all performances of two-thirds of the operas of Los Angeles Opera's 2010-2011 season, most recently conducting both of the mid-19th century masterpieces currently in performance rotation – Wagner's "Lohengrin" and Verdi's "Rigoletto". Each of these two works were major influences on the course of opera's history, and each will be celebrated at the upcoming bicentennials of the births of Wagner and Verdi three years hence.
Conlon's rousing "Rigoletto" was the first Los Angeles Opera production of the opera in about a decade. For the occasion, a Michael Yeargan production from the San Francisco Opera was imported, whose most winsome features are the colorful Italian Renaissance images of costume designer Constance Hoffman.
[Below: a group of the Duke of Mantua's courtiers in Constance Hoffman's costumes from the San Francisco Opera; edited image, based on a Robert Millard photograph, courtesy of the Los Angeles Opera.]
Under Conlon's musical direction, the quintet of principal singers gave a nicely balanced, creditable performance. It proved yet another Los Angeles Opera vehicle for displaying the attractive coloratura voice of Sarah Coburn's Gilda, in an affecting performance, matching, even exceeding the strong impression made by her Rosina (Korchak, Coburn and Meachem Illuminate Alternate "Barber of Seville" Cast – Los Angeles Opera, December 5, 2009) and her Asteria (Domingo's Towering "Tamerlano" Bajazet: Los Angeles Opera – November 22, 2009). The Los Angeles audience showed its appreciation at curtain calls, giving Coburn a standing ovation on her first appearance at the footlights.
My favorite of her roles in which I have seen her to date remains the title role in Delibes' "Lakme" (see Sarah Coburn's Ravishing Tulsa Opera Lakme – February 29, 2008), about which I believe that opera audiences outside of the Sooner State would also be enthusiastic.
The artists singing the father and lover of Coburns's Gilda are both new to the Los Angeles Opera stage. The young Italian lyric tenor, Gianluca Terranova, made a good impression as the Duke of Mantua, singing ardently in each of his showstopping numbers.
[Below: The Duke of Mantua (Gianluca Terranova, right) unexpectedly appears at the home of Gilda (Sarah Coburn, left), fulfilling her daydream fantasies; edited image, based on a Robert Millard photograph, courtesy of the Los Angeles Opera.]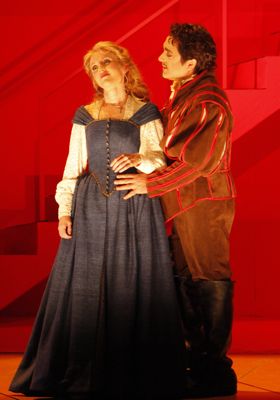 Gilda's father is played by the baritone George Gagnidze, with a large baritone voice that reveals yet another world class opera singer from the Eurasian Republic of Georgia. (In recent years, the Los Angeles Opera itself has gloried in the performances of two other eminent Georgians – baritone Lado Ataneli and coloratura soprano Nino Machaidze.) Whether from personal acting style or the stage direction of Mark Lamos, Gagnidze's was a more restrained Rigoletto than that of his countryman Ataneli, or of superstars Paolo Gavanelli and Dmitri Hvorostovsky, whose Rigolettos I have chronicled in recent years, but a likeable one nonetheless.
[Below: Rigoletto (George Gagnidze, right) is about to learn about the rape of his daughter Gilda (Sarah Coburn, left); edited image, based on a Robert Millard photograph, courtesy of the Los Angeles Opera.]
The other two members of the "Rigoletto" quintet of principal characters are those sinister siblings Sparafucile (wonderfully sung by basso profondo Andrea Silvestrelli) and Maddalena (charmingly performed by Kendall Gladen). When I last saw Gladen in a 2006 "Rigoletto" performance (cited below), she was in the much smaller role of Giovanna, Gilda's maid. With a large, sultry mezzo, this former San Francisco Opera Adler Fellow demonstrated the vocal and acting skills that will assure her much larger assignments in the great international houses.
The roles for the troika of duke's henchmen included the invaluable and indispensible character actor Greg Fedderly as Borsa (in yet another bizarre costume). Museop Kim, earned appreciation for his nicely sung Marullo, the most sympathetic of the Duke's courtiers. Matthew Anchel rounded out the threesome as Count Ceprano. Others in the cast included the Daniel Sumegi of Count Monterone, Carin Gilfry (daughter of the famous baritone), making a good impression as Giovanna, Janal Brugger-Orman as the Page and Valentina Fleer as Countess Ceprano.
Notes on the Production
I confess to a prejudice that I have held against Michael Yeargan's sets, owned by the San Francisco Opera, since the 1997 season when they replaced, for no artistic reason I could discern, the classic 1973 Jean-Pierre Ponnelle "Rigoletto" production. Repeated viewings of these sets in San Francisco and now here in Los Angeles have not converted me as an advocate for them. (For my more extemsive assessment of the latest showing of the Yeargan sets in San Francisco, see: Gavanelli Dominates Strongly Cast S.F. "Rigoletto" – October 15, 2006.)
[Below: Rigoletto (George Gagnidze) discovers that his daughter has been abducted in a home invasion kidnapping; edited image, based on a Robert Millard photograph, courtesy of the Los Angeles Opera.]
Basically a unit set, it incorporates the Yeargan ideas that promote, when possible, swift scene changes, or (when a little bit more time is needed to redress the stage), a brief lowering of the curtain and a darkened theater, rather than an intermission.
Although the Yeargan ideas are often inspired, his "Rigoletto" sets, however, rely on an extension to the central set that acts as the home occupied by Rigoletto and Gilda and the inn in which Sparafucile and Maddalena do their dirty deeds. The main sets, developed on images of askew Roman archways and the misshapen fronts of Italian town houses, are tolerable enough, but the accommodations that Yeargan has developed for Gilda and Giovanna and for Sparafucile and Maddalena resemble more a parking structure's concrete staircase, than a proper home for the Rigolettos or for the Sparafucile family's bed and breakfast.
That said, stage director Mark Lemos developed always interesting, often inspired stage movement by principals and chorus. I liked Maddalena stepping out from behind a row house to be seen when Sparafucile, in his first meeting with Rigoletto, mentions that she is his accomplice, and I also liked also the stage directions for the Duke's entrance into Gilda's house and for Gilda's subsequent abduction.
My recommendation to anyone who has an opportunity to attend a later performance is to go see and hear it. This is another example of a competent, attractive 21st century Verdi cast, with an orchestra and conductor of a level of skill and competence that Verdi could have only dreamed about.
For my other "Rigoletto" reviews, see: 21st Century Verdi: Hvorostovsky, Ciofi, Kim, Aceto in McVicar's Illuminating "Rigoletto" – ROH Covent Garden, October 11, 2010, and
Power Verdi: Ataneli, Vargicova Excel in San Diego Opera "Rigoletto" – March 28, 2009.