The San Francisco Opera Orchestra, like its orchestral colleagues in other cities, is polite and responsive to the many conductors that lead them. But, sometimes the bonding between the conductor and that orchestra is so complete that the entire orchestra erupts into a spontaneous ovation at opera's ends. The string instruments point and wave their bows. Other instrumentalists have other gestures to show their deep appreciation for the musical event that the orchestra and audience have just experienced.
There are perhaps but a half dozen conductors over the past four decades who have received these unanimous spontaneous ovations from the San Francisco Opera Orchestra bestows – the Italians Nello Santi, Maurizio Arena and Nicola Luisotti, the young German conductor Cornelius Meister, and the late Sir Charles Mackerras of Great Britain (to whom the performance I am reviewing was dedicated) would count among that cherished group.
Also among that half dozen is the Czech Jiri Belohlavek, presently Chief Conductor of the BBC Symphony, who led a rousing performance of Leos Janacek's masterwork "Vec Makropulos". Presiding over a full-sized orchestra (augmented by a small off-stage band and men's chorus), Belohlavek mined both the lyrical and dramatic treasures of Janacek's fantasy about a life spanning three and a third centuries.
[Below: Conductor Jiri Belohlavek; edited image, based on a photograph for IMG Artists.]
The subject of the opera is the 337 year old mortal, Elina Makropulos, triumphantly played by Finnish soprano Karita Mattila. The opera proved a showcase for her theatrical skills and powerful, and yet luminous voice. It reassembled key members of the artistic team associated with Mattila's 2006 San Francisco success in the title role of Puccini's "Manon Lescaut" – stage director Olivier Tambosi, set and costume designer Frank Philipp Schlössmann and San Francisco Opera general director David Gockley. (See World Class "Manon Lescaut" – S. F. Opera November 19, 2006. For my less enthusiastic opinion of a different Tambosi-Schlössmann effort, see: Vargas, Podles Brilliant in Puzzle Box "Ballo": Houston – November 2, 2007.)
Janacek, Adler and Gockley
The choice of "Vec Makropulos" as one of the new productions to which Gockley committed in his first term as general director is of symbolic significance. As the person who has publicly associated his general directorship with that of the now almost legendary Kurt Herbert Adler (1954-1981), Gockley chose the work that Adler used to introduce Janacek to the San Francisco Opera.
Adler presented the American premiere in 1966 of the opera, in English, its title translated (as it is in the new production) as "The Makropulos Case". The opera was a vehicle for the Australian dramatic soprano Marie Collier (a performance I attended). Adler remounted "Vec Makropulos" again ten years later, also in English, starring Anja Silja (Christoph von Donahnyi conducting).
Nor did Adler neglect the other major Janacek works. He introduced them – their first appearances performed in English – by means of a Leni Bauer-Ecsy production of "Jenufa" (1969) and Guenther Schneider-Siemssen's imposing production of "Katya Kabanova" (1977). The Adler tour of Janacek's works culminated in a Czech language "Jenufa" (1980), conducted by Rafael Kubelik, starring Elizabeth Soederstroem (Jenufa) and Sena Jurinac (Kostelnicka). All of San Francisco's subsequent Janacek productions since 1980 have been in Czech.
In an ironic note, Gockley succeeded Pamela Rosenberg as general director, who had announced a Janacek series as part of her "Animating Opera" scheme, but whose imported Johannes Schaaf-Erich Wonder production of "Katya Kabanova" (starring Mattila) was regrettably flawed. Even the often likeable Daniel Slater-Robert Innes Hopkins production of "Cunning Little Vixen" was confused by deviations from Janacek's storyline. But the new production of "Makropulos" has set a new 21st century standard for performing Janacek in San Francisco.
Notes on the Production
The new sets replace the historic sets created for the American premiere by German set designer Leni Bauer-Ecsy. Schoessmann's dominant black, brown and gray color scheme reminds me of some of Bauer-Ecsy's work (whose "Makropulos" featured an especially prominent clock), but the use of a turntable provides the opportunity to combine the relatively short first and second acts, so as to require only one intermission. (San Francisco Opera, like many other companies, seeks to shorten total performance time by reducing the number of intermissions whose main purpose is to allow set changes.)
[Below: Frank Philipp Schoessmann's first act set for Janacek's "Vec Makropulos"; edited image, based on a Cory Weaver photograph, courtesy of the San Francisco Opera.]
"Vec Makropulos" abounds with interesting character roles, but even the two main co-starring parts, those of Albert Gregor and Baron Prus, pale before a great singing actress like Mattila, or Collier or Silja, or Maralin Niska (whom I had seen in Frank Corsaro's production for New York City Opera). Once Mattila arrives on the arm of the lawyer Doctor Kolenaty (Dale Travis), she dominates every scene.
Mattila's Elina, in her advanced years, is absolutely uninterested in the purposive decorum one would expect of a woman intent on obtaining possession of the formula that would have extended her life. She and Baron Hauk (Walter O'Neill), her lover (when she had a different name) from a half -century earlier, grovel on the floor in a passionate remembrance of ecstasies past. The increasing disconnect from the concerns of the world of the moment, inherent in Janacek's libretto, is accentuated by Mattila's frenzied, occasionally over-the-top portrayal.
[Below: Karita Mattila is Emilia Marty, nee Elina Makropulos; edited image, based on a Cory Weaver photograph, courtesy of the San Francisco Opera.]
Except for her two co-stars Miro Dvorsky (Albert Gregor) and Gerd Grochowski (Jaroslav Prus), all of the comprimario roles were sung by present or former Adler Fellows. For these American-trained artists, who share the success that comes from the invaluable apprenticeship training that "Adlers" obtain at the San Francisco Opera, performance in Czech operas, if something more than just a routine day's work, is no longer the implausible assignment that it would have seemed four decades ago.
The beginning scene features the Vitek of recent Adler fellow Thomas Glenn. He is soon joined by Dale Travis, who, having graduated from the San Francisco Opera Young Artist's Program in 1988, is the seasoned veteran among the "Adlers" in the cast. He fired off Dr Kolenaty's tongue-twisting exposition of the history of a century of battles in the Prus-Gregor legal war with equanimity. Travis' biography takes pride in his accumulation of 30+ role assignments at the San Francisco Opera, 13 at Santa Fe Opera and 24 at Chicago's Lyric Opera.
[Below: Dale Travis is Doctor Kolenaty; edited image, based on a Cory Weaver photograph, courtesy of the San Francisco Opera.]
As the second act begins, a conversation between two of a theater's menial workers are played by current Adler Fellows Austin Kness (one of several assignments this calendar year that spotlight Kness' talents) and Maya Lahyani (cast in the double roles of Cleaning Woman and third act Chambermaid).
[Below: Schlössmann's second act sets with Maya Lahyani (left) as the Cleaning Woman and Austin Kness as the Stagehand; edited image, based on a Cory Weaver photograph, courtesy of the San Francisco Opera.]
The one member of the cast in his San Francisco Opera debut season was German bass-baritone Gerd Grochowski, who was effective as Jaroslav Prus. Lyric tenor Miro Dvorsky, who had appeared at San Francisco Opera as Cavaradossi in Puccini's "Tosca" in 2004 (and, during that run, replaced Rolando Villazon in a single performance of Alfredo in Verdi's "La Traviata") played his character straight, and thus was a perfect foil for the Mattila's exuberant performance as his youthful looking great grandmother spilling the intimate secrets of ancestors of whom he had no knowledge.
[Below: Albert Gregor (Miro Dvorsky, left) and Baron Prus (Gerd Gorchowski, standing right) attempt to discover the secrets of Emilia Marty (Karita Mattila, seated); edited image, based on a Cory Weaver photograph, courtesy of the San Francisco Opera.]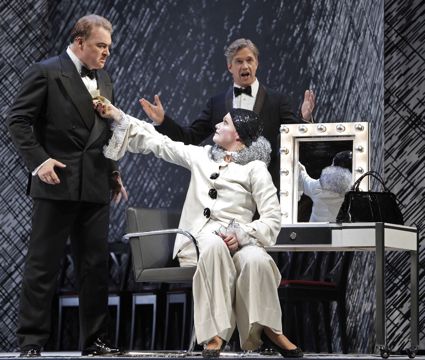 One of the delights of modern live opera performance is that the smaller roles are often sung by persons who will soon be or already are capable of performing lead roles. One now routinely expects this of San Francisco Opera performances, where the deep bench of apprentice artists cover the lead roles and take the smaller roles as their bread and butter assignments. (The experienced choristers stand ready to replace the covers' roles in an emergency and to take some of the very small roles.)
As examples, Brian Jagde played Baron Prus' hapless son, Janek, and Susannah Biller his beloved, Kristina, both with distinction.
[Below: Janek (Brian Jagde, left) and Kristina (Susannah Biller) sit with broadside posters for the night's opera; edited image, based on a Cory Weaver photograph, courtesy of the San Francisco Opera.]
But the most arresting portrait, other than that of Mattila's lead character, was Matthew O'Neill's Count Hauk-Sendorf. O'Neill has emerged as a leading character tenor, having excelled in such roles as the third mate Flask at Dallas Opera (see World Premiere: Heggie's Theatrically Brilliant, Melodic "Moby Dick" at Dallas Opera – April 30, 2010) and as Tinca in Puccini's "Il Tabarro" at both Los Angeles and San Francisco Operas (see Gavanelli, Racette, Jovanovich In Rousing "Tabarro" at San Francisco Opera – September 15, 2009) as just two examples of the several citations of his work I have made in past reviews.
[Below: the Count Hauk-Sendorf (Matthew O'Neill) recalls his passionate affair with a Spanish opera singer a half century earlier; edited image, based on a Cory Weaver photograph, courtesy of the San Francisco Opera.]
The Case for "Makropulos"
San Francisco Opera has always presented the opera "Vec Markopulos", under the not wholly satisfactorily translated title "The Makropulos Case" (a lawsuit lasting a century is part of the plot, but that case is between acquaintances of Elina Makropulos, rather than she being a party to it); nor does the alternate translation of the title as the "Makropulos Affair" work any better.
The opera is not about the century old lawsuit at all. It is a fantasy about the interactions of people whose lifespans are of radically different durations. It has analogies to the themes of the currently popular vampire franchises of Stephanie Meyer, Anne Rice, Charlaine Harris, Joss Whedon and several other notables, with their best-selling books, and lucrative Hollywood films and television shows – just to nominate the most obvious life-form of the currently popular menagerie of not-quite-human species of long-lived individuals who have the ability to interact with the short lifespans of living humans.
[Below: the third act set for "The Makropulos Case" in which Baron Prus (Gerd Grochowski, seated on bed) opines on how unerotic sex with the 300 year old Emilia Marty (Karita Mattila) turned out to be; edited image, based on a Cory Weaver photograph, courtesy of the San Francisco Opera.]
The opera is relatively short, swift-moving, and sumptuously melodic (repeated hearings of its themes may well result in their presence in your head for weeks to come). Its story is hip, urban (as opposed to the stultifying environment of the Slavic rural towns in "Jenufa" and "Katya Kabanova"), and not incongruent with 21st century popular themes.
The new production is a smart investment providing San Francisco Opera and opera companies that use these sets the opportunity to showcase this masterpiece of Czech opera.